Discover Financial (NYSE:DFS) has been one of my favorite picks in the financial space for some time and to put it bluntly, I've been very wrong. DFS has been one of the worst performers in a group that has - of late - had little else other than outright horrible performance so DFS has really been hammered. Back in October, after DFS had reported Q3 earnings, I said the stock was still a bargain at $55 as the fundamentals continued to chug along. However, as we all know, the period since that time in the market has been ugly and for DFS in particular, it has been a nightmare. After posting Q4 earnings shares were pummeled again and now stand at just $45, a multi-year low. So what do we do now?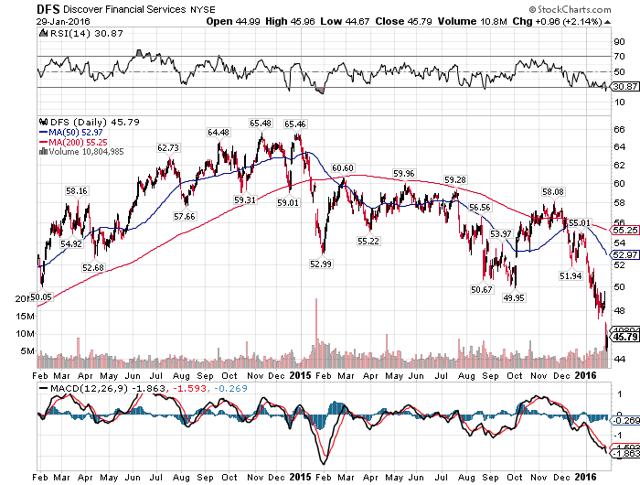 Click to enlarge
I have liked DFS in the past because it has a diversified model that includes a payment network, credit card loans, personal loans and student loans, among others. DFS is truly a financial services company with tremendous metrics and strong fundamentals. None of that has really changed in the past few quarters but investors just hate DFS right now so let's take a look at Q4 and see if we can figure out why.
DFS saw its total loans grow 3.5% in Q4 Y/Y, middle-of-the-road growth for financials from what I've seen. Loan growth has been a battleground depending on what financial you look at; some management teams think now is the time to take share but others think waiting for higher rates is more prudent. It seems DFS is trying to grow its book more than it did and to be honest, that could be seen either as a positive or a negative.
Personal loans continue to fly higher as that loan book grew another 9.6% in Q4. DFS has been pushing for more and more personal loans in the past few quarters as the yields on this segment are very high. As long as DFS remains strong with its underwriting standards in this space, it can be a significant driver of profit growth going forward.
But the card business saw its loan book rise only 3.1%, a disappointing number that falls in the lower end of the range DFS wanted. This is - obviously - the largest portion of the loan book so growth here matters more than the other segments. But DFS was unable to attract members to spend enough to grow the book within its targeted range so overall loan growth was just 3.5%. This could be seen as a positive because it gives DFS some runway to grow the book in 2016 - a strategy it is actively pursuing - but it can also be seen as a clear negative because it means DFS members aren't spending the way DFS wants. To be honest I'm neutral on DFS' loan book because both sides are compelling; I just hope its strategy for attracting new members and getting them to spend will bear some fruit in 2016.
Apart from the sheer size of the loan book, DFS continues to maintain its elevated NIM of nearly 10%. DFS' NIM has been roughly flat for a few quarters now and that is totally fine when it is at 9.72%. DFS continues to earn an enormous spread on its loans and that isn't going to change whether rates move higher or not. The company's return on its assets or equity or anything else you can think of are strong.
Part of that is that DFS is underwriting credit prudently, not just through the lens of growing the book. The company's delinquency rate moved up 7bps from Q3 to 1.72% but that number is roughly flat with last year's Q4. It also increased its reserves by $126 million during the quarter and for me, I think this is perhaps the biggest issue the market has with DFS right now and that this is crucial to the discussion of the valuation of this business.
DFS has a great franchise with an enormous installed user base and it also makes lots of money. It has growth strategies in place but needs to execute a little better on the card book. However, I think more than anything Q4 was marred by the company's credit metrics as the reserve build was large. It is my view that DFS spooked investors with this build as analysts and investors alike have extrapolated this reserve build out into eternity when there is no indication that kind of pessimism is warranted. Yes, DFS built its reserve a little more than expected but credit metrics remain very strong. DFS is being priced like it is heading for another recession but there is no indication that is going to happen.
In addition, DFS continues to retire nearly 2% of the float per quarter via its robust share repurchase program. This is something I've called out for a while as it is an enormous driver of EPS growth. With the share price in the mid-$40s I have to assume management is very busy buying stock in the open market because it is as cheap as it has been in a very long time. I think the results of the 2016 buyback program will be spectacular and could approach retiring 10% of the float in just a single year. That is a huge tailwind for EPS growth and it seems no one cares.
DFS has gotten to the point where it is so ludicrously cheap that it is almost begging to be bought. The fundamentals and the stock price action simply don't match up and I think that even a base case scenario could see DFS back in the mid-$50s at year end; such is the disparity between the current price and its fundamentals. But rather than buying the stock outright, I like put selling to not only reduce my risk but provide ample income in the process.
The put I'm looking at is the January 2017 $47.50 strike put, selling for $5.90. This put expires in about 11.5 months and if you sell it, you are obligated to buy the stock at $47.50 should it trade at or below that level next January. However, you also get to keep the $5.90 in the interim so your breakeven on the stock is actually $41.60 exclusive of fees. That's a roughly 9% discount to the current price and also provides you with a yield of more than 12% on your cash. Given that DFS is trading for a trough valuation despite still-strong fundamentals, a price of $41 next January seems very unlikely. I think now is the time to take advantage of the market's irrationality and earn a 12% yield in the process; I still like DFS here because the market hates it for the wrong reasons.
Disclosure: I am/we are long DFS.
I wrote this article myself, and it expresses my own opinions. I am not receiving compensation for it (other than from Seeking Alpha). I have no business relationship with any company whose stock is mentioned in this article.