In my experience investing, it is very easy to be overwhelmed with details and noise. Often times, whenever I deviate from my simple E-P-S criteria that I will define, I get burned. The EPS method boils down to this. Invest in companies with strong earnings per share growth, a modest PE multiple, and strong sales growth (Earnings, Price to Earnings, and Sales). This provides a solid foundation for further research.
The five stocks I have listed below have EPS growth for the next 5 years above 10%, current PE ratios below 11, and sales growth in the next 5 years of over 20%. When examining the EPS growth of the past five years with the future projection, the outcome is reasonable.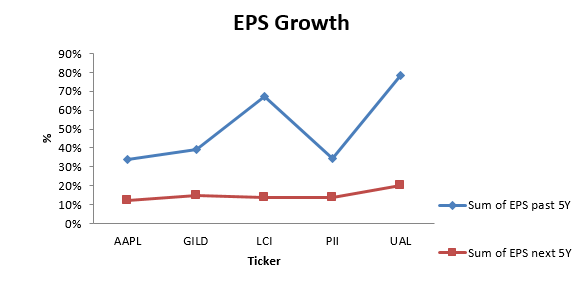 If you glance at the chart below you will notice that the stocks I have chosen trade well below their historical 5 year average PE ratios. This is a sign that any reversion to the mean PE paid for this stock will result in a large share price increase. When a stock trades below the historical PE ratio, there can be several reasons why. One of the main reasons is simply that Wall Street isn't expecting much from this company in the future. For this group below - I think Wall Street is wrong!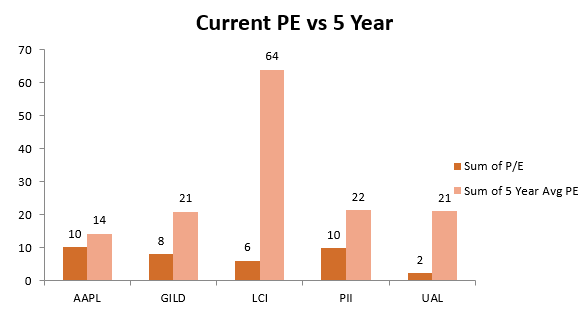 While I'm sure you've heard the trite saying that past performance does not guarantee future results - in my opinion - it's still a very strong gauge for what to expect in the future. Your friend who couldn't quit smoking 5 years ago is probably still a smoker today. Each company mentioned has significantly outperformed the S&P 500 in the last 10 years with the exception of United Continental Holdings (NYSE:UAL) which has been essentially flat.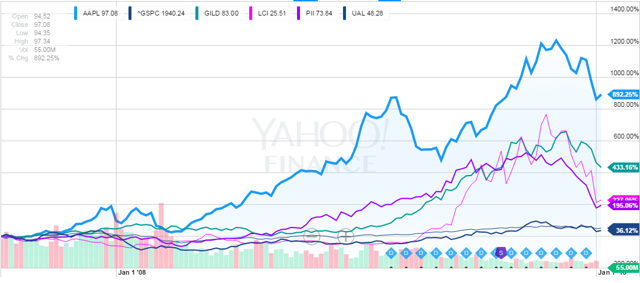 Click to enlarge
Research Candidate 1 - Apple Inc (AAPL):

Apple has historically been a great company to buy on a dip. While I think some fears regarding increase smart phone competition and slowing sales of their number one product are legitimate, I believe that Apple will engineer the future as they have repeatedly done in the past. Recently developments have been talks about advancements in wireless technology that would allow products to be charged from a distance. To me this is just a signal that you can bet that the iPhone will have the latest and greatest with each release compared to competitive offerings.
If you look and the S&P in total, here is a single chart that shows the strength of Apple. Everyone knows that Apple is a giant, however, this isn't what an investor should be most concerned with. Why Apple is such a lucrative stock is the fact that Apple is a highly profitable giant. Below is a bubble chart of the S&P 500 with Income on the y-axis and sales on the x-axis. Walmart (NYSE:WMT) and Exxon Mobil (NYSE:XOM) generate more sales then apple, however, combined their incomes do not touch Apple. A fun way to think about this would be to consider the following scenario. You have two friends Rob and Tod. Rob and Tod live in Chicago and both make a higher salary than you. However, combined their disposable incomes do not equal yours. Therefore, from a financial standpoint,"you're crushing it."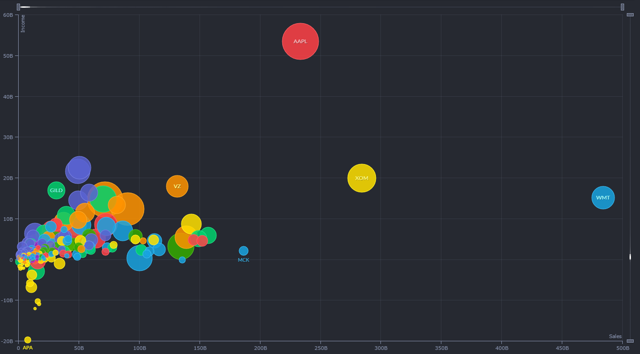 Click to enlarge
Research Candidate 2 - Gilead Sciences (GILD):

Gilead is a curious candidate. John Martin, the CEO who has leaded the company through 20 years of incredible results has just stepped down. Fears of increased regulation on drug pricing and an overextended biotech industry have put selling pressure on this stock.
Gilead discovers, develops, and commercializes innovative medicines for life-threatening illnesses around the world. Products include treatments for HIV/AIDS, liver diseases, cancer, inflammatory and respiratory diseases, and heart conditions. You can view their full product lineup and pipeline on their website here. The reason I am bullish on Gilead is belief that they will continue to focus on finding cures to infectious diseases with the same focus and commitment into the future. Also, I probably won't lose much sleep investing in a highly profitable company that is focusing on serious health issues and providing solutions to them.
Gilead has been able to grow and manage expenses effectively. They lead the healthcare industry in income generation. Take advantage of the pull-back in the healthcare sector and buy this stock for the long-haul.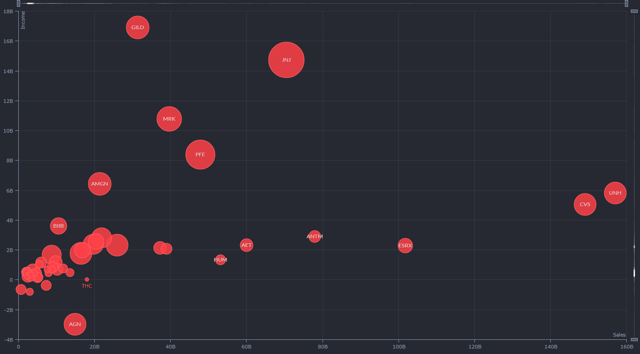 Click to enlarge
Research Candidate 3 - Lannett Inc (LCI):

In August 2015 Lannett was on the Fortune list of the fastest growing company in America and the company has completed a $1.2B acquisition of Kremers Urban Pharmaceuticals to fuel additional growth. This company is trying to make generic drugs more affordable to the consumer. Therefore, this isn't an income generating giant like my previous two picks. My reason for choosing this stock boils down to Wall Street unjustly hammering this stock into a price that is hard to ignore. This pick is also the most risky due to the small market cap and heavy short-interest.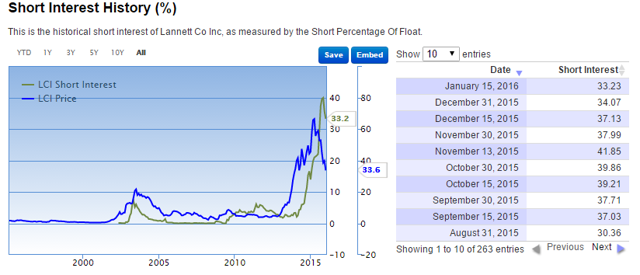 Click to enlarge
As the price of LCI has crossed below the $40 mark, short-interest has started to come down with it. The potential of a short squeeze is another catalyst for a rapid price increase of this growth stock. With an aging population in the US, rising healthcare costs, a PE of 6 and strong growth - the reward favors the risk.
Research Candidate 4 - Polaris Inc (PII):

Polaris is a stock that I have wanted to own for a long time but it has been outside of my price range. Since shares have come down to a much more reasonable level, I have become more interested.
Polaris Industries, Inc. is a leading manufacturer of recreational vehicles such as ATVs, snowmobiles, and motorcycles. The last time the company had a cyclical downside it proved to be an incredible buying opportunity. My thesis is that the short-term headwinds are offering a great buying opportunity for an extremely well managed company.
Polaris has certainly struggled recently. In fact off-road vehicle (ORV) sales were down 20% in the latest quarter compared to the same quarter last year. This segment makes up roughly 80% of the company's total sales. The industry as a whole has felt this struggle - this is not firm specific. Competitor Arctic Cat (NASDAQ:ACAT) is down 63% in the last year while Polaris is down 48% in the last year. Whenever a company loses half of it's value in a year - it's usually something worth investigating.
Polaris is a strong brand in a beaten down industry, I believe experiencing some short-term pain for long-term gain is well worth it at this price!
Research Candidate 5 - United Continental Holdings (UAL):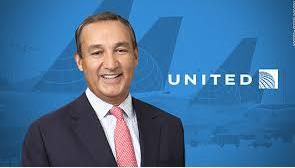 United has been through a lot - and so has their CEO as of late! Oscar Munoz has recently survived a heart attack, had a heart transplant, and returned to work to attend the latest earnings report. Latest accomplishments include a gateway to Asia through San Francisco as United is the only operator with a direct flight to Singapore. I will not tell you the total time of that flight because to me it would make this positive story become negative news!
The reason United stands out is the fact that they have been improving operational metrics but also trade at a great valuation relative to their history and the major airline industry. United touts the lowest PE and price to sales with the highest profit margin. United has flown along side the market for many years and I believe they will soon take off.
Disclosure: I/we have no positions in any stocks mentioned, but may initiate a long position in AAPL,GILD,PII,LCI, UAL over the next 72 hours.
I wrote this article myself, and it expresses my own opinions. I am not receiving compensation for it (other than from Seeking Alpha). I have no business relationship with any company whose stock is mentioned in this article.