Over the weekend, fellow SA contributor Anton Wahlman proposed that Tesla (NASDAQ:TSLA) could offer a Model 3 to consumers for just $9,500. He detailed what he believed could be the company's pitch to consumers when the reveal happens sometime in the next few months. While his article is very straightforward, not all consumers would benefit, which could really hamper Tesla's efforts to make the Model 3 seem affordable for all.
Let me first review the math for how Anton gets to a sub $10,000 price for the Model 3:
Gross purchase price: $35,000

Federal tax credit: $7,500

California state rebate: $4,000

7.5 year gasoline savings: $9,000

Value of California's white carpool sticker: $5,000

NET cost to the California consumer: $9,500
It's important to note that Anton says the net cost to the California consumer. While the state is very important to Tesla's current and future sales, those not living in the state won't get some of those key benefits. In fact, approximately 20 states don't offer any state incentives for electric vehicles, while other states offer various benefits. The chart below shows which states do offer some type of incentive, those listed in blue. Take away the two California bonuses above, for example, and the net cost basically doubles.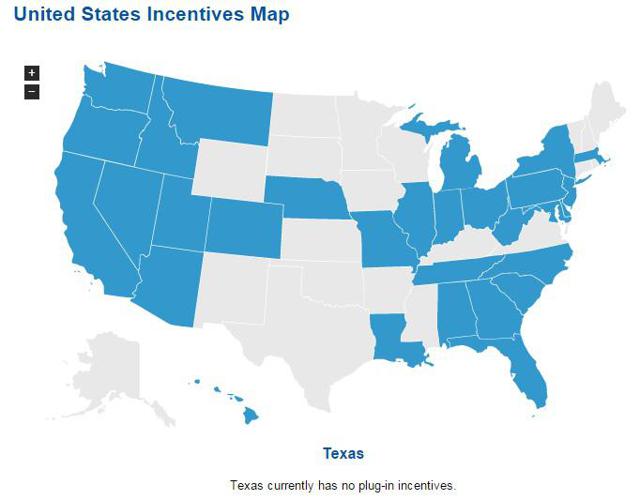 Click to enlarge
Source: Plug in America state map
Another item to look at is the gasoline savings figure. His number is based on a $3 average price for gasoline, and right now the US average is 40% less than that, under $1.80. While it wouldn't surprise me if gas prices go back up by the time we get the actual Model 3 to consumers (which seems at least 18 months away), most states may still have gas well below $3.00 a gallon.
The other item to think about is any costs associated with charging the vehicle. Even if the vehicle is only fully charged once a week, estimated charging costs could easily be in the hundreds of dollars per year (see some estimates here). Over the span of 7-8 years, that cost is well into the thousands. Don't forget any other electrical/hardware work that may be involved in this process, like if you have a garage with no electrical access or need a home electrical system upgrade. These costs can really add up.
Finally, Anton's argument relies on the consumer buying the base level Model 3, which most consumers probably won't do. Just take a look at the Model S customization page to see how quickly the costs can add up for Tesla's current sales leader. Would you like all wheel drive, autopilot features, a range upgrade, etc.? Just as fast as a Model S can get to a $100,000 price, I'm sure the Model 3 will get closer to or well above $50,000. While that helps out the revenue argument for Tesla, it doesn't help the everyday driver who thinks this car is easily affordable.
In the end, Tesla may be able to pitch a sub $10,000 net price for the Model 3, but it would be to a very select group of buyers. If you live in the wrong state, want accessories, or want to actually charge your vehicle, the price you will pay can quickly skyrocket. It will be very interesting to see how Tesla pitches the Model 3 to the market, because the company is very good at promising things that don't turn out to be true. Just look at the last two year's worth of financial guidance, which turned out to be complete fairy tales.
Disclosure: I/we have no positions in any stocks mentioned, and no plans to initiate any positions within the next 72 hours.
I wrote this article myself, and it expresses my own opinions. I am not receiving compensation for it (other than from Seeking Alpha). I have no business relationship with any company whose stock is mentioned in this article.
Additional disclosure: Investors are always reminded that before making any investment, you should do your own proper due diligence on any name directly or indirectly mentioned in this article. Investors should also consider seeking advice from a broker or financial adviser before making any investment decisions. Any material in this article should be considered general information, and not relied on as a formal investment recommendation.