By Parke Shall
News has broken over the last 24 hours that the CDC is expecting to remove Chipotle's (NYSE:CMG) E. coli status as soon as this week. WSJ reported:
The E. coli outbreak that sickened more than 50 Chipotle Mexican Grill Inc. customers in nine states last year is expected to be declared over as soon as Monday, according to people familiar with the government's investigation.

Investigators haven't been able to pinpoint the ingredient responsible for the contamination, these people said.

When the Centers for Disease Control and Prevention declares an outbreak to be over, that means its investigation is closed, a CDC spokeswoman said.
Already this morning, CMG's stock is up premarket about 5%. For those that have missed our coverage of CMG, we were bearish on the company when this controversy started and the company was priced in the mid-$500 range. Since then, the company fell to levels that we think are still overpriced, yet more manageable at $400 per share.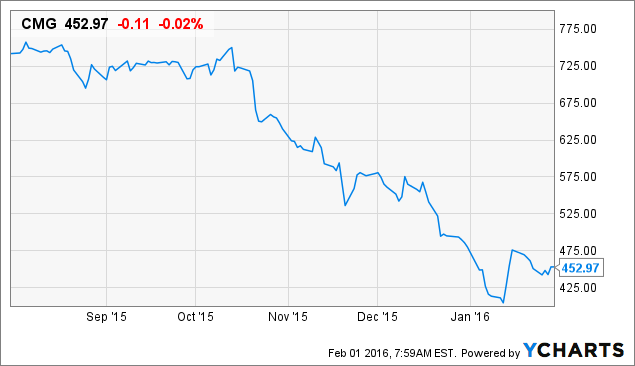 CMG data by YCharts
We wrote at that point that it may be time to start considering the company for a potential long position moving forward. What we expected was that the company would dwindle around the $400 mark and would give investors time to consider buying in at prices near that point.
Instead, what happened, as you can see from the chart above, is that CMG bounced instantly and immediately thrust itself higher by more than 10% into the mid $400 range. Since then, the stock has yet to move lower than the lows it touched near $400 and while guidance has been lowered several times and on the ground traffic checks still look questionable, it appears the market wants the company to rally and rebound for good.
We think buying at this morning's levels, near $480 per share, may not be the best entry point for a couple of reasons. We wanted to lay these reasons out and make our case why patience may be the best bet for jumping in to CMG.
First, the CDC putting an end to the E. coli issue does not mean that the company is going to be able to retake all of the customers and market share that it lost as a result of the issue.
The main key for a company that is growing as aggressively as CMG is whether or not the consumer base is going to continue to churn along as the company continues its outreach and new store openings. We already know that CMG has lost a significant amount of customers due to the scare. Until we start to see traction in the form of these customers coming back to the business, what the CDC says or does not say become somewhat irrelevant.
Second, the CDC says that they still do not know where the source of the issue was from. This should be a little concerning because even though the company has said they are putting in new quality control measures, finding the source location of the E. coli is ultimately the root of the problem. If the company has not identified the source it is possible, yet unlikely, that more cases may arise in the future. If something like this does occur, you will get your entry point and then some.
Third, the company has earnings coming up this week. Many people, us included, felt that the damage from the scandal might be a little bit worse than estimates have guessed and that the company is leading on. If you wait until the earnings report, you may be offered a lower price to begin a position.
On the other hand, you have to be committed to not chase if the price spikes after earnings. Remember that we are in a market that is no longer bullish by default. We think that the market's tone on momentum stocks will, at some point, offer a substantial dip for potential CMG shareholders to buy into. Patience is the name of the game, however. You would need to be OK with not owning the stock right now and possibly taking the time to wait for a better opportunity.
Fourth, we believe a lot of the dip buyers that took a chance on the stock around $400 will be "selling the news". We think that there may actually be some downward pressure on the stock after this news is disseminated and the market gets its chance to weigh in on Monday. For a while, the assumption has been made that the company would eventually be cleared. We could almost argue that it may have been priced in. Monday's price action will tell us whether or not this is true.
If CMG was in bargain territory, which for a high multiple stock like it is would be under $400, maybe this news would be worth writing home about. Then, we could see an argument for buying the news. But now this just feels like the inevitable happening; something the market knew would eventually happen; without the underlying customer base fundamentals following - yet.
We think that after looking at the stock for a speculative long around $400, that selling into this news might be the right trade. If you are holding the stock long at today's prices, you would be holding an equity that is only barely discounted into an earnings report that is going to be a stark reminder of the toll that this scandal has had on the business.
If on the ground traffic checks posted on social media are any indication of how the business continues to operate, there may be lower guidance and lower earnings numbers than investors suspect. This spike could then be looked at as a "fake out" and those buying at these levels could wind up holding the bag.
We are not claiming to know what will happen on the company's earnings call. We just think that for those who entered around $400, the risk reward is no longer in your favor and selling here may be the safe play. Again, we are in the midst of a market that is no longer bullish. CMG is one of many companies that has plenty of room between its fundamentals and its valuation.
Three years ago, this difference would have been a right, in today's market it is starting to look like a privilege. We take our 20% off the table here and look for another opportunity to enter CMG at lower prices.
Disclosure: I/we have no positions in any stocks mentioned, and no plans to initiate any positions within the next 72 hours.
I wrote this article myself, and it expresses my own opinions. I am not receiving compensation for it (other than from Seeking Alpha). I have no business relationship with any company whose stock is mentioned in this article.