Gold has gotten off to a rousing start in 2016. During the first month of the new trading year, the yellow metal has risen by more than +5% at a time when the stock market, as measured by the S&P 500 Index, has stumbled out of the gates by falling -5% over the same time period. This strong beginning to 2016 raises a key question. Is it finally time to get on board the gold trade following a more than four-year bear market to date in the precious metal?
Looking Beyond The Fundamentals
When considering an allocation to gold (NYSEARCA:GLD), it is important to continue looking beyond the fundamentals. One can certainly craft a thesis for owning gold based on a variety of fundamental factors, but none of these forces have supported a sustained upside move in gold for several years now. Instead, gold must demonstrate from a pricing perspective that it is finally ready to break the chains of its recent downturn and finally make a sustained move to the upside.
A Pricing Story We Have Seen Several Times In The Recent Past
While 2016 has certainly gotten off to a strong start, unfortunately, it is a similar script that we have seen play out several times in recent years. And, unfortunately, in each past instance, the story ultimately ended badly.
Let's go all the way back to 2012 in the first few months following the gold market peak in September 2011. Gold got off to a tremendous start in 2012, gaining more than +14% through the first two months of the year in rising from just below $1,550 per ounce to nearly $1,800 per ounce. But over the next two and half months through mid-May, gold ended up surrendering all of these gains and more. And while gold eventually regained its footing and made another strong advance later that year in August and September, by the end of the year, it remained well off of its late February highs.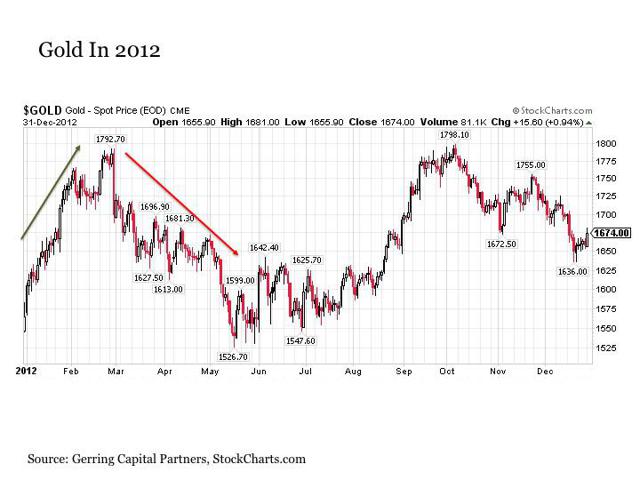 Click to enlarge
Moving on to 2013, this was the one year that was the exception to the strong start to the year trend. Gold traded sideways through January and into early February before completely crumbling to the downside. After starting the year at over $1,650 per ounce, it fell below $1,200 by June. And following a fleeting summer rally, the yellow metal effectively ended the year on its lows.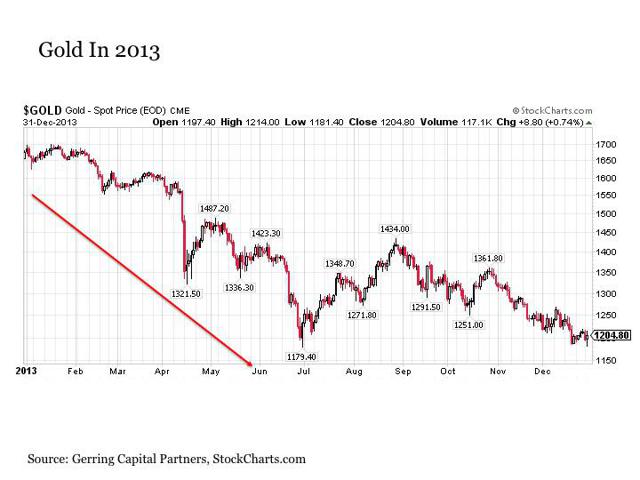 Click to enlarge
It looked like gold might make a comeback with a strong start to the year right out of the gates in 2014. Over the first two and a half months of 2014, gold rallied off of its end of 2013 lows once again by +14% to a peak of nearly $1,400 per ounce. But this effectively marked the top for the year in gold, as it subsequently traded sharply to the downside and ended the year back below $1,200.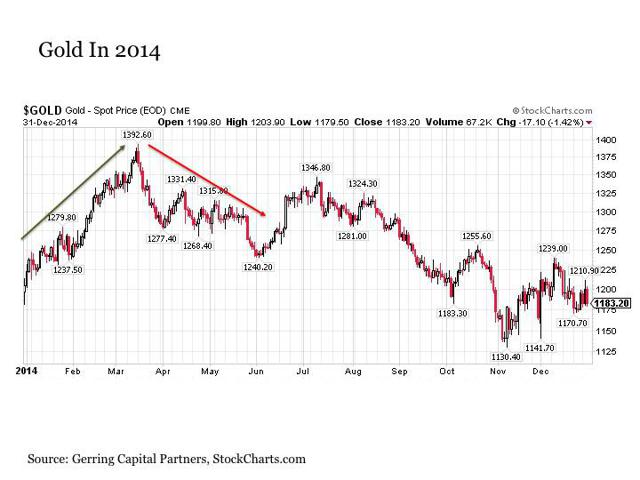 Click to enlarge
We saw yet another strong advance out of the blocks in 2015. Toward the end of January last year, gold had already tacked on a more than +10% move to the upside to just above $1,300. But just like the year before, this once again marked the high for the year in gold, as it proceeded to decline for the remainder of the year to lows below $1,100 per ounce.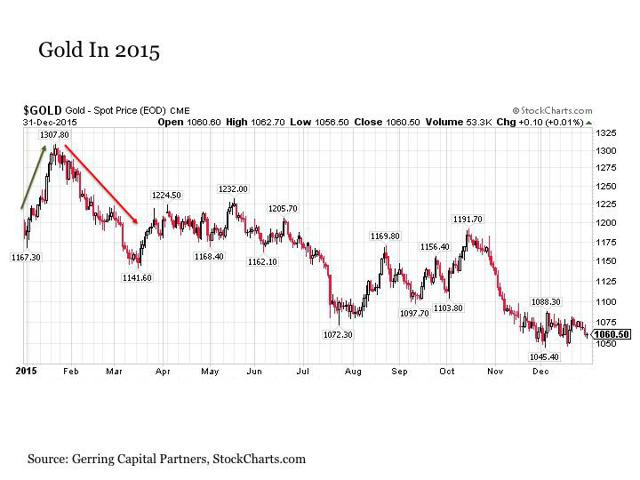 Click to enlarge
Thus, the strong advance in gold thus far in 2016 must be taken with a degree of salt. Indeed, it has been welcome for gold investors to see a more than +5% gain to start off the New Year. But we have seen this script play out before in recent years, and in each of the recent past cases, it has ended badly with gold proceeding to move to new lows along the way. And given the liquidation pressures that have been persisting across the commodities space for some time, the potential for a strong downside reversal in gold continues to loom large.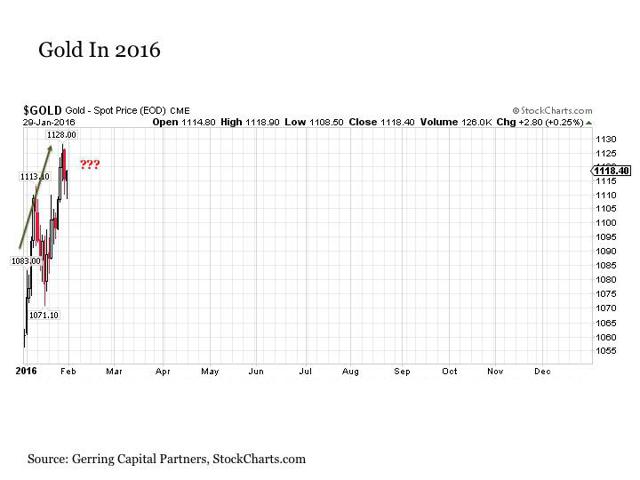 Click to enlarge
The Downtrend Remains Firmly Intact
With all of this in mind, it is worthwhile to stand back and examine the gold market from a broader view. And despite the recent rally to start the New Year, gold is a market that still remains firmly mired in its downward trend. And at $1,118.40 per ounce, it now finds itself running up against traditionally firm resistance levels such as its 200-day moving average currently at $1,132.84 and falling, and its 400-day moving average currently at $1,182.88 and also falling. Gold must definitively break out back above these resistance levels before a new uptrend in gold can even be considered. In the meantime, the ongoing downtrend must be respected and managed against accordingly from a risk control perspective.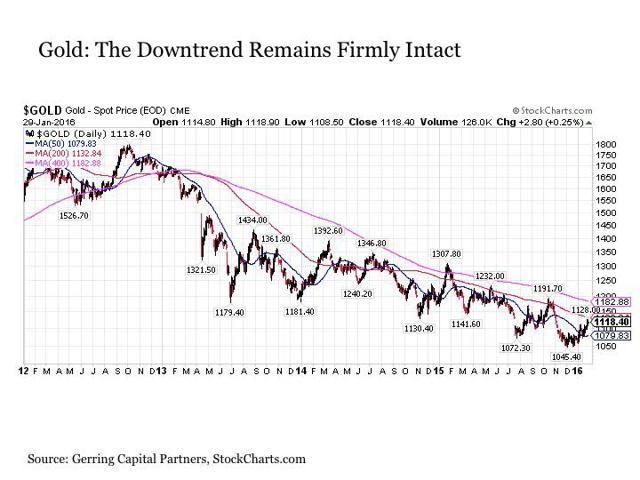 Click to enlarge
Bottom Line: Not Yet
In short, now is not yet the time to begin moving aggressively back into gold. The yellow metal must first prove itself that the extended downtrend has finally been broken and a new uptrend has begun. In the meantime, and regardless of whether the underlying fundamentals suggest otherwise, the risks remain biased to the downside for gold, at least in the short term.
The long-term upside opportunity for gold remains bright. But the recent price performance of gold suggests that it remains premature to move boldly back into the asset class, as we may very well see lower lows later this year before it is all said and done.
Disclosure: This article is for information purposes only. There are risks involved with investing including loss of principal. Gerring Capital Partners makes no explicit or implicit guarantee with respect to performance or the outcome of any investment or projections made. There is no guarantee that the goals of the strategies discussed by Gerring Capital Partners will be met.
Disclosure: I/we have no positions in any stocks mentioned, and no plans to initiate any positions within the next 72 hours.
I wrote this article myself, and it expresses my own opinions. I am not receiving compensation for it (other than from Seeking Alpha). I have no business relationship with any company whose stock is mentioned in this article.