The trading month came to a merciful close on Friday as the market gods provided a tiny morsel of pity to close January as they gave investors a nice rally to end the month. January still was the worst month performance wise since February of 2009.
Even with Friday's rally, the major indices were down five to eight percent in January as transports, small caps and biotech all entered the official bear market territory. They joined the energy & commodity sectors which have been in purgatory for over a year now as oil, iron, copper and other key commodities continued to plum multi-year and in some cases lows not seen in over a decade.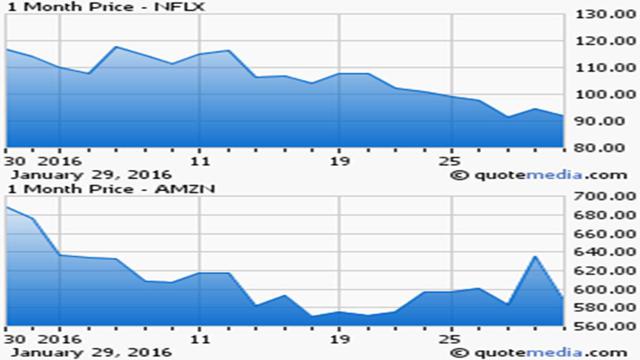 Click to enlarge
Japan, Europe and China all fell to be down 20% or more from their recent highs in January. Even Netflix (NASDAQ:NFLX) and Amazon (NASDAQ:AMZN) that were part of the so called FANG (Facebook, Amazon, Netflix, Google) stocks that provided just about the only significant outperformance among equities in 2015 have started the New Year on a very down note. In short, next to nothing worked for investors in 2016's opening month.
My regular readers know I have not been sanguine on the market since at least the second half of 2014 when the Federal Reserve was winding down the last of its quantitative easing programs. These efforts saw the central bank more than quintuple its balance sheet to the north of $4 trillion. The equity market has struggled to go anywhere since the Federal Reserve removed its largesse. The majority of stocks are down since QE ended at the end of October 2014.
I started this year with a 30% cash allocation within my portfolio. I have now deployed nearly half of that back into this market on the decline this year and was particularly active in the final third of January. So why am I trying to catch what some are viewing as a falling knife? Good question. Mostly because I see some signs of stabilization in the market, especially recently. In addition, there are more pockets of value in the market after this pullback that I have seen in some time. Let's put our optimistic caps on and find some reasons for hope as we head into February.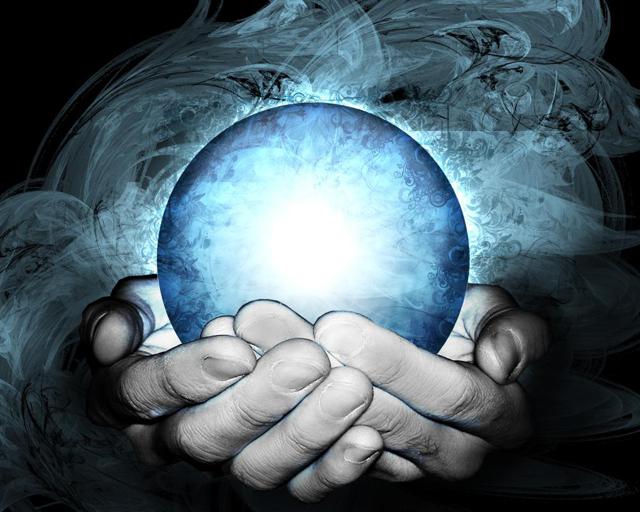 Click to enlarge
The rally Friday was triggered by the central bank of Japan that rolled out a negative interest rate policy or NIRP that caught investors by surprise. This has three positive impacts. First, it showed that the major central banks are willing to go beyond the ZIRP policies that have been in place for years. Two, it highlighted that central banks can still impact the market. Finally, this move lessened substantially the chances that the Federal Reserve will stick with its forecast that it will raise interest rates by a quarter point four times in 2016 as is its current projections. The Yen moved some 1.75% lower against the dollar on Friday. With the Fed already worried about the strong dollar, this provided additional headwinds against future interest rate hikes domestically in 2016. This would be welcomed obviously by the markets.
Second, oil has started to stabilize. Crude got as low at $27.00 a barrel in January but ended the month at over $33.00 a barrel. There were also trial balloons floated by Kuwait that seem to indicate some key members of OPEC are becoming more open to institute production cuts at some point to curtail the collapse of oil prices as the pain is becoming too great. Russia has also been rumored to be willing to take a production cut which makes sense given the deterioration of their finances. It may be awhile before we get an actual cut, but it does seem that conversations are starting to happen at high levels to make that a decent probability in the near future.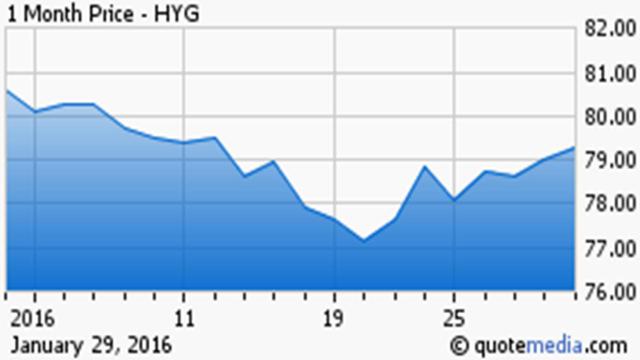 Click to enlarge
Finally, and to me as important as two other indicators above; is that the high-yield credit also known as the "junk bond" market has stabilized and started to move up over the last third of January. If this continues we should see better performance from both small caps and REITs. Both had substantial declines coinciding with spikes in volatility in the high-yield credit market in late December/early January.
There are three areas of the market I particularly like right now. They have garnered the lion's share of the money I have put back into the market especially late in January. All of these themes I have done recent articles around. First are large cap stocks with attractive if not cheap valuations and dividend yields near or above four percent. Macys (NYSE:M) has been a standout in this arena and is up some 15% for the year despite a nasty tape.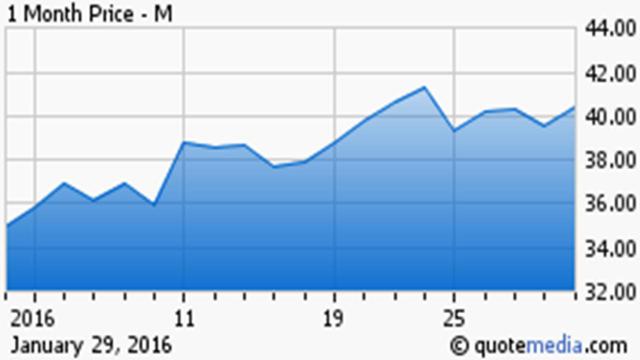 Click to enlarge
Second are REITs that have been unfairly punished due to increasing concerns about what was happening in the high-yield credit market. Many REITs that were yielding four to five percent this summer are now yielding six to eight percent. These are some of my current favorites in the space.
Finally, I like big biotech to come out of its recent bear market and outperform the rest of the market for the remainder of 2016 for five reasons. Extremely solid quarterly results from Biogen (NASDAQ:BIIB) and Amgen (NASDAQ:AMGN) this week support that hypothesis.
That is my take on the market as we enter the second month of 2016. Hopefully, it is much kinder to investors than the first month of the New Year.
Disclosure: I am/we are long AMGN, BIIB, M.
I wrote this article myself, and it expresses my own opinions. I am not receiving compensation for it (other than from Seeking Alpha). I have no business relationship with any company whose stock is mentioned in this article.