While consumer tastes change and retailers continuously evolve, a well-covered dividend, supported by double-digit earnings growth, never goes out of style.
Hold the presses. Simon Property Group (NYSE: SPG) did not crush on all metrics and hit the ball out of the park for the quarter ended Dec. 31, 2015. On the other hand, it was still a pretty good quarter in many respects.
Simon has a history of beating on revenues, earnings and boosting its dividend for the past four quarters. However, this mall REIT stalwart is not immune to reduced traffic and spending by tourists, and lower percentage rents than expected, due to a below par holiday season.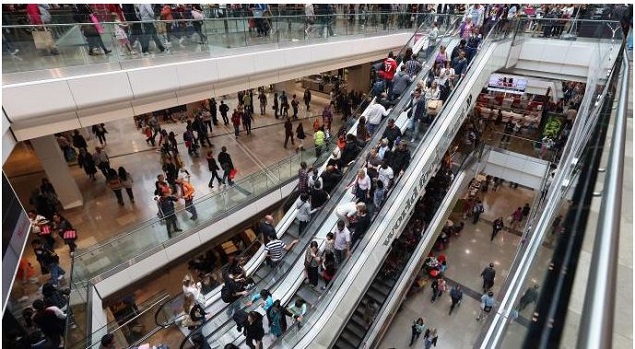 Source: Benzinga
Chairman and CEO David Simon reminded analysts at the beginning of the Q4 2015 call:
"Over the last five years, our FFO and dividends per share have achieved compound annual growth rates of 14% and 18%, respectively. We expect to achieve industry-leading growth again in 2016, driven by our unparalleled execution, irreplaceable assets and fortress balance sheet."
Tale Of The Tape -- A Wild Ride On Friday
It appears that Simon shares were caught in a tug-of-war between bricks and mortar bears, and investors who believe that the Simon value-creation engine will continue to chug along.
On Friday, SPG shares swung 6.5%, from a low of $177.55 (a nice pick-up for the lucky buyer), to a high of $189.69 per share, with just under 3.5 million shares changing hands.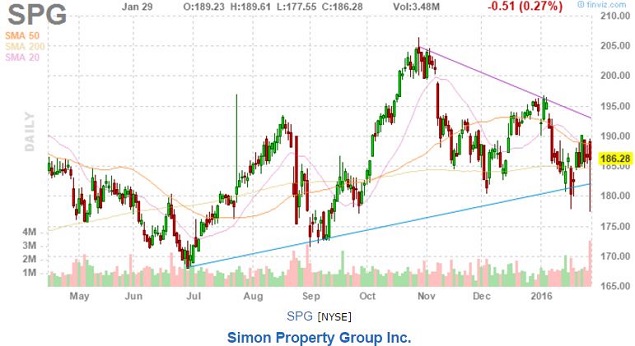 During the past 52-weeks, Simon has traded in a range of $168.21-$206.42 per share.
The Bigger Picture
The strong day for the entire REIT sector may have helped to turn the tide. Simon Property Group, which sports a market cap of $58 billion, is the top holding in every market cap weighted REIT ETF and mutual fund.
Simon is also an S&P 500 company, along with Class-A mall REIT peers $24.75 billion cap General Growth Properties (NYSE: GGP) and $12.34 billion cap Macerich Co. (NYSE: MAC). On Friday, shares of GGP and MAC were up 1.74% and 2.55%, respectively.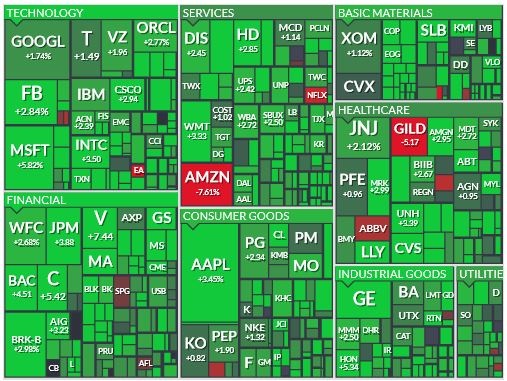 Source: Finviz.com Heat Map - Jan. 29, 2016
On Friday the S&P 500 and Dow 30 both closed up ~2.5%, a nice tailwind to end a difficult kick-off for equities during a volatile January 2016.
Competitive Threat Update
Ecommerce leviathan Amazon.com (NYSE: AMZN) is a red island in the heat map above, after reporting disappointing earnings per share. Ironically, increased delivery costs associated with handling the fulfillment for record holiday purchases, is what dented margins.
Amazon shares are still up an eye popping 88% for the past 12 months, and the consensus analyst target price remains just below $750 per share. Wall Street analysts are still anticipating a 27.7% Amazon upside in 2016, based upon Friday's close of $587 per share.
Notably, Simon shares held up quite well compared to its online rival.
Omnichannel Retailing Update
Investments in omnichannel initiatives by best-in-class retailers, paired with ongoing technology upgrades and social media efforts by mall owners, will continue during 2016. Simon shared on the SA earnings call transcript:
"Retailers who want to grow their business were adding brand extensions, and creating new brands, and pure-play retailers want physical locations to increase their revenues. Retailers who opened bricks-and-mortar stores experienced increased consumer awareness and subsequently greater organic site traffic and lower customer acquisition cost."

"Successful omnichannel retailers are increasing their buy online and pickup in store. This functionality not only increases convenience for shoppers, but also facilitates incremental purchases and upsell opportunities when the shopper enters our retail environment."
While the playing field may never be quite level, the degree of tilt in favor of Amazon can certainly be reduced.
SPG Q4 Results -- A Closer Look
Results for many retailers during the past holiday season were not impressive, and some of that news was reflected in the SPG year-over-year metrics, shown below.
Releasing spreads were up 140 bps year-over-year, growing from 16.6% to 18.0%. Those are huge numbers. Meanwhile occupancy was down 100 bps, but still reported at a very respectable 96.1%.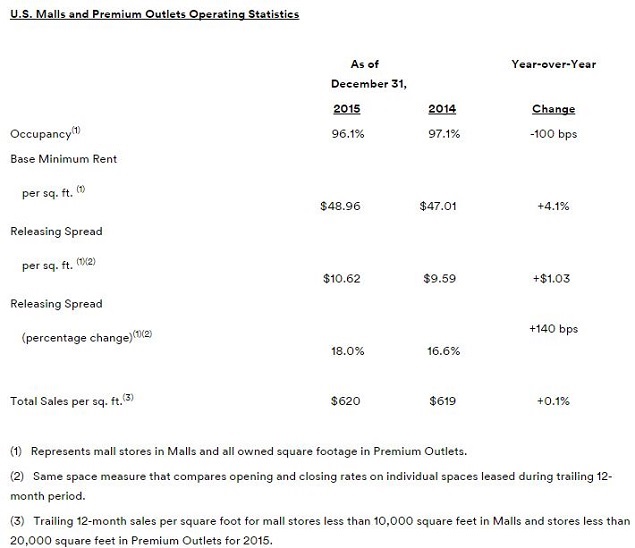 Source: SPG - 4Q'15 Earnings Supplemental
Higher rents helped to overcome the drop in occupancy resulting from the process of replacing 1.3 million SF due to tenant bankruptcy. Simon continues to be able to push rents, which is a higher priority than just backfilling the space.
Crucial REIT Metrics
Two key metrics that REIT investors closely monitor are FFO per share and the dividend distribution.
FY 2015 FFO/Share: Here SPG results continued to impress, with a 10.5% percent increase in FFO per share for FY 2015, excluding a one-time charge. CEO Simon explained:
"On a comparable basis, excluding the impact from WPG spin-off in the prior year, and the net loss mentioned above, full-year FFO increased 11.4% to $9.97 per diluted share.

We posted record FFO results once again and have achieved a compound annual FFO growth rate of more than 14% over the last five years. For the fourth quarter, FFO of $2.40 per share included a $0.33 loss on extinguishment of debt and exceeded the consensus estimate by $0.02.

On a comparable basis, excluding the loss on the extinguishment of debt in the quarter, FFO per diluted share increased 10.5% year-over-year."
The Q4'15 FFO took a hit from replacing expensive debt, which will improve results moving forward.
SPG Dividend Increase: The Simon Property Group board of directors declared a quarterly common stock dividend of $1.60 per share. This represents a 14.3% increase year-over-year. The dividend will be payable on February 29, 2016 to stockholders of record on February 12, 2016.
Meanwhile, the SPG FFO payout ratio remains conservative at 61 percent.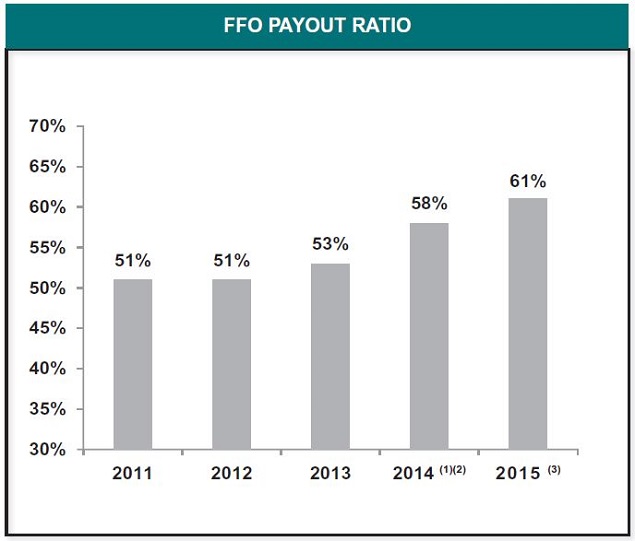 Source: SPG 4Q'15 Supplemental (for all unattributed slides)
This allows Simon to reinvest free cash flow in development projects, and also leaves flexibility for future dividend increases. Simon is able to fund the majority of its development initiatives from operating cash flow because of its conservative approach to managing the balance sheet.
2016 Initial Guidance: FFO guidance of $10.70 to $10.80 per share, equates to a 7.8% increase at the mid-point over $9.97 for FY 2015.
Investors should remember that the Simon modus operandi has been to under-promise and over-deliver.
Accretive Development Pipeline
Simon Property Group is well-positioned to deliver this growth with a redevelopment pipeline of just under $2 billion.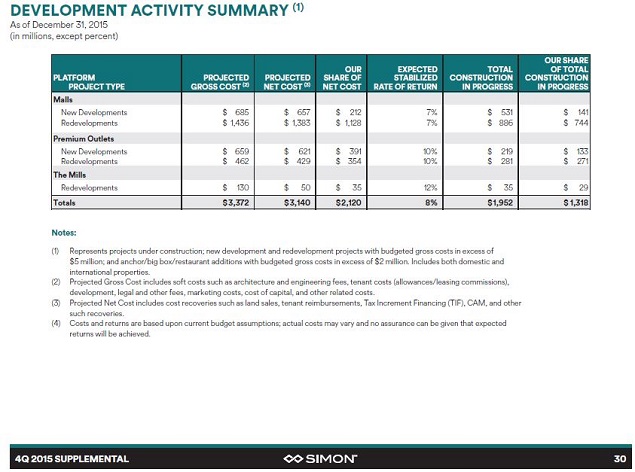 The 50/50 Seritage Growth Properties (NYSE: SRG) JV with Simon is also allocating capital to redevelop legacy Sears store locations. Simon expects to have development underway at five of the locations during 2016, according to CFO Rick Sokolov during the Q&A on the earnings call.
Retailing "Circle Of Life"
The business of owning and operating Class-A/A+ malls is not going away. While some retailers are cutting back, others step up to the plate to lease the coveted locations.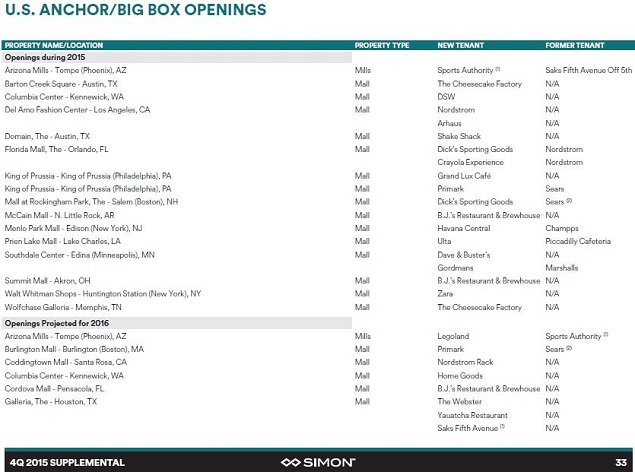 The right tenant mix varies from location to location. There is no one-size-fits-all solution. However, according to management on the call, the net-effect of these changes is to continue to grow same property NOI.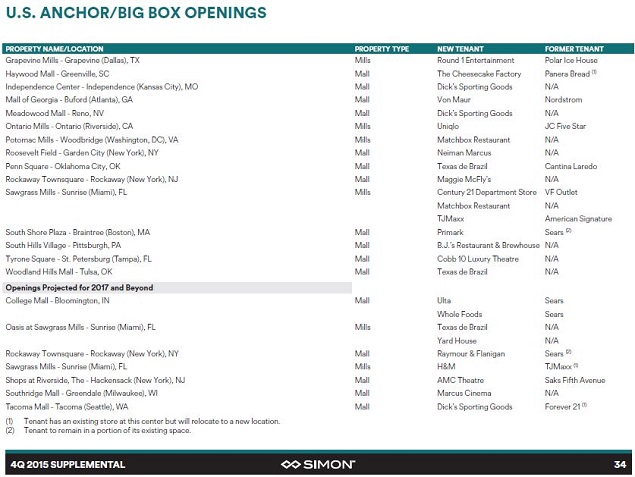 One impressive thing for a company as large as Simon is that is able to focus on how to maximize returns with unique strategies for every property in the portfolio. The Crayola Experience at the Florida Mall in Orlando, FL makes sense because it is a family vacation destination.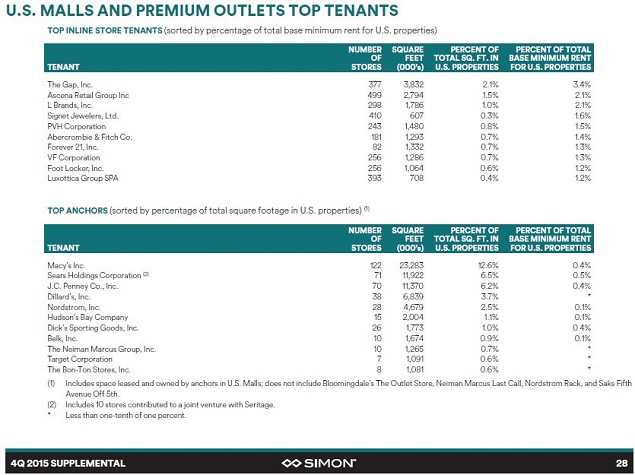 Releasing space from Sears Holdings (NASDAQ: SHLD) and other legacy anchors is a huge win when it comes to bumping up rent per square foot. Legacy department store leases can be below $4.00 per square foot.
Simon Property Q4 2015 Earnings Call -- Highlights
Mall Traffic: Many headlines and retail pundits would lead investors to believe that foot traffic a malls is decreasing. According to Simon, "Traffic at our Malls was flat for the year including the Holiday season, traffic at our Premium Outlets increased 1.5% for the year and more than 2% for the holidays, and traffic at the Mills increased slightly for the year as well."
One implication here is that Class B and C malls are likely bearing the brunt of any decrease, rather than the top mall landlords.
Notably, for Simon Malls while traffic was flat, sales were up 5.7% Y/Y.
Shoppers Are Visiting Fewer Stores: One trend that Simon wants to reverse was the smaller number of store visits per shopping trip. A goal is to help increase the stores shoppers visit in a typical trip from 4 to 5, upward to 7 or 8 stores.
Tourist Spending Impact: Simon's same-property NOI numbers were impacted by a decrease in tourist spending. This is an issue that is likely going to crop up in the earnings calls of other retail landlords, especially those who own high-end street retail in NYC, Miami and other gateway cities.
Capital Markets: In January 2016, Simon completed a senior notes offering raising $1.35 billion at an average interest rate of 2.9% and term of 8.2 years, despite the market volatility.
Simon emphasized during the Q&A that the ability for SPG to issue sub-3% corporate paper when the CMBS market, and high-yield markets were drying up, was unparalleled.
He also mentioned that he was out of the "big deal business," referring the Macerich board rejecting his M&A offer last year. However, the fortress balance sheet and $5.5 billion of liquidity does give SPG a lot of options for 2016.
Simon clarified that share buybacks were not a high priority. He was more inclined to invest the cash in growing the business through accretive development moving forward.
Shadow Development Upside: Simon has many opportunities to add mixed use components, such as multifamily residential, and office uses, to mall locations over time. Simon already owns just under 2 million square feet of office space spread out among its mall portfolio.
Future Dividend Increases: During the Q&A, Simon guided to at least 6% dividend increase for 2016. However, he cautioned not to expect a series of quarterly raises moving forward. An annual raise in 2H2016 was discussed as being likely.
Bottom Line
Most REIT investors are looking for a dependable dividend income stream that will grow faster than the rate of inflation.
The more times I listen to David Simon tell his story, the more I like what I am hearing. It is impressive to me that this huge REIT is still able to laser-focus on each property to maximize value.
Meanwhile, Simon has a competitive edge that comes from lower G&A due to massive scale, a lower cost of capital, ~$1.5 billion in annual free cash flow to invest in new development, technology and omnichannel initiatives.
Most notably, the sales per square foot metric staying fairly flat at ~$620 per SF Y/Y is a far greater concern to individual retail tenants, than it is to Simon as a mall landlord.
Top shelf retailers need to be where the action is, and that means Class-A malls located in high density/high income neighborhoods with sales of $600/SF, or more.
Investor Takeaway
In October 2015, after Simon reported its 3Q'15 earnings trifecta, I wrote "If Malls Are Dying, Why Did Simon Just Hit A 52-Week High?" where I suggested a fair value for SPG shares:
"Based on FY2015 FFO, a price of $187.37 per share would be 18.5x FFO, with a yield just under 3.5%. That seems to me to be a fair value for a blue-chip REIT with an A-rated balance sheet that is growing its revenues, FFO and distribution at such a torrid pace."
My sense is that Simon Property remains a great long-term holding for REIT investors. The current $186 per share price range appears to be a fair value given the growth forecasts.
However, Simon is not immune to the pessimism in the global equity markets, or negative headlines regarding the retail sector.
The weakness in the tourist spending, and a warmer than usual winter, is likely going to negatively impact the results of industry peers when they report earnings. I expect that Simon shares might decline "in sympathy" with these smaller rivals, which could provide a slightly better entry point.
If Simon shares pull back ~5% close to the $175 per share range due to negative headlines or macroeconomic fears, the yield would be 3.65% vs. the current 3.44%. However, that is not a huge difference over the long haul for investors looking to initiate a position in Simon Property Group immediately.
The analyst consensus target price for SPG shares is ~$224.50 per share, or about a 20% price appreciation upside from current price levels.
Disclosure: I/we have no positions in any stocks mentioned, but may initiate a long position in SPG, SRG over the next 72 hours.
I wrote this article myself, and it expresses my own opinions. I am not receiving compensation for it (other than from Seeking Alpha). I have no business relationship with any company whose stock is mentioned in this article.