While there was a lot of panic regarding Apple's (NASDAQ:AAPL) latest quarterly results, I encouraged investors to relax a bit. While this might not be the best year for the iPhone, all companies would love to have the quarterly results that Tim Cook and Co. just detailed. Management has stated it will issue more debt this year, mostly to fund Apple's capital return plan, primarily to avoid repatriating foreign funds and paying taxes. In this article, I detail a number of reasons why now is the best time for Apple to issue new debt.
Interest rates on the decline
With global market worries causing investors to sell stocks a bit in 2016, fixed income has seen some decent inflows. On Friday, the bank of Japan decided to adopt negative interest rates, sending US yields further lower. The chart below shows how the 10-year US Treasury yield is at its lowest point in a number of months.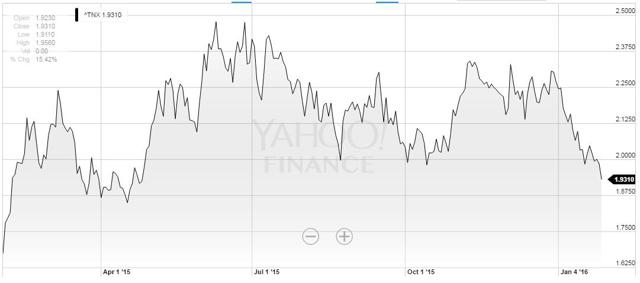 Click to enlarge
Back in May 2015, Apple issued $8 billion worth of dollar denominated debt, half of which was through 10- and 30-year maturities. Then, the 10-year US Treasury rate was around 2.20%, and now we are well below that. With many investors expecting anywhere from one to three more US Fed rate hikes this year, one might think Apple should issue debt before interest rates rise again.
Investors looking for high quality debt
The debt market has become a bit fractured in recent months, primarily thanks to the fall in oil prices. Many investors are fleeing high yield debt, so those interested in corporate debt are likely headed towards investment grade issues. If you are looking for high quality corporate debt, don't you think a company that just reported a record $18.3 billion quarterly profit would be safe?
Apple ended its fiscal quarter with over $215 billion in cash, albeit most of it outside the US, against just $63 billion of debt. With the company generating tens of billions in cash flow each quarter, I don't think Apple will have any problems paying back debt in the next decade. A flight to high quality debt might attract more investors, allowing Apple's rate to come in lower than some might expect.
Beat the dividend deadline and raise
My main premise today is that Apple issue debt to fund its buyback plan. Well, with a quarterly dividend record date coming real soon, buying back those shares now would save on dividend payments. Many investors are expecting a dividend raise at the company's April earnings report, another reason to buy shares now.
Additionally, Apple might be at an interesting debt/dividend point, one that I recently discussed with chip giant Intel (NASDAQ:INTC). When Apple took out that debt in May 2015, it paid a 3.20% annual coupon for its 10-year bond issuance. Given the items I've discussed above, Apple could be in a position to currently get 10-year debt for 3.00% or less.
If we take Apple's roughly 25% tax rate, the after-tax cost of that debt would be 2.25%. As of Friday's close, Apple's annual dividend yield was 2.14%, but it was higher earlier in the week when shares were lower. So while the numbers will depend on the actual interest rate, tax rate, and share repurchase price, Apple is in a position where it could buy back shares whose dividend yield is higher than the company's after-tax cost of debt. There's a cash flow savings realized there, in addition to helping boost earnings per share.
Signal that shares are undervalued
Do you remember what happened just about this time two years ago? Apple's shares fell after the Q1 earnings report and management stepped in with a large repurchase of shares. That put a bottom in Apple's shares for the near term, eventually starting the next breakout seen in the chart below.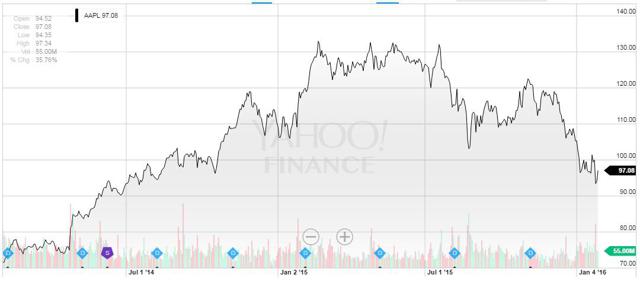 Click to enlarge
With shares near their 52-week lows and analysts rushing to slash their estimates, now would be a good time to put another floor in the stock. I wondered in my earnings article if Apple sandbagged guidance a little to set up a beat down the road, providing a good time to buy back shares. If management really believes the iPhone 7 will result in a super upgrade cycle, now is the time to buy shares before they reach triple digits once again.
Final thoughts
Apple's management has indicated it will explore the debt markets again this year, but I don't think they should wait too long. With interest rates on the decline and investors fleeing high yield, I believe Apple can lock in some decent rates. This would allow the company to buy back a larger amount of stock, especially before the next dividend payment and the potential April raise. Plus, management could tell the street it thinks shares are undervalued and due for a rally. It worked two years ago, so why not try again?
Disclosure: I/we have no positions in any stocks mentioned, and no plans to initiate any positions within the next 72 hours.
I wrote this article myself, and it expresses my own opinions. I am not receiving compensation for it (other than from Seeking Alpha). I have no business relationship with any company whose stock is mentioned in this article.
Additional disclosure: Investors are always reminded that before making any investment, you should do your own proper due diligence on any name directly or indirectly mentioned in this article. Investors should also consider seeking advice from a broker or financial adviser before making any investment decisions. Any material in this article should be considered general information, and not relied on as a formal investment recommendation.