I went through David Fish's list of 250 Dividend Contenders that have increased their dividends every year for at least a decade, and I identified ones with one-year dividend growth rates of 15% or higher.
On top of that, their dividend growth rates were increasingly higher going from the 10-year rate to the 5-year rate to the 3-year rate and to the 1-year rate. I found 5 that are priced at decent valuations today.
Here's an overview of the companies.
DGR (%)

Company

Ticker

Industry

DG Years

Payout Ratio

1-Year

3-Year

5-Year

10-Year

Bunge Ltd

(NYSE:BG)

Agriculture

14

51%

12.5%

11.5%

10.4%

9.9%

Lincoln Electric Holdings, Inc.

(NASDAQ:LECO)

Machinery

21

65%

26.1

19.5

15.7

12.4

MSC Industrial Direct Co Inc

(NYSE:MSM)

Industrial Goods

13

46%

17.3

15.8

14.2

13.5

Perrigo Company plc Ordinary Shares

(NYSE:PRGO)

Drugs

13

6%

19

14.9

14.2

11.9

Tanger Factory Outlet Centers Inc.

(NYSE:SKT)

Retail REIT

22

*52%

15.9

9.7

7.2

5.5
Source: Data from David Fish's CCC list with rounded payout ratios
* Calculated using annualized payout based on quarterly dividend divided by FY2015 FFO
Bunge

Since Bunge was founded in 1818, it has evolved into a global agribusiness and food company with integrated operations from the farm to the consumers. Bunge is the world's largest oilseed processor by capacity. Additionally, it's the second-largest soybean producer. Its operations can be found in roughly 40 countries. Bunge's products range from animal feed to consumer foods to renewable fuels.
Bunge is in a highly competitive industry as can be seen with the company's low TTM operating margin of 2.4%. The company's share price has fallen about 32% from its 52-week high.
At $62, it yields 2.5% and is priced at a multiple of 12.3, while the consensus analyst estimate for its EPS growth rate is 15% on average in the next 3-5 years timeframe. On top of that, Bunge has increased its dividends above 10% on average in the last decade.
Lincoln Electric Holdings

Since Lincoln Electric was founded in 1895, it has become a leader in manufacturing welding, cutting, and brazing products. Lincoln Electric has over 40 manufacturing locations, including operations and joint ventures in 20 countries and a worldwide network of distributors and sales offices across more than 160 countries.
Lincoln Electric's share price has fallen about 26% from its 52-week high. At $53, it yields 2.4% and is priced at a multiple of 15.2 while the consensus analyst estimate for its EPS growth rate is 13% on average in the next 3-5 years timeframe.
MSC Industrial

MSC Industrial markets and distributes maintenance, repair, and operating supplies to industrial-oriented customers primarily in the United States. With the industrial recession in the U.S., MSC Industrial hasn't done well either. For its FY2016 Q1, it reported net sales of $706.8 million, a decline of 3.3% year-over-year. As well, operating margin fell 50 basis points to 12.8% even after cost savings and increased growth spending. Its adjusted EPS also fell 6.3%.
Actually, its EPS has fallen or had little growth since its fiscal year 2013. So, it's understandable that its shares fell over 15% from its 52-week high. At under $65, MSC Industrial yields 2.7% with a multiple of 17.4 while the consensus analyst estimate for its EPS growth rate is 15% on average in the next 3-5 years timeframe.
Perrigo Company
Perrigo Company is headquartered in Ireland and is a leading healthcare supplier that develops, manufactures, and distributes over-the-counter and generic prescription pharmaceuticals, infant formulas, nutritional products, animal health, dietary supplements, active pharmaceutical ingredients, and medical diagnostic products.
Perrigo Company's share price has fallen about 28% from its 52-week high. At $145, it yields 0.3%, and it's priced at a multiple of 16.2 while the consensus analyst estimate for its EPS growth rate is 13.5% on average in the next 3-5 years timeframe.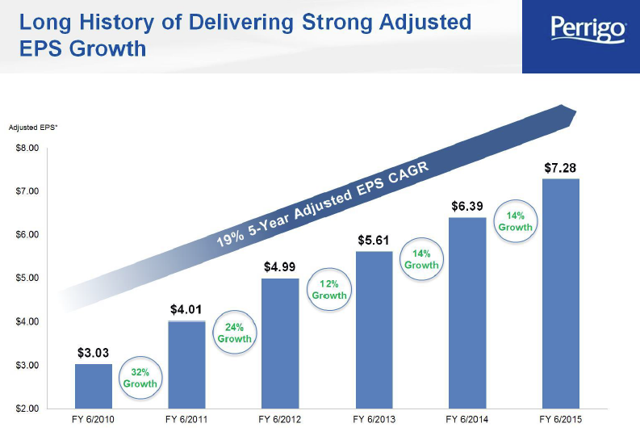 Click to enlarge
Source: Slide 10 - 34th Annual J.P. Morgan Healthcare Conference (pdf)
The company estimates over-the-counter drugs to have organic growth of 5-10%, driven by a growing and aging population and the switch from prescription drugs to over-the-counter drugs.
More importantly, Perrigo Company has had a history of increasing its earnings at a double-digit rate which drives long-term price appreciation. If you bought the shares at the end of 2007 for $35 per share, your investment would have been a 4-bagger! (It would have growth at a rate of 19.2%!) At the same time Perrigo's earnings have had double-digit growth, its revenue has done the same.
| | |
| --- | --- |
| Fiscal Year | Revenue Growth |
| 2007 | |
| 2008 | +25.9% |
| 2009 | +10.2% |
| 2010 | +13.1% |
| 2011 | +21.4% |
| 2012 | +15.2% |
| 2013 | +11.6% |
| 2014 | +14.7% |
| 2015 | +13.4% |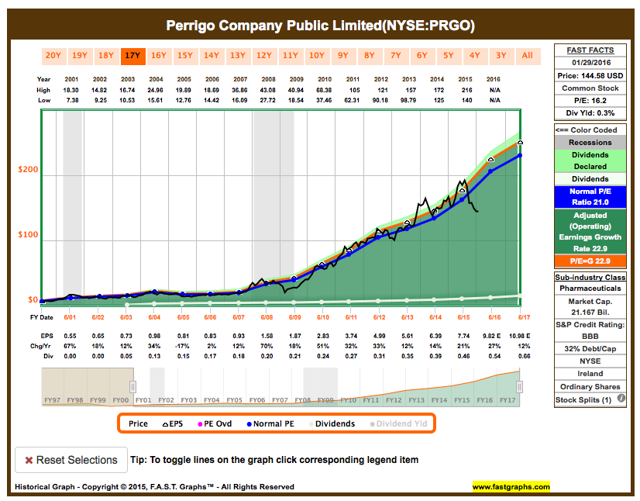 Click to enlarge
Perrigo Company anticipates 2016 EPS to be $9.50 to $10.10, 24% to 29% higher than its 2015's EPS. If this materializes, its multiple of around 16 now makes the shares look cheap.
Tanger Factory Outlet Centers

Tanger Factory Outlet Centers is a retail REIT that owns or has interests in 42 outlet shopping centers with 2 more centers under construction. Tanger's operating properties total 14.3 million square feet and can be found in 21 states and in Canada. Its properties are leased to over 3,000 stores operated by different brand name companies.
Tanger's strong operations have allowed it to increase its dividend every year since its IPO in 1993. In 2015, it had a big dividend increase of 18.8%. In early 2015, its shares were driven sky-high to $40. The shares were overvalued then, but interested investors would be thrilled to know that they're back at fair valuation today at $32 and yields 3.6%.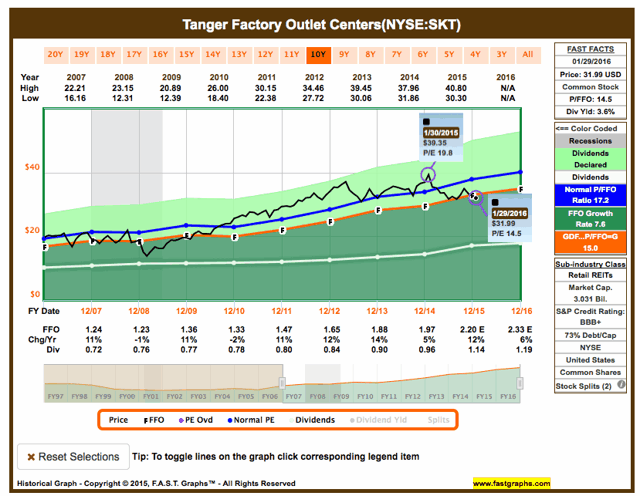 Click to enlarge
Conclusion
If I had to choose between these 5 companies today, I'd consider Perrigo Company and Tanger Factory Outlet Centers first because of their reasonable valuations and Perrigo's earnings stability and expected double-digit growth and Tanger's stable FFO growth.
Did any Dividend Contenders catch your attention lately? If yes, share in the comments below.
If you like what you've just read, follow me! Simply click on the "Follow" link at the top of the page to receive an email notification when I publish a new article.
Disclaimer: I am not a certified financial advisor. This article is for educational purposes, so consult a financial advisor and or tax professional if necessary before making any investment decisions.
Disclosure: I/we have no positions in any stocks mentioned, and no plans to initiate any positions within the next 72 hours.
I wrote this article myself, and it expresses my own opinions. I am not receiving compensation for it (other than from Seeking Alpha). I have no business relationship with any company whose stock is mentioned in this article.