Looking for a safe, 5% accidentally high-yielder with a mundane business pedigree?
Check out International Paper Co (NYSE: IP)

Shares of International Paper, the world's leading paper and packaging company, has been pounded down along with many other Materials sector brethren. Over the past year or so, equity prices have plummeted from a high of $55 to a low of $33. Today, shares are bid ~$33.80.
A long-term chart indicates you'd have to go all the way back to the summer of 2012 to find share prices this low. In those days, earnings per share were almost 40% lower.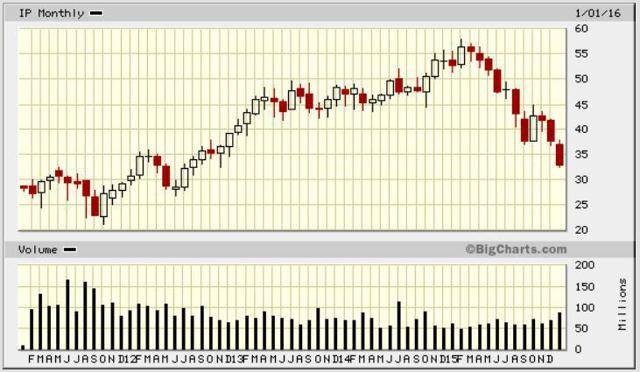 Click to enlarge
courtesy of bigcharts.marketwatch.com
Hence, opportunity is born.
I've owned International Paper shares for years, simply trading around a core position. All the while, I've enjoyed cashing in the rising dividend checks.
Folks, this mid-cap value stock avoids the spotlight. Paper and packaging is boring. The printing paper side of the business has experienced slow, secular decline for years; however, it's been offset by a packaging and containerboard business that offers global growth.
Burgeoning internet sales, a move from plastic to paper food containers, and growth of emerging markets' middle-class all offer reasonable, if unspectacular forward prospects.
Readers, I'm writing you today because IP shares now "come in" with a nice kicker: a 5.2% dividend yield.
What's more, over the past 5 years, the company has grown the payout by an annualized 35%. Not bad, huh? Furthermore, I believe it's a safe payout.
Let's probe a little deeper.
International Paper's Dividend Policy
International Paper has a general dividend policy whereas the company plans to distribute between 40% and 50% of its free cash flow to shareholders. This bumped up from the previous policy target range of 30% to 40%.
Under the fine stewardship of past-CEO John Faraci and current CEO Mark Sutton, the company has built an enterprise with the durability to mitigate the often cyclical nature of the paper and packaging business.
Here's a chart illustrating International Paper's cash flow and free cash flow since the Great Recession: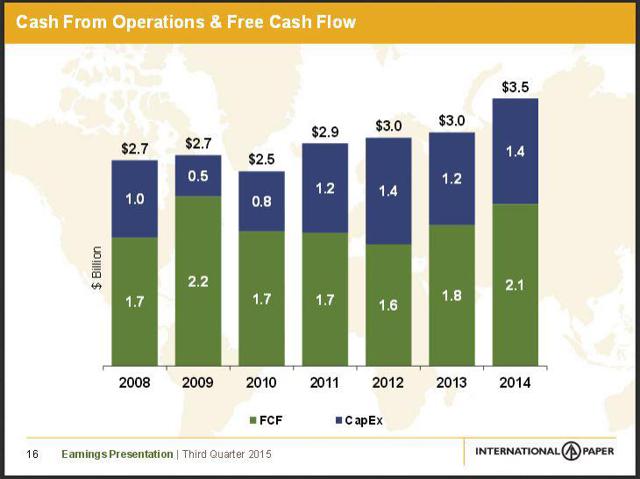 Click to enlarge
Immediately noticable is the business consistency, even through the teeth of 2008-09 recession.
2014 turned out to be a very good year, and 2015 has shaped up well, too. Through September 30, the company generated $1.34 billion free cash flow after excluding a $750 million pension contribution. (More on that later).
4Q 2015 prospects were projected to be reasonable; as shown on the following slide from the third-quarter earnings presentation: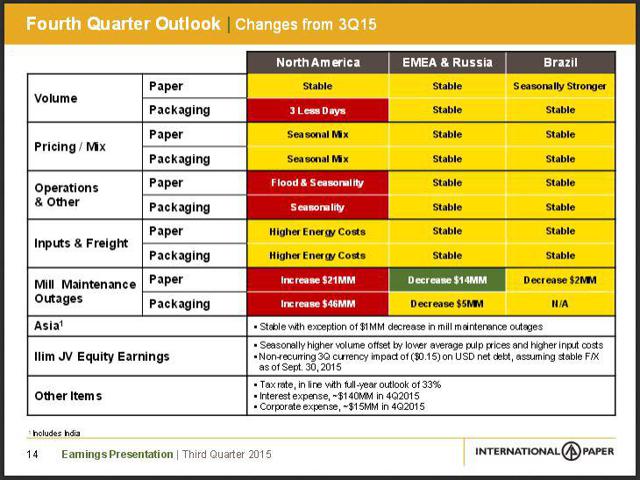 Click to enlarge
International Paper reports 4Q and year-end earnings on February 3. I expect some weakness in North America to be partially offset by other global operations. It's the usual story: predictably acceptable, if not somewhat boring results.
Calculating Free Cash Flow
Importantly, when calculating Free Cash Flow (typically defined as operating cash less maintenance capital expenditures) IP excludes pension contributions. 2015 saw a large contribution; some $750 million.
The following slide highlights this.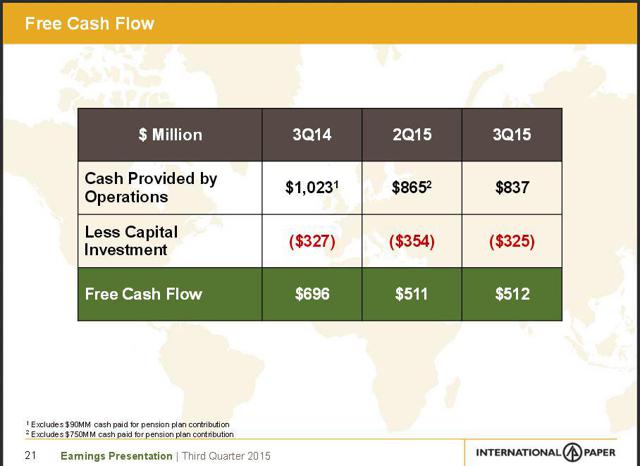 Click to enlarge
Notably, later in the presentation, management pointed out no pension contributions were planned for 2016.
For those wanting to follow the math, I also include International Paper's third quarter 10-K cash flow statement.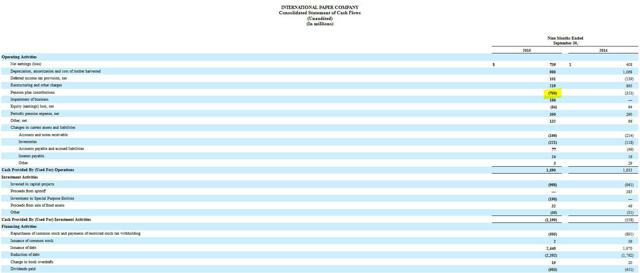 Click to enlarge
The pension contribution is highlighted in yellow. We also see through 3 quarters of 2015, total dividends totaled $505 million. Given FCF of $1.34 billion over the same period, the payout ratio is 38%. That's low-end of the current 40% to 50% policy.
In 2014 and 2013, the annual dividend payout as a function of FCF was about 30%, on the low band of the old policy.
Kind of conservative and boring.
A Few Other Words about International Paper Co
I submit International Paper is a conservative, well-managed organization. Senior leadership is focused upon the core business: manufacturing packaging products and printing papers. There isn't much interest in bells or whistles.
The balance sheet is acceptable, though I'd like to see it de-leveraged a bit more. Currently, the debt-to-EBITDA ratio is 3.0x. That's towards the banks' upper limit for the metric. This isn't lost on senior management, who've stated clearly the intent to ensure International Paper retains an investment-grade credit rating. Corporate debt ramped-up after the 2012 acquistion of peer Temple-Inland.
In addition to the generous cash dividend, the company has a meaningful stock repurchase plan. Through 3Q 2015, International Paper reduced its total diluted shares outstanding by 2.6% versus the year prior.
IP also earns its profits in cash. In recent years, operating cash flow per share has consistently eclipsed EPS. I find this a hallmark of strong corporations.
Lastly, one can make a good case the company is undervalued. Using Price-to-Cash Flow as an appropriate valuation metric, the following F.A.S.T. Graph illustrates the historical relationship: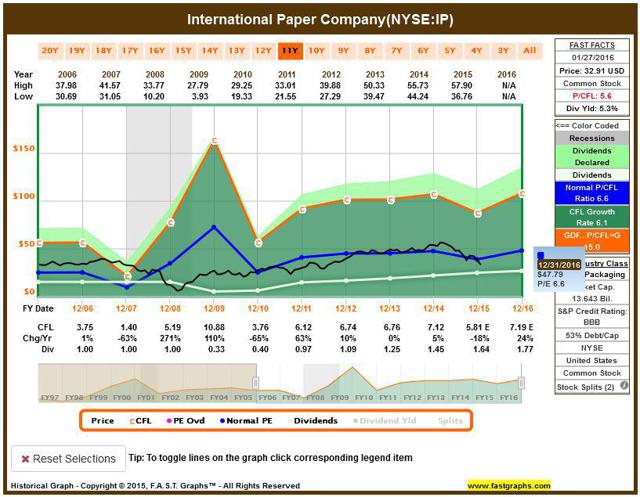 Click to enlarge
Courtesy of fastgraphs.com
If we accept the long-term 6.6x average operating cash flow multiple, and apply 2016 estimated $7.19 OCF per share, we find a ~$48 fair value price target is plausible.
I believe $8 per share top-cycle cash flow is possible, coupled with a full 7x multiple. Getting to that point may be contingent upon whether the global economy is taking a breather before resuming the business up-cycle, or teetering before rolling over.
In any event, I'm content to take a long view, the 5% yield on new shares, and be on my way.
Please do you own careful due diligence before making any investment decision. This article is not a recommendation to buy or sell any stock. Good luck with all your 2016 investments.
Disclosure: I am/we are long IP.
I wrote this article myself, and it expresses my own opinions. I am not receiving compensation for it (other than from Seeking Alpha). I have no business relationship with any company whose stock is mentioned in this article.