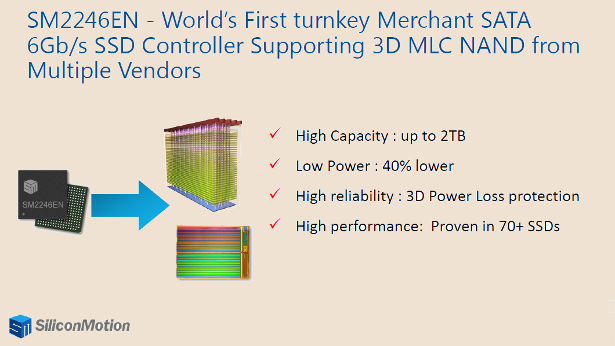 Every quarter in 2015 had set a new quarterly revenue record for Silicon Motion (NASDAQ:SIMO), the world's largest merchant supplier of client SSD controllers. The company is hardly one for prolonging anticipation. It routinely released preliminary results each quarter. The fourth quarter was no different. On January 6, 2016, the cat was let out of the proverbial bag. Silicon Motion revised fourth quarter guidance for revenue to a range of $96.8 million to $98.3 million. Considering third quarter revenue was $95.4 million, a new quarterly record was practically in the books.
Last week, Silicon Motion released fourth quarter results. Not only did the company set another quarterly record, it delivered on the high end of its updated guidance with revenue of $98.04 million. Just as importantly, the new level of revenue came in the quarter most likely to experience a seasonal slowdown. The following chart depicts the revenue build throughout the year detailing both quarter-over-quarter growth and year-over-year growth.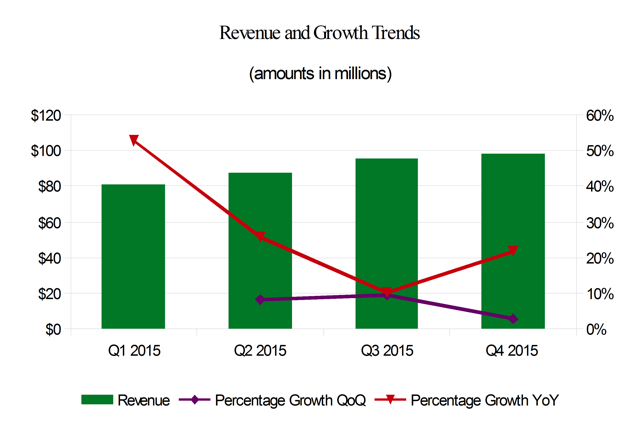 Click to enlarge
Source: Author-created from company published data
While revenue continues to increase at a more than respectable pace, Silicon Motion's non-GAAP margins are stabilizing in the company's target ranges. The next table displays the company's margins throughout 2015. For the full year, non-GAAP gross margin dropped 60 basis points year over year while non-GAAP operating margin increased 40 basis points and non-GAAP profit margin increased 28 basis points. For 2016, the company is projecting non-GAAP gross margin to land in the range of 49% to 51% and non-GAAP operating margin to land in the range of 23% to 25%. At the midpoints, non-GAAP gross margin would decrease 120 basis points and non-GAAP operating margin would decrease 50 basis points. Yet, the non-GAAP gross margin midpoint still meets the company's long-term target of 50%.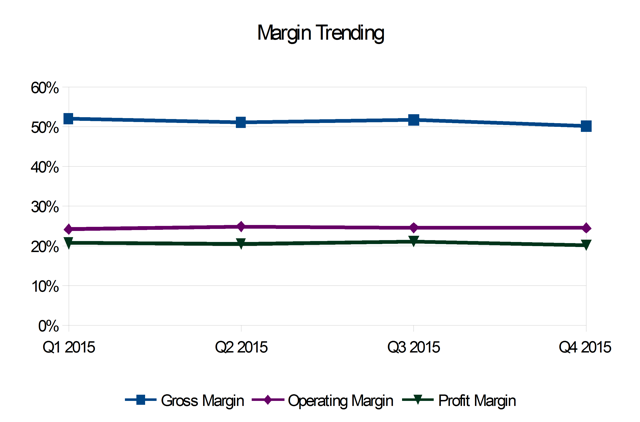 Click to enlarge
Source: Author-created from company published data
Silicon Motion's product mix changed significantly in 2015. At year-end 2014, client SSD controllers represented just 5% of sales. In 2015, this percentage grew to approximately 25%. Sales quadrupled year over year reaching the high end of the company's projection given at year-end 2014. Silicon Motion's purchase of Shannon Systems was completed in July 2015. The acquisition of Shannon Systems added enterprise-class PCIe SSD to Silicon Motion's product line.
In the fourth quarter of 2015, enterprise SSD controller sales nearly doubled the sales from the third quarter. Enterprise SSD controller sales ended the year just under $10 million. The company continues to deliver innovation to the industry. On January 6th, 2016, it announced the first turnkey merchant SATA SSD controller solution that will support 3D NAND from multiple vendors. The growing and changing product lines are the foundation of Silicon Motion's revenue guidance for 2016.
Silicon Motion's full-year projection for revenue in 2016 is an increase of 12% to 20%, which equates to an additional $43 million to $72 million based on 2015 annual revenue of $361 million. The company's embedded storage business - client SSD controllers, enterprise SSD controllers and eMMC controllers - is expected to contribute approximately 60% of revenue in 2016 as compared to 50% in 2015. It expects sales for client SSD controllers to deliver another 50% increase or $30 million. The market for enterprise SSD controllers is expected to grow by approximately 15% annually.
Silicon Motion, via Shannon Systems, expects to pace at least at industry growth. The additional revenue from this product line in 2016 will include a full year of contribution as well as the expected growth for at least $13 million. The largest product line, eMMC controllers, should see growth in the 5% to 10% range contributing at least an additional $5 million. Summing the three contributions equals approximately $48 million, well within Silicon Motion's projected range.
Diluted earnings per ADS for the full year, on a non-GAAP basis, increased from $1.70 to $2.11 or 24%. Using the 2016 full-year projections for revenue and margins, it is likely earnings per ADS could range from $2.31 to $2.70. The company's CAGR for revenue since 2010 is 22%. For earnings per ADS, the CAGR in the same time frame is 38%. While the actual numbers have grown to a point that percentage growth numbers will start to reverse, it is still likely earnings per ADS CAGR will continue to outpace revenue CAGR.
Silicon Motion ends 2015 with $185.2 million in cash and equivalents equating to over $5.00 per share. The company has no long-term debt. It pays a quarterly dividend of $0.15 per ADS for an annual rate of $0.60. The yield based on the company's recent share price hovers around 2%. Building a position in Silicon Motion remains an attractive option all the way up to the $40 mark.
Disclosure: I am/we are long SIMO.
I wrote this article myself, and it expresses my own opinions. I am not receiving compensation for it (other than from Seeking Alpha). I have no business relationship with any company whose stock is mentioned in this article.
Additional disclosure: I belong to an investment club that owns shares in SIMO.