Introduction
I'm actually quite proud I was the very first person to cover Euronav (NYSE:EURN) (OTC:EONVF) on this great website, and the company has done everything right ever since I wrote it up in December of 2013. The share price in EUR has more than doubled and the company has now also reinstated the dividend.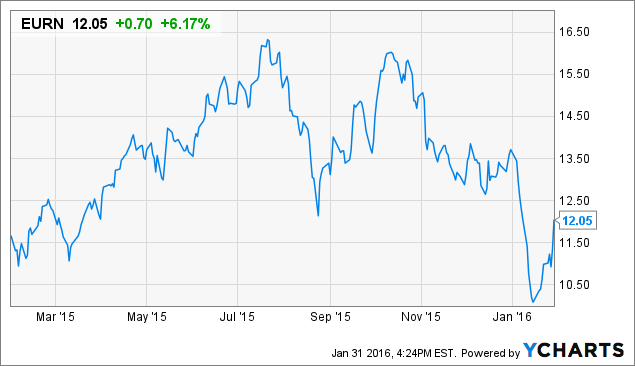 EURN data by YCharts
As the tanker market remained exceptionally strong, I was looking forward to see how Euronav performed in the fourth quarter of 2015 (and the full financial year, of course), and I also saw J. Mintzmyer provided his subscribers with an earnings preview.
A blowout fourth quarter sets the tone for a good 2016
Well, let's start with the good stuff. 2015 was an excellent year for the majority of the oil tankers, but Euronav outperformed itself and has posted the highest quarterly EBITDA-result since the third quarter of 2008. That's right, thanks to the strong demand for oil tankers and the expanded fleet, Euronav's EBITDA increased to in excess of $161M.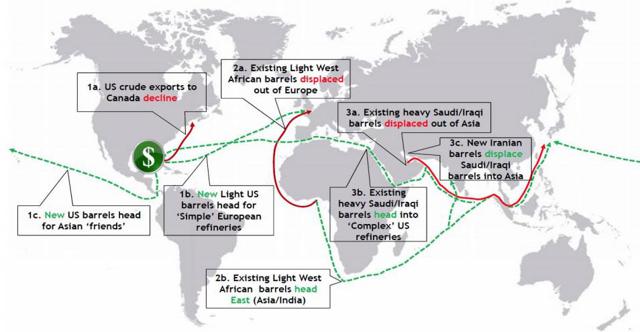 Source: company presentation
The total revenue in 2015 was approximately $867M and after deducting the $515M in operating expenses (which consisted for approximately 40% of depreciation charges), the operating income was $352M, a stunning 30-fold increase (yes, thirty) compared to the previous financial year. The pre-tax income was $355M and after paying a total tax of $5.6M, the net income was $350M or $2.25/share. Not bad for a company that is trading at less than $12/share.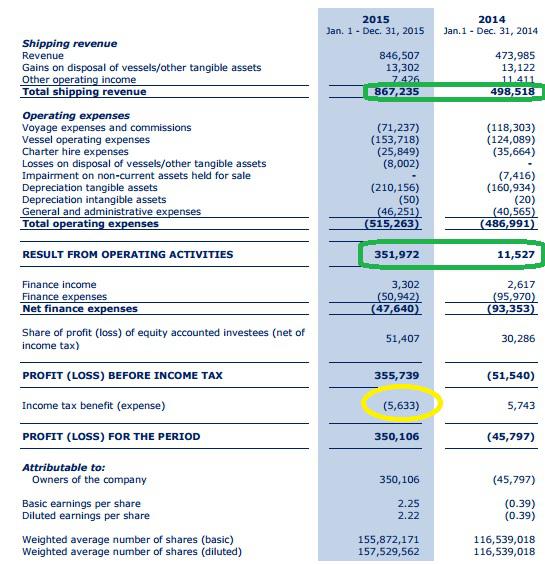 Source: press release
You might indeed notice the tax bill was exceptionally low, and that's indeed very true. The company's CFO explained on the conference call Euronav was able to move around some deferred tax assets, but this effect should subdue from this year on, and the tax rate will be quite a bit higher.
The way it works is that we activate some deferred tax assets that we have obtained following investments made in the past. The amount activated at the end of 2014 was not enough, given the good year we had in 2015, so we activated some more in previous quarters of this year.
In my previous articles, I have also always given a lot of attention to Euronav's cash flow statements, as I believe those offer a unique insight in the company's possibility to generate cash flows. The operating cash flow was $450M, but after isolating a negative change in the working capital position of $58M, the adjusted operating cash flow was approximately $508M, which was most definitely sufficient to cover the $352M in capital expenditures (which was also partly offset by a $113M cash inflow from selling some vessels).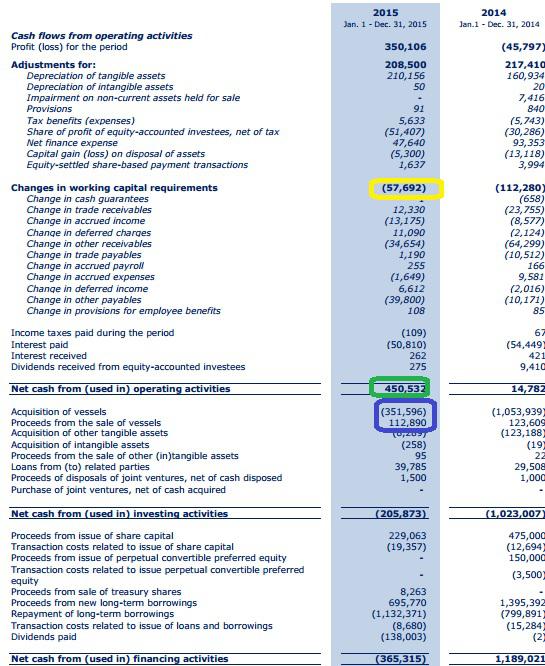 Source: press release
Keep in mind 2015 was a pretty capital-intensive year for Euronav as it acquired several new vessels. Also, keep in mind the capex in Q4 was just $11M (as practically no new vessels were delivered), indicating the vast majority of the capital expenditures are considered to be growth capex. And this growth capex should drop rather substantially in 2016, as Euronav confirmed the commitment for the vessels that are scheduled to be delivered this year is 'just' $130M, much lower than in 2015. There will also be some additional maintenance capex, but I would expect the total capex bill to come in around $175-200M.
The dividend has not been announced yet, but it will most definitely exceed 10%
Euronav hasn't confirmed the total amount of the dividend, but says it's sticking with its plan to pay out 80% of its net income.
Based on the EPS of $2.25/share, 80% would result in a full-year dividend of $1.8 per share, and this is approximately 10% higher than the $1.6/share I was expecting in my previous article. Needless to say, I'm a happy camper. However, keep in mind Euronav has already paid an interim dividend of 62 cents per share, so the final dividend will very likely be in the $1.15-1.20 region and will be payable sometime in May.
For those who purchased Euronav after my first article at 6.5 EUR/share, the full-year gross dividend is expected to be 1.66 EUR/share, which would basically mean the yield on the average cost basis of these shares is approximately 25%. You're very welcome!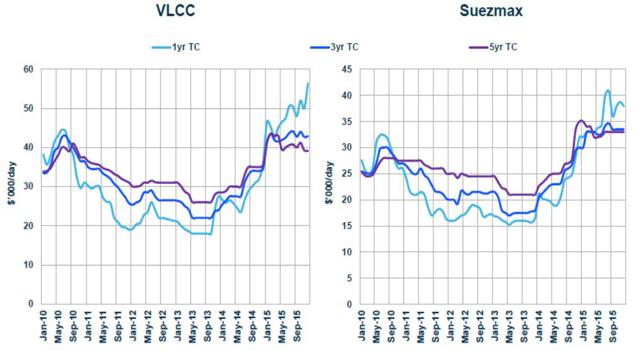 Source: company presentation
If Euronav can continue to lock in the very advantageous freight rates, its shareholders will be in for another excellent financial year. In fact, the performance could improve even further as a) the oil price has decreased since the start of the current financial year which reduces Euronav's operating costs, but b) I have the impression Euronav is also rationalizing its portfolio as it has sold an old VLCC (built in 2001) for $38.4M as it was replaced by a brand-new VLCC that was delivered just 11 days later. Not only will this newer vessel be more fuel-efficient, it can also carry 15% more dwt compared to the old one that has been sold.
But the sale of the old vessel and the sale of a 17 year old Suezmax in the fourth quarter are indicating something important. More than two years ago, I argued the company's depreciation schedule was very aggressive, which lead me to believe the value of its vessels has been understated on the balance sheet.
These two sales seem to confirm my thesis. The Suezmax vessel had a book value of $11M (but was sold for in excess of $22M) whilst the VLCC was sold for $38.4M even though its book value was less than $25M. As you can see, the market value of the two old ships was higher than the book value, and there's no reason to assume this will be different in the future (given the current market circumstances). This is another reason why I was particularly fond of Euronav as it doesn't try to convince itself to over-estimate the value of its fleet, which is something quite a few other shipping companies actually do.
Investment thesis
Euronav is on the right track and if the company would be able to keep the net profit stable, Euronav will have a double digit dividend yield as I'm expecting a full-year dividend of $1.8 per share. That's absolutely great, but let's also not forget the company does have some debt it might want to pay off as well. Based on the current share price, Euronav's dividend yield is approximately 15%. And the nicest thing of it all? It's sustainable based on the 2015 results, but will likely come down a bit as the tax expenses will increase.
The company is now trading at 1X its book value, but the recent vessel sales have confirmed my expectations the true value of the vessels is higher than the book value. Euronav recently sold two vessels at a 50% and 100% premium to their respective book values, so the true value is very likely quite a bit higher.
Readers who invested after my first article that has been published two years ago are sitting on a net gain of approximately 80-85% (dividends included), after having more than doubled earlier this year. For now, I consider Euronav to be a 'hold' and will consider it to be an important cornerstone piece of my income-oriented portfolio.
Disclosure: I am/we are long EURN.
I wrote this article myself, and it expresses my own opinions. I am not receiving compensation for it (other than from Seeking Alpha). I have no business relationship with any company whose stock is mentioned in this article.
Editor's Note: This article discusses one or more securities that do not trade on a major U.S. exchange. Please be aware of the risks associated with these stocks.