ARMOUR Residential REIT (NYSE:ARR) recently released their latest portfolio update, which gives investors an idea of how the company was doing at the end of the quarter and how they were doing late in January. There were quite a few pieces of information to be gleaned from the report.
The First Numbers
We'll start with the book value and shares outstanding.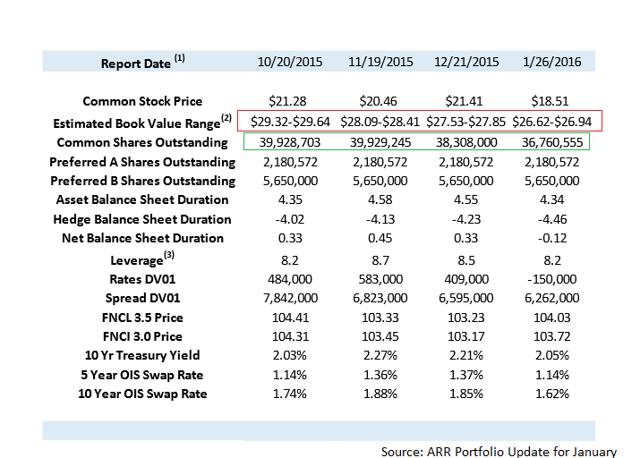 Click to enlarge
The book value per share has declined for each month. That isn't entirely surprising since the dividend is running around the entire value for Core EPS and the Core EPS numbers are strengthened through the use of forward starting swaps. However, it is unfortunate to see how much book value has fallen for each month.
On the other hand, it is nice very nice to see the company repurchasing so many shares. However, investors should already be aware of the reduction in share volume since ARMOUR Residential REIT released the information shortly after the year started. The filing relating to their announcement is available on their website.
Unfortunate Things
The book value per share took another substantial hit between December 21, 2015 and January 26, 2016. However, the company repurchased a substantial amount of shares during that period and estimates that the repurchases increased book value per share by $1.13. All around, that is great news for shareholders. The shares were repurchased at an average price of $21.25. This isn't exceptionally low compared to their normal trading ranges, but it is dramatically below their book value per share which is good enough to be positive.
The not-so-positive thing is that their filing earlier in the year identified a total volume of common shares reaching only 36,682,000 (their estimation). That is slightly below the value outstanding on January 26th, which suggests that very few, if any, additional shares were repurchased during January. The reason that matters is because of the January 20th event. That was the day we saw shares fall from $18.29 the previous night to a low of $16.61. They were exceptionally low for a couple hours and then rebounded before closing. This was an event that occurred for most of the industry and it was an excellent time for mREITs to repurchase shares since their book values were not getting hammered too hard.
I'm confident on the book values, because I was pulling the MBS pricing data during the day to look into the fierce sell-off. This was a great opportunity for any mREIT that took advantage of it.
Repurchasing Shares
Some shareholders might feel that it is management's job to look at investments in bonds rather than constantly examining their own shares. I think the company's shares should be one of the many investments management would be contemplating. If I can take the time to do it, surely the executive running the portfolio can do it. They get paid far more, have access to superior tools, and only need to evaluate mREIT rather than an entire industry. Since agency MBS are liquid and swaps could be effectively negated by taking the opposite position in EDFs (Eurodollar treasury futures), I see no reason an mREIT can't modify their position very quickly to free up cash for repurchasing shares. I'm not saying that mREITs should have "called the bottom" on that day. I'm saying mREITs should have created the bottom by buying up shares and challenging sellers to push them out of their position. It'll be interesting to see if any of the other mREITs were actively buying back shares that day.
Hedging
While the book value per share moved down and leverage decreased, the hedge position remained flat. That means the notional balance of hedges relative to the total balance of MBS is higher. Effectively, the portfolio is slightly more hedged now than before. That doesn't mean book value can't get hammered, since the portfolio has regularly been heavily hedged and has continued to decline by more than can be explained just from the dividend.
The major issue, in my opinion, is that MBS prices just aren't keeping up in January to concerns about prepayments. If those concerns turn out to be justified, it will be a negative impact for asset yields across the entire agency mREIT sector.
My Model
My model for book value had the estimate for ARR on January 26th at $26.99 and for January 23rd at $26.34. Those values nicely surround the range management provided. When management provides their estimate, they exclude a portion of book value to account for the earnings being accrued towards the next dividend. I don't exclude those values.
Conclusion
Book value declined, but that must be the expectation by now. The fact that it declined even after an enormous amount of shares were repurchased would be enough to disappoint shareholders. Hedging values are now even higher. If MBS were to "outperform" relative to swaps, they would see significant gains to book value. For the last few quarters, it has been more common for MBS to underperform relative to LIBOR swaps and mREITs to end up losing additional book value.
Disclosure: I/we have no positions in any stocks mentioned, and no plans to initiate any positions within the next 72 hours.
I wrote this article myself, and it expresses my own opinions. I am not receiving compensation for it (other than from Seeking Alpha). I have no business relationship with any company whose stock is mentioned in this article.
Additional disclosure: Information in this article represents the opinion of the analyst. All statements are represented as opinions, rather than facts, and should not be construed as advice to buy or sell a security. Ratings of "outperform" and "underperform" reflect the analyst's estimation of a divergence between the market value for a security and the price that would be appropriate given the potential for risks and returns relative to other securities. The analyst does not know your particular objectives for returns or constraints upon investing. All investors are encouraged to do their own research before making any investment decision. Information is regularly obtained from Yahoo Finance, Google Finance, and SEC Database. If Yahoo, Google, or the SEC database contained faulty or old information it could be incorporated into my analysis.