On July 28th, 2015, I recommended Otelco (NASDAQ:OTEL) in a research report titled "Otelco Inc. Is Not As Hairy As It Looks". Since publication the company had a decent run up in share price.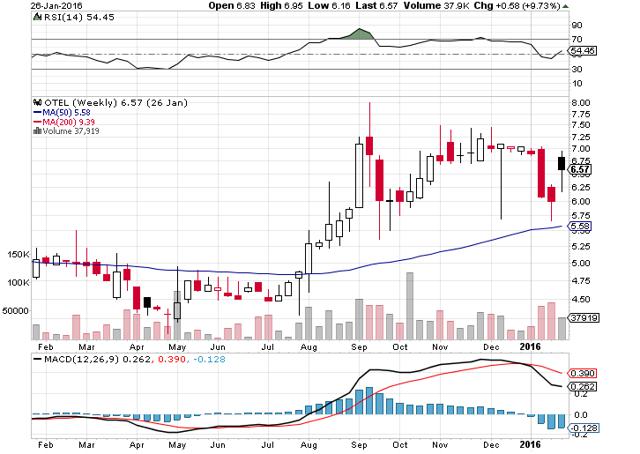 Click to enlarge
The core issue with my original thesis was the up and coming debt maturity that needed to get refinanced. My belief was that the debt refinancing was a major headwind holding back the price of the security. Recently good news came, the refinancing has been completed. In short, the recent refinancing will help the share price trade at a higher level in the future. As more debt get paid off, the share price should rise coupled with less overall non-systematic risk (from lower fixed costs).
OTEL is a very misunderstood and overlooked microcap company (there are zero analysts covering the security). Furthermore the thesis for an investment in the company is simple and holds low non-systematic risk. An investment in OTEL is based upon; a severe undervaluation, with a more fair valuation derived upon continual debt reduction. Correspondingly, the company makes for an attractive takeover target by a much larger player in the telco industry looking for topline growth and overall territory acquisition expansions.
Summary
OTEL operates eleven rural exchange carriers (RLECs) with subscribers in Alabama, Maine, Western Massachusetts, Central Missouri, Western Vermont and South West Virginia. Due to the small rural area that OTEL serves, they are the only provider for their three core rural communities.

Click to enlarge
Source: Otelco Homepage
The company also operates a Competitive Local Exchange Carrier (CLEC) network. Their CLEC serves subscribers in Maine, Massachusetts and New Hampshire. The services included in the CLEC are; local & long distance telephone services, internet & data services, network access, and private & hybrid cloud hosing managed services.
The reason why an investment opportunity exists for OTEL is derived upon industry wide headwinds facing the RLEC market. Furthermore, these headwinds are secular changes derived from government regulation. Secular changes will most likely not get reversed.
On November 11th, 2011, the FCC Universal Service Fund and Intercarrier Compensation Order (FCC Order), came to effect. This new regulation facing the telco industry, drastically changed how telco companies are compensated for serving high cost areas. OTEL started to feel the pinch, or rather bite, of this regulation in July of 2013, continuing to this day hence.
To adapt to these changes, OTEL started to reduce access revenue from intrastate calling in Maine and other states where the interstate rates were higher. By July of 2017, all nationwide interstate rates will be reduced to less than $0.01/minute. OTEL's topline has felt the damage, in terms of revenue reduction.
| | | | | | | | | | | | |
| --- | --- | --- | --- | --- | --- | --- | --- | --- | --- | --- | --- |
| | TTM | 2014 | 2013 | 2012 | 2011 | 2010 | 2009 | 2008 | 2007 | 2006 | 2005 |
| Revenues | 72 | 74 | 79 | 98 | 102 | 104 | 104 | 77 | 70 | 58 | 47 |
In millions
Industry trends are pointing towards continued declination in the number of residential voice access lines, all when normalized for territory acquisitions, on the RLEC side of the spectrum. However, offsetting the decline has been the stable and growing business access lines. Also helping the offset of voice access lines has been an increase in the CLEC revenues. CLEC revenues are increasing from upselling/bundling and further penetration into existing markets.
Investors should expect continual secular declines in the RLEC business segment, especially concerning voice access lines. Interestingly and due to the upselling/bundling ability of the business model, OTEL may be able to offset some revenue declines. Management's strategy going forward is to upsell/bundle products to existing customers. Products such as alarm and medical alert services, will help complement and drive revenues to their rural customer base.
Valuation
Why do I think that a company with a significant amount of debt, overall negative secular changes, and highly competitive industry makes for a great investment? Sounds pretty counterintuitive to a good investment. However, if you dig deep enough you should see value in OTEL's valuation and business model. In short, an investment in OTEL makes sense due to the undervaluation present in the share price, and coupled with an attractive takeover business model. Before we move into why I think OTEL is an attractive takeover target and more importantly an undervalued play, let's talk about the elephant in the room (the debt).
As I have stated before, the biggest issue with an investment in OTEL from my first report was the looming debt obligation that was maturing in the near-term. On January 26th, 2015, OTEL announced that they refinanced their long-term debt. Details of the refinanced loan are below.
Cerberus Business Finance: A five year term loan for $85mm and a $5mm revolving credit facility. The interest rate will either be at 5.5% plus reference rate or at LIBOR plus an applicable margin equal to 7.75%.
The Newspring Mezzanine Capital gave the company a five and a half subordinated term loan for $15mm. Interest at 12% (cash interest) and in-kind interest of 2%.
The refinancing was the first step forward in my opinion. This will buy the company more time to pay off their long-term debt. What I find amazing about OTEL's situation is how fast the company has reduced their long-term debt in the past few years…
| | | | | | | | | | | | |
| --- | --- | --- | --- | --- | --- | --- | --- | --- | --- | --- | --- |
| | Today | 3Q15 | 2Q15 | 1Q15 | 4Q14 | 3Q14 | 2Q14 | 1Q14 | 4Q13 | 3Q13 | 2Q13 |
| Long-Term Debt | 105 | 102.0 | 105.1 | 100.1 | 105.5 | 107.2 | 110.4 | 115.1 | 121.2 | 124.6 | 126.6 |
In millions
Interestingly, the company has paid off more debt in the past few years than their market cap is worth. With the strong ability to generate FCF at little capex expenses, OTEL will continue to pay off long-term debt. Overall, this will reduce risk and increase the valuation going forward.
| | | | | |
| --- | --- | --- | --- | --- |
| | TTM | 2014 | 2013 | 2012 |
| OCF | 19 | 18 | 19 | 30 |
| Capex | -6 | -6 | -6 | -6 |
| FCF | 13 | 12 | 13 | 24 |
In millions
From conducting research on OTEL, I believe that the company has a unique competitive advantage to continue generating FCF at a steady rate. The biggest reason why OTEL will continue to generate steady FCF going forward is due to the high barriers of entry into their market, at little to no competition.
There is a significant amount of upfront capex requirements with an investment into OTEL's rural market. Moreover, even after the significant amount of investment a potential competitor puts upfront, there are low start up revenues. Startup revenues are low due to low customer concentration in rural areas compared to urban. Also, a potential entrant, after installation, would have to take OTEL's already existing client base. They could do this by offering lower services, however, that would be uneconomical due to the already high capex requirements and low customer concentration.
The high barriers to entry and customer demographics have allowed OTEL to be the sole provider in the majority of its areas. Furthermore, this has allowed OTEL to have a type of monopoly, which supports the forward FCF generation. Moreover, OTEL's ability to upsell/bundle their packages further helps support the competitive advantage the company has. Bundling the phone, internet, VoIP, medical alerts and alarm, into one bill, allows for predictability of revenues and overall business stabilization.
On a relative and absolute standpoint, OTEL is undervalued…
| | | |
| --- | --- | --- |
| | EV/EBITDA | EV/Revenue |
| LICT Corporation (OTCPK:LICT) | 4.82 | 1.92 |
| North State Telecomm (OTCPK:NORSA) | 5.73 | 1.55 |
| Fairpoint Communications (NASDAQ:FRP) | 4.42 | 1.48 |
| Consolidated Communications (NASDAQ:CNSL) | 8.82 | 3.09 |
| Shenandoah Telecomm (NASDAQ:SHEN) | 8.41 | 3.51 |
| Average | 6.44 | 2.31 |
| Otelco | 4.23 | 1.60 |
OTEL is trading closer to its peers than it was when I originally covered the company. However, there is still a relative undervaluation present. What I find interesting is that LICT and NORSA are delisted companies (with almost identical revenues and EBITDA to OTEL) yet they trade at a premium to OTEL, who is listed on a major exchange. This further suggests that OTEL is overlooked and misunderstood by the majority of market participants.
As said before, the main issue holding the share price back when I originally wrote about the company was the looming debt. Since the company recently refinanced, they have effectively bought themselves more time to continue deleveraging. Furthermore, since the debt officially just got refinanced, I believe my original bull and base case scenario multiples can be revised upwards.
| | | |
| --- | --- | --- |
| | Bull | Base |
| EBITDA | 27 | 25 |
| Multiple | 6.00 | 6.0 |
| EV | 162 | 150 |
| +Cash | 5.89 | 5.89 |
| -Debt | 105 | 105 |
| Total Equity | 62.89 | 50.89 |
| Shares Outstanding | 3.23 | 3.23 |
| Estimated Equity Per Share | 19.47 | 15.75 |
In millions
Is my bull case overly optimistic? Maybe and maybe not. Consider the following. First when OTEL emerged from its restructuring its market cap was around double of what it is today, with the share price trading at $11.91/share. Interestingly, the long-term debt was >$30mm higher than it was today.
Secondly, the company has stabilized their operations and their OCF has increased ~$1.00mm in the TTM. Even just an incremental increase in OCF going forward will allow the company to continue paying more of their debt load down (remember upselling/bundling will help to potentially increase the topline).
Finally, as the company continues to pay down debt, the total equity will increase, pushing the share price higher. Not only will the share price increase from continual 'double payments' on the debt, but deleveraging will decrease the non-systematic risk going forward.
In my opinion, OTEL offers an asymmetrical risk/reward skewed to the upside. The opportunity exists due to the lack of analyst coverage and more importantly, the first look misconception at the security, that the company is overly risky due to the high debt load. Furthermore, the absolute and relative undervaluation provide the investor with a high margin of safety.
Potential Takeover Target?
In my original report on OTEL, I toyed at the idea that OTEL has a high possibility of being taken over by a much larger competitor. The main thesis on why I thought OTEL would be a takeover target in the future, was due to their rural presence and monopoly, and the ongoing consolidation in the RLEC and CLEC Industry. Furthermore, due to their unique business model and high barriers to entry, it would be much easier for a competitor to buy OTEL out wholly, than competing with a low customer concentration rural company.
Proof on industry wide consolidation, especially in the rural market, can be found here and here.
I believe that the possibility of OTEL getting bought out becomes stronger every quarter. First, as more debt gets paid off, the company will start to look more attractive on a takeover basis. Secondly, the majority of OTEL's tangible assets are almost wholly depreciated. Not only are they almost wholly depreciated, but they are carried at book value on the balance sheet rather than market value.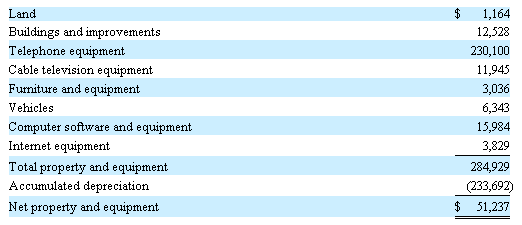 Source: 2014 Annual Report
Remember, OTEL owns their corporate office, which in my opinion is a valuable asset. The corporate building is valuable due to the fact that the company does not have to make lease payments, which in turn lowers their fixed costs. Also, as the real estate market continues to gain strength, so should the value of the company's assets. These tangible assets, trading at book rather than market, are valuable and help to support my thesis.
Finally, the company has $67 thousand in state net operating loss carryforwards as of September 30th, 2015. This is not a significant amount of NOLs. However, with the company's new refinanced loan, it will buy OTEL much needed time to return to a better leverage ratio, for the potential sale with a small NOL asset.
I believe that the market does not understand the value of OTEL's business model. The company's operations generate a significant amount of FCF with low capex requirements. This FCF will allow the company to continue paying down their debt burden, which in turn will lower non-systematic risk. Continual growth in the CLEC business unit and upselling/bundling will allow the company to stabilize and maybe even grow their topline. Due to the high barriers of entry and the monopoly like business, OTEL makes for a great acquisition target, for a company looking to expand into the rural telco industry.
Risks
When you are researching a $20mm dollar stock, you have to look deep. To look further into OTEL, I wanted to find some customer reviews. I grew up in a very rural area and can tell you that telecommunication networks are horrible. The internet is slow and has random shut offs. Wireless connection has areas that work and don't work. Moreover, the weather can shut off your favorite re-run of the Simpsons.
I tried to find customer reviews on Yelp, Glassdoor, and the Yellow Pages, but I had no luck. Then I remembered that you can search for certain terms said on Facebook. Searching for Otelco, I found the customer reviews I was looking for…and was not surprised at all.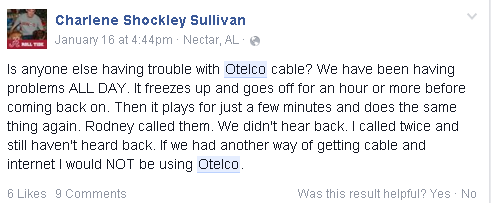 There were good reviews as well though…


However, this next post really shows the type of competitive advantage OTEL has…

These reviews go on and on. There are much more negative reviews than positive, which is a high suggestion of poor service. However the last review caught my attention and shows the value of OTEL's assets. In reality, any company that offers telco service in rural areas will have slow connections and download speed. However, since OTEL controls the majority of their access lines with little to no competition, this provides the company with very valuable assets.
Investors should note that if OTEL continues to generate poor customer service, customers may decide to switch to another type of provider. Providers that offer VoIP or satellite may have the ability to take market share away from OTEL. With the ever increasing need of network connection, OTEL must continue to strive to provide better customer service.
Another risk is adverse movements in interest rates. OTEL has a significant amount of debt on their balance sheet that is prone to interest rate movements. However, there is a cap on how high their floating rates can go. Also, I have a high conviction that the company will not tap into their subordinated term loan, which has the highest interest rates. I am basing this off the fact that the company didn't tap into their previous subordinated loan in their last term facility.
Further regulations going forward may have very adverse effects on OTEL's business model as a whole. The telco industry is highly regulated and may experience more regulations in the near-term. In fact, one of the main reasons why OTEL had to restructure their business was due to the FCC Order.
Competition from VoIP providers, CLECs and other satellite providers, may take some of OTEL's market share. This is somewhat offset due to the value and competitive advantages OTEL's business model has.
Conclusion
OTEL is an overlooked and misunderstood security. Moreover, the company has unique competitive advantages, valuable assets and stable FCF. In the past, the company has paid extra down on their long-term debt obligations, in which I believe they will continue doing. Continual payments on the debt will provide more value to the stock price, while at the same time lowering risk. Finally, the recent refinancing will buy the company more time to lower their leverage ratio and increase the possibility of a takeover. An investment in OTEL has asymmetrical risk/reward with a skew towards the upside.
Disclosure: I/we have no positions in any stocks mentioned, and no plans to initiate any positions within the next 72 hours.
I wrote this article myself, and it expresses my own opinions. I am not receiving compensation for it (other than from Seeking Alpha). I have no business relationship with any company whose stock is mentioned in this article.
Editor's Note: This article discusses one or more securities that do not trade on a major U.S. exchange. Please be aware of the risks associated with these stocks.