This past week Alibaba (NYSE:BABA) beat on both top and bottom line and the stock still sold off yet again. With the exception of this past week, Amazon (NASDAQ:AMZN) seems to get a pass on these important metrics. If we look at the metrics of both companies closely, you will see that BABA is a much safer pick compared to AMZN.
Absolute Metrics
First, we will look at the revenues of both companies. Although the dollar value for AMZN is much higher compared to BABA, it does not mean that AMZN is necessarily making more money. Since AMZN's business is primarily US-based and BABA is primarily China-based, it is very misleading to investors if they only look at the absolute dollar generated revenues. However, the trend in both companies' revenues is increasing yearly and that is the key takeaway.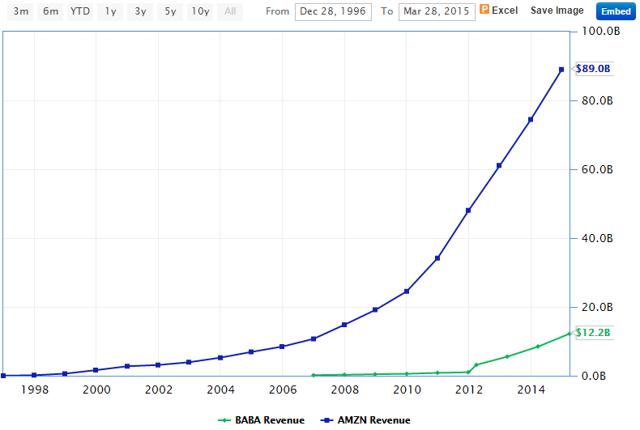 Click to enlarge
(Source: Gurufocus)
An analysis would not be complete without a look into earnings as Wall Street cares about that all important number. BABA currently makes between 17 to 18 times the earnings of AMZN. The trend in earnings has always increased while the trend in AMZN's has been unpredictable. Although BABA's revenues in terms of dollars were less than AMZN's, approximately 25% percent of its revenues translated into profit (12.2/3.9). Unfortunately, I cannot say the same for AMZN.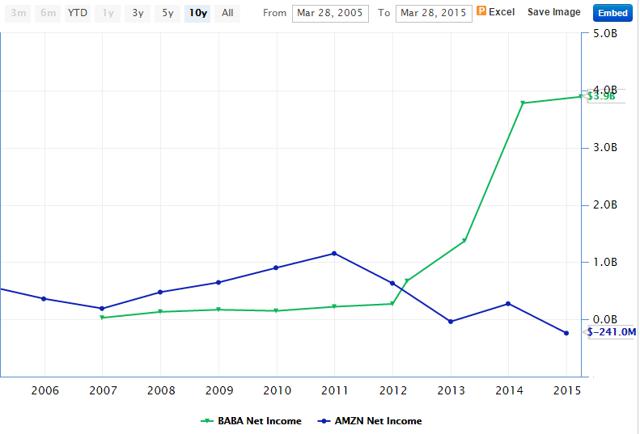 Click to enlarge
(Source: Gurufocus)
Additionally, BABA's free cash flow on an overall firm basis is higher than AMZN's. It has consistently been rising while AMZN's has had a tendency toward the downside.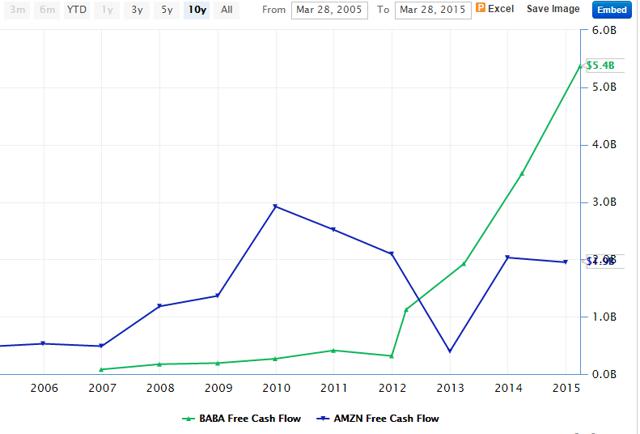 Click to enlargeAn important takeaway is all three metrics for BABA have been rising, while only AMZN's revenues have been rising. According to Peter Lynch, you want companies that show rising metrics because they are indicative of growth, and it is much easier to decipher the trend of the business.
Relative Value
Looking at the same metrics again on a multiple basis, you can clearly see the general magnitude of AMZN's overvaluation compared to BABA.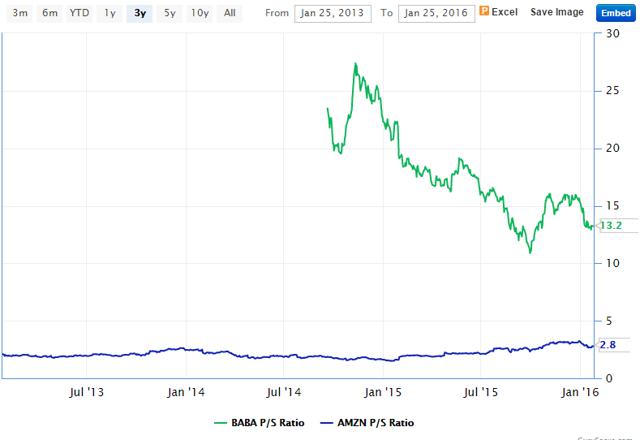 Click to enlarge
(Source: Gurufocus)
AMZN's price-to-sales ratio is very low. However, sales cannot be the only thing one looks at when valuing a company as you will see.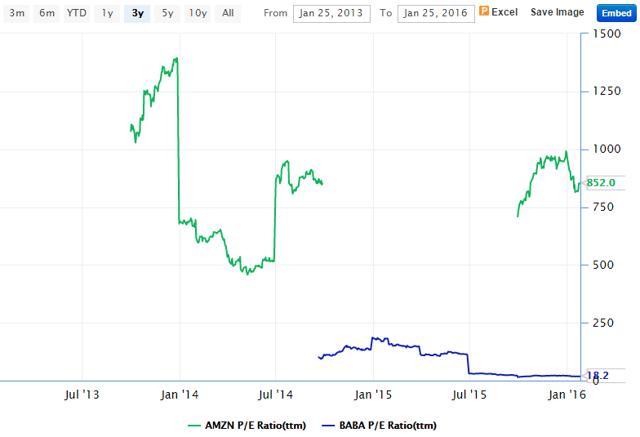 Click to enlarge
(Source: Gurufocus)
The Price-to-Earnings ratio is the interesting part of the analysis because the one metric Wall Street cares about is the one thing they are ignoring specifically for AMZN. AMZN has a P/E ratio of 852 and BABA currently has a P/E of 18.2. Theoretically, this means that if you purchased one measly share of AMZN, it would take the company 852 years to pay you back. Due to AMZN's inconsistency producing earnings, that is not even guaranteed. However, it would take BABA approximately 18 years to pay you pack for one share. Which one sounds like a better investment to you?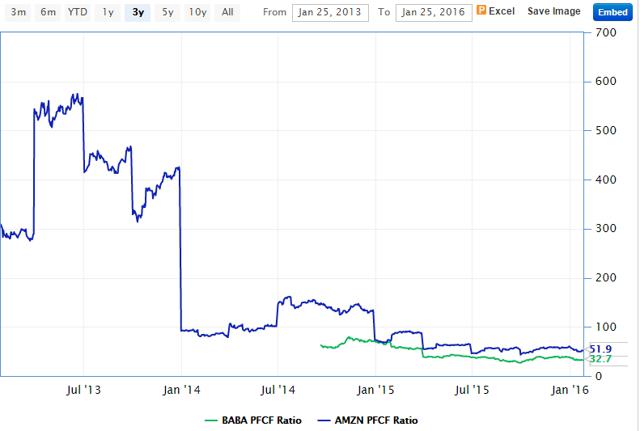 Click to enlarge
(Source: Gurufocus)
Even though both companies' price-to free-cash-flow have been trending lower, BABA's is still lower than AMZN's by a good margin - making it relatively undervalued compared to AMZN.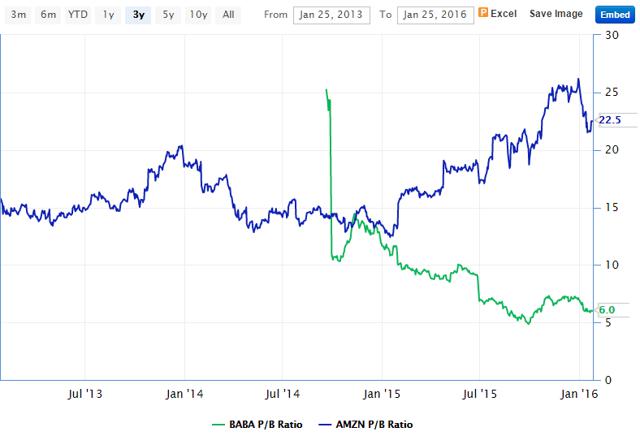 Click to enlarge
(Source: Gurufocus)
Lastly, I have included the price-to-book ratio. AMZN's P/B is over three times BABA's P/B suggests that BABA is heavily undervalued.
Growth Percentages
-BABA Growth
If the above does not convince you, then the table below should. It shows the growth rates of BABA and AMZN. I have highlight the data points of AMZN that align with BABA. The 1-year, 3-year and 5-year growth rates are all higher than AMZN's growth rates in every category. When analysts come and say that AMZN is a better company, I'm simply stunned. The relevant data does not support that view nor the sky high stock price at all.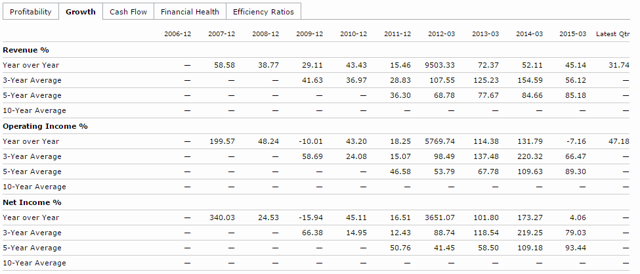 Click to enlarge
(Source: Morningstar)
-AMZN growth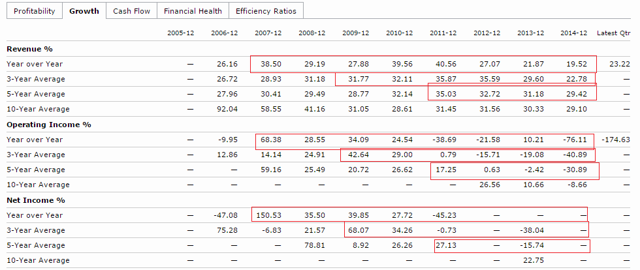 Click to enlarge
(Source: Morningstar)
Conclusion
Although BABA may not have as much public history as AMZN, there is clearly enough data to indicate that it is much better run than AMZN. There is no reason the stock should be getting beaten down as much as it has.
Disclosure: I/we have no positions in any stocks mentioned, and no plans to initiate any positions within the next 72 hours.
I wrote this article myself, and it expresses my own opinions. I am not receiving compensation for it (other than from Seeking Alpha). I have no business relationship with any company whose stock is mentioned in this article.