As all Apple (NASDAQ:AAPL) investors know, China is a very important market for the company. Apple generated $18.4 billion in revenue in Greater China, 24% of its total revenue (27% of its operating income) and an increase of 14% year over year. Without China's revenue, the rest of the company would have reported a 1.6% decrease year over year versus a 1.7% increase.
It is too bad that Apple didn't introduce a larger screen iPhone earlier
The larger screen iPhone 6 kicked off tremendous growth in China starting in the December 2014 quarter. Each quarter in fiscal 2015, Apple's China business saw at least a 70% increase in revenue year over year culminating with a 112% increase in the June 2015 quarter. For fiscal 2015, China's revenue grew 84% to $58.7 billion and was 25% of Apple's total revenue. When you remove China's revenue from Apple's total revenue, the Rest of the World's (ROW) revenue increased 16% (about 22% in constant currency).
China's operating margin showing strong growth
Based on the segment data that Apple publishes in its 10-Qs and 10-Ks over the past two years, China has demonstrated increasing operating margins. In fiscal 2013, its operating margin was 31.5%, which moved to 34.7% for fiscal 2014, then 39.2% in fiscal 2015. For the December quarter, it registered 41.2%, which was the highest since the June 2012 quarter's 43.7% (the first full quarter of China Telecom (NYSE:CHA) iPhone sales).
While China's operating margin has shown solid gains over the past two plus years, the rest of Apple's geographies have increased their total operating margin by a much smaller amount. In fiscal 2013, the Rest of the World's operating margin was 33.4%, which increased to 33.9% for fiscal 2014, and then 34.8% in fiscal 2015.
Apple's ROW geographies showed a decline in their operating margin dollars of $851 million in the December 2015 quarter year over year at least partly to be blamed on the strong dollar. China's increased over $1.2 billion, which was the fourth quarter in a row that its revenue and operating income dollar growth was greater than the rest of Apple.
Kantar has Apple's Chinese smartphone share at 27.1%
Kantar Worldpanel ComTech estimates that Apple's China smartphone market share increased from 21.5% in the December 2014 quarter to 27.1% a year later. The 27.1% is Apple's second highest monthly market share going back to June 2012 and is just 50 basis points off its all-time high of 27.6% in the February 2015 quarter which was the iPhone 6 and Chinese New Years. I have developed a Google Doc with the Kantar data available via this link and it will be interesting to see if AAPL can surpass its all-time high in the next few months.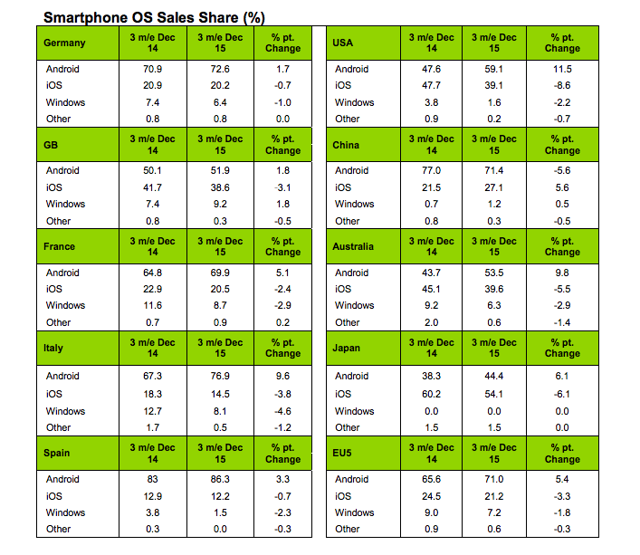 Source: Kantar Worldpanel ComTech
Strategy Analytics has Apple's Chinese smartphone share at 13.1%
Strategy Analytics has Apple's China market share growing from 10.9% in the December 2014 quarter to 13.1% in 2015. While I don't have details on the differences between Kantar's and Strategy Analytics' survey processes, I believe Kantar is focused more on larger cities. Additionally, I believe the trend is as if not more important than the actual market shares and each one has the year-over-year share increasing by 20% or more.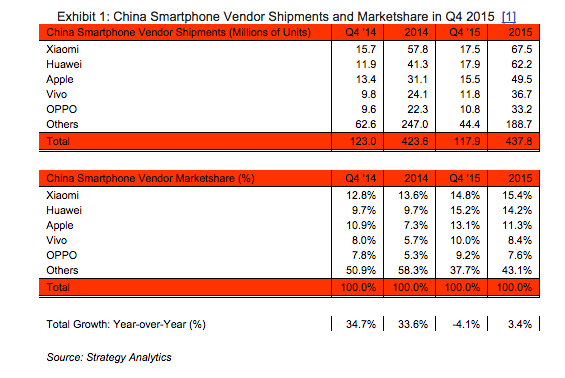 Source: Strategy Analytics
Conclusion
While Apple's Chinese revenue growth has slowed down from its year-over-year growth of 70% or higher each quarter in fiscal 2015 to 14% in the December quarter (17% in constant currency), it is still a major growth driver. It has also generated the majority of AAPL's operating income for each of the past four quarters.
While there is always the risk that Apple's China business could succumb to Android smartphones from the Kantar and Strategy Analytics data, it looks like the company is on solid footing in China. Additionally, AAPL is expanding its retail store count from 28 to 40 by the summer of 2017 which will also help bolster its position along with more Chinese entering the middle class.
Disclosure: I am/we are long AAPL.
I wrote this article myself, and it expresses my own opinions. I am not receiving compensation for it (other than from Seeking Alpha). I have no business relationship with any company whose stock is mentioned in this article.
Additional disclosure: Sand Hill Insights and Chuck Jones is not a registered investment advisor or broker/dealer. Readers are advised that the material contained herein should be used solely for informational purposes. Sand Hill Insights/Chuck Jones does not purport to tell or suggest which investment securities readers should buy or sell. Readers should conduct their own research and due diligence and obtain professional advice before making investment decision. Sand Hill Insights/Chuck Jones will not be liable for any loss or damage caused by information obtained in our materials. Readers are solely responsible for their own investment decisions.