CorEnergy (NYSE:CORR) is a REIT with an unusual focus on operational energy assets. At the time of this writing, CORR is around $15 per share and the annual dividend of $3.00 results in a yield of approximately 20%. Dividends of this magnitude are often a sign of financial distress in the underlying company, and an expectation of future decreases in the dividend.
A general review of the risks to CORR might lead one to conclude that this is a situation of high risk and high reward. I think that a reduction in dividend at any point in the future is very unlikely, and view CORR as an excellent long-term opportunity with very low ultimate downside risk.
This article is not intended to be a comprehensive analysis of CORR as there is already a significant resource of good articles written on CorEnergy including those by Singleton Student, Brad Thomas (here, here, and here), Reuben Brewer, and Dane Bowler. Readers should pay special attention to the comments as some of them add great value to the original articles.
The purpose of this article is to explore further the risk to CORR of default by its major counterparties. CorEnergy's two largest assets are the Pinedale and Grand Isle gathering systems (referred to as Pinedale and GIGS) that were purchased from and leased back to Ultra Petroleum (NYSE:UPL) and Energy XXI (NASDAQ:EXXI), respectively (the gathering systems have long useful lives of 10+ years.) The following table shows the relative percentages of Q3 revenue for each of the CORR assets.

Sources: CorEnergy 2015Q3 10Q, Asset purchase 8K documents, EXXI and UPL 10Q filings
Should we care about the solvency of UPL and EXXI or the fates of their debt or equity holders? 69% of revenue says yes, but only to the extent that it affects the lessee (or successor) willingness/ability to continue to pay CORR for the use of the assets during and after any bankruptcy. In order to determine whether a stoppage or significant reduction in payments is likely we will:
1. Near-term (1 to 2 years) - Compare cash production costs to spot market prices, and
2. Long-term - Compare UPL and EXXI all-in production costs to expected marginal all-in costs at supply/demand equilibrium (including cost of capital).
The long-term scenario should be the deciding factor for any decisions during bankruptcy, but straight logic does not always win the day, so both views remain important. Another complicating factor is that the long-term analysis requires data that we don't have -- prices in the future, but we do have information about the marginal cost of production for different regions and sources, as well as their relative contribution to total supply. With this information we can estimate a range of marginal production costs at the supply/demand equilibrium volumes, and a thus long-term AVERAGE floor price for each commodity. (I won't pretend to be able to predict prices at any given point in time.)
It is this expectation of future prices that will lead producers to either retain the leases with CORR, attempt to renegotiate, or cease production altogether. Said differently, the estimated economic value of reserves will be the deciding factor in continued investment in the gas and oil fields, and use of the gathering systems.
The near-term analysis relies on continued output from existing producing wells, and decline rates of those wells can be limited to some extent with "maintenance" capex. Over time the ability to maintain production of existing wells with new capex declines, and additional development is required.
Before proceeding further, let's be sure we're on the same page regarding terminology.
Supply/Demand Equilibrium = the point at which supply exactly matches demand
Marginal Production Cost = The full cost of producing one additional unit of oil or gas, including all capex, operating costs, and accounting for cost of capital (generally around 10%)
The Real World = The place where Supply/Demand Equilibrium never occurs, and behaviors are based on expectations, political/fiscal needs, human egos, emotions, and a range of other factors rather than facts and logic.
In a perfect (economists'), world the market price of oil or gas equals the marginal production cost of the last unit of each commodity. In the real world, many other factors result in imperfect pricing/behavior and generate significant volatility, but it is certain that over time the prices will trend towards the marginal production cost because marginal production activity will decline when prices are low, and increase when prices are high.
Both UPL and EXXI utilized very large amounts of leverage to assemble their production and reserve assets. Those costs of debt are not relevant to this analysis and are excluded. If the companies survive and continue paying the debt, that's fine, but if they default on their debts it doesn't matter to us because the new owners will only care about the equation of [market price - production costs = profit].
EXXI Near-Term Outlook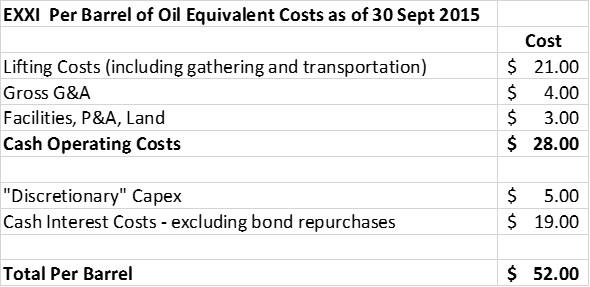 Source : EXXI FY16Q1 report and September 2015 investor presentation
WTI price as of 28 January = $33 rounded to the nearest dollar. Futures market prices for 3 month delivery are in the $35-$36 range.
The term "discretionary" is from the EXXI September 2015 Investor Presentation and represents the cost that is required to maintain in the words of EXXI CFO Bruce Busmire "high single-digit decline" for the next year. This is the proverbial squeezing of the last drop and rapidly increases in cost for future barrels of output. The typical decline rate for EXXI wells is greater than 10% per year, and GIGS well recompletions (significant capex) are planned for 2017.
So $33- $28 = $5 of cash flow pre-capex, so far so good. In January 2016 we have seen WTI prices as low as $26, but EXXI has a $51/$75 collar in place for 25% of 2016 oil production, so the average realized amount will be a bit better than spot while oil stays under $51.
Will oil go up or down from here in the near term? I don't know, but the EIA forecast of continued oversupply into 2017 is food for thought. There are producers with the power to turn this quickly (OPEC, Russia), but we don't want to rely on their good graces in the long term.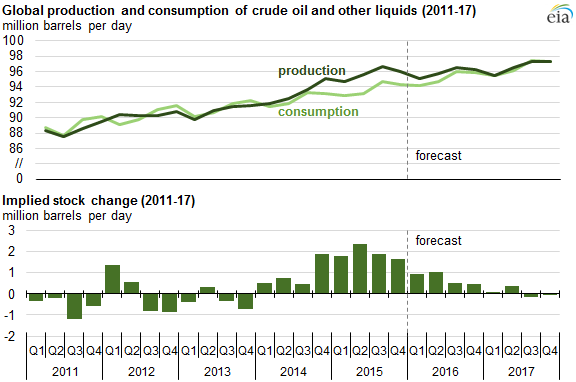 Source: U.S. Energy Information Administration, Short-Term Energy Outlook, January 2016
As concerning as this may appear, it is a distraction. Let's instead look at the marginal cost of production.
EXXI Long-Term Outlook
In a "normal" operating environment EXXI would ~$15-$20 per BOE on capex for the GIGS area (based on 2013-2015 history of $20-$25, which includes higher-cost non-GIGS development, and assumed pricing improvements). This gives us a per BOE cost excluding cost of capital of $43-$48. With credit given for ongoing efficiency/cost improvements and addition of cost of capital, we end up with a range of roughly $45 to $50 per BOE as the price needed for economic recovery of the remaining EXXI reserves.
Is $50 less than the all-in worldwide marginal cost of production, including capital costs?
Danske Bank in their December 2015 Oil Market Update stated "We estimate that the equilibrium oil price with existing technology and resources is around USD60/bl with the current demand outlook." Danske used Rystad and IEA data for their analysis. (Assumed to include WACC)
And yet another spin on the Rystad data, this time directly from Rystad including a 7.5% WACC showing most new/marginal production in the $60+ range.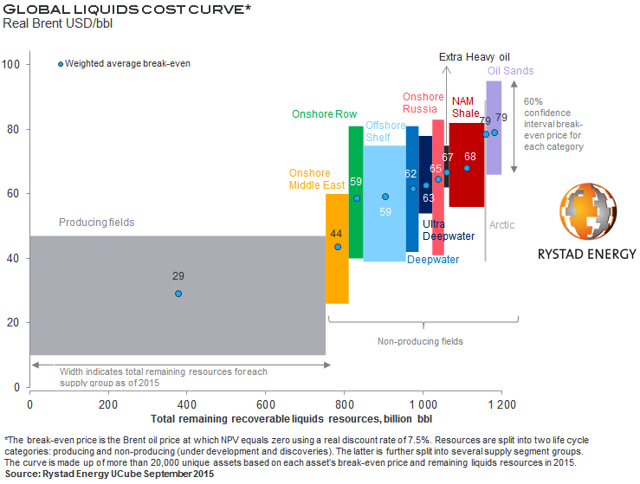 Source: Rystad Energy Press Release
BP Group Chief Economist Spencer Dale presented this chart at an October 2015 conference. If the BP estimates are correct, the marginal cost is close to $80. It's based on data from PIRA, a Rystad competitor.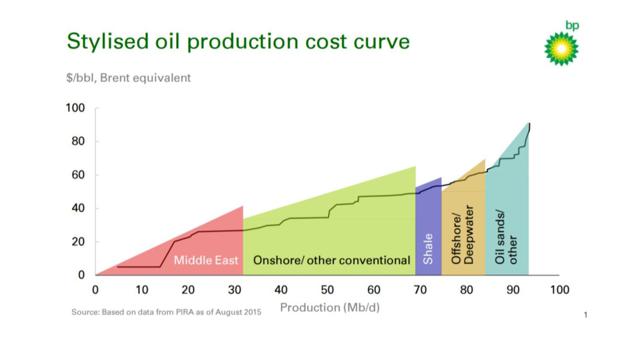 Source: BP Corporation
BNP Paribas provided this cost chart in February 2015, along with one of the better forecasts of pricing that I have read. In the accompanying analysis, BNP puts the "incentive" price of oil at $65.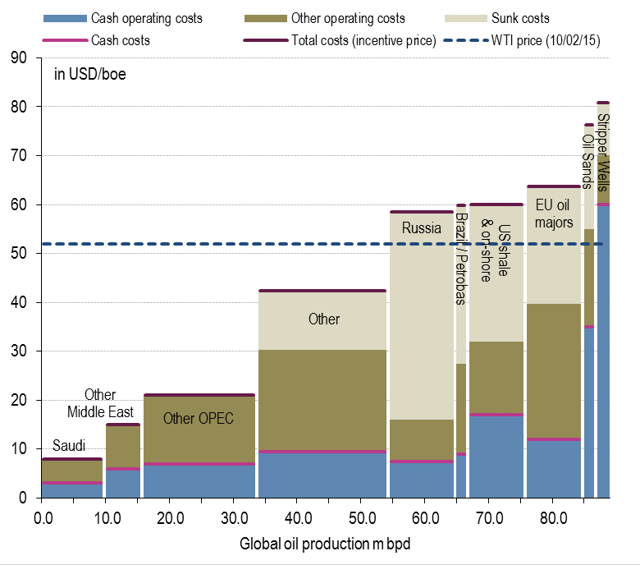 Source: BNP Paribas
So where does this leave us? We can be certain that the specific numbers and timelines in forecasts are wrong, but it seems that the marginal cost of oil is almost certainly in excess of $50, with existing data and forecasts pegging it at $60 or more. Improved technology could reduce this in the future, but EXXI should also be able to benefit from any technology improvements.
Some readers may note that the BNP data looks suspect because there are many examples of shale oil all-in costs under $30, and some very low cost of extraction deep water mega fields, but these are outliers. The average and marginal producers' costs of extraction are significantly higher. The evidence for this is in US shale production data, which is down approximately 500k/bpd from peak, and declining, and reductions in deep water investments by oil majors.
Each successive day we see news of bankruptcies, significant reductions in expenditures in shale and offshore projects in the form of delays or outright cancellations. The nerve-wracking part of all of this is that it takes quite a long time for producers of oil with high all-in costs to burn off their hedges and produce from existing wells until they run out of cash. Companies are desperate to survive until the next period of high prices.
Reductions in investments resulting in declines in current production were set in play by realized and expected future prices 6-12 months in the past, or more. Six months ago, spot oil was approximately $50, and 12 months ago it had just fallen from the $70s to approximately $50. At the time prognostications were for $50-$60 oil in 2015 (and futures prices were similar). We are likely to see more significant declines in production in 2016 as hedges roll off and high-decline rate shale wells are not replaced or renewed. This gives me further confidence that $50 is a conservative floor for equilibrium production costs.
With all of this taken in under consideration, in my opinion the probability that the lease for the GIGS asset is accepted by debtors-in-possession if EXXI files for bankruptcy is close to 100%. CORR holds the keys to the kingdom, and so as long as the reserves have economic value the gathering system lease in present form should be safe, notwithstanding games of chicken.
Mobility of Natural Gas vs. Oil
At present the worldwide transportation infrastructure for oil is much more developed than that for natural gas. As a consequence, the relevant supply/demand figures for oil are based on worldwide production and demand and world market prices, whereas for natural gas the relevant figures are at the US regional level. UPL production is over 90% in the Rocky Mountain region, and there is very limited ability to transport natural gas from Eastern producing regions to compete with western producers (The REX Pipeline is the only major East-to-West conduit). This results in distinct market pricing for each region and UPL realized prices are typically based on Henry Hub plus/minus 5%-10%. There is work underway on liquefaction facilities in Louisiana and on the East Coast, which may eventually result in US pricing trending towards World prices (higher), but for this analysis I have not made any assumptions for higher prices due to exports beyond those already incorporated in EIA data.
UPL Near Term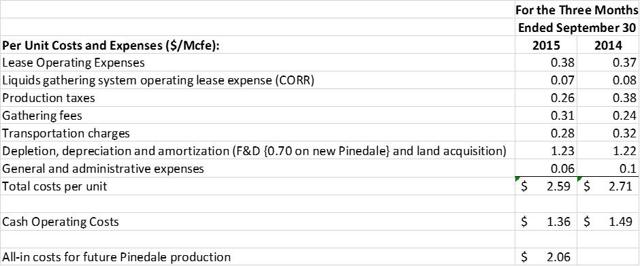 Source: Ultra Petroleum Q32015 10Q (excludes interest costs)
Henry Hub gas price as of 27 January = $2.24/MMBtu = $2.30/Mcf. Futures market prices for 3 month delivery are roughly $2.36/Mcf.
UPL cash costs for existing wells are well below spot pricing, and UPL estimates a profit on future development at any price above $2.06/Mcf (excluding interest/cost of capital). There are currently no reported hedges for 2016. Decline rates for Pinedale wells are 25% in year 1, so ongoing capex is required to maintain production even in the near term.
UPL Long-Term Outlook
UPL all-in costs are quite low at $2.06/Mcf, and the management team believes that they can go even lower. But the question is will natural gas prices result in positive economic value for UPL reserves in the future?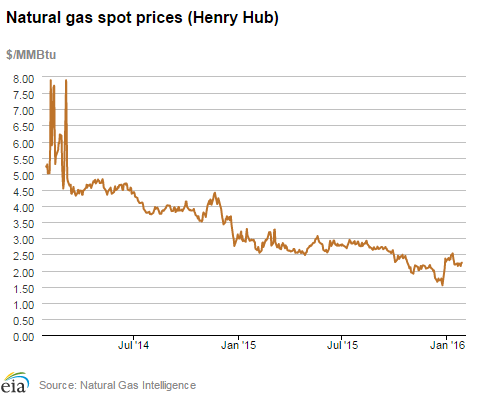 Source: EIA Natural Gas Weekly Update 28 January 2016
Contrast the Prices with this chart of Industry All-In costs (including interest expense) presented by UPL.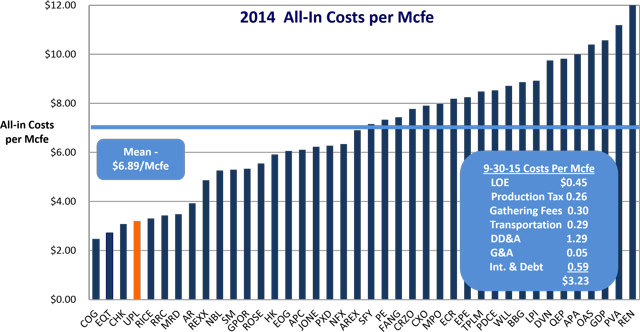 Source: UPL December 2015 Investor Presentation (Data Source: Wells Fargo)
If one believes the 2014 all-in costs shown above, then the theory of market price trending towards marginal cost of production appears hopelessly broken for natural gas. What is going on? Among other things, natural gas is often found with oil, so as oil production rises, so does natural gas production. Many of the shale oil producers are also producing substantial amounts of natural gas from their wells. But producers of gas from wells that are mostly oil are much less sensitive to the price of gas, and their economic decisions are weighted towards the price of oil rather than the price of natural gas.
Second, the improvement in extraction technology continues at a rapid rate, so 2015 and beyond all-in costs will be significantly lower.
Third, much of the existing natural gas supply was planned and investment committed during times of much higher prices, and much higher expected forward prices. The price overhang from those wells, both completed and uncompleted, will continue for quite some time.
There is some evidence that the current market price is below the marginal cost of production in the form of declining rig counts and more recently, declining production by dry gas shale producers.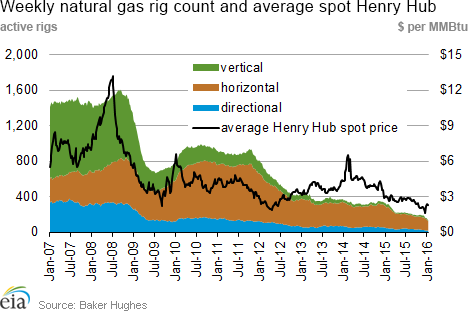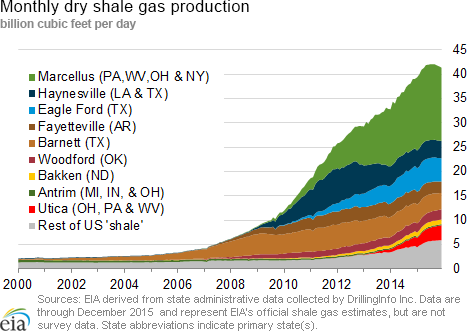 Source: EIA Natural Gas Weekly Update 28 January 2016
Overall, there is less specific data available on the marginal cost of production of gas at supply/demand equilibrium than for oil, but we know the following:
1. Dry shale gas production is declining; some existing producers all-in costs exceed market prices by a wide margin
2. Gas as a byproduct of shale oil production will decline with oil production
3. The current market price is already based on an average annual supply greater than demand and building inventories.
4. EIA projects demand to continue to increase and natural gas storage levels to remain roughly constant.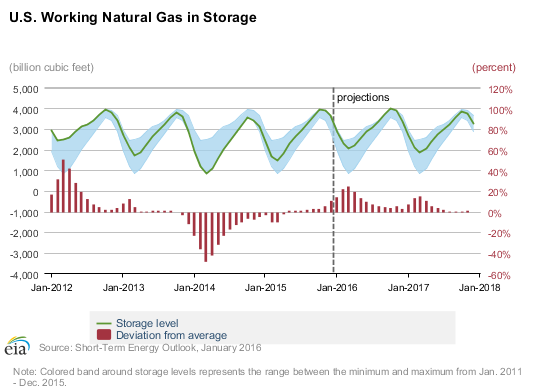 Source: EIA Natural Gas Weekly Update 28 January 2016
5. Futures prices for delivery into 2017 are trending towards $3.00/Mcf
On balance this leads me to the conclusion that average prices are likely to remain above the UPL $2.06 all-in cost figure (or future improved/reduced numbers), and thus use of the Pinedale gathering system will remain economic into the future even if spot prices trend flat. Although UPL appears unlikely to hedge given the low forward contract prices, a debtor-in-possession could further improve the certainty of positive economics by hedging at something closer to $3.
Similar to the EXXI/GIGS conclusion, in my opinion the probability that the lease for the Pinedale asset is accepted by debtors-in-possession if UPL files for bankruptcy is close to 100%.
Parting Thoughts on Risk
What if a lease is rejected during bankruptcy? The current lease consideration consists of base monthly payments and additional payments based on volumes. In this scenario the leases could be modified to reduce the base payments and introduce new variable amounts based the value of oil/gas volumes. This could be modeled to result in a net equal financial outcome for CORR, with a significant risk premium on the variable portion to cover increased variability of payments. In the long run this could benefit CORR, although it would have the undesirable effect of making CORR a direct economic partner in production.
What if significant new sources of low cost oil come in to the market? As we have seen with the recent lifting of sanctions on Iran this not an impossibility, although the remaining pool of significant sources of oil is limited. The most significant are the Venezuelan reserves. Venezuela has the largest pool of low extraction cost oil reserves in the world, exceeding even Saudi Arabia. But their infrastructure is crumbling, leadership is inept at best, and development would take a considerable period of time. Furthermore, EXXI is far enough down the cost curve that their reserves would likely remain economic even in the unlikely event of a Venezuelan renaissance.
What if CORR management missteps? In my view CORR management decision making has been a mixed bag. They have engaged in some lending which is now non-performing, but their larger purchases have been at reasonable prices. The company has authorized a limited share buyback to take advantage of a good opportunity while maintaining plenty of liquidity in case of a temporary counterparty hiccup. Overall I'm comfortable that management is not a net negative, but will reconsider if they revert to old habits and engage in any new lending not consistent with their REIT status.
Conclusion
Overall the risk to CORR of counterparty debt defaults and bankruptcy is very low. I will continue to be a buyer of CORR at prices under $20, with the expectation that there may be significant volatility in the future. If one or both of UPL/EXXI were to file for bankruptcy, that would almost certainly result in a large drop in price of CORR based on fear rather than change in intrinsic value, and I am keeping some dry powder for that "back up the truck" possibility.
I believe that over time CORR will trade back to a yield that is at worst consistent with the high yield bond index (currently ~9%). Assuming no increase in distribution and a 3-year time span the total return from a $15 buy price today would be in excess of 180%, or 40% plus annualized. If markets return to normal and CORR is able to resume normal investment activities/grow the distribution, that will be icing on the cake.
Comments, suggestions and criticisms are welcome. Feel free to send a personal message if you prefer not to comment publicly. Please click Follow next to my name if you found this article useful and would like to see more.
Editor's Note: This article covers one or more stocks trading at less than $1 per share and/or with less than a $100 million market cap. Please be aware of the risks associated with these stocks.