Baidu's (NASDAQ:BIDU) stock has been in limbo for more than a year now and always seems to be on the cusp of breaking out when a market crash comes along and crushes its momentum. This happened again at the start of 2016 as the stock dropped over 30%, but that's a good thing. Baidu has been consistently growing its revenue at a breakneck pace and the stock has not gained accordingly, which leaves a huge buying opportunity for investors to pick up this deep value pick.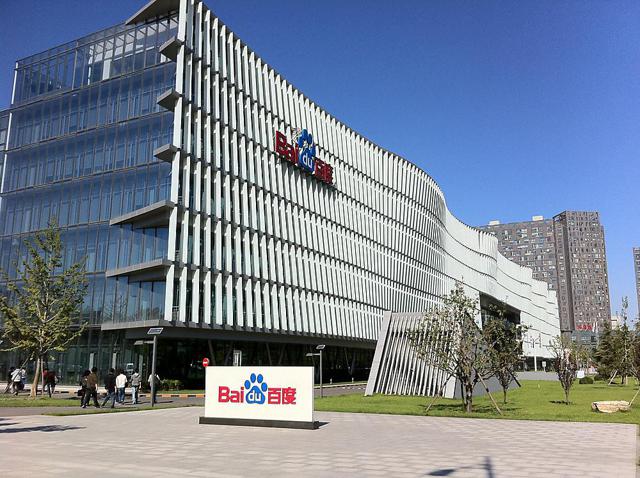 Click to enlarge
Source: Baidu Headquarters
In November 2014, BIDU reached its all-time high around $250, but since then it has been a rollercoaster of price changes and volatility. This chart displays the stock's ups and downs over the last year: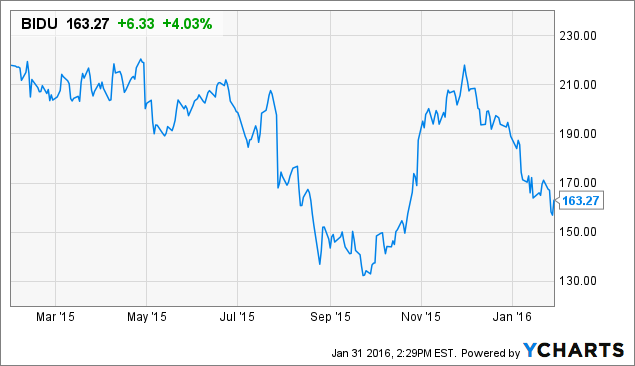 BIDU data by YCharts
The massive drop-off you see in July 2015 was around the time the Chinese stock market completely crashed and brought down Chinese ADRs with it. From its July peak of about $208, BIDU fell more than $70 and reached its low point at approximately $130 in late September. But, as you can see from the chart, this did not last long and BIDU reached close to $220 just two months later at the end of November. But just when it looked like BIDU might finally break out of its ceiling, Chinese and U.S. markets went into a broad downturn again to start 2016, which brought BIDU to where it sits now at $163.
I have been following BIDU for a while and rarely does the stock fall because of problems specific to the company. On the contrary, while the stock has been an enigma, the company's revenue has been growing at a robust pace, as the following chart shows: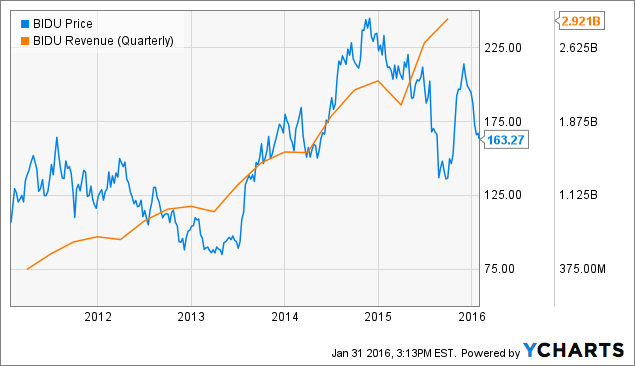 This revenue growth has been accompanied by increased operating expenses as well because Baidu management has smartly placed the priority on securing market share over promoting short-term profits, of which there are still plenty. And I compare Baidu to Alphabet (NASDAQ:GOOG) (NASDAQ:GOOGL) because of the sheer number of markets into which Baidu is expanding. In addition to its core desktop and mobile services business (the largest of which is its search engine), driverless cars, O2O (online-to-offline) services, music streaming, etc., are all areas on which Baidu is focusing.
While the stock is being held down by macro market changes, over the long term, BIDU the stock will close the valuation gap with Baidu the company and shareholders appearing to be set up for huge gains. I like a long position in BIDU for long-term buy-and-hold investors and also for momentum traders. Long-term buy-and-hold investors can feel comfortable with this value stock in their portfolio, but investors who are faint of heart and check their holdings very often should be cautious as BIDU has shown in the past it can be a very volatile position.
Baidu has been held down for a while by broad market downturns and seems to get its momentum crushed just when a breakout appears imminent. However, as is the wonder of the stock market, over the long term, stocks close the valuation gap and catch up to the company they represent. In BIDU's case, that valuation gap has gotten particularly large as the company has continued to succeed while the stock has lagged. For investors willing to endure some potential volatility, BIDU can yield big gains down the road.
I love interacting with my readers, so I would greatly appreciate it if you could post your thoughts below in the comments section to the following question: Do you agree or disagree with Baidu's strategy of expanding into so many new markets? Should it focus on its core desktop and mobile services business or should it continue the expansion strategy despite maybe being out of its element?
Disclosure: I/we have no positions in any stocks mentioned, and no plans to initiate any positions within the next 72 hours.
I wrote this article myself, and it expresses my own opinions. I am not receiving compensation for it (other than from Seeking Alpha). I have no business relationship with any company whose stock is mentioned in this article.