Introduction
At FundGuru, we believe that manager alpha is not linear, but cyclical. For example, an equity portfolio manager cannot outperform the market consistently and indefinitely, but rather like normal human beings, are subject to periodic underperformance due to incorrect decision-making or exposure to various risk factors (i.e. value/growth/small) that dominate short-term portfolio performance.
Most investors are not accustomed to this concept and often switch between managers at inopportune times, for example, buying into a manager when they have outperformed, and selling out of a manager when they have underperformed. This counter-intuitive "buy-high/sell-low", performance-chasing behavior is often detrimental to long-term investment performance as investors jump onto the bandwagon at inopportune times.
We believe investors can tilt their odds of outperforming the market by buying an manager at, or near the bottom of their performance cycle, and sell at the top of their performance cycle.
Illustration
To illustrate the impact of buy-high/sell-low behavior, the diagram below shows the rolling three year excess return of a hypothetical manager "ABC" relative to the market benchmark, i.e. the S&P 500 Index.
The investor buys into the manager when they have outperformed for an extended period of time, i.e. "numbers look good on a trailing 3 year basis"
The manager performance then deteriorates relative to the market benchmark subsequently in the following years
The investor then gets impatient, sells the manager to cut loss just when the manager's performance may be about to turn a corner
The investor misses out on a subsequent recovery in relative performance of the manager

Where is Pershing Square in the "Alpha Cycle"?
Using the above concept we take a closer look at Bill Ackman's Pershing Square Capital Management. Investors can access the hedge fund through Pershing Square Holdings (OTCPK:PSHZF), a closed-end fund (PSH:NA) listed in Amsterdam.
Bill Ackman is an established hedge fund manager known for making concentrated bets and waging war against company boards. Despite a stellar track record of compounding capital at rates of return well in excess of the S&P 500 since 2004, his investments have performed very poorly in 2015 (for a discussion on performance see his latest annual letter here, and presentation here). Of note, his largest position, Valeant Pharmaceuticals (NYSE:VRX) has been disastrous in the past year. Together with other bets like Platform Specialty Products (NYSE:PAH), these investments have taken a heavy toll on his overall fund returns, which returned -20.5% versus +1.4% for the S&P 500 in 2015 after fees.
According to our estimates*, we believe that Pershing Square's long portfolio has underperformed the S&P 500 by at least -3.4% on an annualized trailing 3 year basis, gross of fees. This is approaching levels last seen in late 2013.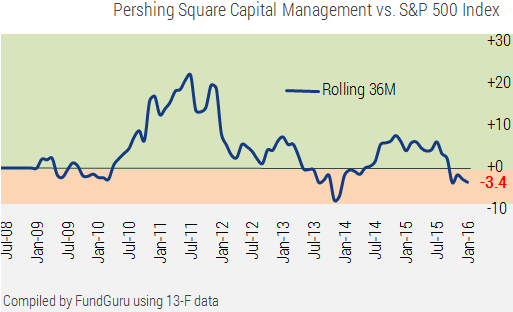 *Calculated using an equally-weighted, 5-stock portfolio derived from the manager's 13-F disclosures from March 2006. The portfolio is rebalanced 46 days post quarter-end. We believe this portfolio is representative of the performance of his fund due to its concentrated and long-biased investment style.
Is This an Opportunity?
We believe that Bill Ackman is a talented stock picker with good long-term performance track record and strong institutional backing. The manager currently manages approx. $15bn across three core vehicles using the same concentrated investment strategy: Pershing Square onshore fund ($4.2bn), Pershing Square offshore fund ($4.7bn) and Pershing Square closed-end fund ($5.2bn).
While it is impossible to time the bottom precisely, if investors subscribe to the idea that manager alpha is cyclical and Bill Ackman is a talented stock picker, we believe Pershing Square's recent underperformance should be reaching a turning point judging by past history. Given all the bad press, the manager is likely under immense pressure from clients to turn around performance, and ultimately allowing him to redeem his reputation as an savvy investor.
Caveats
Given the highly concentrated nature of Pershing Square's portfolio, an improvement in overall fund performance will no doubt require a dramatic improvement in the performance of core longs. This includes the controversial investment in Valeant, as well as Air Products (NYSE:APD), Canadian Pacific (NYSE:CP), Mondelez (NASDAQ:MDLZ) and Zoetis (NYSE:ZTS). Ultimately, a view on manager alpha reversion is a bet on the existence of manager skill: Do you believe in Bill Ackman's stock picking ability? Only time will tell and investors should closely monitor the firm's assets under management to gauge the stickiness of its investor base.
Disclosure: I/we have no positions in any stocks mentioned, and no plans to initiate any positions within the next 72 hours.
I wrote this article myself, and it expresses my own opinions. I am not receiving compensation for it (other than from Seeking Alpha). I have no business relationship with any company whose stock is mentioned in this article.