It's been an ugly beginning of the year for the markets and nowhere has it been worse than in the healthcare and biotechnology sectors. I don't analyze the stocks in these sectors and so I can't comment on the fundamentals in these industries but I can tell you that if you believe the biotechnology, pharmaceutical and healthcare service stocks are bottoming here, CEFs are a great way to play a turnaround.
And why is that? First and foremost, CEFs are diversified so you're not going to get the downside risk exposure that you would get in an individual security, which can make portfolio recovery very difficult if you pick the wrong stock or stocks in a sector. Second, CEFs are professionally managed which can give them a leg up on the more popular healthcare and biotech sector ETFs like the SPDR Healthcare Sector fund (NYSEARCA:XLV), $66.47 market price, or the iShares NASDAQ Biotech fund (NASDAQ:IBB), $267.05 market price, which have relatively static portfolios. And third, CEFs include enhanced income strategies which generally means they will offer much higher yields than what you can find in ETFs and mutual funds.
Because of the aforementioned reasons, equity CEFs can offer the best of both worlds in real time trading, i.e. greater appreciation potential than index ETFs while offering the relative safety of a diversified security. Of course, timing is everything in these funds and you should be prepared to add to positions as nobody knows if the bottom has been reached in the volatile biotechnology and healthcare sectors or if another leg down is in store.
So let's take a look at where we are after one month into 2016. Before I get into the healthcare/biotech CEFs, let's first take a look at the leader board of equity CEFs so far this year. The following table sorts all of the largest and highest yielding equity CEFs (roughly 100) by their total return NAV performances after one month. Funds in green are outperforming the S&P 500 so far (down -4.98%) while funds in red are not. NOTE: I can only show about 35 funds in a screen shot.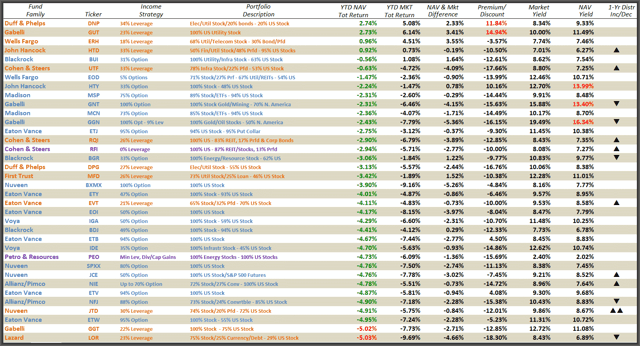 Click to enlarge

Here you can see that quite a few equity CEFs are beating the S&P 500 at the NAV level, led by the utility sector focused CEFs. But I'm more interested in the underperforming healthcare and biotech CEFs for this article, so let's turn this table upside down and see which funds are lagging the most at NAV.
NOTE: The total return NAV performance of a CEF is the true apples to apples performance comparison to indices and other CEFs whereas the market price performance (column next to NAV performance) is based more on investor sentiment and other subjective metrics and thus can be better or worse than the NAV performance.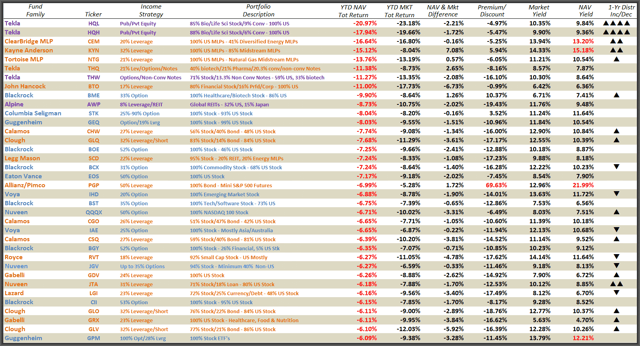 Click to enlarge
Here we can see that the Tekla healthcare and biotech focused CEFs are lagging the most which is quite a change for these funds. Over the last few years, the Tekla funds have generally been atop the leader board for all CEFs. The two most popular funds in the group are the Tekla Healthcare Investors fund (NYSE:HQH), $23.83 market price, $25.21 NAV, -5.5% discount, 10.0% current market yield, and the Tekla Lifesciences Investors fund (NYSE:HQL), $18.16 market price, $19.11 NAV, -5.0% discount, 10.4% current market yield.
Both funds are quite similar except that HQL is more biotech weighted, 60% vs 51% for HQH, and does not have any of the big pharma names in its portfolio, whereas HQH includes Bristol-Myers Squibb (NYSE:BMY) and Eli Lilly (NYSE:LLY). All data is as of 9/30/2015.
As a result, you can expect HQL to have a slightly higher risk/reward profile than HQH, also due to the fact that HQL is quite a bit smaller than HQH at $380 million in total assets vs. $950 million in total assets for HQH. But in terms of their top 10 holdings, they are virtually identical with Gilead Sciences (NASDAQ:GILD), Celgene (NASDAQ:CELG), Incyte (NASDAQ:INCY) and Biogen (NASDAQ:BIIB) representing the top four holdings of each fund and constituting 27% of HQH's total portfolio and 29% for HQL. Both funds include mostly public stock, 89% for HQH and 88% for HQL as well as private equity in their portfolios.
Private equity, 5% for HQH and 8% for HQL is in the form of convertible and non-convertible notes and warrants from young incubator companies that Tekla identifies as having the potential to develop new blockbuster drugs or technologies. These securities are very high risk and very illiquid (i.e. Level 3 securities). Most of these will never pay off but for the few that do, the rewards can be very high. This is where you really rely on the research capabilities of Tekla and if you want a little background on the firm, I touched upon their capabilities in this article last October Where Are The Best CEF Opportunities Now?
In that article, I wasn't necessarily recommending HQH or HQL at the time but rather another newer Tekla CEF, which I will get into in a moment. But since that article, all of these healthcare and biotech related CEFs have dropped precipitously, particularly so far this year with HQL's NAV down a whopping -21.0% while HQH's NAV is down -18%. On a market price basis, it's even worse with HQL's market price down -23.2% in one month with HQH's down -19.7%.
That's the nature of the beast with these funds. After outsized gains over the last few years, it should be expected that these funds were overdue for a significant pullback. One thing you have to realize about HQH and HQL is that they really do not have any enhanced income strategies that most CEFs use, be it leverage or the use of options.
In fact, dividend and interest income from these two CEFs is rather minimal and doesn't even come close to covering the fund's operating expenses each year so you have to rely on the fund's portfolio appreciation as well as the success of the fund's private investments to cover the fund's distributions as well as growing the NAV.
This wasn't a problem over the last few years as the healthcare and biotech sectors soared. During this time, HQH and HQL were raising their distributions just about every quarter it seemed even while the fund's NAVs were still growing.
Let's take a look at how all of the healthcare and biotech CEFs I follow have performed since 2012, which is about when the last bull market really began. For comparison, I have included the largest and most popular healthcare and biotech ETFs, XLV and IBB.

Click to enlarge
Here you can see that even after the steep drops over the last six months, total market price returns for most of these funds is still over 100% since 2012. At this point you have to expect that the low hanging fruit has already been picked and that the go-go days are probably over for awhile. So does this mean I wouldn't be investing in these funds right now? Not necessarily, though I don't think the opportunities are in the most popular funds of the group.
The More Attractive Healthcare/Biotech CEFs
Two funds that I omitted from the above table also are from Tekla but because both came public in the last two years I wasn't able to include them in the table above. One, the Tekla Healthcare Opportunities fund (NYSE:THQ), $15.76 market price, $17.16 NAV, -8.2% discount, 8.7% current market yield, came public in July of 2014 and the other, the Tekla World Healthcare fund (NYSE:THW), $13.60 market price, $16.21 NAV, -16.1% discount, 10.3% current market yield, just came public in June of 2015.
In the above linked article from October 19, 2015 Where Are The Best CEF Opportunities Now?, I included THW as a recommended fund, which at the time was at a $15.49 market price and a -12.4% discount. I said that investors may get another opportunity to buy the fund lower as tax-loss selling from disgruntled investors who owned the fund at the $20 IPO price sold by year end.
As it turned out, THW stayed around the same market price for the remainder of the year but once January rolled around, sellers came out in force on anything to do with biotechnology and healthcare. As a result, THW now trades at $13.60 and an even wider -16.1% discount than last fall. I've been asked by readers if I still like THW and I absolutely do. And here is why.
New issues always have a more difficult time attracting investors than established funds but one of the advantages of THW coming public last June is that it was flush with cash to put to work just as the healthcare/biotech sectors were depreciating. In other words, despite THW's dramatic market price drop since its IPO, THW's NAV is holding up quite a bit better than any of the other healthcare CEFs.
This is shown in the following 6-month table of all of the funds, including THW and THQ, compared to XLV and IBB. This 6-month period from July 31, 2015, to January 31, 2016, represents the bulk of the fall off in the healthcare and biotechnology stock sectors.

Click to enlarge
As you can see, XLV is down -12.5% while IBB is down a whopping -30.2% over the last six months. And which funds are holding up best at NAV? That would be THW, down -11.6% at NAV over the last six months and the Gabelli Healthcare & WellnessRX fund (NYSE:GRX), $9.23 market price, $11.07 NAV, -16.6% discount, 5.6% current market yield, down -12.2% over a 6-month period.
THW's NAV is holding up because, as I pointed out, it had cash on hand during this biotech/healthcare rout and is probably only now fully invested after showing a 15.3% cash position as of the last reporting date of September 30th. THW's global footprint may also have helped since the majority of its top 10 positions are non-US based large cap stocks like Novo Nordisk (NYSE:NVO) out of Denmark and Roche Holdings (OTCQX:RHHBY) out of Switzerland. NOTE: THW, like THQ, does plan on using leverage and is authorized to use up to 30% leverage on its managed asset base.
And then we have GRX, one of my all time favorite equity CEFs that investors have seen fit to sell all the way down to a -16.6% market price discount, its widest since the 2008 financial crisis. This despite GRX holding up very well at the NAV level too over the last six months. In fact, if you go just on 2016 so far, GRX is down -6.1% YTD, not much worse than the S&P 500 and certainly better than XLV's -7.7% or IBB's -21.1% just for January.
And why is GRX's NAV holding up? Because even though GRX has a roughly 20% leveraged portfolio of stocks, GRX's portfolio is not just in healthcare but is heavily invested in more defensive consumer staple stocks such as food and beverage, nutrition and household product companies. In fact, food is GRX's largest sector exposure at 18.4%.
So does anybody else find it utterly amazing that investors would hold onto a fund like the BlackRock HealthSciences fund (NYSE:BME), $35.75 market price, $32.39 NAV, 10.4% premium, 6.7% current market yield, at a 10.4% market price premium valuation when the sectors it invests in are under as much pressure as the other healthcare CEFs are? Yes, BME uses a more defensive option-income strategy as opposed to a leveraged strategy but that shouldn't account for the massive valuation difference between BME and say a THW or GRX.
THW's NAV has held up better than BME's over the last six months but has dropped 28.5% on its market price. I just don't know how you justify BME being down only -7% on its market price over the same time period when the fund invests in many of the same stocks and sectors as THW and GRX, albeit certainly in different biotech, pharma and healthcare services/equipment exposure and country weightings.
The Insanity Of CEF Investors, Version 9.9
I had a reader whooping it up last year when BlackRock announced that BME would have a $4.50/per share special capital gain distribution in December as if it were some manna from heaven. I had to tell him that unfortunately the market price and NAV would be reduced by that amount when BME went ex-dividend and that really all he was gaining was a big fat tax bill. Undeterred, he said that yes, but the last two years that BME made special distributions its market price made that up in only a matter of days.
I should have known right then and there that things were still way too heady even in December. I frankly can't tell you if this is the bottom in healthcare and biotechnology stocks, not after the run they have had. Certainly, politics is playing a role in all this as twitter followers of Hillary Clinton know firsthand.
I can only point out the relative valuation discrepancies in these funds based on their NAV performances. And based on these parameters and not popularity, THW and GRX should have the best risk/reward of the healthcare CEF group no matter where the healthcare or biotech sectors go from here. That is, of course, if sanity prevails.
Disclosure: I am/we are long GRX, THW, THQ, HQH, XLV.
I wrote this article myself, and it expresses my own opinions. I am not receiving compensation for it (other than from Seeking Alpha). I have no business relationship with any company whose stock is mentioned in this article.