That was a nice follow-through in the market this week, but the question remains: Is this just a bounce in a bear market? That doubt/fear is reassuring to us, since it shows there are lots of future buyers out there.
The Bank of Japan's move to a negative interest rate had the effect of producing a classic short-squeeze rally, legitimately scaring some investors in the process. Now we will be looking for a follow-through from actual longs.
The bull sentiment number has increased, but it is still relatively low and the number of bears is only slightly smaller (see chart below). The Rydex Bull Funds are at their lowest point in more than three years. The fear is still out there and, therefore, so is the pent-up buying power.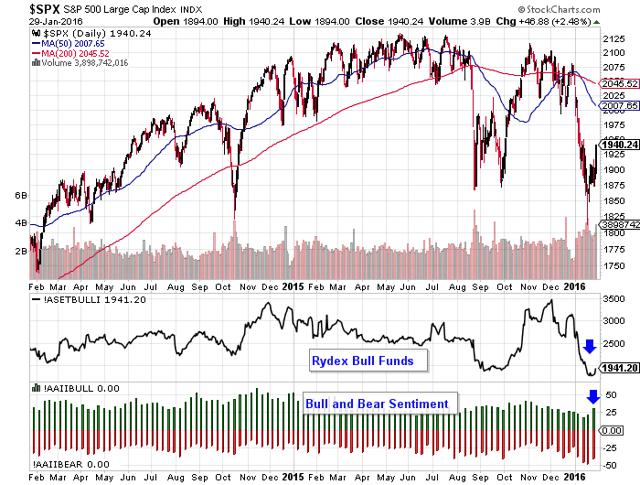 Click to enlarge
Notice in the chart below, how low Rydex Bull Fund asset levels correspond with near-term minima on the S&P 500. They are consistent in their buying at the top and selling at the bottom.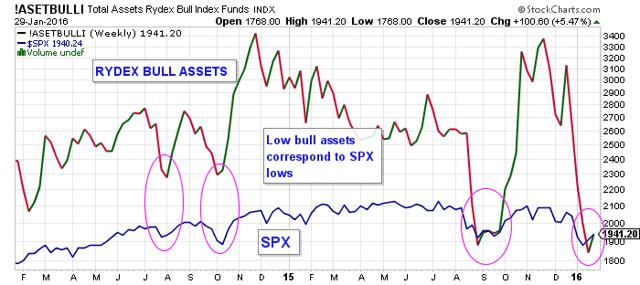 Click to enlarge
The Fed held off raising rates this time, and we suspect that they will not rise in March either, but it is hard to know what these guys are going to do next. The fact that they don't seem to be proceeding on rate hikes with the same vigor as they did at the end of last year, has helped gold somewhat, but we do not see much of an upside to gold past $1180. The Fed is likely to start raising rates later in the Spring and that should put the brakes on gold. In addition, the rate cutting of other currency jurisdictions should help keep the dollar elevated, putting further pressure on gold.
In conclusion, the balance of probabilities continues to make this look like a correction. Now we wait and hopefully see the fear of losing be overcome by the fear of losing out.
Disclosure: I am/we are long SPXL.
I wrote this article myself, and it expresses my own opinions. I am not receiving compensation for it. I have no business relationship with any company whose stock is mentioned in this article.