January's selloff certainly caught investors by surprise. It occurred with tremendous downside volume and created significant technical damage. Sentiment indicators have become very pessimistic, and over the last week, the market was able to produce over 1,000 selling climaxes. This is bullish from a contrarian perspective, and we expect a short-term bounce.
However, it is important to point out that bank stocks led the market lower during the correction, and this sector's weakness, based on market history, indicates that a more serious decline is coming. In an email notification on January 19, we alerted that we were covering 15% of our short position, taking our short position to 0. The next day, January 20, we sent out another alert notifying subscribers that we were covering the remainder of our short position, taking exposure to 0%. We are closely monitoring the market to determine a favorable entrance point for adding back our short position.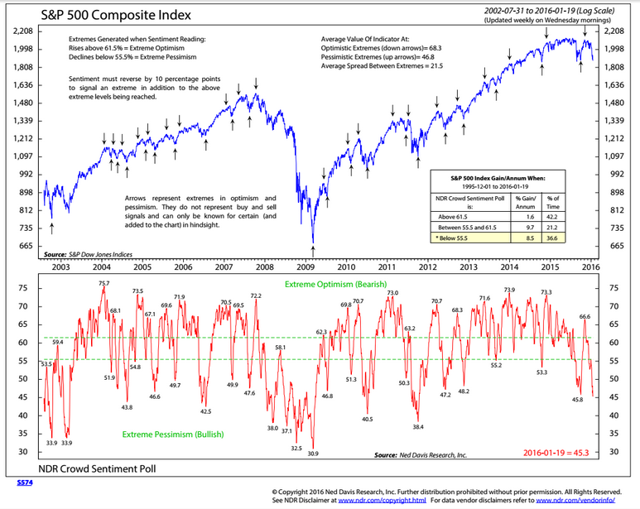 Ned Davis Research's crowd sentiment has moved to 45.3, showing that pessimism has re-entered the market. This is a far cry from the optimistic 73% reading at the start of 2015.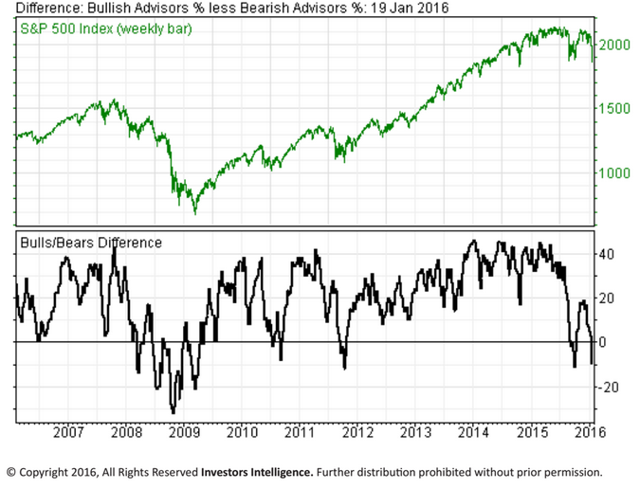 The Investors-Intelligence bulls/bears ratio, which measures sentiment of market newsletter writers, has moved to -10%. This shows that there are now more bearish newsletter writers than bullish ones, a positive market sign from a contrarian point-of-view.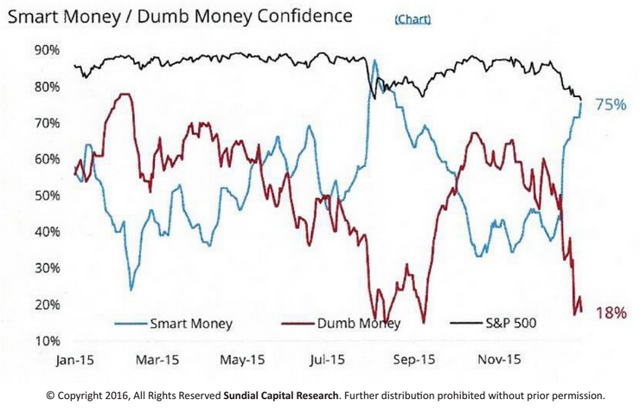 Sentimentrader.com's smart money/dumb money ratio is now as wide as it was during September's correction. This gauge is indicating major pessimism, or fear, in the marketplace by the "dumb money." Once this fear dissipates, it will serve as a contrarian indicator for a large decline.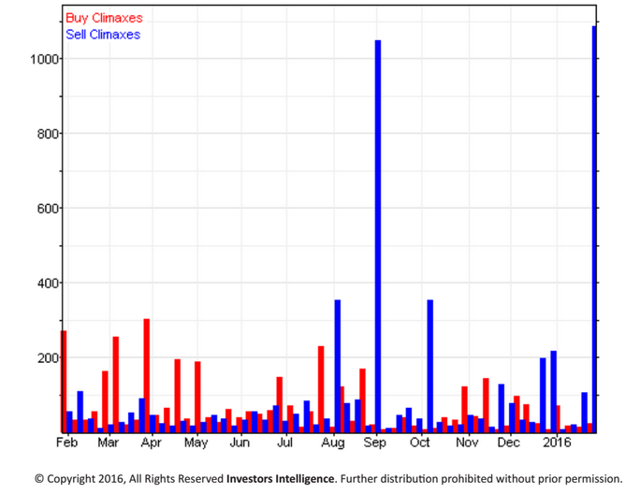 Selling climaxes occur when a stock makes a 12-month low but then closes the week with a gain. In mid-January, there were almost 1,100 selling climaxes, which rivals the number that occurred during the September low. Investors should be careful not to use the increase in the prices of the stocks as a trending indicator.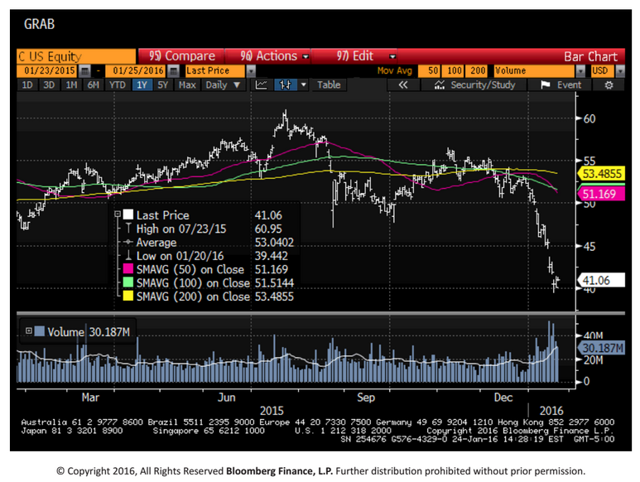 A great many large bank stocks sliced through their fall lows like a hot knife through butter. Among them were Citigroup (NYSE:C), Deutsche Bank (NYSE:DB), Credit Suisse (NYSE:CS), SunTrust (NYSE:STI), Cullen/Frost Bank (NYSE:CFR), Fifth Third Bank (NASDAQ:FITB) and Comerica (NYSE:CMA). The heavy volume selloff in these stocks indicates that institutions are aggressively selling shares of bank issues.
Using Citigroup as an example, in January, it broke support at 48 and dropped nearly 20%. What could such dramatic downside action indicate? There are many possibilities: Recession, exposure to sovereign debt or loan defaults on energy. While the list of possibilities could go on and on, the certainty here is that the price action is worrisome from a historical perspective.
Conclusion
For over a year, we have warned LMTR readers that the market was breaking down. In our opinion, a 10%-20% downside still remains. Now is not a time to be adding exposure during dips. Instead, rallies should be viewed as either selling opportunities or a time to establish hedges. We are eagerly watching for signals to short the market again.
Disclaimer
Lamensdorf Market Timing Report is a publication intended to give analytical research to the investment community. Lamensdorf Market Timing Report is not rendering investment advice based on investment portfolios and is not registered as an investment advisor in any jurisdiction. Information included in this report is derived from many sources believed to be reliable but no representation is made that it is accurate or complete, or that errors, if discovered, will be corrected. The authors of this report have not audited the financial statements of the companies discussed and do not represent that they are serving as independent public accountants with respect to them. They have not audited the statements and therefore do not express an opinion on them. The authors have also not conducted a thorough review of the financial statements as defined by standards established by the AICPA.

This report is not intended, and shall not constitute, and nothing herein should be construed as, an offer to sell or a solicitation of an offer to buy any securities referred to in this report, or a "buy" or "sell" recommendation. Rather, this research is intended to identify issues portfolio managers should be aware of for them to assess their own opinion of positive or negative potential.

The LMTR newsletter is NOT affiliated with any ETFs Nor any investment Advisors.