Angie's List (NASDAQ:ANGI) is my top short of 2016. My coverage on Seeking Alpha usually pertains to energy and base metals, however I am a strong advocate for shorting companies that do not deserve to trade at a premium. That's what we have here. Angie's List spiked 51% in 2015, outpacing many of the market's equities, and for the life of me, I can't figure out why. In researching this company, I've found that it presents itself as an exceptional short opportunity based on a declining value-add component and an unjustified trading pattern.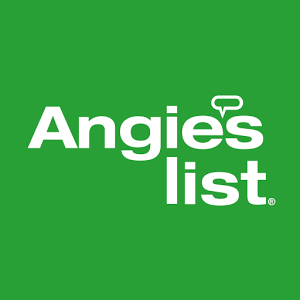 Breaking It Down
Angie's List is a viable short for a few simple reasons. The company is currently overvalued, the relationships are nothing special, and the oncoming competition is going to stifle their financial health, reducing their ability to generate strong earnings growth in a competitive tech sector. Now, the major headline for Angie's List in 2015 was the unsolicited bid from IAC/InterActiveCorp (NASDAQ:IAC) for $8.75 per share and the stock currently trades at a small discount to that price. The stock was trading above this value since mid-November, but the broader market decline in January has sent shares slightly lower. The bid was rejected because c-level management felt the company was worth more and that it's value-add was deserving of a premium much larger than what IAC was offering.
Declining Value-Add
Angie's List "operates a national local services consumer review service and marketplace where consumers can research, shop for and purchase local services for critical needs, such as home, health and automotive services, as well as rate and review the providers of these services." That is from the recent 10-Q. Now, considering that Yelp's (NYSE:YELP) shares have declined 47.8% in 2015 and already 27.25% in 2016, the customer review component of the value-add is decreasing considerably. This is where I find initial fault in Angie's List, as Yelp has struggled to beat earnings reports and bring something to the table that makes the product needed.
Relationships are a crucial intangible for a company to have and while the company's advertisements will show you a consumer-focused, caring website ready to help connect you, the fact is you can do this quite easily without having to pay for Angie's List thanks to a simple Google (NASDAQ:GOOG) (NASDAQ:GOOGL) search or a quick look at the Facebook (NASDAQ:FB) page of the business requested. The current goodwill value is $1.145 million, the amortizable intangible assets are $2.169 million. Given that these are relatively small figures compared to other metrics like revenue or net income, it seems as though Angie's List is putting a price on their brand - and it isn't much.
Here's the primary problem I have with this company: Facebook is in the early stages of scaling "Places," (seen below) a platform integrated within Facebook to give users access to city-specific businesses, restaurants, and services reviews from other Facebook users. It's an all-in-one kind of platform. Now, the reason this is so detrimental to Angie's List is that Facebook can afford to scale out this review-based platform across its 1.59 billion monthly active users and 50 million small and medium sized business pages. That's far more computing power and level of content than Angie's List could ever dream of. It seems quite obvious to me that this is the calm before the storm for ANGI.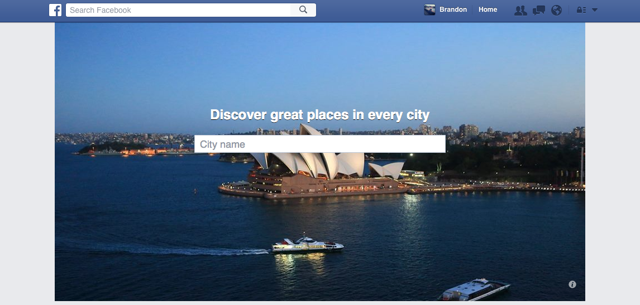 Click to enlarge
Source: Facebook
The Company Is Overvalued
This company looks overvalued on the surface with a P/E of 44.36 when we think about the S&P 500's average P/E of 21.40. In an attempt to dig much deeper, I've built a comparable universe to see the relative valuation.
| | | | | |
| --- | --- | --- | --- | --- |
| | ANGI | YELP | GOOG | FB |
| EV/EBITDA | -163.36 | 41.57 | 21.80 | 36.94 |
| EV/Sales | 1.45 | 2.40 | 6.54 | 16.83 |
| P/CF | 78.75 | 72.47 | 16.29 | 34.72 |
| P/S | 1.16 | 11.12 | 5.54 | 16.66 |
| P/E | 44.36 | 77.59 | 33.67 | 87.66 |
Now, what we're really seeing here, if anything, is that Yelp is considerably overvalued. While that's not the focus of this article, we look at ANGI's relative results. The negative EV/EBITDA is a frightening statistic and reflects their struggle to produce quality earnings. When compared against Facebook and Google, we see that this company is largely overvalued, particularly on an EV/EBITDA and P/CF basis. There's also the argument that Google and Facebook are more mature companies than Angie's List. I believe we forget so quickly that Angie's List has been around since 1995, making it much older than Facebook and Google, which were founded in 2004 and 1998, respectively. It should be a much more mature stage as an equity, one that has been publicly traded since November 2011. Thus, the stock has really only been around for a bull market and the potential for the broader market to see a retreat within the coming months is certainly speculation that could fuel more downside pressure than expected.
Furthermore, here is the performance over the LTM of ANGI versus the same comparable universe:
Declining Financial Results
The company currently has $58.3 million in LT debt, a LTM declining current and quick ratio, and thinning cash assets of $58.2 million. Angie's List, furthermore, is only available in the United States and has not scaled its business to the international market, and even if it attempted to rollout a plan, it comes at a time where global markets would likely not be receptive to the plan considering the slowing growth and instability of many nations, namely China, Japan, Brazil, and Russia.
Many technology stocks deserve to trade at a premium because they are growing the top line by heavy double digits each quarter. Some of these stocks are Facebook and Amazon (NASDAQ:AMZN) and that's why they can afford to trade at a P/E of 87.04 and 464.97, respectively. Angie's List, on the other hand, has really seen a slowing growth rate for revenue in 2015. For example, the company reported $83.5 million in revenue for Q1 2015, followed up by a 4.5% increase to $87.3 million Q2; however, this changed drastically with the Q3 report, where revenue actually declined by $300k. At the same time, we saw a continual increase in the stock throughout the fourth quarter. I find that to be a heavy contradiction.
Furthermore, panning to the bottom line, we see that in Q2 2015 they reported a net loss of $8.3 million and while breaking positive in Q3 2015, they were just above water with $100k in net income. It's scary to see that they are trading at such a high P/E with this kind of earnings base.
OCF is back in the red to complement Q3 and Q4 2014, now at just -$1.8 million. We can clearly credit this to the low net income level and cash burn. Free cash flow has been negative three out of the last four quarters and currently is at -$11.3 million. TTM FCF is -$19.95 million. It's because of these weak metrics and non-correlating trading pattern that I begin to wonder just how profitable can Angie's List be when Revenue and EPS continue to level off. The company actually cannot afford to have a slowing growth rate and I think that'll start become more apparent after the February earnings report. Take a look at the revenue and EPS projections below: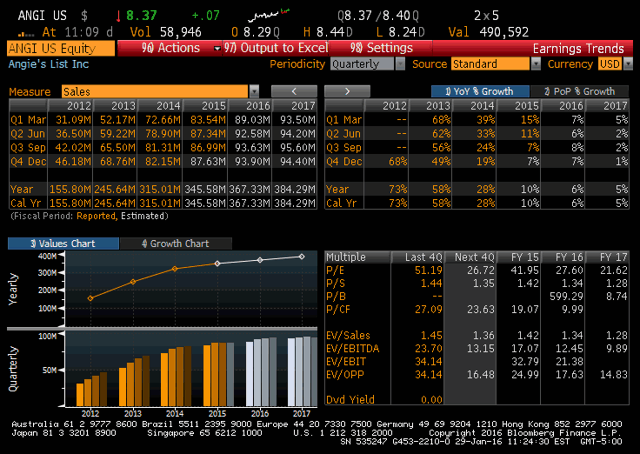 Click to enlarge
Source: Bloomberg
Trading At Current Levels
In defining an entry and exit point, we see that the RSI is relatively flat at 45.4 and with the stock in between its two primary moving averages, it's been in a very normal, low volatility trend for really the last sixty days. After the rapid upside experienced this fall, especially with the push from the rejected IAC bid, the stock pushed past $10/share. Especially considering the 51% cushion for the risk/reward scenario, I'm looking at a PT $5 before this stock becomes competitive on an acquisition front again. Below is the last six months of trading.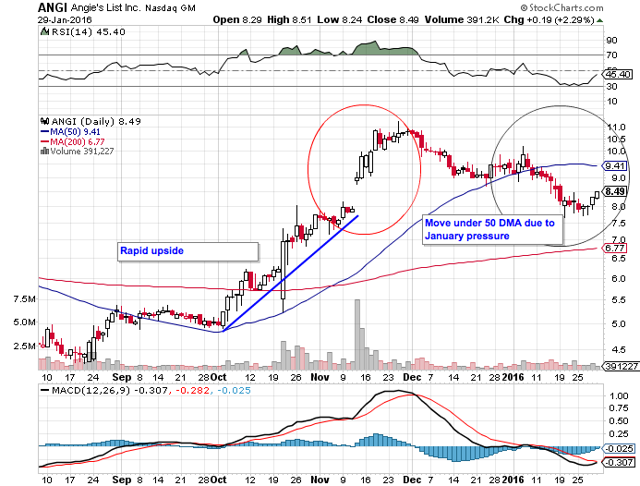 Click to enlarge
Source: StockCharts
Naturally, there are different strategies you could choose to implement with options or other instruments to hedge your risk on ANGI, but I believe the picture is clear. As an added bonus, this stock currently doesn't yield anything, so there's no dividend consideration to factor into your potential short. The company currently trades at a 3m average volume of 863,364 shares, which while low, still provides ample liquidity for getting in and out. I believe, furthermore, we're not going to see any problems with potential acquisition speculation until my PT is hit, and even then we may not see attention. Finally, there is no stock repurchase program in place and the current short interest is 9.56%.
Conclusion
Angie's List is set to report earnings in mid-February, so there are still a few more weeks left to capture some lower volatility, but I think that ER is going to be a real wake-up call for current longs. The company will regret not taking IAC's offer as I believe the only direction for these shares is lower. Especially if broader market selloffs occur, like what we saw for a majority of January trading, this is going to be an accelerated short. The value-add component of this company just isn't as unique as it used to be. Going up against a competitor who has the financial resources to scale the same business in a faster way is just a knockout punch. I'll personally be initiating a short in ANGI this week.
Disclosure: I/we have no positions in any stocks mentioned, but may initiate a short position in ANGI over the next 72 hours.
I wrote this article myself, and it expresses my own opinions. I am not receiving compensation for it (other than from Seeking Alpha). I have no business relationship with any company whose stock is mentioned in this article.