Introduction
Chevron (NYSE:CVX) recently became one of the first oil majors to release its full-year 2015 results. Many were surprised when Chevron, the second largest publicly traded oil company in the world, reported a loss of $0.31 per share, a significant loss of an oil company with a stock price just short of $90. While Chevron is a quality oil company with a long dividend history, the company has stayed at least 20% above its 52-week highs set when oil prices were almost 100% higher than they are now.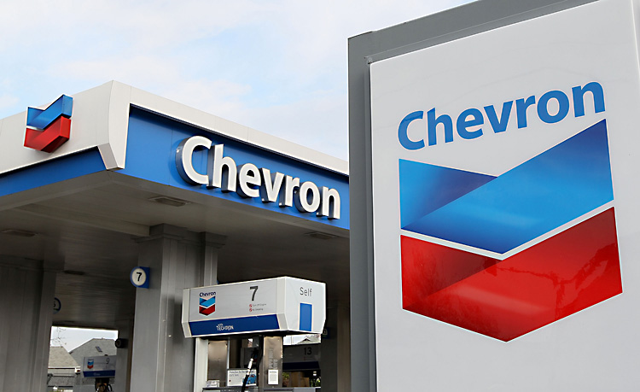 Chevron Logo - Sumofus Production Media
2015 Overview
Now that we have an introduction to Chevron, let us start with an overview of Chevron along with its year-long earning results.
Chevron had strong 2015 operating performance. Low oil prices resulted in weak operating results for the company, with oil prices falling to their lowest level since the early 2000s. However, Chevron is responding to the markets by using asset sales to increase cash while managing its debt on the balance sheet.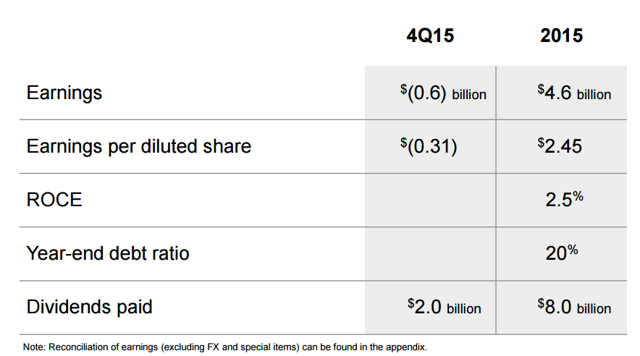 Chevron Earnings - Chevron Investor Presentation
The company surprise 4Q earnings pale in comparison with the company's $4.6 billion of annual earnings. Going with the reasonable assumption that $25 per barrel for oil represented close to the bottom of the cycle, Chevron's bottom of the cycle P/E is approximately 40. The company's year-end debt ratio was 20% or approximately $32 billion, but it has been increasing rapidly.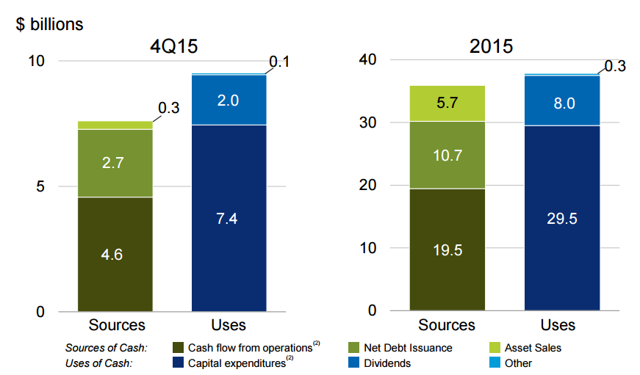 Chevron Cash Pile Changes - Chevron Investor Presentation
At the same time, Chevron has been increasing its debt, it has been burning through all the cash flow it's generating. For the fourth quarter, the company spent $2.0 billion on its dividend along with $7.4 billion on Capex and had to issue almost $3 billion worth of debt. Throughout the year, the company generated $10.7 billion through net debt issuance, meaning that in a single year the company's debt increased by almost 40%.
Beyond that, the company spent $8.0 billion on dividends with a yield that is close to 5%. Chevron has long been admired as a dividend stalwart that has been increasing its dividend annually for several decades. Despite that history, the current oil disaster is unprecedented. Chevron may have to cut its dividend to keep its debt from rising to unsustainable levels. Such a dividend cut, as likely as it may be, will wreck the company's stock price.
Spending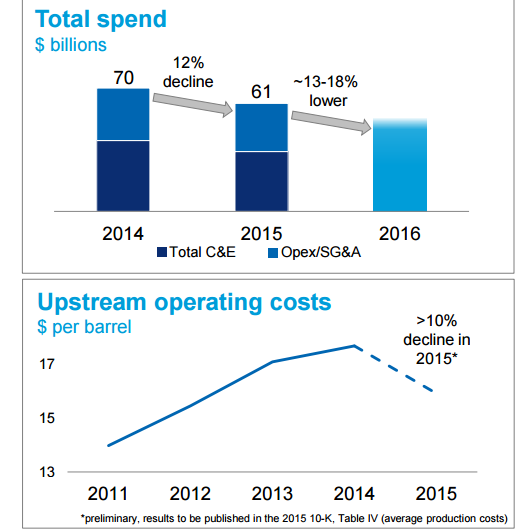 Chevron Total Spending - Chevron Investor Presentation
This dividend cut has caused Chevron to drastically cut its spending. Chevron's 2016 spending is expected to be almost 30% compared to 2014 spending, with total spending in the range of $50 billion. As the company's major projects come online, its Capex will decrease significantly which should improve its financial position. However, the necessary increase in debt to that point will put the company in a noticeably worse position.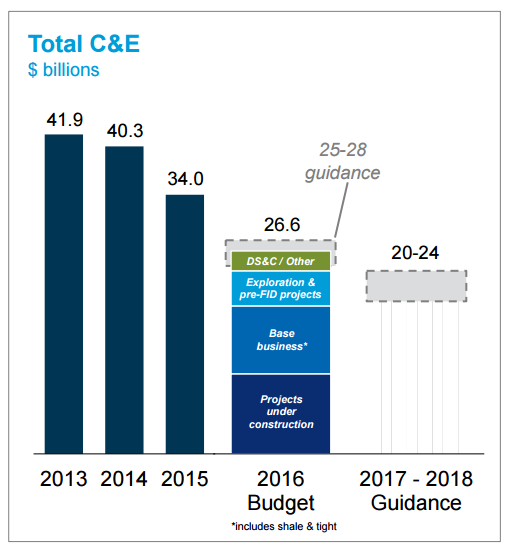 Chevron Total Capex - Chevron Investor Presentation
This next above image gives a better indication for the amount of spending on new projects. The company's 2016 budget includes almost $10 billion of spending on projects under construction. As a result, the company's 2017-2018 spending is $20 to $24 billion, noticeably below where it has been these past few years. A decrease in Capex could allow the company to maintain its dividend without excessive debt issuance.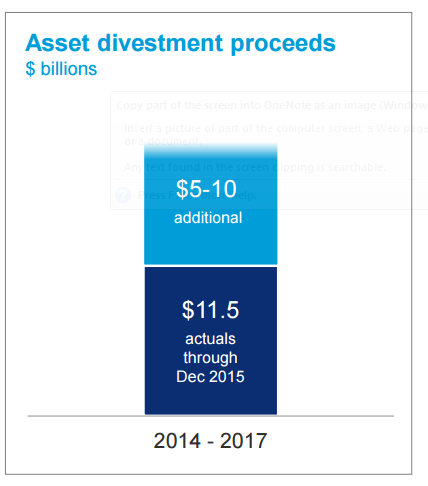 Chevron Asset Divestment Proceeds - Chevron Investor Presentation
Until then, the company will try to balance its debt load by selling assets, with an additional $5 to $10 billion in asset divestitures expected. Personally, I am disappointed by Chevron's actions. The company is well aware that oil is a cyclical business that has widely fluctuating prices. Selling its assets at a market bottom is dangerous to long-term earnings despite its necessity for cash right now.
Production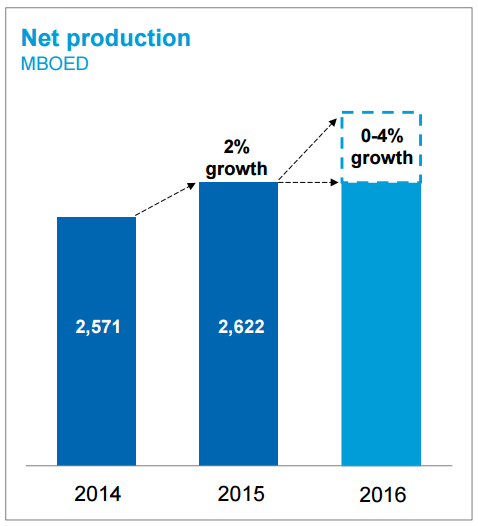 Chevron Net Production - Chevron Investor Presentation
So far we have talked about 2015 overall along with the company's spending. Now is the time to talk about the company's production. Despite these asset sales, Chevron expects its production to continue increasing. In fact, as you can see in the above chart, the company expects its 2016 production to be 0-4% higher than its 2015 production.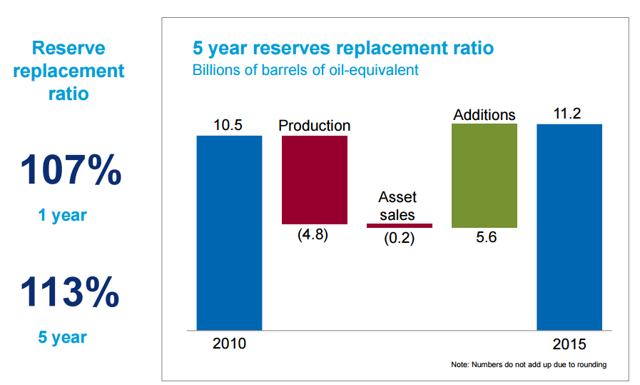 Chevron Asset Replacement Ratio - Chevron Investor Presentation
Chevron does have a few good things going for it, though. On top of increasing its production during the downturn, the company has managed to increase its reserves with a 107%, 1-year and a 113%, 5-year replacement ratio. Asset sales did remove 0.2 billion barrels worth of reserves or more than 2 months' worth of production.
More so, the company's Wheatstone and Gorgon modules will be completed soon, resulting in greatly increased production. More importantly, the increase in production is expected to last for decades bringing Chevron more revenue. Should Chevron take out debt to maintain its dividend, the cash flows will help the company pay this debt down in the future.
Conclusion
Chevron has been put in a tough position. Analysts that were calling for $140 oil in 2014 are now calling for $20 oil, and it appears that when you expect oil to both increase and decrease, one of the times you will be right.
Chevron itself started a number of major projects around 2010-2012 projects that reached their maximum spending a year or two ago. This increase in spending has put Chevron in a difficult position with its high spending levels and it may be forced to do something it never had to do before - cut its dividend.
Despite that, Chevron is still 20% above its 52-week highs despite the fact that oil prices are now almost half of what they were before. As a result, despite the potential of Chevron, I expect the company to drop even more. I would recommend interested parties wait for Chevron to drop below $65 per share before investing.
Disclosure: I/we have no positions in any stocks mentioned, and no plans to initiate any positions within the next 72 hours.
I wrote this article myself, and it expresses my own opinions. I am not receiving compensation for it (other than from Seeking Alpha). I have no business relationship with any company whose stock is mentioned in this article.