What has made the People's Republic of China's economic and industrial emergence the story of the decade was not so much technology or resources or competitive prices; all emerging markets have those key features which drive growth. However, what China had which simply overwhelmed the global economy was scale. In 1990 China's per capita income (in PPP) was under $1000.00; by the turn of the century it grew to $2880.00; in the first decade of the 21st century it expanded to $9200.00 and by 2014 it had reached just over $13000.00. Keep in mind that this is a nation of over 1.4 billion people! Naturally, this new found wealth led to an increase in both consumer discretionary and non-discretionary spending. The expansion has now reached a point where economic planners will further reduce state supported industries and shift from a manufacturing-export economy to one where the domestic economy will be the main growth driver. This will almost certainly create a vacuum in the demand for competitively priced global manufacturing.
There's something going unnoticed however. It is the effect which China's competitive manufacturing industry had on the global economy in a 'universal' sense. The lower wages and state sponsored industries kept supply chain prices low from raw material cost to retail 'shelf' price. This placed many discretionary products within the reach of more and more global consumers, which in turn spurred more demand. Some of the more ubiquitous products include, to name just a few, mobile devices, computers, watches, jewelry, entertainment devices, motorcycles and automobiles. Larger industry benefited from competitively priced heavy equipment, trucks, buses, wind turbines and solar panels. Commodity export economies boomed from insatiable demand. Further, the price of semi manufactured products, for instance refined steel, copper, aluminum, iron and refined petroleum were kept in check for a decade. The combined effect suppressed consumer pricing, so much so, that regions not yet fully recovered from the 2008 credit crisis actually began to experience 'disinflation' and in some cases, outright deflation.
Presently, there's certainly no pressing need for 'universal' competitive pricing. However, these economic cycles do not last forever. This is a key point. As demand begins to resume, China may no longer have the capacity to provide lower priced manufacturing. The most logical place to turn will be South Asia, and India is perhaps the best positioned economy to become the next emerging market story of the 21st century. Should such a buildout occur, it most likely will follow the path of previous emerging markets. But India has potentially the same consumption-production scale as China. In the process, populations will likely follow the same path from agriculture to manufacturing, creating consumer demand on an equal scale. This is by no means a cut-and-dry certainty and may take many years to play out.
An investor with risk capital and patience might be interested in initiating a position by way of a consumer focused ETF offered by EG/A Emerging Global Advisors: the EGShares India Consumer ETF (NYSEARCA:INCO). The fund:
...Seeks investment results that correspond (before fees and expenses) to the price and yield performance of the Indxx India Consumer Index...
The fund first listed in August 2011, is concise, containing a maximum of 30 companies and has a somewhat high expense ratio of 0.89%. The fund has had respectable returns since inception and currently trades at a slight premium to NAV. But to be sure, a global slowdown in growth will have a greater affect in South Asia than the advanced economies, hence proceed with caution.
| | | | | | |
| --- | --- | --- | --- | --- | --- |
| Returns | 3 Month | Year to Date | 1 Year | 3 Year | Inception 8/10/2011 |
| NAV | 3.84% | -0.06% | -0.06% | 10.65% | 11.67% |
| Market Share Price | 2.33% | -0.56% | -0.56% | 9.76% | 11.40% |
| INDXX India Index Total Return | 4.10% | 1.57% | 1.57% | 12.30% | 13.39% |
Data from EGShares
As it stands now, India has a population comparable to China, at 1.3 billion; the population of the entire South Asian region is 1.72 billion. Hence, over 75% of South Asia's population is concentrated in India. Per Capita GDP in south Asia as a whole has been leading that of India since about 2007.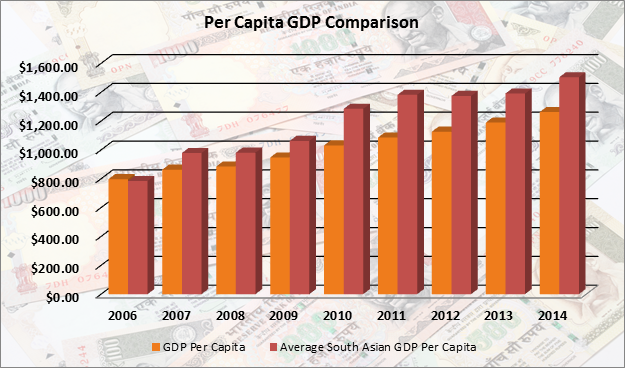 Data from Google
Conversely, India's per capita income has been exceeding that of the entire region over the same period.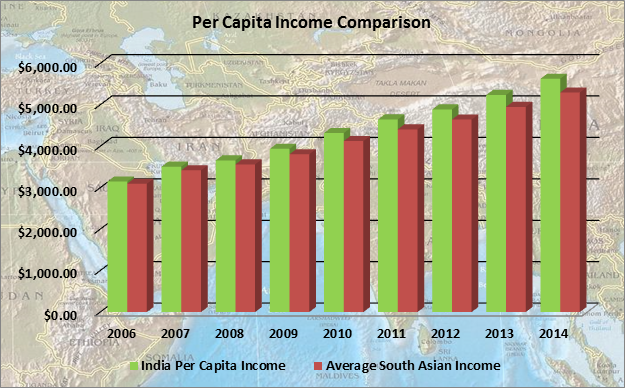 The important point to keep in mind is that China's per capita metrics were approximately the same as India's today. This doesn't necessarily mean that India will experience the same growth, but it does give an indication of the potential should India follow the same path forward.
The fund allocates using standard ETF industry terminology.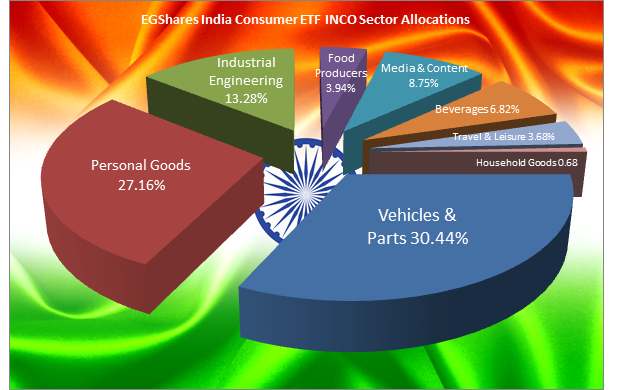 Data from Google
Many of the companies in the fund grew along with a changing India. Hence, in order to get a good perspective of how the fund allocates outside of industry norms they are grouped together by their primary business. It should also be noted that some of these companies list on the India National Exchange, abbreviated as 'NS'. Percentage wise, the major sector holding involves personal vehicles, including scooters, motorcycles, motor driven rickshaws, autos and vehicle parts manufacturers.
Vehicle/Parts 21.26%

Bajaj Auto Ltd.

Fund Weight: 5.7%

Personal two and three wheel motor vehicles and vehicle parts manufacturer and maintenance service. Bajaj Auto is a subsidiary of Bajaj Group (NS: BJAT). It's interesting to note that the group was founded in 1931 by a close associate of Mahatma Gandhi. The group is diversified energy, construction, mining, sugar and personal vehicles. The company sells its products internationally.

Motherson Sumi Systems Ltd (OTC: OTC:MOZTY)

Fund Weight: 4.76%

Automotive components and parts; consumer related hardware and polymer plastic and injection molded parts and housings such as auto instrument consoles. Some medical products solutions as well.

Hero Motocorp Ltd (OTC: OTC:HRTQY)

Fund Weight: 4.68%

Two wheeled personal vehicles as well as vehicle parts mainly 'scooters' ranging from 125cc to 255cc. The company manufacturers in India under its product brand names and also has manufacturing facilities in Columbia, SA and Netherlands.

Tata Motors Ltd. (NYSE: TTM)

Fund Weight: 3.73%

This is one of the more noteworthy global companies to emerge from emerging market economies. Established in 1945 as part of Jamsetji Tata's industrial company, established in 1868. Tata motors manufactures a full line of passenger vehicles, trucks, buses and vehicles for defense. The well-known Jaguar, Land Rover, and Daewoo are part of the Tata Motor family of vehicles.

TVS Motor Co. Ltd (OTC:TTVSF)

Fund Weight: 2.39%

TVS is a personal two and three wheeled vehicles, manufacturing and distributing in South Asia and ASEAN markets.
Data from Reuters, Yahoo! and company websites
In South Asia two and three wheeled vehicles are more the norm than the exception and then mostly scooters which provide an inexpensive means of transportation and mobility. This is an important point to note. The potential for the automobile sector to grow along with higher levels of income is large. Yet automobiles would hardly replace all smaller, more efficient and less polluting 'scooter'. It's also worth mentioning something about the ubiquitous brand name "Tata". It is essentially an extremely diversified private holding company called Tata Group. Its individual holdings cover every economic sector in every corner of the world. It also typifies a common feature shared among large Indian companies: they were founded in the early 19th through early 20th century; most likely as a result of the colonial period. A second wave of companies was founded in 1946 or soon thereafter; this was when India regained independence. Further, many of these companies maintained their ties with the west and thus are as well established as their western counterparts.
Tire Manufactures 6.36%

MRF Ltd. (OTC: OTC:MRQFY)

Fund Weight: 4.67%

Mainly a vehicle tire manufacturer and also produces tubes, mud guards, conveyor belts. Also manufactures paints, pre-coats and toys. One interesting note is that the company sponsors its own rally formula 3 team.

Apollo Tyres Ltd. (OTC: OTC:AYRQY)

Fund Weight: 1.69%

A manufacture of a full range of vehicle tires from scooters to specialized industrial and agricultural Vehicle applications. Its brands include Apollo, Kaizen, Maloya, Regal and Vredestein. The company has manufacturing plants in Netherlands as well as India and distributes globally.
Data from Reuters, Yahoo! and company websites
Related to the vehicle parts industry are tire manufacturers. This is often included under the heading of a consumer discretionary product. There are two holdings, both world class with global distribution under established brand names. MRF Ltd is a bit more than tires, manufacturing paints and pre-coatings, and conveyor belts.
Diversified Industrial 15.68%

Mahindra And Mahindra Ltd (MAHDY)

Fund Weight: 5.5%

This is a highly diversified industrial. Its consumer retail products are distributed though auto, agriculture, finance, insurance, IT, leisure and hospitality businesses. The company also operates in the defense industry, energy, aerospace, heavy agricultural equipment. The company operates international.

Bharat Forge Ltd. (OTC: OTC:BRQPY)

Fund Weight: 3.82%

Bharat Forge manufactures large forged and machined components for the auto, rail, marine, aerospace industrials, oil and gas as well as construction and mining. The company's footprint is on every continent and claims every global OEM supplier as customers. Some examples of products include drive train components, rail wheel sets and rail-truck frames, marine connecting rods and propeller shafts to name just a few.

Exide Industries (OTC: OTC:EXQDY)

Fund Weight: 2.54%

Exide is a manufacturer of lead-acid batteries for a wide variety of applications including passenger vehicles and industrial applications including submarine applications as well as uninterruptable power supplies. The company is among the largest such manufacturers and markets under familiar brands: Excide, SF and Sonic.
Data from Reuters, Yahoo! and company websites
The Diversified Industrial group produces consumer products but is more affiliated with what may be considered heavy industry. The standout example is Bharat Forge Ltd. The company forges and machines the heavy components in many types of vehicle transportations: engines for cars, trucks and buses; wheel carriages for railcars, propeller shafts for shipping. So true, the company is related to the discretionary auto industry, but doesn't make the kind of products which may be driven out of the showroom, or carried home off the shelf. On the other hand, the three industrial companies held, especially Bharat, are world class global competitors with international distribution and affiliations.
Consumer Staples 20.74%

Godrej Consumer Products Ltd. (OTC: OTC:GDRJY)

Fund Weight: 5.84%

Retail consumer products: personal care, household products, aerosols, soaps and shampoos; hair care and styling gels, baby care, skin care; cosmetic auto care products, detergents, sanitizers, insect repellent. Founded in 1897.

Hindustan Unilever (OTC: OTC:HNSQY)

Fund Weight: 5.00%

A subsidiary of the global Unilever (NYSE:UL) and markets well-known Unilever products in India personal care, homecare, condiments, packaged foods, beverages, infant care. Some products are sold under Kissan, Annapurna, Magnum, and Kwality brand names.

Nestle India Ltd (OTC:NSZTY)

Fund Weight: 4.28%

Nestlé's India operations, manufacturing and/or distributing under their well-known Nestle brands or other brands designed for the domestic India market, particularly Maggi.

Tata Global Beverages (OTC:TTAEY)

Fund Weight: 2.08%

Again, one of the Tata family of diversified companies. The subsidiary manufactures natural beverages: tea, coffee and water. This includes the cultivation, blending and packaging of tea and coffee, both in wholesale and retail. The most notable brand name is Eight O'clock Coffee sold on the east coast of the USA. Otherwise, Tata beverages distributes in over 45 companies on every continent.

Proctor & Gamble Hygiene (NYSE: PG)

Fund Weight: 1.99%

P&G's Indian operations under the familiar brand names, Gillette, Head & Shoulders, Oral-B, and others. The distribution channel is through supermarkets, club stores, drug stores and convenience stores.

Jubilant Foodworks Ltd. (OTC: OTC:JBLWY)

Fund Weight: 1.54%

A diversified fast food licenser, with exclusive franchiser of Domino's Pizza (NYSE: DPZ) operator in India, Sri Lanka, Bangladesh and Nepal; exclusive franchiser for Dunkin Donuts (NASD: DNKN) in India.
Data from Reuters, Yahoo! and company websites
The next group may properly be called Consumer Staples. Three of the six holdings are Indian operations of well-known global companies: Unilever (NYSE: UN), Nestle (OTC: OTCPK:NSRGY) and Proctor & Gamble (NYSE:PG). Godrej (which traces its origins back to the late 19th century), and Tata Global Beverages (OTC:TTAEY) are domestic but the most interesting is Jubilant Foodworks with a unique business model of attaining exclusive licenses of global convenience food chains. They currently have exclusive rights from Domino's Pizza and Dunkin Donuts.
Consumer Care 9.71%

Dabur India Ltd. (OTC: OTC:DBRQY)

Fund Weight: 5.04%

A domestic and international consumer products manufacturer. Products include health care, over the counter medication and holistic healing. Personal care including oral, skin, hair and personal care. Retail foods including beverages and condiments. The company has operations in South Asia, Middle East, Africa, Europe and Americas.

Marico Ltd (OTC: OTC:MRQCY)

Fund Weight: 4.67%

Retail consumer products. Personal care including soaps, shampoos, skin care, hair care, cosmetics and grooming products. The company has international distribution in Africa, Middle East, and ASEAN markets.
Data from Reuters, Yahoo! and company websites
Consumer care products comprise almost 10% of consumer goods and are manufacturers of many familiar products: skin care, hair care, oral care, ointments, creams, shampoos and cosmetics. It's interesting to note that Ayurvedic compliant products are an important product in the consumer market. It may be briefly described as an alternative medicine, derived from an ancient religious practice of holistic healing. The name itself may be translated from the ancient Sanskrit as "life-knowledge"; it is a large component of the consumer care sector. Related to this group of consumer products are what may be describe as familiar modern over the counter health related products.
Health Care Products 5.00%

Glaxo-Smith-Kline Consumer Health (OTC: OTC:GLXQY)

Fund Weight: 2.54%

This nutritional and over-the-counter pharmaceuticals products manufacturer is the India subsidiary of the global and well-known Glaxo-Smith-Kline (NYSE: GSK).

Emami Ltd. (OTC: OTC:EQMNY)

Fund Weight: 2.46%

Personal and general healthcare products with over 15 brands, including holistic medicinal products, including applicable oils, balms, creams, ointments and powders.
Data from Reuters, Yahoo! and company websites
Included in this group is the Indian operation of Glaxo-Smith-Kline. This group includes general healthcare and nutrition products. Emami is a domestic producer of similar products as well as Ayurvedic compliant products.
Brewed, Fermented or Distilled Beverages 6.68%

United Spirits (OTC: OTC:UQNTY)

Fund Weight: 4.34%

As the name suggests, the company manufactures consumer distilled spirits and wines and is one of the largest volume producers in the world. The company traces its foundation to 1826. The company has over 52 distilleries in India and markets under 140 brands.

United Breweries Ltd (OTC: OTC:UNBWY)

Fund Weight: 2.34%

The company bills itself as the undisputed king of beer producers in India. United Breweries traces its origins back 100 years to 1915 when it formed by combining together 5 other breweries. Its products are distributed globally, in 69 countries. Its main brand name is the very recognizable Kingfisher Beer, along with over ten other globally distributed beers.
Data from Reuters, Yahoo! and company websites
India has a well-established wine, beer and distilled spirits market. Among these are the fund's two holdings: United Spirits which traces its origins back to 1826 and now markets with 140 brand names internationally. United Breweries is just that. It originated in 1915 from the union of five independent brewers and among its many brands is the familiar Kingfisher line of beers.
Appliances 4.62%

Bosch Ltd. (OTC: OTC:BSWQY)

Fund Weight: 3.89%

This company are the India operations of the privately held multinational German industrial company, Robert Bosch GmbH. Bosch in India manufactures household appliances and tools. Industrial products include control technology, energy services and professional tools and equipment. Bosch in India also provides IT services for engineering, management and businesses.

Whirlpool of India (NS: WHIR)

Fund Weight 0.73%

Whirlpool's (NYSE:WHR) Indian operations manufacturing the well-known Whirlpool home appliances for the Indian market.
Data from Reuters, Yahoo! and company websites
Another key sector for a growing consumer economy is Durable Goods, particularly home appliances. The two holdings here exemplify a common theme of India's consumer market. Well established global companies with long established ties in India. Of these, Bosch Ltd a subsidiary of the privately held Robert Bosch Holdings supplies the market with its top-of-the-line home appliances as well as with both consumer and professional product line of power tools. Bosch also provides its well-known industrial control technology products as well as IT services.
Media & Entertainment 8.71%

Zee Entertainment Enterprise (OTC:ZEEEY)

Fund Weight: 5.94%

Integrated media and entertainment for the India market: content provider with regional language broadcasts, sports channels, lifestyle and over two million hours of television content. The company is global with nearly one billion viewers distributed over 169 countries

Sun TV Networks (OTC: OTC:SNQVY)

Fund Weight:1.71%

As the name suggests, this is a media, entertainment and content company broadcasting TV and Radio. The distribution is via commercial airwave and cable subscriber networks. Viewership is global appealing to Indian language viewers, including Tamil language, reaching every continent. The company also has a film production company, Sun Pictures.

Dish TV India (NS: DSTV)

Fund Weight: 1.36%

This company also is held by EGA's India Infrastructure fund. The satellite TV service provider in India providing equipment, multi-lingual , HD and SD services and content. With a $1.3 billion market cap and voted as one of the most trusted companies in India, it is the best in class direct to consumer TV. The company services India, Sri Lanka, Pakistan, Afghanistan, Nepal and Bhutan.
Data from Reuters, Yahoo! and company websites
India has created a fabulously popular entertainment industry. To gauge the scope of its popularity, in 2011, domestic cinema sold a combined total of 3.5 billion tickets, compared to its western rival Hollywood's 900,000 tickets. And this is only a small sector of the total domestic industry. The entertainment sector has extraordinary growth potential. The fund's most notable holding is Zee Entertainment with over one billion viewers in over 169 countries. However, the scale of this popularity may carry over in general, as incomes increase.
The last two holdings are in separate categories. Indian Hotels Ltd. (OTC:IDHCF) is a holding of Tata Group and a global brand with properties at vacation locations globally. It was incorporated by Tata in 1903. Lastly is Page Industries, a garment manufacture marketing under the well-known brand names of Jockey and Speedo. The company covers the full spectrum: sleepwear, sportswear, inner and outerwear and activewear. This company also has a long established history, tracing its origins back to the middle 19th century.
Page Industries Ltd. (OTC:PGDQY)

Fund Weight: 2.68%

A global garment manufacturer distributing under the Jockey and Speedo brand name. The company manufactures activewear, leisurewear, sportswear, sleepwear and innerwear.
Data from Reuters, Yahoo! and company websites
Indian Hotels Co. Ltd

Fund Weight: 2.21%

Indian Hotels is a subsidiary of the ubiquitous Tata Group. The company has properties in Africa, Asia, Australia, Europe, the Middle East, North and South America. Some brands are Taj Hotels Resorts, Vivanta, Gateway, and Ginger.
Data from Reuters, Yahoo! and company websites
Due diligence will be required before establishing an initial position in this fund. In particular, this fund is not going to be an overnight success. On the other hand, investors shouldn't underestimate the power of the Indian consumer economy. Many manufacturers are long established, have adapted over the decades very well, have maintained important ties after independence and are currently transitioning from a centralized bureaucracy to a free market economy. In some respects India lags China's accomplishments. On the other, India is ahead of China with decentralization. Lastly, India has one strategic advantage which other emerging economies rarely have: English is an official language and widely spoken. In other words, language is not an obstacle.
Is this the right time to enter? Perhaps not. Is this fund the proper venue? It's perhaps the best venue to invest in India's consumer sector.
Disclosure: I/we have no positions in any stocks mentioned, and no plans to initiate any positions within the next 72 hours.
I wrote this article myself, and it expresses my own opinions. I am not receiving compensation for it (other than from Seeking Alpha). I have no business relationship with any company whose stock is mentioned in this article.
Additional disclosure: CFDs, spreadbetting and FX can result in losses exceeding your initial deposit. They are not suitable for everyone, so please ensure you understand the risks. Seek independent financial advice if necessary. Nothing in this article should be considered a personal recommendation. It does not account for your personal circumstances or appetite for risk.
Editor's Note: This article discusses one or more securities that do not trade on a major U.S. exchange. Please be aware of the risks associated with these stocks.