There are 3 subjects this article will address. All three are key to how the U.S. stock market is likely to perform in 2016.
Is a loss in January a useful barometer for the rest of the year? No.
Will oil prices remain at these low levels for longer as most experts are predicting? No.
Are corporate earnings going to rebound in 2016? Yes.
January Barometer?
consider this quote (CNBC.com, January 31, 2014):
"With less than two hours until the end of trading Friday, the S&P 500was trading around 1790, down just over 3 percent for the month. It is on track for its first January loss since 2009, and the largest monthly decrease in eight months.

Similarly, the Dow is off by almost 5 percent this year, while the Nasdaq has fallen 1.5 percent.

As January goes, so goes the year?"
The subsequent return for calendar 2014 was not so bad after all. The price return was above 11% (see graph) and including dividends even better. Admittedly, a good year followed a bad January only 8 times in 36 years (a bit better than 20% of the time).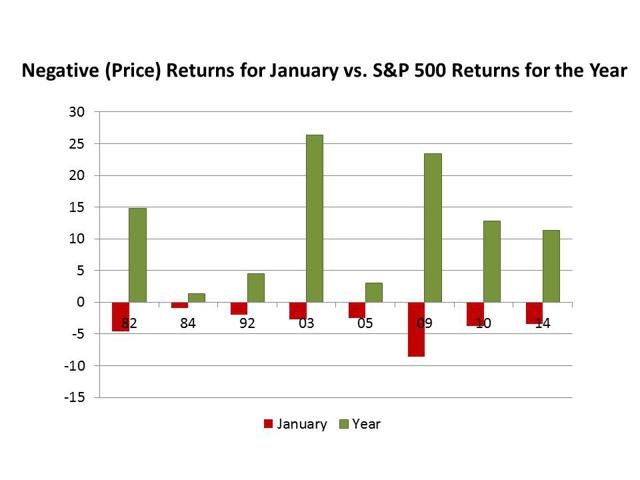 Click to enlarge
For those interested in statistical oddities, the observation that most of the time a poor January has preceded a market loss for the year is interesting. Most of us would agree though that any of the returns in the graph followed by a lousy January would be desirable indeed.
How about other historical 'patterns.' For example, according to research done in the past by Fisher Investments, if the Republicans sweep the Democrats then 2016 should (statistically) prove to be a banner year.

Of course, these statistical exercises don't tell us what we really need to know. Will this year be a good year despite the January barometer? Will the Republicans win the election? Which barometer should one bet on since the predicted outcomes are opposite?
Energy Crisis
The 2nd subject might be more useful. After 30 years following the energy sector (a big part of my Canadian economy for good or ill) I have the benefit of some experience. First of all, I can attest to the fact that the price of oil never remains at one level for very long.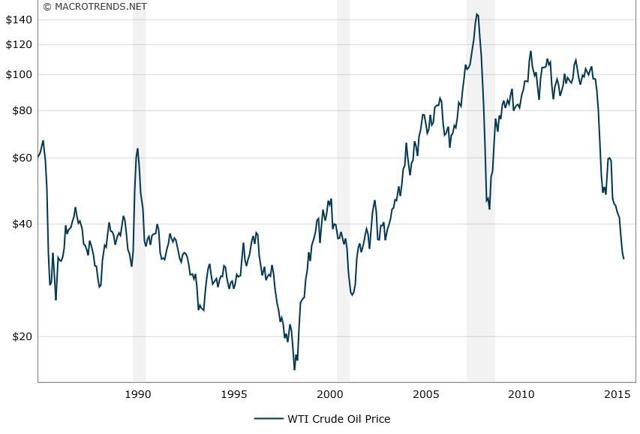 Click to enlarge
Once wells become uneconomic, they are shut down quickly. Witness the collapse in capital spending and employment in the sector in a very short span of time. As soon as investor and lender interest wanes (exploration and production needs to be financed) the taps begin the close. The troubles of the energy sector initially have an impact not dissimilar to a financial crisis. Wealth (the value of reserves, crude inventories, job losses, support industries) is destroyed almost immediately. On the flipside, heavy consumers of energy experience a gradual increase in wealth as an offset.
Why is it that low energy prices don't seem to be benefiting corporate profitability and consumer spending as much as they should? Some of it has to do with hedging (costs remain high or unwinding hedges causes losses) and more has to do with a lag in expectations and behavior. I am seeing anecdotal evidence that the tide is turning. Check out these comments from the January 2016 Manufacturing ISM Report on Business:
WHAT RESPONDENTS ARE SAYING ...
"The oil and gas sector continues to be challenged by low oil and gas prices. Risk of suppliers filing for bankruptcy and reducing their workforce is becoming an increasing risk. Our company workforce is also declining." (Petroleum & Coal Products)
"Business this month [is] better than last month and better than this period last year. Reduced oil and basic chemical prices providing favorable margin comparisons." (Chemical Products)
"Huge rollout in wireless in 2016 across all markets. We should be very, very busy." (Computer & Electronic Products)
"We are a bit slower, but staying busy." (Fabricated Metal Products)
"Business is still strong, but slowing." (Transportation Equipment)
"2016 starting off with strong orders." (Primary Metals)
"Market is sluggish to start the year." (Wood Products)
"Medical device continues to be strong." (Miscellaneous Manufacturing)
"Overall demand is higher than expected for post-holiday season." (Plastics & Rubber Products)
"Much worldwide macroeconomic uncertainty affecting our business. Business confidence seems low." (Food, Beverage & Tobacco Products)
What these comments say to me is the transfer of wealth (rather than wholesale destruction like we had during the Financial Crisis) is underway. Heavy consumers of crude (Chemicals, Primary Metals) are lean from several years of high energy costs and are enjoying better margins and demand growth without bumping their commodity prices. Airlines, trucking, rails and other basic industries will enjoy better profitability to offset the decline in energy upstream and downstream profits. But will energy prices remain this low for a long time? No.
Even with an increase in Mid-East supply, expect global production to fall. Non-OPEC production (the U.S. accounted for most of this growth in recent years) cannot be sustained at these levels.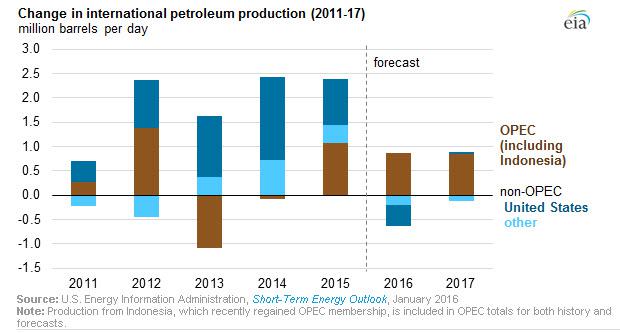 The EIA forecasts are overestimating OPEC production - OPEC has made its point and cannot afford to continue sacrificing the advantages that an oligopoly offers. Based on my experience the EIA is also underestimating the decrease in supply from non-OPEC sources. The price of crude is going to go up, but not nearly as quickly or as extreme as it has fallen. Production is much harder to bring back online that to shutdown. Confidence needs to be restored (investors and lenders) before an upside supply response can occur. Although prices will rise soon as demand picks up (China, Europe and developing countries) they will be lower than historically high levels; serving to bolster consumer spending and corporate profitability.
Corporate Profitability
Will corporate profitability - the most reliable barometer for the market - resume growing in 2016? This is where election years matter, as media spending enjoys a quantum leap. More important though will be the downward adjustment in cost curves for energy consuming industries. But what if profitability proves not to be resilient? Here is a bit of simple analysis that has served me well over decades as a portfolio manager. Let's begin with this quote from Ed Yardini - sourced from Newsmax on January 28th:
"We are cutting our 2015 and 2016 [S&P 500] earnings estimates by $5 each to $120 and $130 per share," he writes in a daily commentary provided to Moneynews. "In this scenario, earnings growth would be only 2.1 percent [for the S&P 500] this year. It would pick up to 8.3 percent next year."
If the S&P 500 earnings were to remain at $120 (Yardini's 2015 forecast) forever rather than grow, and interest rates are a much higher 4% (the U.S. 10-year Treasury currently yields 2%) then treating the earnings as a simple perpetuity suggests that a fair level for the index is 3000. Hovering below the 2000 level, I would conclude that the index could rebound 50% sometime this year. That's the upside.
What if on the other hand S&P 500 earnings actually decline to $96 (down 20% over the course of this year) and remain there forever? My fair value target drops to 2400 ($96/.04) which is still 24% higher than today's level.
The most serious threat to this simplistic approach is a huge increase in interest rates. The interest or discount rate implied by today's valuation of S&P earnings is 6.2%. I find it hard to believe that the FED will allow a three-fold rise in rates anytime this year.
Expect a solid performance from equity markets this year, courtesy of lower than historic oil prices and a continued low interest rate environment. These will contribute to rising corporate profits. As I've suggested, we don't really need rising profits to be optimistic about the equity market.
There is a possibility that investors may be even better off in foreign markets, largely due to currencies. Since the iPhone seems as ubiquitous nowadays as the Big Mac, I compared the price in Germany (888 EUR or $968 USD) to the $699 USD price in America. Based only on the 1.09 USD/EUR current exchange rate applied to the cost of the iPhone 6s 16GB version in the USA, the equivalent $US price over in Germany should only be $762. Based on purchasing power parity then, the Euro is seriously undervalued.
I figure the $US is also overvalued compared to China RMB. The same iPhone should be $4666 RMB, based only on the current exchange rate, but in fact costs $5288 RMB in Nanjing.

It seems likely that as the current 'panic' subsides, that the $US will weaken relative to other currencies helping US exports; but also causing energy prices (price is US dollars) to be even lower for countries that rely on oil imports. Factoring in currency rebalancing, it should finally prove to be a pretty good year for foreign markets also.
Summary
Don't hang your hat on the January barometer. Yes oil prices will rebound some, but not enough to mitigate a lift to corporate profitability. The stock market is sufficiently undervalued to warrant buying into it, but be cognizant of the rotation away from sectors that once benefited from high oil prices to those that will benefit over the coming months. Keep in mind that Europe, Asia and a number of developing countries will surge in 2016.
Disclosure: I/we have no positions in any stocks mentioned, and no plans to initiate any positions within the next 72 hours.
I wrote this article myself, and it expresses my own opinions. I am not receiving compensation for it (other than from Seeking Alpha). I have no business relationship with any company whose stock is mentioned in this article.