This month's article marks the eleventh installment in my ongoing series that outlines my efforts to achieve dividend growth success. The portfolio is nicknamed the MnM portfolio, which is a moniker for "Minne 'n Monthly."
The title of this month's article focuses on the dividend increases that were announced in January. This is the first month that the portfolio has had four increases come in at the same time.
Note: The portfolio holds at 26 positions. I am still targeting a portfolio size of ~35 - 40 positions over time. I feel that at that level it is enough that I can effectively follow them all, and equally weighted would provide strong diversification as each would represent approximately 2% - 3% of the portfolio total. I also receive 100 free trades each year from my brokerage, so I can trade in small quantities without worry about brokerage trading costs.
That being said, here's what happened in January.
January 2016
I have captured the activity for January and for the year-to-date in the standard roll-forward summary below. The portfolio was down $1,678.45 for the month, net of dividend income. The net performance of the portfolio of a 2.54% decline represents a decent outperformance of the S&P 500, which was down by just over 5%.
The portfolio collected $173.28 in dividends and interest during the month including a special dividend of $7.20 from the shares in Chatham Lodging Trust (NYSE:CLDT).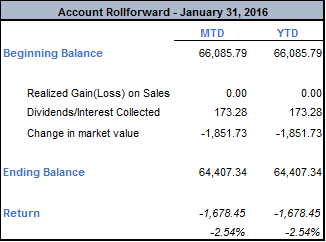 The portfolio was comprised of the following securities as of January 31, 2016: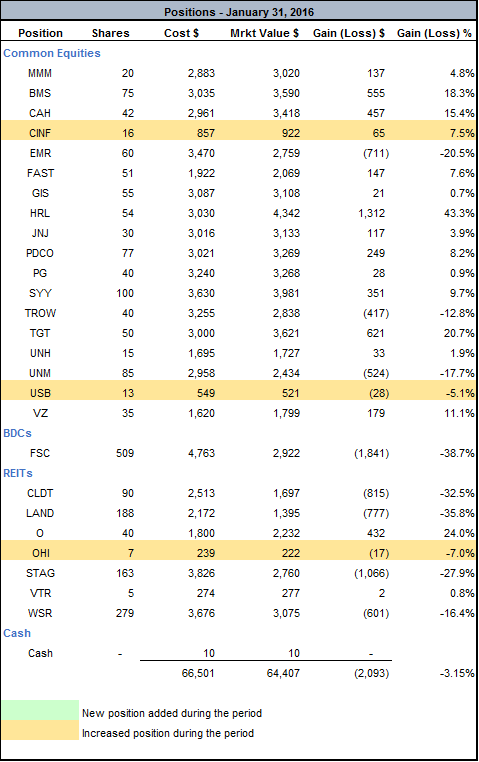 The following sections go into greater detail of the events that have occurred since the end of December.
Sales
None.
Additions
This month I chose to continue building my positions in US Bank (NYSE:USB) and in Cincinnati Financial (NASDAQ:CINF). Both US Bank and Cincinnati Financial declined in January, and I was able to add shares in US Bank at sub-$40 per share prices and Cincinnati at sub-$55 per share. Cincinnati became particularly attractive to me as it came down from trading at over $60 a share recently.
I also added a share of Omega Healthcare (NYSE:OHI). As you may recall from last month's article, I recently began positions in Omega and Ventas (NYSE:VTR) and will be looking to build up both of them in the coming months.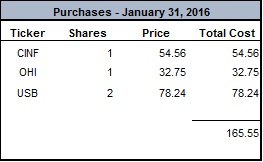 Dividends Collected
As mentioned already, I collected $173.28 in dividends and interest during the month, all but $7.20 of which was recurring. I have updated my forward-looking dividend summary for the acquisitions during the month.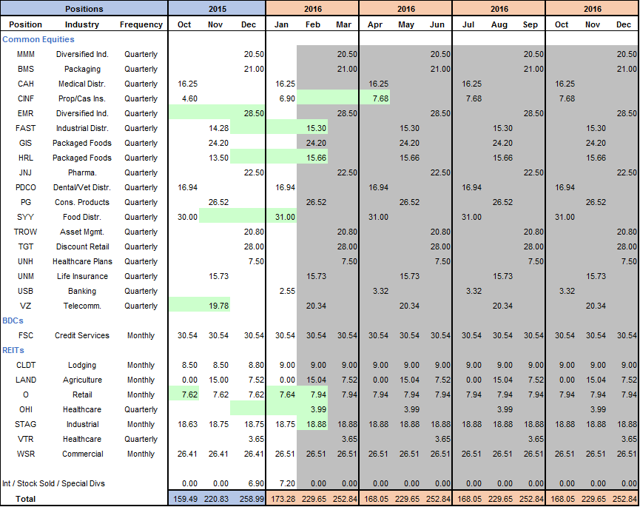 Click to enlarge
January's income represented an 8.6% increase in dividends over October 2015 (the prior quarter), and excluding the special dividend the recurring income was up by 4.1%.

Click to enlarge
Dividend Increases
As I highlighted in the title of the article, the portfolio had four positions announce increased dividends during the month. Both Realty Income (NYSE:O) and Omega Healthcare are serial raisers, so their increases are not as pronounced due to the frequency of which they raise, but the raises still came in at 3.9% and 1.8%, respectively. Also increasing dividends were Fastenal (NASDAQ:FAST) and Cincinnati Financial, both at stellar rates.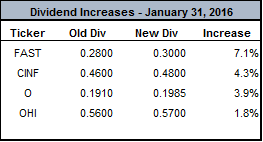 I still anticipate that more increases will be coming across for Q1 dividend payments. I am looking specifically for raises from the likes of 3M (NYSE:MMM), Bemis (NYSE:BMS), T. Rowe Price (NASDAQ:TROW), and potentially Gladstone Land (NASDAQ:LAND) or Chatham Lodging. It would not; however, surprise me to see the REITs pass on increasing at this time or defer any increases until later in the year.
Summary
Despite the awful start in the overall market, the year started out fairly well for the MnM Portfolio. The portfolio saw four dividend increases come across. Recurring dividends collected by the portfolio increased by a 4.1% clip over the prior quarter and were reinvested into solid dividend-paying financial stocks and a REIT.
You may have noticed already, but I have added a little bit more benchmarking and analysis to the monthly post. I feel that it makes more sense to benchmark now that the 'restructuring' of the portfolio was largely completed by the start of the last quarter.
For the duration of the quarter I envision that I will continue to focus on building up the partial positions in Cincinnati Financial, US Bank, Omega Healthcare and Ventas. I am bullish on all of these, and in particular Omega looks appealing. With regard to Omega, the recent sell-off has left shares trading at a P/FFO multiple of just over 10, and a dividend yield in excess of 7%.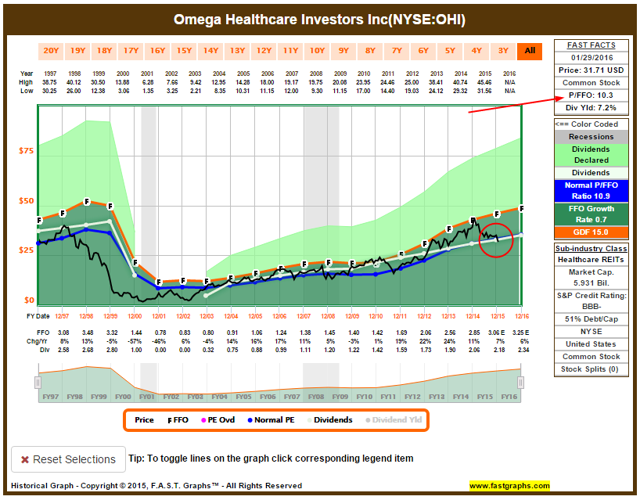 Click to enlarge
Source: FASTgraphs.net 1 February 2016
Lastly, lately I have been looking for a solid Sub-$20 stock that I could potentially add to the portfolio as a "spare change" stock. I tend to end the month with a small amount of cash, and am curious to see if any of you have any favorite dividend growth stocks trading sub-$20 per share that I should look into. Let me know.
Disclosure: I am/we are long THE STOCKS LISTED IN THE PORTFOLIO.
I wrote this article myself, and it expresses my own opinions. I am not receiving compensation for it (other than from Seeking Alpha). I have no business relationship with any company whose stock is mentioned in this article.