Trading in Gilead Sciences (NASDAQ:GILD) bucked the upward trend on Friday, trading sharply lower on heavy volume. The chief culprit blamed for the sharp loss is the recent approval of Merck's (NYSE:MRK) Zepatier, a new entrant into the field of Hepatitis C. The article below will update my views on Gilead Sciences.
Zepatier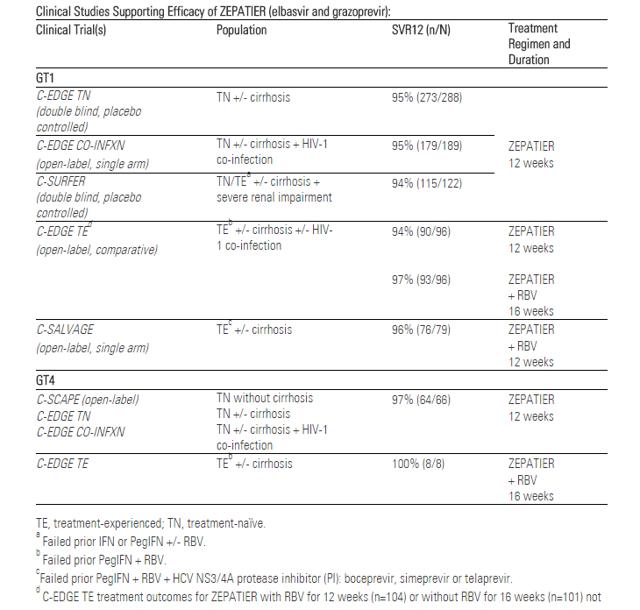 Click to enlarge
Zepatier enters the HCV battlefield with some impressive numbers. As shown in the slide above, Zepatier can generate an impressive SVR rate with an elegant one tablet dosage form. However, as shown in the slide below, there are certain caveats that will limit its uptake in the marketplace.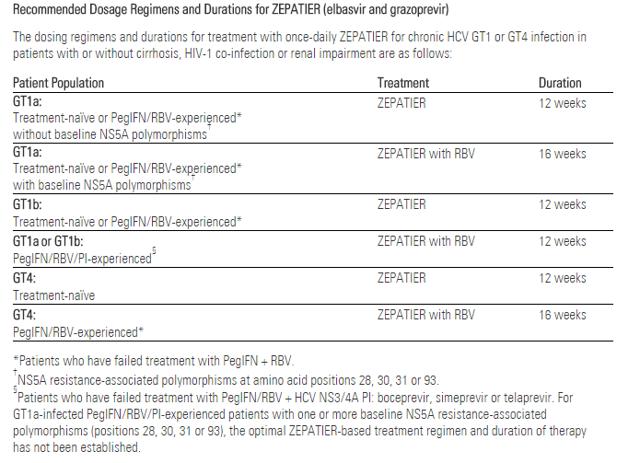 Click to enlarge
The largest drawback is the need to include Ribavirin for those patients that have received prior treatment. The use of Ribavirin is fraught with numerous side effects which will ultimately limit Zepatier's market share. A little over a year ago, I wrote an article detailing the expected competition from AbbVie's (NYSE:ABBV) Viekira Pak. The share price of GILD plummeted as many feared V-Pak would eat GILD's lunch. Well, the results are in, and clearly, the fears were over-exaggerated.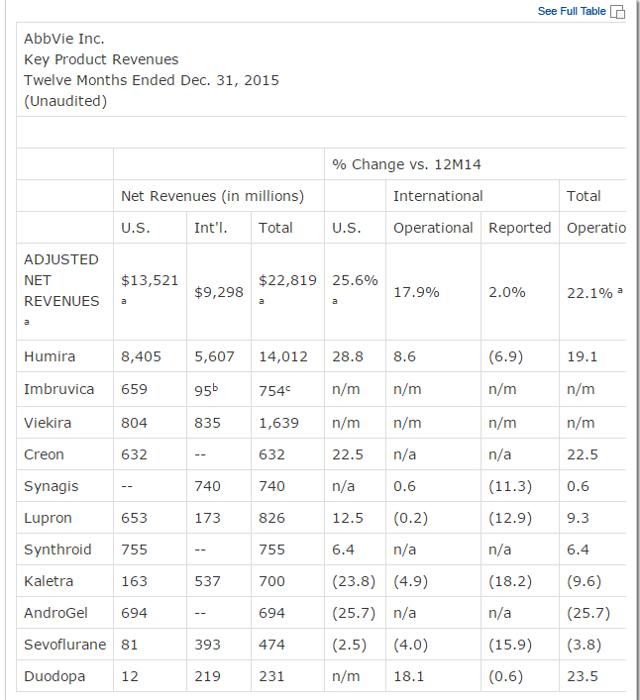 Click to enlarge
Viekira Pak managed to generate over $1.6 billion in sales, an impressive feat. Let's examine the numbers for a bit more clarity. Viekira Pak was hit with black box warnings due to a rise of post-approval reports of adverse events. I thought the following quote from the products website was quite telling:
What is the most important information I should know about VIEKIRA?
VIEKIRA may cause severe liver problems, especially in people with certain types of cirrhosis. These severe liver problems can lead to the need for a liver transplant, or can lead to death.
Not exactly the most reassuring commentary. The warnings were required in the fourth quarter, which I have no doubt will negatively impact sales going forward. The effect was acutely felt this quarter with V-Pak's U.S. sales coming in at $197M, down almost 19% sequentially from Q3's $242M. The U.S. market remains the most lucrative in the world; the drop in sales bodes well for GILD this quarter.
GILD managed to generate over $4.7 billion in HCV in the third quarter alone, far surpassing ABBV's yearly take with V-Pak. It is safe to conclude, the fear of December 2014 of a major price war initiated by ABBV was way overblown.
The Path Forward
In my view, ABBV's product is at the greatest risk of market share loss due to Zepatier's entry into the marketplace. Zepatier's side-effect profile thus far is far cleaner, allowing PBMs a safer clinical alternative to Harvoni/Sovaldi. However, the easy path ends right there. It will take significant time for Zepatier to gain significant market share from GILD. GILD has extensive post-marketing data indicating Harvoni's real world cure rate as high as 98.4%.
Paul Carter, Gilead Sciences, Inc. - EVP Commercial Operations [12]

One of the things that is emerging around the hepatitis C drugs is real-world data. So I talked about there may be 250,000 or 300,000 people that will get treated in the US this year. The real-world data that we are seeing, and some of you might have seen the report by CIGNA recently, shows that actually the real-world data is even better, unbelievably, than the clinical trials and the registrational trial. But CIGNA's data shows that Harvoni had a cure rate amongst their patients of 98.4%. So I think that's very reassuring that we can put real-life data into the pharmacoeconomic type models and hopefully demonstrate that these drugs can be, should be very, very cost effective. - Quote from the Robert Baird Healthcare Conference via the Sentieo platform
For payers such as Cigna (NYSE:CI) that ultimately foot the bill for treatment, real world outcomes data trumps all. Harvoni's data is remarkable, the cure rate outpaces what was seen during clinical trials. It will take a few quarters for MRK to generate such data. In the interim, GILD will continue to chug along as it continues to garner the lion's share of the HCV marketplace.
Commentary About List Pricing
Much has been made about MRK's decision to list the price of Zepatier at less than 60K. Most immediately equate the list price of the treatment as the final price. It is far from it; the list price serves as a starting point for negotiations with payers. Using an example that most may be intimately more familiar with, the explanation of benefits form (EOB) after a physician visit or operation. The insurance entity such as UnitedHealth (NYSE:UNH) will indicate the price requested for the service (list price) and then will show (after deductible of course) the allowable amount. The allowable amount is often far less than initially requested, hence the "benefit" of group bargaining power. GILD has contracts in place with various payers for substantially less than list price, typically in the range of 55k per treatment. MRK will look to price its product in line with the current market price for HCV treatments.
Creative Destruction
GILD consistently spends R&D funds to improve existing treatments. I view the move as a preemptive move for two distinct reasons. The primary reason revolves around life-cycle management by constantly tweaking the product GILD extends the patent life. For example, after introducing Sovaldi, GILD did not just rest there and look to spend R&D funds in other areas such as oncology. The company very shrewdly introduced a combo product utilizing sofosbuvir (Sovaldi) as the starting point; the product is Harvoni, the company's flagship product. Not to be outdone, GILD has a PDUFA date of June 28, 2016, for velpatasvir/sofosbuvir, further expanding its lead in the field. The new product is designed to treat all six genotypes of HCV, a distinct advantage over the existing players in the field.
The second reason is product line extension. By continually bringing new novel combo products to market, GILD is rapidly expanding the depth of its product offering, drowning out the competition. The same pattern is evident in the far more mature HIV product line with GILD actively replacing tenofovir with TAF. I am hard pressed to see a credible case where the company will not dominate the HCV market going forward.
So Why Has The Stock Price Regressed?
My interest in GILD differs a bit from what most commentators have posted in the SA platform. GILD will not trade at a premium multiple; the market will consistently assign it a very low or single-digit multiple. In my view, the market is assuming the company will never develop a new novel treatment line and is a "wasting asset." In my opinion, GILD will dominate the HCV marketplace well into the next decade. The HCV product line will generate over $100 billion in lifetime sales, with the company producing 85-90% margins. Yes, GILD will have an embarrassment of riches (cash!!!) similar to the burgeoning cash hoard at Apple (NASDAQ:AAPL). I originally purchased my stake in the low $70s when GILD sported a market cap slightly north of $100 billion. The market was assigning an ongoing negative value to GILD's wildly successful HIV product line, not to mention its clinical division.
For the share price of GILD to move noticeably higher will require the company to broaden its scope into additional areas of treatment. The management team at GILD needs to be commended here; it patiently waited out the bubbly values in the junior biotech outfits and struck an impressive deal with Galapagos (NASDAQ:GLPG) to develop filgotinib for rheumatoid arthritis (RA) and Crohn's disease (CD) as detailed in a previous post. Filgotinib has the potential for best-in-class designation with respect to CD at a price tag far less than what Celgene (NASDAQ:CELG) paid to strike a deal with Juno Therapeutics (NASDAQ:JUNO). CELG paid $1 billion with JUNO's shares valued at $93 per share. Excerpts from the press release for GLPG:
Galapagos will receive an upfront payment of $725 million consisting of a license fee of $300 million and a $425 million equity investment in Galapagos. In addition, Galapagos is eligible for payments of up to $1.35 billion in milestones, with tiered royalties starting at 20% and a profit split in co-promotion territories. Galapagos will receive an upfront license fee of $300 million, and Gilead will make a $425 million equity investment in Galapagos by subscribing for shares at a price of €58 per share, which represents a 20% premium as compared to the average share price over the last 30 days. After the issuance of the shares, Gilead will own approximately 15% of the outstanding share capital of Galapagos.
Excerpt from the Juno release:
Upon closing, Juno will receive an upfront payment of approximately $150 million, and in addition Celgene will purchase 9,137,672 shares of Juno's common stock at $93.00 per share. In conjunction with this stock purchase:

Celgene will receive the right to nominate a member to Juno's board of directors;
During the 10-year term of the collaboration, Celgene will have the right to purchase additional equity in Juno during specified windows and at specified market premiums subject to satisfaction of certain conditions by each party including Juno opting in on select Celgene; programs, such that, at a maximum, Celgene could own up to 30% of Juno's common stock then outstanding; and
Celgene has entered into a standstill agreement and agreed to certain lock-up provisions on its share ownership.
GLPG's shares are trading in line with the price before the announcement. JUNO is trading sharply lower; its current share quote is less than $28 per share. Both companies (GILD and CELG) acquired an interesting compound for the treatment of CD, yet one vastly overpaid. While the future cannot be known in advance as an absolute, GILD's track record in the field of M&A is quite good. The team thus far continues to display a keen eye for deals made at an advantageous price.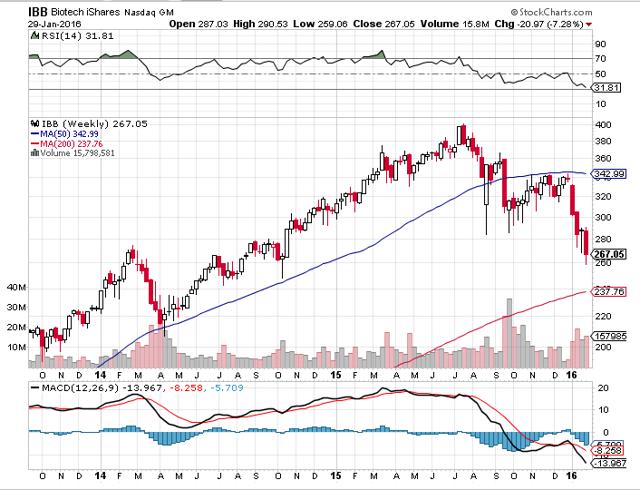 Click to enlarge
The above chart represents trading in the iShares Nasdaq Biotechnology ETF (NASDAQ:IBB). The sector as a whole remains under enormous pressure, breaking down past the lows seen last August. The turbulence seen in shares of GILD has spread throughout the sector. The management team is now seeing far more reasonable asset prices to deploy cash. I suspect we will see at least one additional deal of the same magnitude as the GLPG deal. I do not believe GILD will look to make a transformational purchase at this time unless asset prices become unhinged.
Finbox.io Model
My fair value for the shares of GILD remains $143 per share. I will adjust the model post the upcoming earnings release. The key for GILD remains the company's ability to develop additional lines of treatment to stem the inevitable decline in HCV revenue as patients are cured of this dreaded disease. I remain long the shares of GILD with no intention of selling. Thanks for reading, and I look forward to your comments.
Investors are always reminded that before making any investment, you should do your own proper due diligence on any name directly or indirectly mentioned in this article. Investors should also consider seeking advice from a broker or financial adviser before making any investment decisions. Any material in this article should be considered general information, and not relied on as a formal investment recommendation.
Disclosure: I am/we are long AAPL, ABBV, GILD.
I wrote this article myself, and it expresses my own opinions. I am not receiving compensation for it (other than from Seeking Alpha). I have no business relationship with any company whose stock is mentioned in this article.