Overview:
In Intel's (NASDAQ:INTC) most recent earnings call on January 14th, Intel's Bobbsey Twins, CEO Brian "Drone" Krzanich and CFO Stacy "Haiku" Smith, continued their long-running semantic attack on corporate performance, or lack thereof. After five years of promises and almost $50 billion in free cash flow ($100 billion of operating cash flow) Intel's earnings have dropped from $2.36 in 2010 to $2.31 in 2015.
As we look forward to the next five years what are thechances that the disappointments of the last five years will be revisited on shareholders over the next five years?
In the last year I have written 10 articles on Intel mostly critical of management's approach to providing information that investors can use to make investment decisions, pro or con. In the first of those articles "10 Cautionary Points For Intel Investors" I presented my overview and after a recent review of that article I think those 10 points still stand. I ended that article with this quote -

"My question remains: does Intel have the management team in place to retake the high ground? I remain unconvinced and will wait until I can see some signs of success along the route."
As of the date of the article, February 12, the closing price was $34.12 as opposed to the Friday Jan. 29, closing price of $31.02. So obviously caution was in order because you could have waited a year to buy at a lower price and still have the benefit of any future increases in price.
In this article I will present an argument that the current concentration of sales and profits in the "dog" (CCG and DCG) cannot soon be replaced by any of the "tails," whether IoT, non-volatile memory or software/security. The big dog rides alone and endless attacks by competition over the next five years will lessen the monopolistic margins it currently enjoys. Margins from the other "tail" product lines will never come close to matching what Intel currently enjoys.
"The dogs may bark, but the caravan moves on."
Persian proverb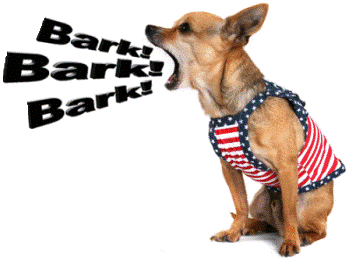 Source: thedogplace.com
Dog vs. tail 2011 to 2015
If we look at the "dog" (Client Computing Group and Data Center Group) and compare that dog to the "tails" representing everything other than CCG and DCG we can see there is no tail that can possibly fill in for the big dog. If CCG and/or DCG do not deliver huge and continuing profit there is no backup behind them to pick up the slack. So having Intel management continue to conflate DCG and IoT for example is disingenuous at best. IoT and the others are like fleas on the dog.
On the first chart we can see that as a percentage of revenue the tails have ranged from 13% to 16% of total revenue since 2011. There is no surging source of revenue in any of the tails' future. IoT often mentioned by Intel and others as a future bright spot grew at a miniscule 7% last year and 8% in 2014 compared to a market growing at a CAGR of over 30% 2014 to 2019. As I have repeatedly said Intel is not set up to make huge bucks in IoT because of their lack of software, services and data analytics, areas that will generate the most IoT profits. IoT will not save Intel if CCG and DCG run into trouble over the next five years. Here is one of my articles on Intel and IoT.
As for the Software and Services Group (SSG) no one would promote them as any sort of hope for a prosperous Intel future. When Intel bought McAfee (2010) and Wind River Systems (2009) their combined sales were about $2.4 billion. In 2015 sales for the SSG group was $2.2 billion. This is a tiny stub of a tail for sure and an unsuccessful one at that.
That leaves non-volatile memory as the future replacement of any degradation in the legacy systems sales and profits. As of now they are buried in a group called "all other" and which includes various charges for intercompany transactions and charge-offs. Certainly this will be a standalone group eventually containing both 3D NAND and 3D Xpoint. The fact that they do not have their own group yet tells me that management has low expectations for these new products in 2016 and maybe 2017.
Note: Source of following charts - author and Intel Q4 earnings releases.
As a percentage of sales the tails have actually decreased over the last five years.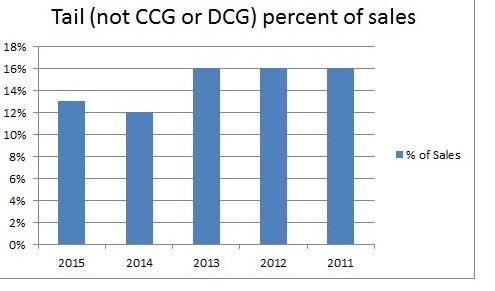 And if we look at a chart of operating earnings it is much worse.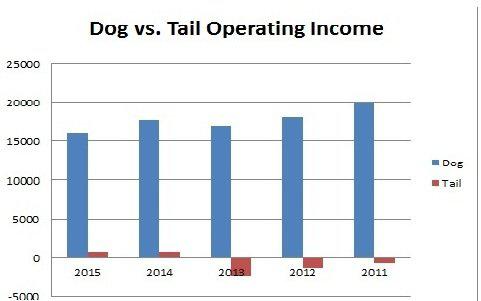 The following chart shows that the big dog has big margins and the little tails have little margins. And before you get too excited by NVM potentially saving the day remember that NAND manufacturer Sandisk's (SNDK) operating Margin in 2014, before their buyout by Western Digital (NASDAQ:WDC), was 24%. So it will likely take a lot of NVM sales to make up for any slowdown in CCG or DCG sales even if 3D Xpoint has higher than average NVM margins.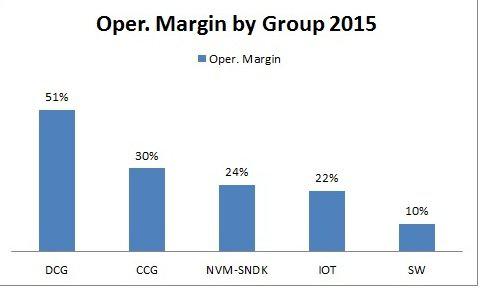 Does the past foretell the future? Let's hope not
If we look at sales and profits over the latest five-year period we see nothing to inspire us about Intel's future performance. Note that net income peaked in 2011 and revenue has moved up and down over the last five years. So if you did not know these numbers came from Intel would you expect a PE ratio greater than today's 13?
| | | | | | |
| --- | --- | --- | --- | --- | --- |
| Fiscal year is January-December. All values USD millions. | 2011 | 2012 | 2013 | 2014 | 2015 |
| Sales/Revenue | 54B | 53.34B | 52.71B | 55.87B | 55.36B |
| Net Income Available to Common | 12.94B | 11.01B | 9.62B | 11.7B | 11.42B |
| EPS (Diluted) | 2.39 | 2.13 | 1.89 | 2.31 | 2.33 |
Source: Marketwatch.com
If a drone picked up Brian Krzanich and carried him off would it make any difference?
Current CEO Brain Krzanich has been in charge since May of 2013. It looks to me that he has a pass on 2016 but I think 2017 must be a blockbuster for him to keep his job. That may not be easy with desktops continuing to be a challenging market and servers facing new competitors in 2017 like Qualcomm and their Chinese partner. So it is up to new products like 3D NAND and 3D Xpoint to provide the "buster" in blockbuster next year.
The problem is even if Krzanich is replaced will the board go outside for a new fresh viewpoint or will they stick to their traditional approach of promoting inbred Intel managers to the top job? Intel desperately needs to stop concentrating on process ("we are three nodes ahead of everybody") and concentrate on profits ("what can we sell today that our customers will buy?"). I don't see that happening unless they go outside of Santa Clara to find a new CEO.
But there is good news.
1. Their forecast for 2016 sales is so low beating it should be easy.
Management predicts a "low to mid single digit" sales increase which means organic growth of only 1-2% because Altera adds 3% ($1.9 billion) all by itself. So consistent sales beats could generate some stock price upside.
2. Desktop sales will certainly improve over last year's minus 8.5%.
Even a small increase should help beat expectations and support the stock price.
3. The dividend boost adds some comfort for long-term holders.
The latest increase in the dividend to $1.04 puts the rate well above 3% and with Intel's continuing strong cash flow perhaps another few cents can be added at the end of 2016.
4. Stock buybacks continue though at a slower rate.
To Intel's credit they have bought back about almost 20% of their shares in the last five years, going from about 6 billion shares to about 4.9 billion. That has propped up the earnings per share even though it is down from 2011.
Conclusion:
Intel's huge success over the last few decades is mostly the result of an historical anomaly - the IBM PC, Microsoft Windows and the x86 instruction set. But over the last five years their inability to develop new, profitable products, in spite of huge cash flows, endangers their future success. And the intense competition with legacy products and new products will only increase between now and 2020. This is why I think Intel's top management needs to step up their game and soon. The clock is ticking.
I think waiting another six months or even longer before buying would be prudent. Intel remains at best a hold until they actually produce some positive results.
Since Intel's CFO Stacy Smith is famous for his Haiku poetry (see two of them in last year's year-end presentation) I think it's only appropriate that I end this article with another Haiku:
Tail is small, dog is large
Dog barks, moon laughs
Margins shrink, customers move on.
Disclosure: I/we have no positions in any stocks mentioned, and no plans to initiate any positions within the next 72 hours.
I wrote this article myself, and it expresses my own opinions. I am not receiving compensation for it (other than from Seeking Alpha). I have no business relationship with any company whose stock is mentioned in this article.