Introduction
Sony (NYSE:SNE) reported its third quarter fiscal 2015 earnings and a surprising 21% jump from the prior quarter in EPS. Sales overall remained mostly flat, but there are a variety of growth drivers on the horizon which should help give revenues a boost in the near future. The positive earnings report registered favorably in the market which bumped SNE shares up 12%.
The overall company performance was a mixed bag with the general trend being that hardware/sensors demand is shrinking while entertainment is booming. SNE Management confirmed that softer demand (likely from Apple (NASDAQ:AAPL) iPhone) drove the sales reduction in imaging sensors. The image sensor business is expected to recover in April-June but overall smartphone growth appears to be slowing.
I believe the future growth for Sony is in entertainment (movies, music, games) and not hardware (mobile phones, cameras, sensors), and any moves focusing in that direction should represent favorably in the share price. The graphic below shows current market situation - hardware is down and entertainment is up.
(click to enlarge) - SOURCE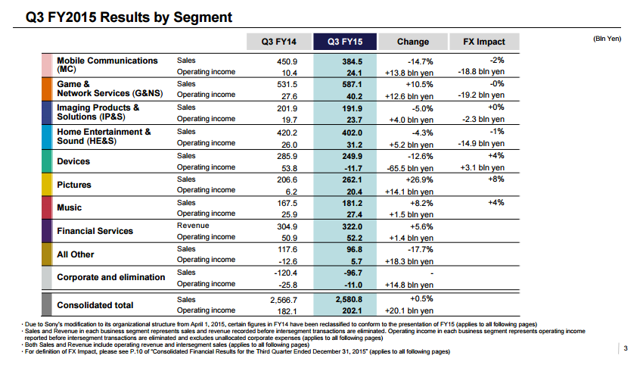 Click to enlarge
Sony Corporate Strategy/Performance
The performance of Sony as a company highlights the complexity of running an entertainment company and a device company concurrently. As can be plainly seen by the Q3 report, any "device-heavy" division performed poorly while content production and entertainment divisions did quite well.
This represents a broader trend in the market where device saturation and competition is fierce (why even try to play in mobile against Apple?). The Sony competitive "moat" lies in licensing and selling its tech IP (sensors for example) and producing entertainment content. I'm not suggesting that Sony entirely leaves the devices/hardware market, but their strategy requires more focus and a smaller amount of products.
Additionally, several write downs in this quarter's earnings report were due to poor performance in batteries (devices), PS Vita and PS TV (games segment). Sony should focus on the home console where it has always been strongest and stop trying to horizontally diversify into so many separate businesses. The PS Vita and PS TV were both basically a failure at launch, dragging down the performance of the entire division. If Sony doubles down on the PS4, their results will continue to be favorable as the PS4 is miles ahead of the competition in the home console space.
Sony management generally seems to agree with my suggestions as they have stated that the future of Sony is "fewer products, a company sector focused on growth businesses, and a company sector focused on stable profit generation." It appears based on the current earnings report that the management strategy is beginning to take hold and the ship is turning in the right direction.
Growth Drivers/Future Forecast
The main drivers of growth for Sony moving forward will be games, pictures and music. Non differentiated devices in competitive markets will continue to suffer and generate low profits/growth. The FY15 January FCT concurs with my assessment as can be seen in the graphic below.
(click to enlarge) - SOURCE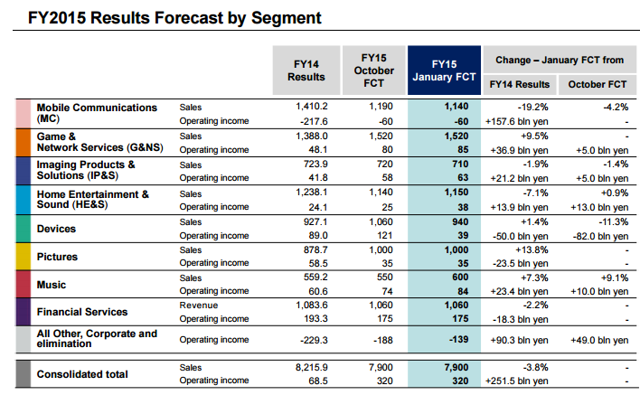 Click to enlarge
Note that the only divisions actually expecting any significant top line growth are games, pictures and music. Mobile revenues are shrinking, but profit expectations are significantly better (but still negative) from FY14. Sensors are expected to recover in April-June which should make the Q3/Q4 2016 numbers much stronger than what we see here (assuming games and pictures continue to grow as expected).
The PS4 is the crown jewel of Sony and it is clearly dominating this round of the console battle with Microsoft (NASDAQ:MSFT) and Nintendo (OTCPK:NTDOY). In fact, the PS4 is the fastest-selling console in the history of Playstation with a current lead against Microsoft of 35m PS4 against approximately 19m XBOX One. At this point in the cycle there is nearly no chance for the XBOX to catch up to the PS4's lead, a lead which will be further cemented with upcoming PS4 only releases and the PS VR headset.
Significant Upcoming Games and Movies Catalysts
The future performance of Sony depends heavily on the performance of the games and movies divisions. With this in mind, what can we expect for 2016-2017 in terms of major growth drivers for these divisions?
The games division will see a big boost in 2016 from several PS4 console exclusives such as No Man's Sky, Street Fighter V and Uncharted 4. Additionally, as I have written previously, the PS VR is looking like the potential winner in gen 1 of VR with a huge installed base of captive customers (PS4 owners). Microsoft has no answer for Gen 1 VR, further boosting PS4 adoption numbers against the XBOX One. If we look further ahead, PS4 cements its lead against Microsoft even more with The Last Guardian, Shenmue, Horizon: Zero Dawn and FF7's remake as likely console exclusive/timed exclusives.
(click to enlarge) - PS VR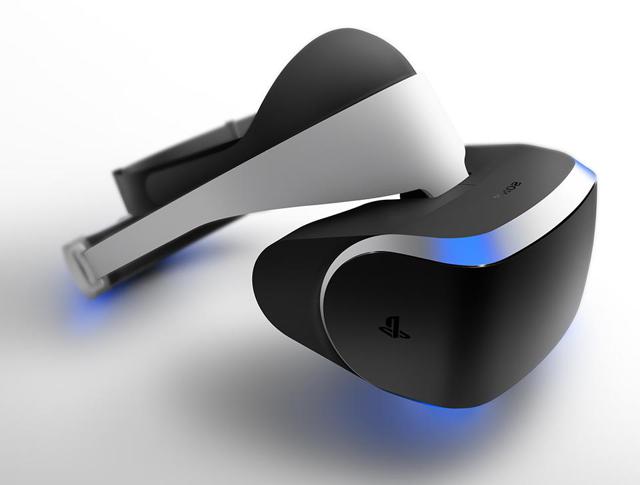 Click to enlarge
The movies division also is poised for a huge 2016 with near guaranteed successes in Ghostbusters, Jumanji, The Dark Tower and Bad Boys 3. There are several other possible hits in the movie lineup which have the potential to drive earnings numbers even higher.
Conclusion
Sony management is clearly taking the company in the right direction based on the recent earnings report. If the current momentum is maintained and games, pictures, and music divisions drive growth - the Sony share price is headed up.
I believe there is plenty of upside to SNE stock at current levels as long as management continues on the same path.
Disclosure: I am/we are long SNE.
I wrote this article myself, and it expresses my own opinions. I am not receiving compensation for it (other than from Seeking Alpha). I have no business relationship with any company whose stock is mentioned in this article.