Michael Kors (NYSE:KORS) is set to report 3Q16 earnings Tuesday, 2/2, before the open. While we do not believe KORS is set to beat the estimates, the stock is attractively valued at these levels and we will be watching the numbers closely to decide whether or not to enter a long position.
Positive Coach (NYSE:COH) results last week appeased concerns over prior reports of weak brick-and-mortar sales for all of retail. COH reported that boots, in particular, sold well, notably in domestic retail stores and in spite of the unreasonably warm weather. This data seems to confirm an NPD data point that sales of fashionable winter/snow boots were up 21% Y/Y during the Holiday season. We expect KORS to have experienced a similar strong boots tailwind this quarter, especially since the company already reported acclerated footwear gorwth last quarter.
It should also be noted that COH's beat was not handbag driven. In fact, on the company's CC, management commented that the handbag market remained challenging. COH estimated that the North American premium women's handbag and accessories market was essentially flat in the December quarter. Management estimated that unit growth more-or-less offset AUR degradation. We expect a similar trend at KORS, as we have noted some heavy winter inventory discounting across several products, and believe continued AUR degradation will compress gross margins in the quarter.
Margins should also be compressed this quarter as the e-commerce business continues to grow. For KORS, the e-commerce business carries a lower operating margin rate than retail stores. While management expects e-commerce margins to be more in-line with brick and mortar margins when the e-commerce business scales, this is a temporary margin headwind that will be seen this quarter.
On the e-commerce front, though, our research indicates KORS didn't experience that strong of online Holiday traffic. KORS e-commerce traffic spiked in November but then surprisingly fell off in December, according to Similar Web analytics.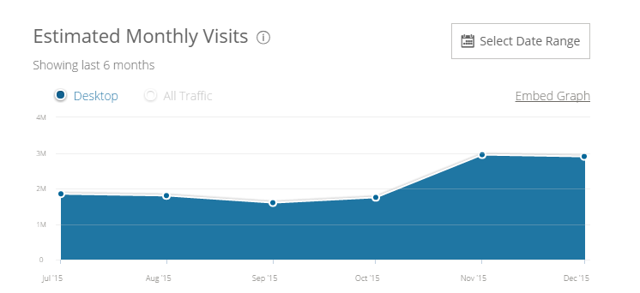 Click to enlarge
By comparison, COH e-commerce traffic continued to accelerate in December, making KORS December web traffic seem rather weak.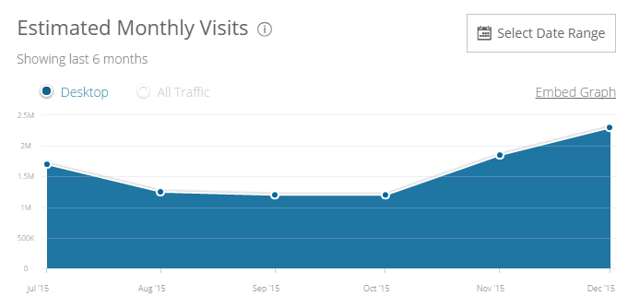 Click to enlarge
Google Trends tells us more of the same. According to Google's search interest index, search interest has fallen Y/Y from last year's Holiday season. Search interest is actually more comparable to the same period 2 years ago.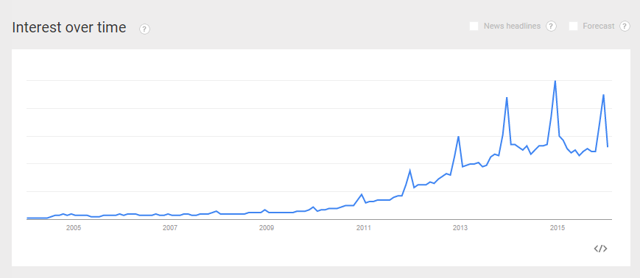 Click to enlarge
This weak e-commerce data might be why we are seeing some insider selling into the ER. While there are no transactions of significant magnitude over the past 3 months, we do note that 37,562 shares have been disposed by insiders in that time frame while 0 have been acquired.
Helping the bottom-line this quarter and into the near future will be the company's continued share repurchases. Last quarter, the company repurchased around $400 million worth of shares, bringing total buybacks to date of 23.2 million shares and $1.2 billion.
We are, however, uncertain about the company's ability to top the EPS estimate because the consensus revenue estimate just seems too high. Analysts are looking for $1.36 billion in revenue for the quarter, slightly above the high-end of management guidance. With boot tailwinds battling handbag/accessories headwinds, we do not think the company will top its own revenue guidance this quarter. Moreover, COH, despite the penny earnings beat, missed on the topline by $10 million. While share buybacks will help the bottom-line figure, we do think there was notable margin compression during the quarter (heavy discounting).
Overall, we are uncertain of the company's ability to top estimates this quarter. We are, however, attracted by the company's 10.6% earnings yield and ~5x EBITDA multiple. While earnings growth is clearly stagnating, the company does have $422 million in net cash on the balance sheet and has strong operating and free cash flow metrics. We do not expect a particularly strong quarter here, but we will watch the numbers closely and will look to take a position post-earnings pending the numbers.
Disclosure: I/we have no positions in any stocks mentioned, but may initiate a long position in KORS over the next 72 hours.
I wrote this article myself, and it expresses my own opinions. I am not receiving compensation for it (other than from Seeking Alpha). I have no business relationship with any company whose stock is mentioned in this article.