Bank of America (NYSE:BAC) delivered a bottom line beat in 4Q 2015, reporting $0.02 higher-than-estimated EPS at $0.28. Therefore, EPS for FY 2015 reached at $1.31, while the top line was down by 2%. The return metrics were 74 basis points for ROAA and 9% for ROATCE.
BofA saw a decline of 2.4% in its average loan balances this year despite the strong performance in commercial loans. Earnings assets were slightly up mostly due to higher debt securities and cash parked at the Federal Reserve. On the funding side, it showed a solid performance on the back of the rise in non-interest bearing deposits. The bank, not surprisingly, has chosen the prudent way to grow its business during the economic recovery after the subprime mortgage crisis in 2008. Thus, one should expect asset quality to remain relatively intact in the upcoming period. In addition to this, BofA has strengthened its balance sheet with high-quality liquid assets and stronger capital positions. As of the end of last year, the bank held +$500 billion of liquidity sources and had a CET1 ratio of 9.8%. Those liquidity sources, which almost accounted for a quarter of balance sheet, will help it to meet 2017 liquidity coverage requirements as well as to record a satisfying loan growth without a substantial rise in cost of funding.
In 4Q 2015, NCOs increased by $212 million on a linked quarter basis, of which $144 million came from consumer items and $73 million from the energy portfolio. Outside of these two areas, NCOs were stable. I foresee no major deterioration in asset quality for BofA going forward, as the bank's prudent lending strategy will help it avoid credit losses. Even if a system-wide credit quality erosion is very likely this year, I expect it to perform relatively better in this respect.
Additionally, BofA's total committed exposure were down by 8.1% y/y to $43.8 billion at year end. That represented 4.6% of the total commercial committed exposure. The utilized exposure to the industry were also down by 10% to $21.3 billion and represented 3.8% of total utilized credit exposure (or 2% of total loans). Of that $21.3 billion, $8.3 billion was loans to E&P and oil field services.
BofA's efficiency ratio stood at 67% in 2015, which was simply the worst among the large U.S. banks. This also means it has a plenty of room for improvement with regard to efficiency, and with good cost management, will be able to boost its bottom line higher than that of any other bank. Moreover, there are some favorable developments on the horizon, such as the completion of amortization related to advisor retention awards given at the time of the Merrill Lynch merger, which will result in lower expenses starting this quarter. Accepting that the bank has plenty of work to do, I expect to see management providing more guidance with regard to the bank stepping towards higher cost efficiency.
On the back of strong liquidity and capital position, the downside risks seem to be very limited for BofA. Higher rates and cost-saving initiatives would be the favorable tailwinds. Currently, 26 out of the 29 analysts have a Buy rating for the bank, with average EPS estimates of $1.51 and $1.69 for 2016 and 2017, respectively. It is very likely that we will see a ROATCE above 11% in two years in BofA. Note that management aim to raise this above 12%.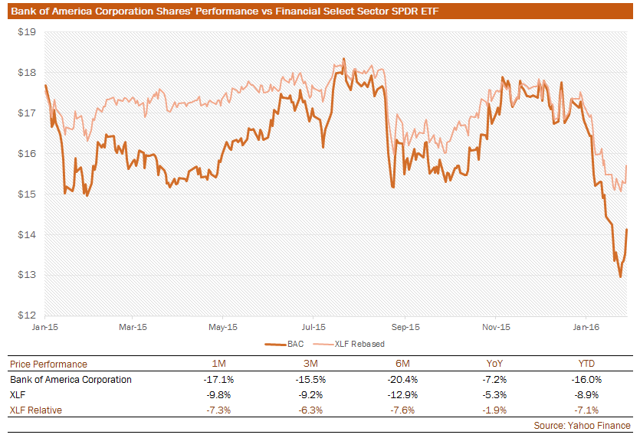 Click to enlarge
BofA has underperformed the Financial Select Sector SPDR ETF (NYSEARCA:XLF) by 7% on a YTD basis, and now trades at 14% discount to its 2016E TBV. Its expected earnings multiple is at 9.2x and close to the low end of U.S. banks' spectrum. I believe these multiples offer a good entry point given the bank's comforting outlook.
Disclosure: I/we have no positions in any stocks mentioned, and no plans to initiate any positions within the next 72 hours.
I wrote this article myself, and it expresses my own opinions. I am not receiving compensation for it (other than from Seeking Alpha). I have no business relationship with any company whose stock is mentioned in this article.