Activision's (NASDAQ:ATVI) core business - video games played on consoles - has been struggling for the past four years. Its two main products, World of Warcraft and Call of Duty, continue to be caught in the transition from consoles to smartphones. What does not help either is the rapid rise of the casual gamer who is not an aficionado of hardcore games in general and of Call of Duty in particular.
Whatever the reasons for the decline in Activision's main products are, there is no question that there is a decline.
First, World of Warcraft. The game hit its peak of just shy of 12.5 million subscribers in the fourth quarter of 2010. Since then, it has steadily declined, with a short recovery in Q4 2014. By end of the third quarter 2015, the game had slightly over 5 million subscribers and is expected to have ended up slightly below 5 million by the end of 2015. Worse, it looks probable that this decline is very likely to continue and will not be reversed by the forthcoming release of World of Warcraft: Legion on September 21, 2016.
The picture is not looking much better for the other major driver - Call of Duty. This is how sales developed: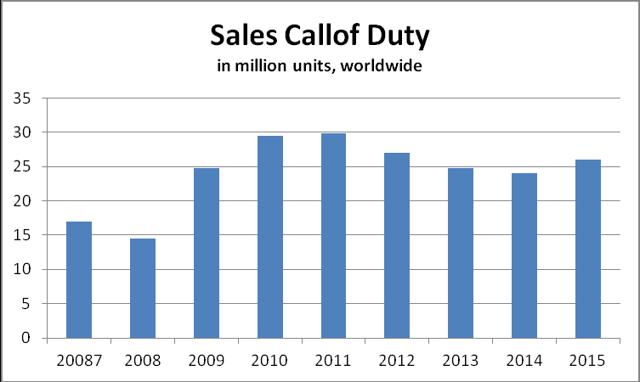 Source: NPD
Call of Duty: Black Ops 3 was very successful and captured the #1 video game sales position, as per NPD, both for December as well as for the whole 2015 year, and hence, could at least temporarily reverse the negative trend in place since 2011. The question now arises as to what will happen in 2016. Most national buyers I spoke to think it will be Call of Duty: Ghosts 2, following the somewhat disappointing Ghosts 1 in 2013. They also think it is somewhat unlikely that either Ghosts 2 or any other Call of Duty game will, in 2016, repeat or even surpass the success enjoyed by Black Ops 3.
Despite the very clear success of Black Ops 3, the company lost significant market share in the U.S. in the three months between October 2015 and January 2016: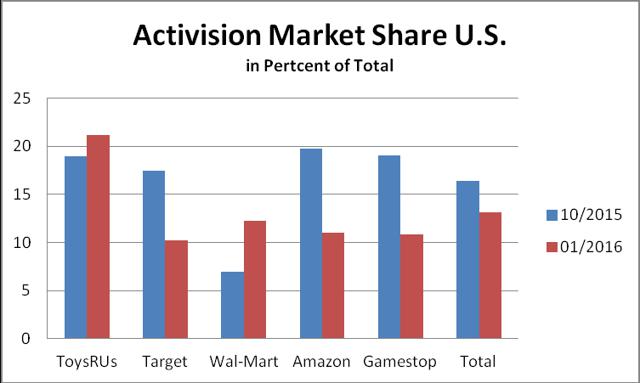 Source: Klosters Retailer Panel
The more extended outlook for 2016 is not much better, at least during the first two quarters, given that the company really has very little in new games to offer compared to its leading competitors:
| | | | |
| --- | --- | --- | --- |
| Company | Title | Release Date | Comments |
| Activision | Overwatch | 6/2/2016 | On pre-order at all majors |
| Bethesda | Doom | 5/3/2016 | |
| Capcom (OTCPK:CCOEY) | Street Fighter V | 2/16/2016 | |
| Deep Silver | Homefront: The Revolution | 5/7/2016 | On pre-order at all majors |
| Electronic Arts (NASDAQ:EA) | Mirror's Edge Catalyst | 5/24/2016 | On pre-order at all majors |
| Microsoft (NASDAQ:MSFT) | Quantum Break | 4/5/2016 | Very strong pre-order at Amazon |
| Microsoft | Crackdown | 2016 | |
| Sony (NYSE:SNE) | Uncharted 4: A Thief's End | 4/26/2016 | Very strong pre-order Amazon |
| Sony | No Man's Sky | 6/20/2016 | |
| Sony | Horizon Zero Dawn | 2016 | On pre-order at all majors |
| Square Enix (OTCPK:SQNXF) | Final Fantasy | 1/26/2016 | Very strong pre-order at Amazon |
| Square Enix | Hitman | 3/11/2016 | On pre-order at all majors |
| Square Enix | Deus Ex: Mankind Divided | 8/23/2016 | |
| Take-Two (NASDAQ:TTWO) | Battleborn | 5/3/2016 | On pre-order at all majors |
| Ubisoft (OTCPK:UBSFY) | Tom Clancy's The Division | 5/7/2016 | Very strong pre-order at Wal-Mart and GameStop, medium at TGT, TRU, Amazon |
Source: Klosters Retailer Panel
In other words, the only new game on the horizon is Overwatch. My contacts tell me that the game is, in fact, not all that new - it apparently is a redo of Project Titan, which was axed in 2014 because of insufficiently positive focus group feedback. Whatever the case may be, Overwatch is on pre-order, but the numbers so far are not particularly great.
Against this background, the company was either very lucky or very foresighted when it launched Skylanders in October 2011, which gave it a very successful entry into the toy category. Without that entry, its overall business would have declined, as the chart below shows: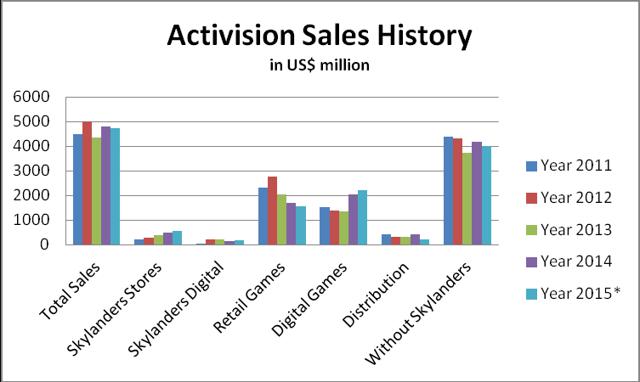 Source: SEC Filings
However, not all is rosy for the Skylanders either. Since the beginning, the business model has been to target the Action Figure category of the traditional toy market. The company recognized that it would come under pretty ferocious attack by two new entrants - the Disney Infinity Star Wars range released at the end of August 2015, and then Lego Dimensions a month later. To offset this competitive threat, Activision had decided to pivot at least partly away from its Action Figure focus in favour of another toy category - Vehicles - through Superchargers released in late September. However, this pivot came too late and was not executed strongly enough to neutralize these new competitors. The end effect was that Skylanders ended up flat during the all-important fourth quarter: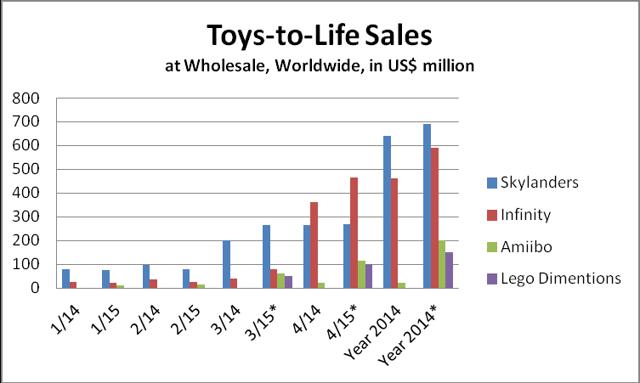 Source: Klosters Retailer Panel
Infinity continued to accelerate throughout the first half of January, and national buyers expect this to continue throughout the first quarter. Also, Lego Dimensions continues to gain market share, and the expectation is that Skylanders will see a decline in the order of about 10% between January and March 2016.
Activision is apparently planning yet another pivot for Skylanders for late 2016 with Battlecast - a competitive card game for Android and iOS devices that will allow players to purchase real physical cards - pretty much like what we now know as trading cards. However, thereby lies a problem. The majority of the trading card business is done in the Game and Hobby channel, about 5000 small one- to two-door establishments that cater to a very devoted consumer group and who typically buy their products from semi-wholesalers, who buy from wholesalers, who in turn buy from the companies they have relationships with - Hasbro's (NASDAQ:HAS) Wizards of the Coast, Konami's (OTCPK:KNMCY) Yu Gi Oh, Pokemon and others. Activision, at this point, would find it very difficult and time consuming to create the supply chain to these stores, and hence, in this particular category, would be restricted to much less important mass retailers such as ToysRUs to place its products.
It is against this background that we have to consider the three recent very significant initiatives taken by Activision.
On November 2, 2015, the company bought King Digital Entertainment, the owner of Candy Crush Saga and another 10 games, all mobile. Sales for the fiscal year ending on December 31, 2015, are estimated at $2 billion, down from $2.28 billion in 2014.
There are indications that King Digital is expanding its offering by moving also into the mid-core genre in order to compete with Supercell and Machine Zone, which are generating very significant revenue streams from mid-core mobile games such as Game of War, Boom Beach and Clash of Clans. Mid-core games basically occupy the middle ground between purely casual games such as Candy Crush on one side and shooters such as Call of Duty on the other.
The addition of King's highly complementary business will position Activision Blizzard as a global leader in interactive entertainment across mobile, console and PC platforms, and establishes it as a leader in the rapidly growing mobile game segment. In fact, mobile games are expected to grow about 20% worldwide this year to about $20 billion, which gives Activision approximately 10% market share. Incidentally, this 20% growth rate compares to the expected 7% growth rate for computer games and 2% for TV and console games this year, according to research firm Newzoo.
TickerTags demonstrates the relative importance of mobile games versus console-based products in the eyes of the consumer:

Source: TickerTags
On November 4, 2015, the company announced that it had launched the Activision Blizzard Studios, an in-house film and television studio devoted to creating original movies and TV shows based on Activision's video games. In so doing, the company has adopted a multi-media approach that leverages its proprietary IP content over a variety of entertainment channels. Its content is extremely significant, because it includes such very strong brands as Call of Duty, Skylanders, Diablo and others. This is a strategically very important step for two reasons. One is that a movie based on a video game has proven that it can be very successful - Capcom's Resident Evil released in September 2012 racked up a box office worldwide of $240 million; EA' Need for Speed, launched in March 2014, did $203 million. The second is that unlike EA and Capcom, Activision has, through its Skylanders franchise, a ready-made entry into the most important retailers. If you take into account the fact that Hasbro racked up sales of about $2 billion for the Transformer action figures on the back of the last three Transformer movies, you can see why there is a major opportunity for Activision to enter the toy market in conjunction with movies developed by this new studio. And the company seems to mean business, as demonstrated by it recruiting Nick van Dyk from Disney (NYSE:DIS) to co-head this new venture.
On January 4, 2016, Activision bought Major League Gaming (MLG) with the avowed intention to "build the ESPN of video games" - a premium cable TV channel dedicated exclusively to gaming. MLG.tv is an online broadcast network for professional-level E-sports, and the MLG Pro Circuit is the longest-running E-sports league in North America. GameBattles, a site owned by MLG, is the largest online gaming tournament system across consoles, PC and mobile platforms. This acquisition provides ATVI with an entry into the E-Sporting world, which has experienced rapid growth in the last few years, taking in $612 million in revenue in 2015. Streaming audience numbers for the genre have been estimated to have reached the 100 million mark in 2015. This number is expected to grow to 300 million worldwide by 2017, according to Activision. The company will merge MLG with its in-house E-sports division, Activision Blizzard Media Networks.
The end effect of these three moves is that it is probable to transform Activision from a video game publisher, which, through Skylanders, also has a foothold in the toy industry, to a very major entertainment powerhouse, and potentially the largest video game company worldwide. The company could thus well emerge not only as the major player in video games, but also as a significant factor in the toy industry as well as in the overall entertainment sector.
(This article was first published by the Toy Directory on February 1, 2016).
Disclosure: I/we have no positions in any stocks mentioned, and no plans to initiate any positions within the next 72 hours.
I wrote this article myself, and it expresses my own opinions. I am not receiving compensation for it. I have no business relationship with any company whose stock is mentioned in this article.