Once upon a time, there was a SWAN and an ugly duckling. The SWAN was best known for "sleeping well at night" and laying golden dividend eggs. The ugly duckling was best known for causing high stress and anxiety. The SWAN and the ugly duckling are birds of the same feather, but they certainly don't fly together.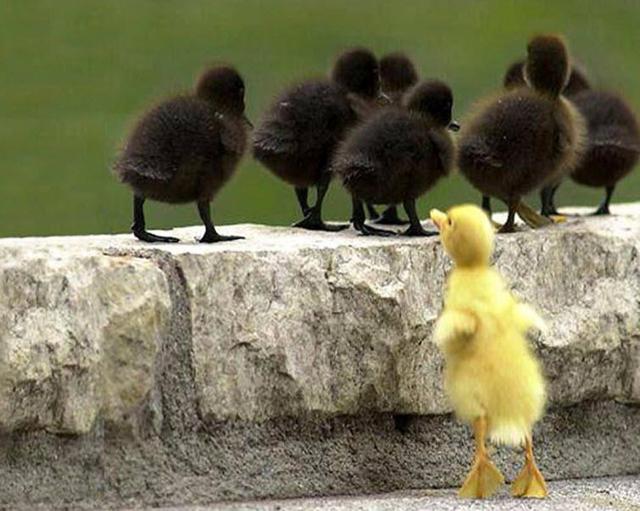 Click to enlarge
I live in Greenville-Spartanburg, South Carolina. This is a growing southeastern market that was once referred to as a "Textile Town." Today, the metropolitan area is made up of a diverse number of international businesses such as Michelin (OTCPK:MGDDY), BMW (BAMXY), Milliken, Hubbell Lighting (NYSE:HUBB), and Fluor.
For most of my early career, I developed shopping centers and it was my job to lure in retailers to fill up my new buildings. Many of the shopping centers that I built were in close proximity to the two major malls: Haywood Mall in Greenville and Westgate Mall in Spartanburg.
Although Greenville and Spartanburg are two separate cities, the towns have grown closer together as the major airport is half the distance between the two cities. Also, BMW's only US manufacturing plant is located in the heart of Greenville/Spartanburg where thousands of employees work to assemble various BMW automobiles.
It's interesting that I live within close proximity to both major malls and my family shops regularly at each property. In an effort to examine these two mall landlords, both REITs, I thought it would be interesting to provide a granular "compare and contrast" article on the individual malls (in my town) as well as a higher level assessment of these REITs.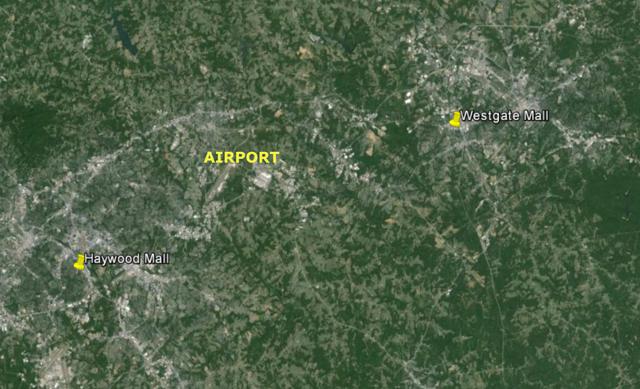 Click to enlarge
Westgate Mall in Spartanburg, SC
Westgate Mall was built in 1975 and CBL acquired the property in 1995. The 3-anchor major anchors for Westgate Mall include Belk (OTCPK:BLKIB), Dillard's (NYSE:DDS), J.C. Penney (NYSE:JCP), and Sears (NASDAQ:SHLD). The mall is around 954,000 square feet with an overall occupancy of 90%.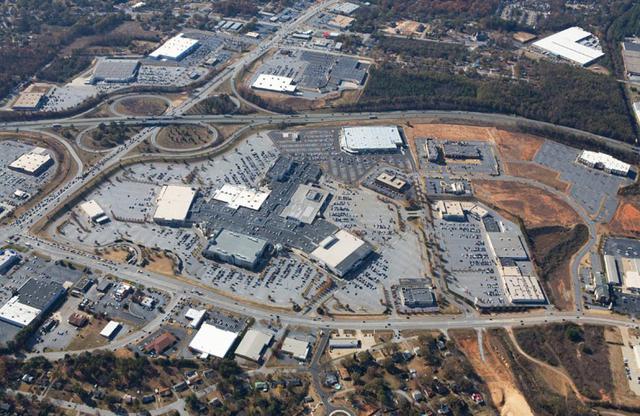 Click to enlarge
I consider Westgate Mall a C+ property based on weak demographics and area occupancy. The owner, CBL Properties (NYSE:CBL) built Westgate in 1975 and later acquired it for around $25.4 million. This mall has a variety of local and regional tenants and foot traffic is poor. Westgate has two of the weakest mall anchors: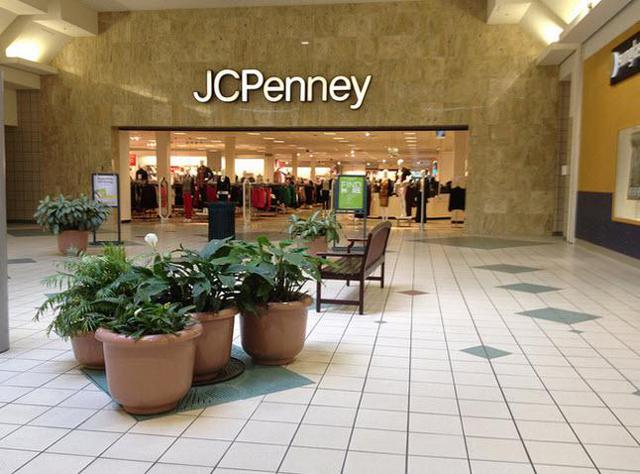 Click to enlarge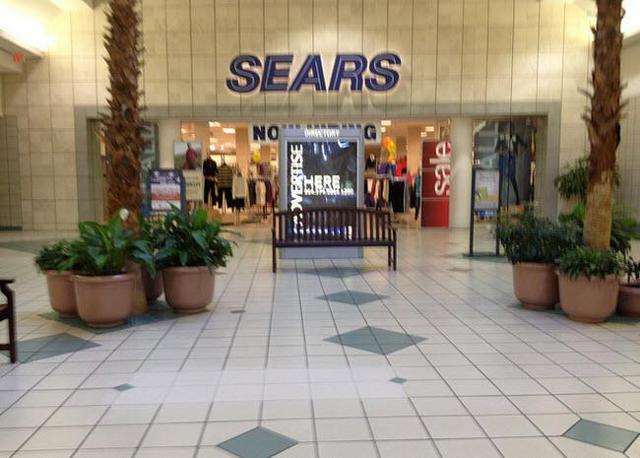 Click to enlarge
Spartanburg is considered a blue collar market where many of the jobs are in manufacturing or distribution (Amazon (NASDAQ:AMZN) and Adidas (OTCQX:ADDYY) have distribution centers in Spartanburg), so there is less disposable income which is why retail sales are weak. I generally travel to Westgate Mall about once a year to pick up vacuum bags at Sears. Westgate Mall is a stinging example of a dinosaur that is moving towards extinction.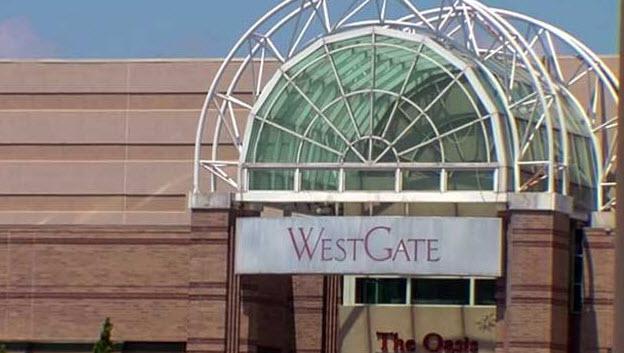 Haywood Mall in Greenville, SC
Haywood Mall was built in 1980 and Simon Property Group (NYSE:SPG) acquired the super-regional mall in 1998. The 1.228 million square foot mall has five anchors: Sears, Belk's, JC Penney, Dillard's and Macy's (NYSE:M). The mall is 98% occupied: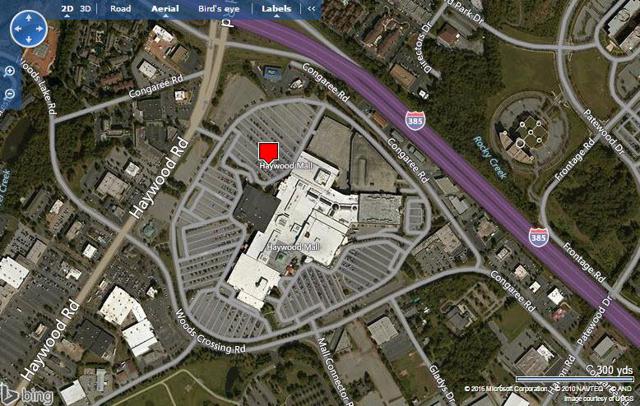 Click to enlarge
I consider Haywood Mall to be an A mall based upon its strong demographics and high quality tenant list. Haywood Mall is considered the dominant mall in the trade area and the traffic count is robust. I visit Haywood Mall around once per month and it takes me 5 minutes to get to Westgate Mall and 30 minutes to travel to the Haywood Mall.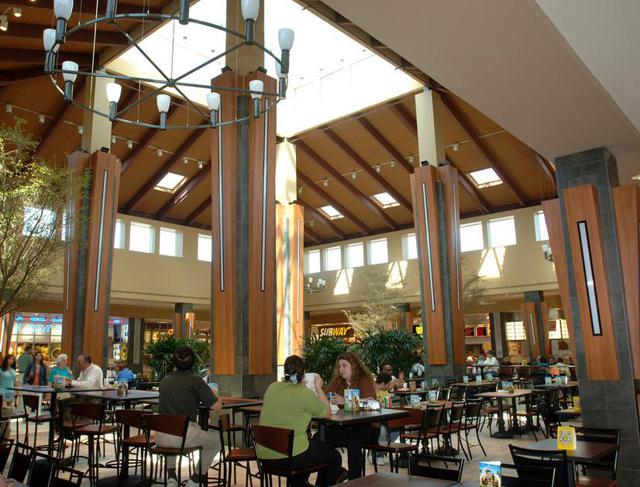 Click to enlarge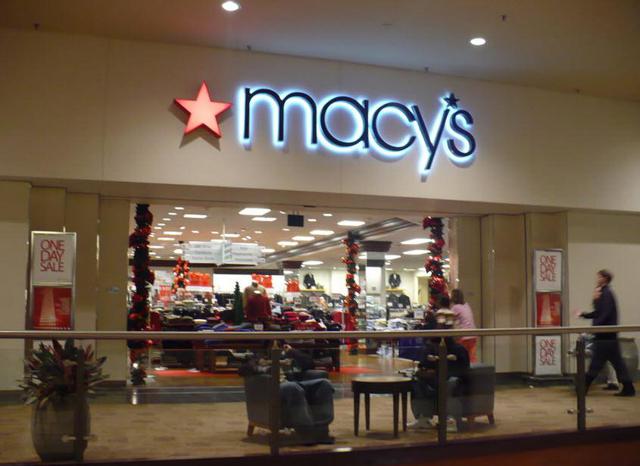 Click to enlarge
Haywood Mall is undergoing an expansion. Panera Bread (NASDAQ:PNRA) was recently relocated from the mall to a free-standing building and SPG is constructing a store for The Cheesecake Factory in the former Panera space.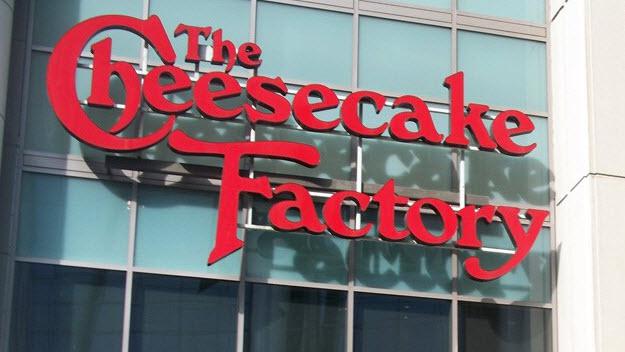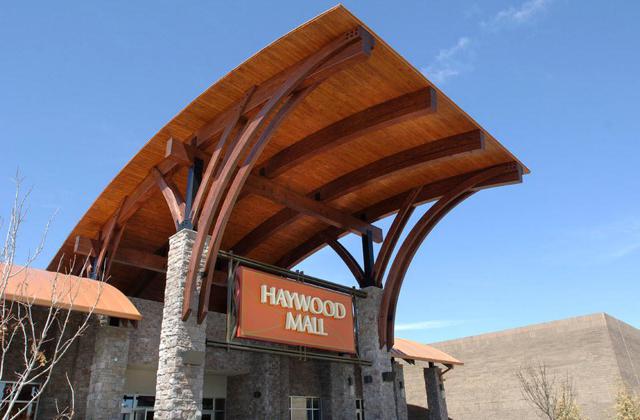 Click to enlarge
Now Let's Take A Look At The Two Landlords
SPG is a dominating Mall REIT, here's a snapshot of the market capitalizations for the peer group:

Click to enlarge
Here's a snapshot of SPG's stats:

Click to enlarge
Here's a snapshot of CBL's stats: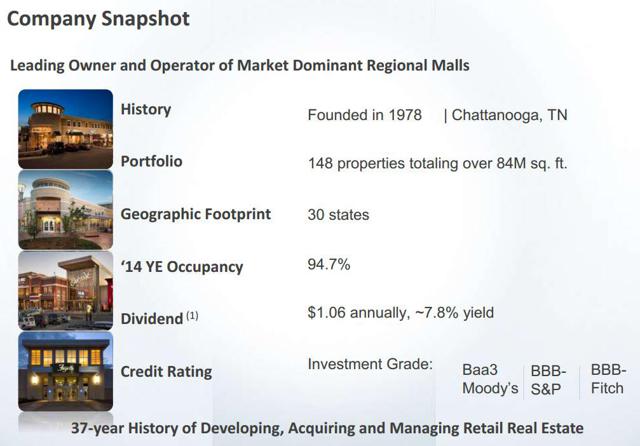 Click to enlarge
Here's a snapshot of SPG's top in-line tenants:

Click to enlarge
Here's a snapshot of SPG's top anchor tenants:

Click to enlarge
Here's a snapshot of CBL's retail brands: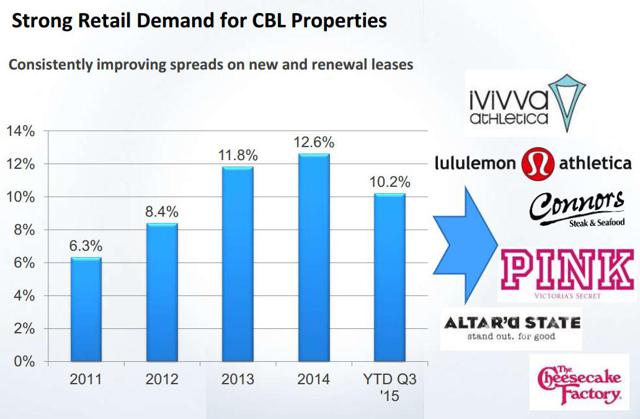 Click to enlarge
Now let's examine the debt for each mall REIT:

Click to enlarge
Now let's examine the percentage of secured debt (to total debt) for each mall REIT:

Click to enlarge
SPG has a solid A rating (from Fitch) that takes into account the REIT's substantial scale and edge in capital access; the strong quality of its retail real estate assets that yield robust cash flow beyond fixed charges; financial flexibility; and good liquidity.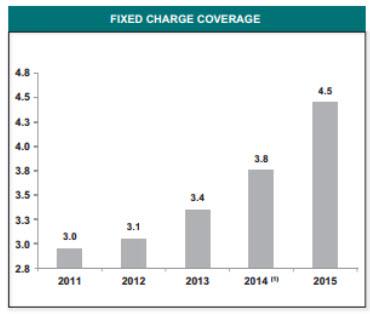 Fitch ratings has rated CBL BBB- based on the REIT's sufficient financial flexibility; large, "well-diversified" pool of mainly regional malls; and fixed-charge coverage that is consistent with the rating. These strengths are normalized by factors such as execution risk related to CBL's future asset repositioning strategy, challenging cash-flow-growth prospects in its lower-productivity malls and "slightly high" leverage for the rating.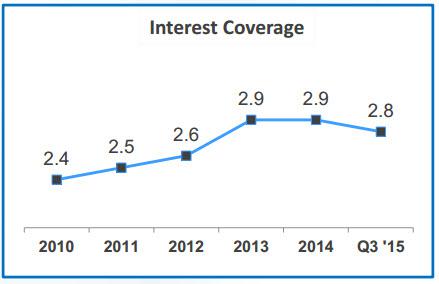 In terms of dividend performance, take a look at SPG's history:

Click to enlarge
Here's a snapshot of CBL's dividend history:

Click to enlarge
As you can see, both REITs cut their dividend in 2009; however, SPG issued shares (instead of dividends) and more importantly, SPG has grown its dividend considerably since the end of the recession. Here's how SPG's 5-year CAGR dividend growth compares with CBL and the mall peers: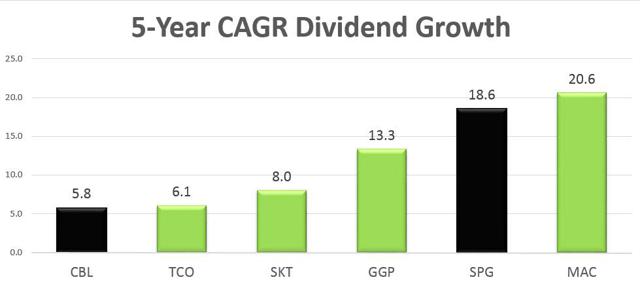 Click to enlarge
Here's how the mall REITs grew their dividends in 2015: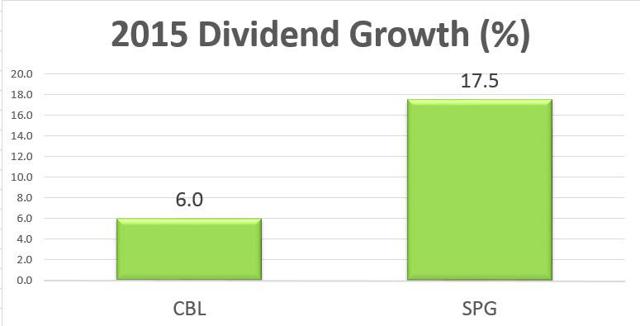 Click to enlarge
Now let's take a look at the performance over the last 12 months:

Click to enlarge
Now let's take a look at the 3-year performance:

Click to enlarge
Now let's examine the 5-year performance:

Click to enlarge
Now consider the 10-year performance:

Click to enlarge
The Ugly Duckling
I would not want to own Westgate Mall or a share in CBL at any price. I consider this security a value trap and the "common" shares appear to be perpetually weak. Given the overall weakness related to Sears and JC Penney, I would avoid investing in CBL.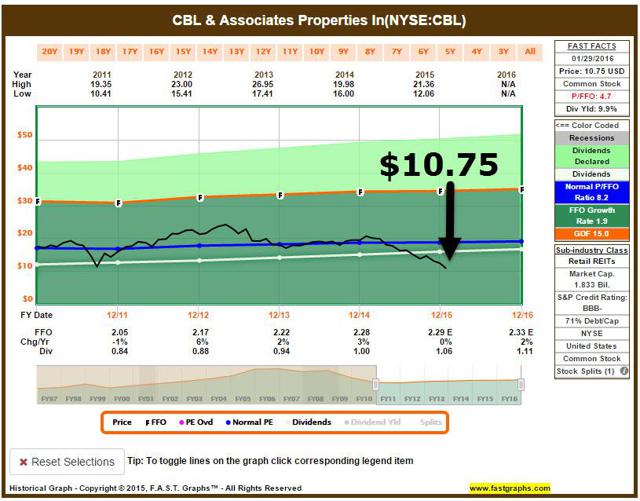 Click to enlarge
Even though CBL's 9.7% dividend yield looks attractive, I would stay away.

Click to enlarge
CBL's valuation, reflected in the P/FFO chart below, is also tempting. Scroll back up to the photos if you are having second thoughts. This is an ugly duckling!

Click to enlarge
The SWAN
SPG recently announced Q4-15 results and fellow writer, Bill Stoller, has an excellent recap HERE. He summed it all up:
My sense is that Simon Property remains a great long-term holding for REIT investors. The current $186 per share price range appears to be a fair value given the growth forecasts.
The only fault I find with SPG is the dividend cut in 2009. I regret the move and I am sure David Simon regrets it too. But I am also pleased that SPG did the next best thing, issued shares to investors, and then cranked back up the dividend spigot. There's no doubt that SPG is a "sleep well at night" REIT and I am waiting anxiously for a blue light special so I can become a shareholder.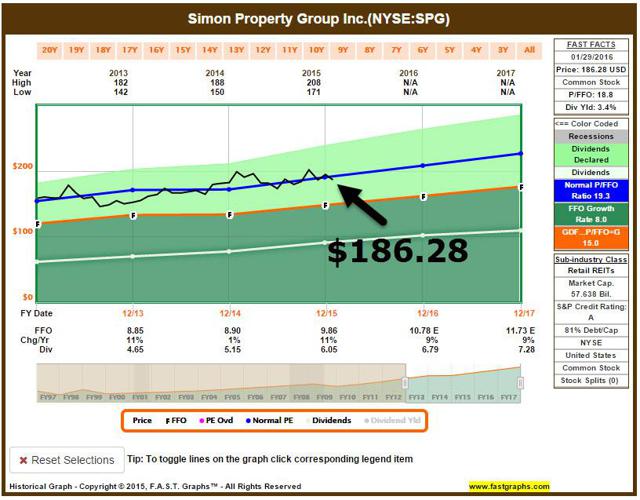 Click to enlarge
Author's Note: I'm a Wall Street writer, and that means that I am not always right with my predictions or recommendations. That also applies to my grammar. Please excuse any typos, and I assure you that I will do my best to correct any errors if they are overlooked.
Finally, this article is free, and my sole purpose for writing it is to assist with my research (I am the editor of a newsletter, Forbes Real Estate Investor), while also providing a forum for second-level thinking. If you have not followed me, please take 5 seconds and click my name above (top of the page).
The only guarantee that I will give you is that I will uncover each and every rock I can in an effort to find satisfactory investments that "upon thorough analysis promises safety of principal and satisfactory return. Operations not meeting these requirements are speculative." (Ben Graham)
Disclaimer: This article is intended to provide information to interested parties. As I have no knowledge of individual investor circumstances, goals, and/or portfolio concentration or diversification, readers are expected to complete their own due diligence before purchasing any stocks mentioned or recommended.
Disclosure: I am/we are long O, DLR, VTR, HTA , STAG, GPT, ROIC, HCN, OHI, LXP, KIM, WPC, DOC, EXR, MYCC, BX, TCO, SKT, UBA, STWD, CONE, BRX, CLDT, HST, APTS, FPI, CORR, NHI, CCP, WSR, CTRE, WPG, KRG, SNR, LADR, HCN.
I wrote this article myself, and it expresses my own opinions. I am not receiving compensation for it (other than from Seeking Alpha). I have no business relationship with any company whose stock is mentioned in this article.