The initial estimate of fourth quarter US GDP released last week has confirmed that the country is experiencing a slight economic slowdown. This should come as no surprise. We've seen the manufacturing sector continue to suffer from a strong dollar, while the energy sector has been hurt by the low price of oil. What's more surprising is that consumer spending, which has helped power US growth over the past few years, moderated in the fourth quarter.
So what, if anything, is working for the US economy? One area of continued strength is the housing sector. Recall that housing was the epicenter of the global financial crisis nearly a decade ago. It experienced a sluggish rebound for years but is well on the path to recovery at this point. It has been helped along by ultra-low interest rates, which have translated into historically low mortgage rates. This has, in turn, helped counter the more strict credit conditions that have persisted since the crisis and has helped result in a solid increase in home prices, of course with variations by region.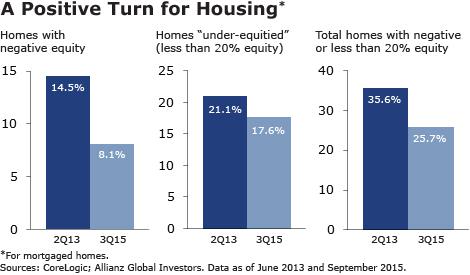 Home Prices Trend Upward
The November Federal Housing Finance Authority (FHFA) House Price Index, released last week, showed home prices are up 5.9% year-over-year. Similarly, the Case-Shiller Home Price Index rose an impressive 0.9% in November, on the heels of solid gains of 0.8% and 0.6% in the previous two months, respectively. Also, the Case-Shiller Index indicated significant breadth, with all 20 cities experiencing price increases recently. Last week also saw the release of new home sales data for December, which showed a substantial increase in home prices.
But some worry that, with the Fed beginning tightening, mortgage rates will increase, jeopardizing the housing recovery or at least slowing it down. However, a complex set of factors determine mortgage rates, particularly pricing (and therefore yields) for mortgage-backed securities in the secondary market.
Helping to influence yields on mortgage-backed securities include the actions of Fannie Mae and Freddie Mac as well as inflation and other key interest rates. Interestingly, over time there has been a close correlation between the 10-year Treasury yield and mortgage rates. And the yield on the 10-year Treasury yield just fell below 2%, reminding us that the Fed cannot control the long end of the interest rate curve, which is largely dominated by factors such as the fear trade, whereby investors buy up Treasuries in times of crisis in a flight to safety. What's more, a significant portion of the Fed's quantitative easing operations were focused on the purchase of mortgage-backed securities; these securities remain on the Fed's balance sheet and help to maintain downward pressure on mortgage rates.
The Wealth Effect in Action
So after a rough start to 2016, one bright spot for the US economy remains housing, which contributes to GDP in multiple ways. This includes residential construction and home improvement - a component of residential fixed investment - and through owners' equivalent rent (OER), which is defined as the amount a homeowner would have to pay to rent, or would earn from renting his or her home in a competitive market, and which is a component of the personal consumption expenditure.
Interestingly, OER is one of the few areas where we have seen substantial price increases, which have helped to somewhat offset more anemic prices elsewhere in the economy. Beyond GDP, housing also contributes to the "wealth effect," a popular behavioral economic theory which posits that consumer spending increases significantly when a person's net worth is rising - and the two key determinants of net worth are typically investment portfolios and homes.
Refinancing as Remedy to Negative Equity
Finally, improvement in the housing market is a positive because when home prices increase, more Americans become capable of refinancing at lower mortgage rates. In the last several years we've seen a healthy reduction in the percentage of mortgaged homes that either have negative equity or less than 20% equity - these are homes whose owners for the most part have not been able to refinance and avail themselves of the lower mortgage rates we've seen in recent years.
The percentage of mortgaged homes with negative equity has fallen from over 35% to approximately 25%, and has continued to decline every quarter that home values rise. This could have far-reaching effects for the economy at large - many homeowners are becoming eligible to refinance, lowering their debt servicing costs and getting more spending money that they can put back into the economy.
Having said all that, the picture for housing is not entirely rosy. Keep in mind that we are seeing a relatively small cohort of first-time home buyers. In addition, supply is low, which is holding back home sales. Finally, recall that the state of housing is very dependent on geographical region, with some regions experiencing more economic growth and housing demand than others. These factors should help moderate the pace of the overall recovery.
Looking ahead, it appears likely that the housing recovery will continue at a modest pace and that mortgage rates won't rise significantly, providing a favorable backdrop. And ultimately, housing could be the catalyst for not only improved consumer sentiment but improved consumer spending, which could fuel growth during an uncertain year for the US economy.