Valero (NYSE:VLO) crushed the analysts' estimates when it reported its Q4 results last week. More specifically, its earnings per share [EPS] exceeded the consensus by 23% ($1.79 vs. expected $1.45). Even better, the company reported all-time high adjusted EPS of $9.24 for the full year 2015. However, despite the excellent results, the stock is trading at a pronouncedly low valuation. Therefore, it is only natural that many investors wonder whether it represents a great bargain.
First of all, the business conditions are more favorable than ever for the company. To be sure, the collapse of the oil price resulted in record-high refining margins for the company last year, which led to its all-time high earnings. This has only got better so far this year, as the additional supply of oil from Iran is expected to maintain pressure on the oil price and thus keep the refining margins around their current levels. The only negative factor in the refining business is the recent lift of the crude export ban but the management does not expect a significant impact from this factor.
It is worth noting that, even if oil rebounds up to $60-$70, it is not likely to greatly hurt the refining margins, as the demand for oil products will remain strong even at these levels. Only if oil more than doubles from its current level it is likely to exert significant pressure on the refining margins. However, the underlying conditions in the oil market do not favor such a strong rebound for at least 1-2 years. Moreover, Valero greatly benefits from the extremely cheap US natural gas, which is used as an input in its refineries. As the US natural gas is much cheaper than the European and Asian natural gas, Valero enjoys pre-tax savings of $1.2 B over its European competitors and $2 B over its Asian competitors. As all these favorable conditions are likely to remain in place for a long period, Valero is likely to keep thriving for the foreseeable future.
It is also worth noting that Valero exhibits the highest Nelson Complexity Index (12.4) among all the US refiners. This simply means that its refineries are the most flexible ones and hence they can optimize the mix of their products depending on their relative prices. Therefore, not only the refineries of Valero maximize their profit under any conditions but, more importantly, they will be the prominent survivors during periods of depressed margins, just like the years 2008-2010. In other words, whenever the refining margins plunge, many refineries will be forced to shut down but the refineries of Valero will easily remain profitable. This defensive nature of Valero is an important feature that should not be underestimated by investors.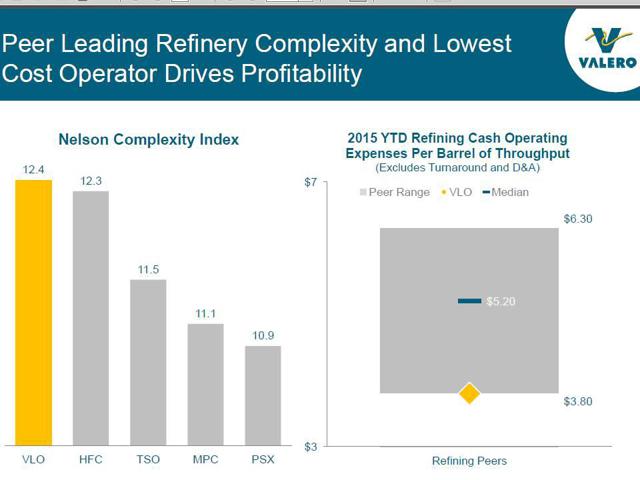 Click to enlarge
Finally, Valero exhibits the lowest operating cost per barrel among its peers, with a cost of $3.80 per barrel vs. a median of $5.20. Moreover, about 2/3 of the crude oil it refines is location-advantaged and hence comes at a discount to WTI. Even better, the company intends to spend 45% of its budget on capital expenses for further asset optimization in order to increase the portion of advantaged crude oil.
While all the above facts are amazing, the most amazing part is the extremely cheap valuation of the stock. To be sure, although Valero just posted record earnings, it is trading at a trailing P/E=7.3 and a forward P/E=8.5. This is quite surprising, particularly given the strong balance sheet of the company, which is characterized by a current ratio of 2 and a net debt that is only 3 times last year's earnings. Therefore, as long as investors believe that oil will not rebound above $70 for the next few years, they should purchase Valero at its current opportune price.
Nevertheless, I would like to mention a caveat at this point. Cyclical stocks always trade at pronouncedly low P/E ratios near the top of their cycle. Therefore, as oil is not likely to remain around $30 for long, it is reasonable to claim that Valero should command a relatively low P/E, lower than the normal level of 15. It is also worth noting that other oil companies, which have been greatly hurt from the collapse of the oil price, were trading at remarkably low P/E ratios just before oil started plunging. Some examples are Exxon Mobil (NYSE:XOM), Chevron (NYSE:CVX) and Ensco (NYSE:ESV). Especially the latter was trading at a trailing P/E=8 before its 80% plunge got started. Therefore, investors should keep in mind that the low P/E of Valero may be in part attributed to the market's view that oil will not remain depressed forever and hence a conservative valuation for Valero may be appropriate.
To sum up, Valero just posted record earnings, which resulted from the extremely favorable conditions for refiners in the oil market. Even better, these conditions seem to be here to stay while the company keeps optimizing its structure in order to maintain growth. Therefore, it is really surprising that the stock currently has a pronouncedly cheap valuation. As long as investors believe that oil will not experience a sustainable rebound above $60-$70 in the next few years, they should purchase Valero at its current opportune price.
Disclosure: I/we have no positions in any stocks mentioned, but may initiate a long position in VLO over the next 72 hours.
I wrote this article myself, and it expresses my own opinions. I am not receiving compensation for it (other than from Seeking Alpha). I have no business relationship with any company whose stock is mentioned in this article.