Introduction
Japanese stocks enjoyed a strong rebound at the end of last week, driven by the BoJ's surprising decision to join the ECB and other European central banks in negative interest rate policy. Despite the sharp rally, Japanese stocks remain about -30% below their recent highs set in August 2015, as measured by the TOPIX Index.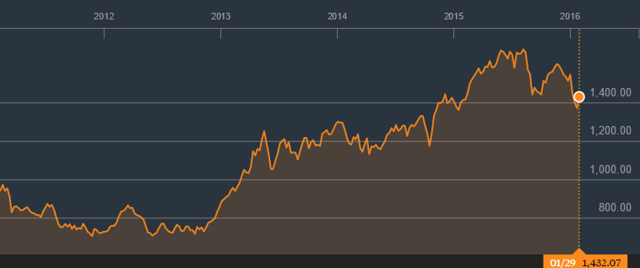 Recent falls means Japanese stocks are once again cheap. They remain the cheapest in the developed world, both relative to their history and compared to other developed markets:
| | | |
| --- | --- | --- |
| Market | Price/Book TTM | Price/Earnings TTM |
| MSCI Japan Index | 1.38 | 15.7 |
| MSCI Europe Index | 1.82 | 16.2 |
| S&P 500 Index | 2.44 | 19.7 |
| MSCI Pacific ex Japan | 1.43 | 13.6 |
Source: Morningstar, as at January 29, 2016.
Accessing Japan Through ETFs
In addition to choosing the right ETF, investors in Japan must decide whether to go with an currency unhedged ETF, or a currency hedged ETF. What are the differences? In sum investors are exposed to two sources of potential return and risk:
Currency unhedged: Exposure to the movement of Japanese stocks, plus fluctuations between the USD/JPY exchange rate
Currency hedged: Returns from the movement of Japanese stocks, without the currency fluctuations, minus the cost to hedge currency
Due to the fluctuation of currency, investors can experience dramatically different returns, as shown in the table below:

*Currency hedged return is broadly equivalent to the local currency MSCI Japan Index (JPY) before hedging costs. Returns as of January 29, 2016.
For example, if an investor invested in Japan 3 years ago, he may have expected a positive return of 16.2% (annualized) due to the strong performance of Japanese stocks. However, because the JPY depreciated significantly against the USD during this period, his return would have been negatively impacted when the investment was converted back to dollars. This results in a return of 5.8% (annualized).
At FundGuru, we recommend investors utilize currency hedged ETFs to obtain pure exposure to foreign stocks, without taking a view on the valuation of the foreign currency.
Hedged ETFs Compared
Our analysis focuses on the three largest currency hedged ETFs currently on the market: the WisdomTree ETF (NYSEARCA:DXJ), Deutsche X-trackers ETF (NYSEARCA:DBJP) and the iShares ETF (NYSEARCA:HEWJ). Below is a comparison of their key features: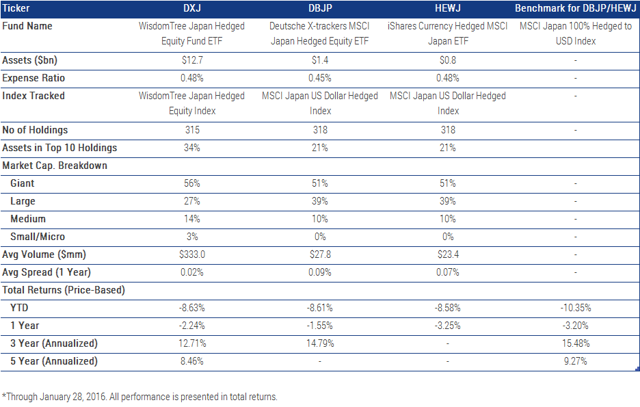 Our preference is the WisdomTree ETF , which offers both the lowest fees among the competition and lowest spreads. However, investors should note that it tracks a custom benchmark that aims to provide broader market cap coverage of the Japanese market than the more common MSCI Japan Index, which offers exposure to large- and mid-cap companies only. The WisdomTree benchmark contains more SMID-cap names that provides exposure to more domestically-oriented Japanese companies.
Between the iShares and Deutsche ETF, we like the former due to its tighter tracking error vs. the underlying MSCI benchmark and lower average spread, factors we believe are worth more than the 0.03% fee premium vs. the DBJP.
Disclosure: I/we have no positions in any stocks mentioned, but may initiate a long position in DXJ, HEWJ over the next 72 hours.
I wrote this article myself, and it expresses my own opinions. I am not receiving compensation for it (other than from Seeking Alpha). I have no business relationship with any company whose stock is mentioned in this article.