The turbulence in the oil market so far this year has taken a toll on ConocoPhillips' (NYSE:COP) performance, with the stock losing close to 18% of its value so far this year. However, the recent recovery in oil prices, which has been pinned on the hope that OPEC will reduce output, has helped Conoco recover from its 52-week lows. But, will the company be able to keep up stock price momentum going into its fourth-quarter results that are expected on February 4? Let's find out.
What to expect?
ConocoPhillips' revenue for the fourth quarter is anticipated to decline almost 24% year-over-year to $9.06 billion. However, on a quarter-over-quarter basis, it is anticipated that Conoco's revenue will increase from $7.51 billion that was posted in the third quarter. This indicates that Conoco's top line will increase 20% on a sequential basis.
But, at the same time, consensus forecasts indicate that Conoco's adjusted loss per share will increase from $0.38 per share in the third quarter to $0.64 per share in the fourth quarter despite the increase in revenue. Now, this means that analysts are expecting an increase in volumes to power Conoco's top line higher, while weak crude oil prices will eat away at its bottom line.
Now, this looks quite likely as in the third quarter of 2015, oil prices were averaging higher than the fourth quarter. In fact, Conoco had recorded an average realized price of $46.41 per barrel, down by $11.59 per barrel from the preceding quarter. Now, a look at the chart below clearly indicates that the average price of crude oil was lowest in the fourth quarter of 2015, so despite selling a higher quantity of oil, Conoco's bottom line performance will take a hit as oil prices were down 23% in the final quarter of the year: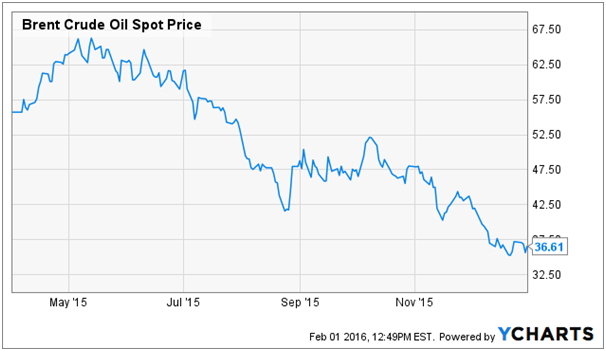 Thus, investors should not be surprised if ConocoPhillips slips deeper into the red in the fourth quarter due to weakness in oil prices.
What to do after results?
As Conoco is expected to post a bigger loss this time as compared to the preceding quarter, it is likely that the recent momentum that it has gained will come to a halt. As such, ConocoPhillips shares are likely to remain under pressure once the company releases its results, but I think that investors should accumulate the stock on weakness since Conoco is better-positioned this year to overcome the oil volatility.
I'm saying this because Conoco has decided to lower its capital expenses massively this year to the tune of 25% as compared to last year. All in all, as compared to 2014, Conoco will bring down its capital budget by 55% this year, while reducing the operating cost by 20%. But despite these lower expenses, Conoco will be able to maintain its production levels as the company is focusing more on areas where it can generate better returns in a low pricing environment. This is clearly given in the chart below: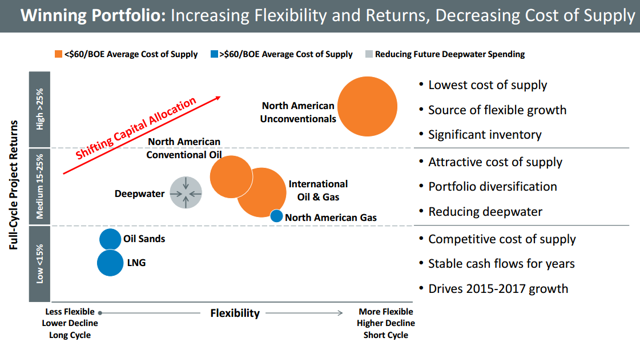 Click to enlarge
Source: ConocoPhillips
As seen above, Conoco is increasing its focus on North American unconventionals as these are expected to help it achieve better returns in a weak pricing environment. This is because the unconventional plays are allowing it to generate a higher quantum of production at very low costs. For instance, ConocoPhillips has seen a decline of 20%-30% in drilling and completion costs in this area, but crude oil production has increased 12%.
Now, it is anticipated that crude oil will make a recovery to $50 per barrel in the next year or two, according to investment firm Argo Investments. In such a scenario, ConocoPhillips will be in a strong situation to make a comeback as it has been aggressively lowering its cost profile. On the other hand, it is likely that Conoco will also benefit from growing LNG demand in the Asia Pacific, where the company is taking steps to ramp up output.
As seen above, a prominent supply gap is anticipated in the Asia Pacific LNG market from this year onwards. This is after taking into consideration the supply that is already under construction. Now, as the gap between demand and supply widens going forward, the price of LNG will also go up, thereby opening up an opportunity for LNG suppliers to capitalize on.
Now, ConocoPhillips has bolstered its infrastructure in the Australia Pacific LNG venture where two trains will be used to export LNG to the Asia Pacific market with a total processing capacity of 9 mtpa. The first train was expected to be complete in the fourth quarter of last year and the second train is expected to go online this year.
Thus, Conoco is diversifying in the right area to strengthen its growth from a long-term perspective, and this is another reason why investors can consider building their long-term position in the stock. In addition, a healthy dividend yield of almost 7.6% that ConocoPhillips will try to maintain by selling non-core assets and reducing capital expenditure is another reason why accumulating the stock at current levels is a good idea.
Conclusion
ConocoPhillips, in all likelihood, will release a weak quarterly report due to the massive decline in oil prices in the fourth quarter. But, at the same time, there are a few positives regarding the company that cannot be ignored. So, in my opinion, it will be a good idea to buy the stock whenever it gets weak since it is making the right moves from a long-term perspective.
Disclosure: I/we have no positions in any stocks mentioned, and no plans to initiate any positions within the next 72 hours.
I wrote this article myself, and it expresses my own opinions. I am not receiving compensation for it (other than from Seeking Alpha). I have no business relationship with any company whose stock is mentioned in this article.