By Columbia Threadneedle Investments Global Asset Allocation Team
For asset allocation decisions, we find great value in maintaining a long-term outlook. Twice a year, in fact, we conduct an extensive update of our five-year return forecasts for several asset classes. The purpose of this exercise is two-fold. First, taking a longer-term perspective helps us to set strategic asset allocations and design portfolios for diverse investment goals. Just as important, though, is that maintaining long-term forecasts provides context for responding thoughtfully to daily swings in the market.
Our capital market assumptions begin with our economic and interest rate outlook. Since the specific timing and duration of economic expansion are difficult to forecast, we develop a central thesis along with stronger and weaker scenarios:
Our central thesis is that the U.S. is in the later stages of the business cycle and will experience a small contraction in early 2017. This will negatively impact the nascent growth drivers in Europe and Japan and lead to more pain in emerging markets. We do expect a recovery to begin again later in 2017.
Our stronger recovery scenario involves the positive impacts of lower, but stable, commodity prices feeding back into the global economy, particularly the consumer and energy importers. This provides the catalyst for growth accelerating above current levels.
Our weaker scenario is for a much broader slowdown in global growth. This would hit emerging economies particularly hard.
From these economic scenarios and our analysis, three key themes have emerged:
Investors should be mindful of downside risk in the early part of our forecast. Dollar-cost averaging into new investments and keeping some powder dry may help manage risk in a frustrating market.
Even with near-term economic slowing, we believe growth will recover along with asset prices. Therefore, investors should also be mindful of where to deploy capital when downside risks lessen.
Markets will likely remain highly sensitive to the macroeconomic news and Federal Reserve policy.
Five-year total average annual return forecast for several major asset classes (2016-20)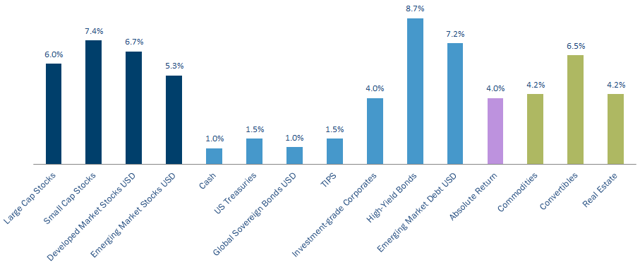 Click to enlarge
Important note: This chart is for illustrative purposes only and is not intended to represent any investment product. All of the above are forecasts based on Columbia Management Investment Advisers, LLC models and analysis. As such, there is high likelihood that actual returns and economic results will deviate from our expectations.
Past performance does not guarantee future results. It is not possible to invest in an index.
Source: Columbia Management Investment Advisers, LLC as of 12/31/15. Equity forecasts are based on three components: expected dividend payments, expected earnings growth and change in valuation levels (price-to-earnings ratios). Expected earnings growth is driven by expected economic growth, input cost changes and pricing power. Fixed-income forecasts are based on the shape of the yield curve, direction of interest rates, increase/decrease in yield spreads and timing of those changes. The major asset classes are based on the following indices: Large-cap stocks: S&P 500 Index; Small-cap stocks: Russell 2000 Index; Developed market stocks: MSCI EAFE Index; Emerging market stocks: MSCI EM Index; Cash: Citigroup U.S. Domestic 3-Month T-Bill Index; U.S. Treasuries: Barclays U.S. Treasury Index; Global sovereign bonds: Barclays Global Treasury Index (excl. U.S.); TIPS: Barclays U.S. TIPS Index; Investment-grade corporates: Barclays U.S. Aggregate Credit Index; High-yield bonds: Barclays Corporate High Yield Index; Emerging market debt: JPMorgan EMBI Global Diversified Index; Commodities: Bloomberg Commodity Index plus active management component. It is not possible to invest in an index. The illustrations here are not intended to be representative of the performance of any particular investment. Such information analysis has inherent limitations and may not be indicative of future results. It is important to keep in mind that no formula, model or tool can in and of itself be used to determine which securities to buy or sell, or when to buy or sell them.
From this chart, we can extract a few of the major implications for strategic asset allocation over the next five years. First, we continue to retain very modest expectations for total returns from most fixed-income assets. Our position is based on the low level of yields offered by major fixed-income asset classes combined with the expectation that U.S interest rate policy will normalize over the next five years. We believe equities, meanwhile, offer returns that are slightly below their long-term average levels. We note that global equities are mildly expensive on an absolute basis, and are likely to struggle during an economic slowdown combined with normalization of policy rates, resulting in below-average expected returns. Equity returns compare favorably to most fixed-income returns on this horizon.
This forecast derives from an expectation of a recovery in economic growth (and consequently, earnings growth), and worldwide equity valuations that are not extremely expensive. Accordingly, we find that portfolios designed to rely more upon equity risk than fixed-income risk are more likely to succeed, on average, across the next five years. In the near term, we would caution investors to expect hiccups and volatility across risk assets. Our economic scenarios imply returns may be much lower early in the forecast than later.
Disclosure: None.
Disclaimer: The views expressed in this material are the views of the author through the date of publication and are subject to change without notice at any time based upon market and other factors. All information has been obtained from sources believed to be reliable, but its accuracy is not guaranteed. There is no representation or warranty as to the current accuracy, reliability or completeness of, nor liability for, decisions based on such information and it should not be relied on as such. This information may contain certain statements that may be deemed forward-looking statements. Please note that any such statements are not guarantees of any future performance and actual results or developments may differ materially from those discussed. There is no guarantee that investment objectives will be achieved or that any particular investment will be profitable. Past performance does not guarantee future results. This information is not intended to provide investment advice and does not account for individual investor circumstances. Investment decisions should always be made based on an investor's specific financial needs, objectives, goals, time horizon and risk tolerance. Please see our social media guidelines.