Finding good yielding plays is getting harder these days. Most of the well-known large and even mid cap dividend payers have been picked over and don't offer the bargain entry levels they did six months ago, before the market's 25% rally. An intrepid investor must go off the beaten path to find high yielding picks with growing earning prospects and solid valuations. One I have recently come across that meets these criteria is Chatham Lodging Trust (NYSE:CLDT).
Chatham Lodging Trust is a self-advised REIT that was organized to invest in upscale extended-stay hotels and premium-branded, select-service hotels. The company currently owns 18 hotels with an aggregate of 2,414 rooms/suites in 10 states and the District of Columbia and holds a minority investment in a joint venture that owns 64 hotels with 8,329 rooms/suites. (From company press release)
6 Reasons to pick up CLDT at under $13 a share:
The stock is showing impressive earnings growth. The company made 53 cents per unit in FY2010, should book 94 cents in FY2011 and analysts project is will make $1.44 in FY2012.
The stock yields an impressive 5.5% yield. More importantly, if it hits it projected FY2012 earnings the payout ratio would be under 50% and dividends would be increased significantly.
The stock looks like it has bottomed at just below $10 a share, is showing increasing technical strength and just crossed it 200 day moving average (see chart).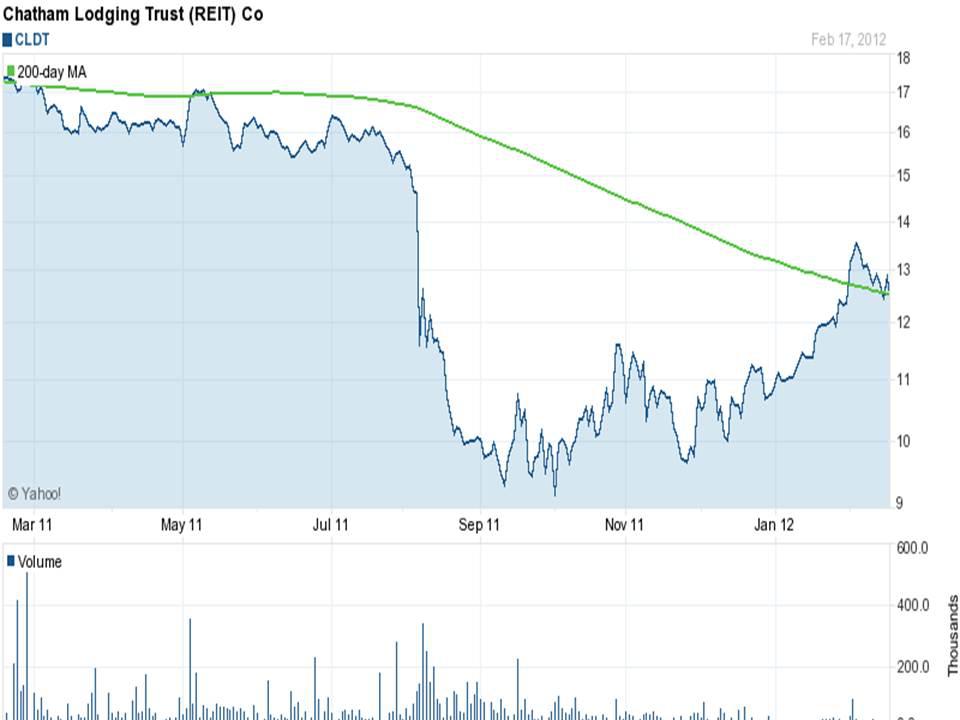 Click to enlarge
The stock has had significant net insider buying over the last year and a half; mostly at higher prices.
Extended stay hotels are expected to show good ADR growth in 2012 and Chatham's management is experienced and well respected. Its CEO used to run Innskeeper USA Trust from its inception in 1994 to its profitable sale in 2007. During his tenure, he grew the company from 7 hotels to 74 at time of sale (From the company's website).
The mean analysts' price target on CLDT is $16.75 and revenue growth is expected to surpass 30% in FY2012.
Disclosure: I am long CLDT.