Pest control in the U.S. is a thriving industry with over $12 billion in annual revenue and a growth rate of over 3% annually since 2010. The industry offers services such as the extermination of termites, cockroaches, bed bugs and rodents, in addition to containment and maintenance services. The driving force behind the industry especially as of recently is bed bug and cockroach infestations which made up over 55% of the industry's revenue in 2015. Since 2010, bed bugs have ranked as the top concern for pest control agencies, exceeding that of both termites and cockroaches. The amount of residences and businesses affected by these infestations continues to creep up and is not showing any signs of slowing down. The global bed bug resurgence is being attributed to increased international shipping and travel, stricter laws governing against pesticide use as well as resistance to pesticides. While bed bugs and cockroaches are every homeowner and hotel owner's nightmare, they are the exact opposite for the flourishing pest control industry which now employs 115,000 people in the U.S. alone. Itching to find out how to profit from this growing industry? Look no further than ServiceMaster (NASDAQ:SERV).
ServiceMaster, headquartered in Memphis, Tennessee is a provider of a vast array of residential and commercial services ranging from home warranties and cleaning services to termite and pest control. Its most recognized brands include but are not limited to: Terminix, Furniture Medic, Merry Maids and American Home Shield. From 2010 to 2015, it has shown a 12.3% compound annual growth rate on its adjusted EBITDA, and a 5.1% CAGR on its revenue. Its Q3 earnings release showed exceptional numbers with margins coming in over 22% and revenue of over $700 million in the third quarter, compared to $664 million the previous year. These outstanding numbers resulted in adjusted EPS of $0.54 in Q3 2015, compared to $0.46 in Q3 2014, a whopping increase of over 17% year over year. One of the most impressive statistics about ServiceMaster is its customer retention rates of 80% the past 5 years across 85% of its revenue stream (Terminix and American Home Shield). Customer acquisition can be extremely expensive for companies, therefore holding onto existing customers and keeping them content is a massive cost savings exercise which helps to fuel its already high margins.
ServiceMaster is positioned to capture most of this industry's growth, thanks to its largest and most profitable segment, Terminix. Terminix, making up over 50% of its total revenue, operates in 47 U.S. states and 22 countries and is the leading provider of termite and pest control services in the U.S. currently. Terminix is the market leader with over 21% of market share, ahead of Rollins (NYSE:ROL) in close second with 19%. Rollins just reported very strong earnings for its Q4 and full year on January 27th with net income up over 5% and 10%, respectively. It's hard to imagine ServiceMaster falling short of expectations with its direct competitor reporting such phenomenal results in a market they both share. Terminix's trailing twelve-month revenue is $1.4 billion as of its Q3 2015 earnings report, with an impressive 4.5% compound annual growth rate on that revenue. With the pest control industry in the U.S. growing at a 3% CAGR since 2010 and Terminix revenues growing at 4.5%, it is clear that Terminix is doing something right and taking advantage of as much market share as possible.
In addition to ServiceMaster's large footprint in the pest control industry, it's well diversified due to being a market leader in home warranties as well. It currently has 42% market share in the U.S. and is 4 times larger than its largest competitors in the space. It's rare to find a more impressive company fundamentally than one which is a market leader in two growing industries with four additional other segments to further diversify and de-risk them. In a broader market where only the strongest are surviving, ServiceMaster seems positioned to take a bite out of more market share and more all-time highs in the near future. The company is scheduled to report its Q4 earnings on February 25th at the end of this month.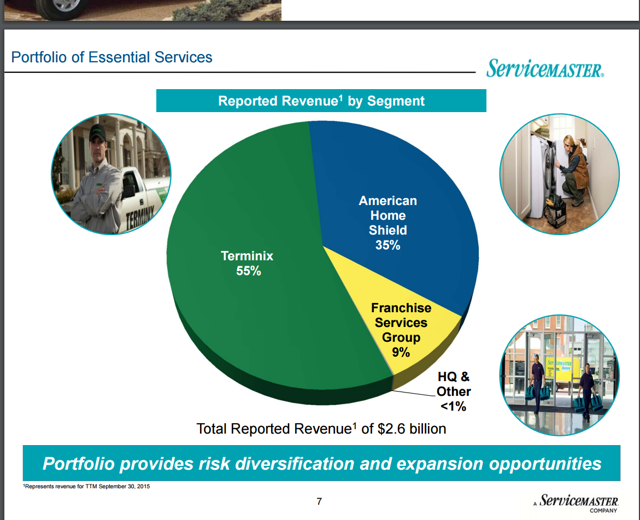 Click to enlarge
Friday, January 29th marked a significant day for the stock technically as it made a new weekly high close on over 120% of average trading volume. ServiceMaster is now up over 5% for the year while the S&P 500 is down just over 5%, showing significant outperformance on the part of ServiceMaster. The stock pulled back to its 200-day moving average earlier in December of 2015 while the market swooned but has since left the weak hands who exited the stock at the lows over 20% behind.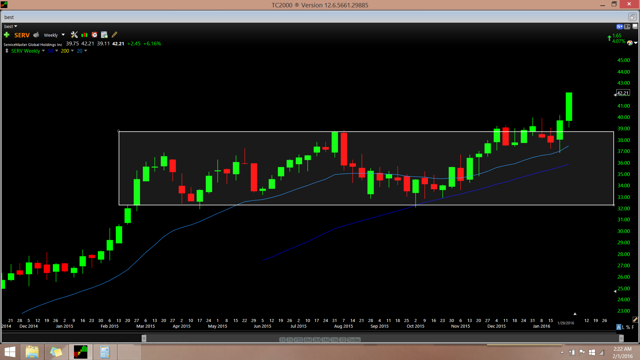 Click to enlarge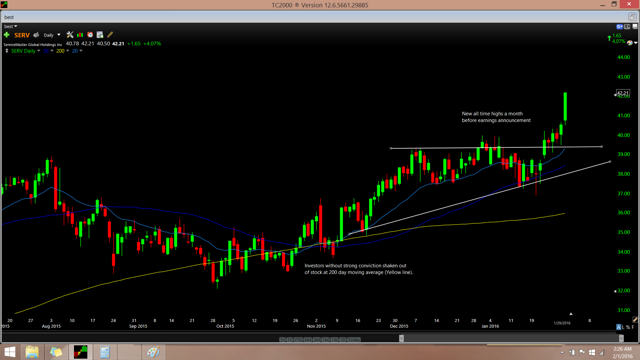 Click to enlarge
I believe 2016 will be a very strong year for ServiceMaster as investors are forced to be more selective and find stocks deviating from the overall downward market trend. It's not often you see a stock breaking to new daily, weekly and all-time highs while the U.S. market has one of its worst starts to the year in history. Investors should eventually take notice possibly after the February 25th earnings announcement shows more of the same impressive results and ultimately propels the stock higher. At a P/E ratio of 35, the stock may seem expensive to some value investors, but Amazon (NASDAQ:AMZN) also seemed expensive at a 50-100 P/E, yet is now sitting at a 450 P/E even after a 15% correction. While ServiceMaster is not a tech company and it's not likely it will see a P/E of over 100 anytime soon, a move to a P/E of 50 and a share price near $60 wouldn't be unattainable. The market is clearly taking note of ServiceMaster's technical and fundamental leadership, evident by increased trading volume at new all-time highs.
Disclosure: I/we have no positions in any stocks mentioned, but may initiate a long position in SERV over the next 72 hours.
I wrote this article myself, and it expresses my own opinions. I am not receiving compensation for it (other than from Seeking Alpha). I have no business relationship with any company whose stock is mentioned in this article.