Caterpillar (NYSE:CAT) has been absolutely pummeled in the past couple of years by a confluence of negative factors that have caused its revenue and profits to shrink dramatically. I've been very bearish on CAT for as long as I can remember as the company's business is dependent upon commodity prices giving producers around the world incentives to buy equipment. The fact that the commodity sell-off is still going strong means that CAT's business is structurally impaired until further notice but optimism from some buyers after the Q4 report has me wondering if $56 was the bottom for CAT.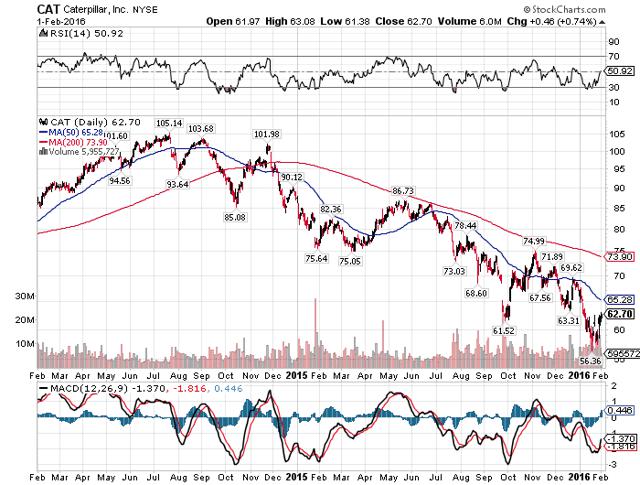 Click to enlarge
CAT's impaired business model has been in place for some time and despite the fact that CAT has looked 'cheap' for a while as it has come down, it has been a classic value trap. The company's business continues to suffer and indeed, Q4 saw a worsening of many metrics for CAT, not an improvement, as the stock price would suggest.
Revenue was down a whopping 22% in Q4, something that has become somewhat normal for CAT and others with fortunes tied to commodity prices. The fact that a loss of 20%+ in revenue is not shocking to anyone speaks to the magnitude with which CAT has declined; this business is in freefall. This is the first step towards building the bear case for CAT; I've argued for a while now that the company's revenue base is impaired and recent retail sales data corroborates this. The company's top line is getting worse instead of improving, meaning that the bottom is potentially not in for CAT. The fact that commodities remain at very low levels in general and the fact that sales are showing no signs of bottoming means that the first leg of the bear argument is still very much intact.
In addition, I've mentioned in the past that CAT's operating margins continue to decline as revenue falls and operating expenses aren't cut quickly enough. CAT has been cutting costs for some time after management realized there is no foreseeable bottom for its sales and while that is certainly helping, expenses aren't falling as quickly as revenue, meaning that operating margins are falling at a time when the revenue base is shrinking. That is the worst possible outcome as it means that profits are falling even more quickly than revenue is. Operating costs fell 15% during Q4 but remember that revenue fell in excess of 22%, further deteriorating operating margins. That means the second crucial tenet to the bear thesis is also well intact and that means more pain may be ahead for CAT.
CAT continues to cut jobs to save costs and while this is necessary at a time like this, it is not going to solve anything as long as revenue continues its freefall. In addition, CAT runs the risk of over-cutting; the idea that if/when the cycle bottoms and turns around, CAT will have cut too much to fully take advantage of it. It is impossible to know if CAT has reached that point yet but with guidance from management for 2016 being nothing short of ugly, it is certainly a risk.
Speaking of guidance, management thinks it can hit $4 of adjusted EPS on revenue of $40 to $44 billion. Once you strip out an accounting change the numbers are essentially at consensus. And before you get all excited that maybe 2016 isn't going to be that bad, remember that CAT missed its own sales guidance for 2015 badly, to the tune of $3 billion. So just because management is taking another wild shot in the dark at forecasting revenue for 2016 doesn't mean it will end up close to what actually happens.
I think the outlook for CAT in 2016 is really no better than it was last year. The commodity cycle hasn't bottomed yet and producers of all kinds are still cutting capex. That's very bad news for CAT and will continue to be until the cycle bottoms. At the end of this down cycle - when the dust has cleared - CAT will likely see a huge, powerful rally that may last for a long time. Something akin to the downtrend we've seen for the past ~2 years or so could easily happen but in the other direction. However, in order to see that happen we need for the commodity cycle to reverse course in a sustainable way and we need CAT's revenue guidance to perk up. Right now, there is nothing but continued negativity and that means that 2016 is going to be rough.
The one thing CAT has going for it right now is its 4.9% yield. That is certainly nothing to ignore as yields that high are normally reserved for companies that are on their way out. But CAT's yield is sustainable as the company is not going to go out of business even if this cycle doesn't turn around for another couple of years. And CAT's management will surely defend the dividend at all costs if push comes to shove so I feel the only reason to own CAT right now is the payout. If you are seeking income and want to hold for many years, you can do a lot worse than CAT right now. I certainly would not buy it with a time frame of less than 2 or 3 years at this point because things could continue to get a lot worse until they get better. But the dividend is safe and will continue to be barring some global depression and that is only the reason to own CAT.
I'm not a proponent of shorting CAT here because it seems to me that lots of bad news is already priced into the stock. While I don't doubt CAT could easily go materially lower from here - perhaps back into the mid-$50s - I think the risk/reward is balanced enough that shorting is no longer the prudent play. For shorts, I think it is time to declare victory and move on but for income seekers, CAT's yield is very enticing. That's the play here; if you have a long time horizon and want a great yield, CAT is potentially for you. Just don't expect any miracles on the capital appreciation front until the commodity cycle bottoms.
Disclosure: I/we have no positions in any stocks mentioned, and no plans to initiate any positions within the next 72 hours.
I wrote this article myself, and it expresses my own opinions. I am not receiving compensation for it (other than from Seeking Alpha). I have no business relationship with any company whose stock is mentioned in this article.