Some Orexigen (NASDAQ:OREX) investors may be a bit stunned with the sales numbers of Contrave this week. Sales have come down by about 1,000 scripts from the numbers at the beginning of 2016. Investors that were hoping for "tremendous," "huge," and "big" growth in script sales volume may be getting an early taste of what 2016 will deliver. Investors would be well served to listen to the company and analyst guidance that 2016 will deliver modest sector growth.
This past week Contrave saw sales dip 1.28% to just under 14,000. This is a sharp contrast to a number that was over 15,000 just a few weeks ago.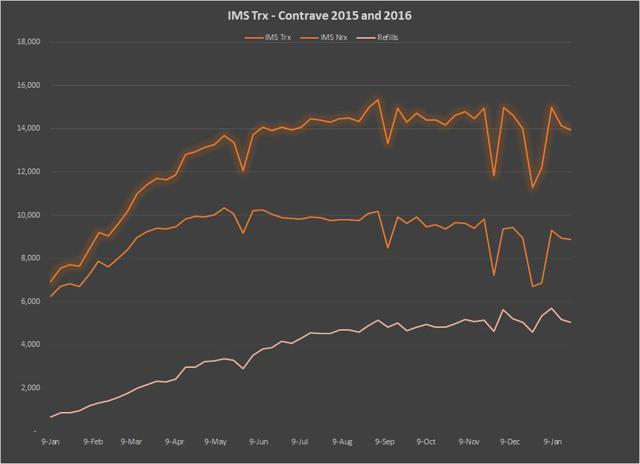 Click to enlarge
Chart Source - Spencer Osborne
On a quarter over quarter basis we see that Contrave sales are just about dead even in Q1 of 2016 as the were in Q4 of 2015. This performance can not be classified as positive. The fourth quarter is typically the weakest of the year. Being in a position where the current quarter is barely ahead of the weakest is not the kind of data that drives this equity upward. Currently Contrave sales are 0.29% ahead of the previous quarter.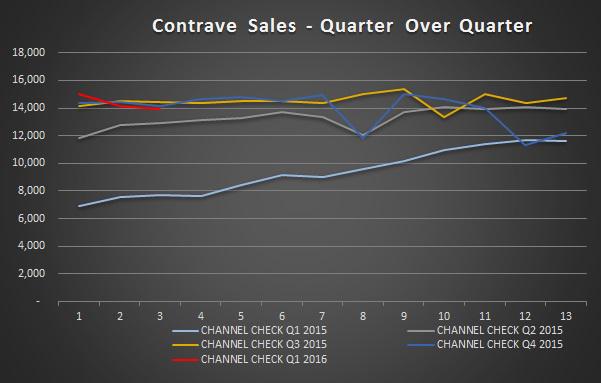 Chart Source - Spencer Osborne
The year over year statistics for Orexigen are not really representative of what has been happening in this sector over the last 6 months. Certainly the year over year numbers will look good right now, but that is more of a function of where Contrave is in its launch rather than any "outstanding" performance. At the moment Contrave sales in Q1 of 2016 are 94% better than Q1 of a year ago. If current sales trends remain in tact, that impressive year over year statistic will lose luster over each passing week.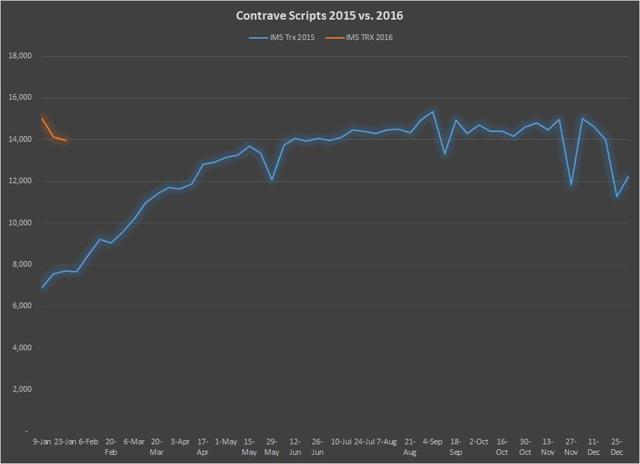 Click to enlarge
Chart Source - Spencer Osborne
In looking at market share, Contrave has a very distinct advantage. Market share slipped slightly last week from 43.37% to 43.15%. This metric is moving the wrong way for Orexigen, and needs to shift upward if this drug is going to try to dominate the sector. In my opinion, sales of Contrave were shy of the 45% that they should have been at to deliver equity appreciation by the end of last year. As things stand now, getting to 47.5% in Q1 may well be a challenge unless there is a stark shift in sales dynamics.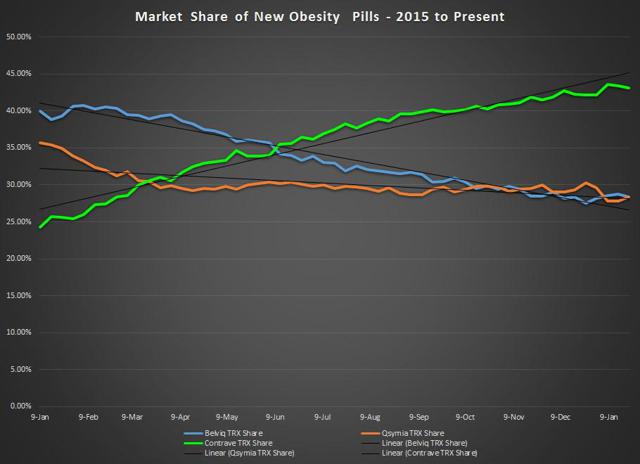 Click to enlarge
Chart Source - Spencer Osborne
In my opinion Orexigen needs some drivers in order to allow for equity appreciation. With no pipeline to speculate on, investors must shift to a launch in South Korea and Europe as the centers for sales growth. The company has a partner in South Korea and the drug is under application there. In Europe, Orexigen has been unable to secure a partner and has announced intentions of launching in selected markets by itself.
It is my opinion that critical elements of 2016 rest in uncertainties. Will South Korea approve Contrave? Can Orexigen's partner deliver higher sales that Arean's (NASDAQ:ARNA) Belviq in that nation? Can select markets in Europe come on line in a cost effective manner? Will Contrave (marketed as Mysimba in Europe) sell well in these select nations? The company expects modest growth in 2016, but a lot of those numbers are tied to assumptions of additional launches.
In my opinion toss the words "tremendous," "huge," and "big" out of the window on sales. There could be a speculative play here with other launches, but there is no guarantee that these launches will deliver anywhere near what is needed to drive substantial equity appreciation. Stay Tuned!
Disclosure: I am/we are long ARNA, OREX.
I wrote this article myself, and it expresses my own opinions. I am not receiving compensation for it (other than from Seeking Alpha). I have no business relationship with any company whose stock is mentioned in this article.