(Editor's Note: There is much greater volume on the London exchange under the ticker CMBN)
Summary
Company: Cambian Group plc (LSE:CMBN) (OTC:CMBGF)
Position: Long equity
Thesis: Cambian is significantly undervalued based on the value of its real estate property
Share price as of 29th January 2016: £1.1625
Upside potential: 55-100%
Note: I am long this stock
Summary of Investment Idea
Cambian Group, a UK-based operator of specialist care facilities for adults and children requiring assistance, has seen in October 2015 its share price drop by ~50% as a result of profit-warning. Currently the shares trade at 50% of their listing price. The company owns quasi all properties in which it operates, the book value of which is £372m and market value assessed a year ago by a 3rd party is ~£600m. The company's valuation is significantly below the assumed value of the assets, thus creating a great opportunity for investors to take advantage of market's overreaction to the profit-warning.
Company Description
Overview
Cambian Group plc provides specialist behavioural health services to adults and children in the United Kingdom. Its services include specialist mental health, acquired brain injury, specialist learning disability, specialist residential care, and specialist education services, as well as fostering services. The company was founded in 2003 and is headquartered in London, the United Kingdom.
Financials (2016E)
Revenue of ~£332m (15% Growth); EBITDA of ~£57m (17% Margin); EBIT of ~£37m (11% Margin)
Employees: 6,800; No. of places (beds): 2,750; Capacity utilization: 80%
Valuation (Capital IQ)
Market Cap of £205m; TEV of £436m
TEV/'16E EBITDA 6.8x; TEV/'16E EBIT 11.9x; P/E 7.4x (high leverage)
Ownership
Free float: 56%; GI Partners (San Francisco-based private equity firm), Kabouter Management (Chicago-based hedge fund): 44%
Investment Thesis
Undervalued real estate portfolio
In April 2014, Cambian Group listed ~50% of its shares on the London Stock Exchange. In terms of the IPO, the property management company Knight Frank valued Cambian's real estate property (250+ facilities such as schools, hospitals, specialist care facilities) at £577m; Cambian acquired some additional assets since then. The book value of those real estate assets is £372m (Balance sheet as of 30 June 2015).
Cambian operates a large real estate portfolio of 286 buildings, comprising 26 schools, 38 hospitals, 219 specialist care and day facilities and 3 fostering offices. Since the company owns majority of its buildings, it saves on rent (only c 0.5% of revenue is paid on rent) and can benefit from land and building appreciation, especially for certain types of homes.
Given the company's current net debt of ~£231m and a market capitalization of just ~£205m, there is potential for share accretion just from reflecting the value of the property portfolio into the share price.
To accept or refute this apparent mismatch between the valuation of the real estate and current market capitalization, it is necessary to better understand the actual value of the property.
Valuation methodology: "Market value" is based on the profit methodology
Knight Frank values the company portfolio at £577m as of April 2014 and has used the profit method: "We have valued the property by reference to the profits method as this is the basis on which such properties are commonly bought or sold… The guidance assumes that the existing use of the property will continue." The profit method reflects the conditions of the real estate and the profits which can be derived from it on a going-concern basis and is thus rather subjective and subject to changing market conditions (e.g. increasing minimum wages, necessary maintenance, lower than expected utilization etc.) What this method does not do is to assess the value of the assets in a "stop operation and sell" scenario which would reveal the true "minimal" value of the assets.
I believe that the key to the valuation of Cambian lies in this exact definition which creates pressure onto the property's value which is lower than the supposedly market value (£600m) repeated by the management.
Valuation based on market value of the company's real estate assets
The above-described property is valued at the company's balance sheet at its historical value of £372m (as of June 2015). As mentioned, management and equity research estimates the current market value to be above £600m. This value is based on the £577m value assigned by the independent property management company Knight Frank in early 2014 and on additional acquisitions the company executed in 2014 and 2015.
Due to issues mentioned above, it is questionable if the properties could be sold at the full price estimated by Knight Frank. As can be seen in the table below, the current market value of the company corresponds to a 27% decrease in the property value, making the operating part of the business worthless or money-losing.

What is an appropriate discount to the real estate's value?
Sale and lease back analysis
An alternative way to estimate the property's value would to perform a "sale and lease back" analysis. Assuming 2016 EBITDA of £57m, £15m of central management fees, rent coverage of 2.0x and a cap rate of 8%, the value of the property is ~£265m (vs TEV of £436m). Rent coverage of 2.0x and yields of ~8% (ranging from 6.75% for private acute hospitals to 8.5% for specialist schools) is the standard for acute care homes and mental health houses as per Knight Frank (see appendix).
On top of this, let's assume a relatively conservative multiple for the operating side of the business. As the analysis below shows, the appropriate value of the business is approx. £1.20 per share (ie. very close to the current market share).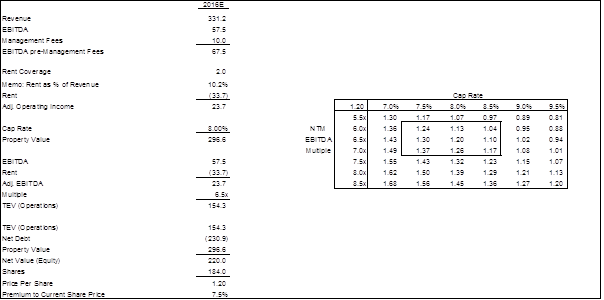 DCF valuation
To complete the valuation part, I have performed a DCF analysis, despite it being in this case subordinate to the property valuation part. I have adopted a 10-year DCF with an important terminal value to account for the long-term nature of this business and high capex. DCF valuation estimates the value to be ~£2.20 per share, i.e. a ~98% uplift to last closing price. Assumptions used below are more conservative than current equity research which estimates the company to be fairly valued at ~£2.80 per share.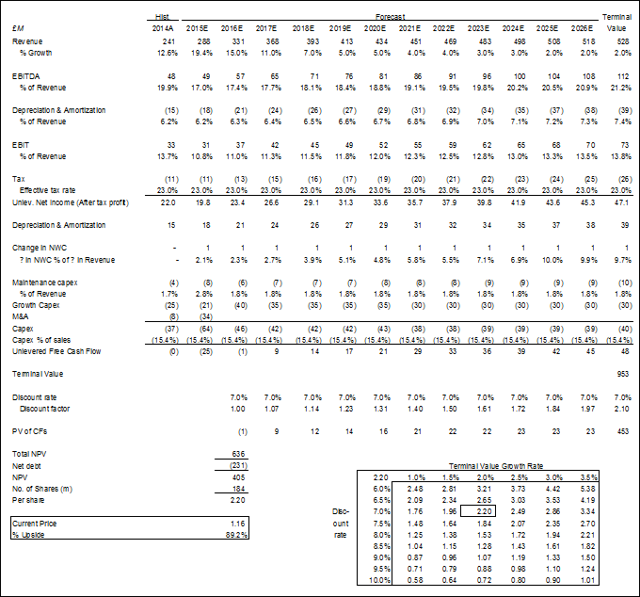 Attractive valuation vs Peers
To complete the valuation section, let us look at comparables. As can be seen from below, the company trades at a significant discount to its comps. The challenge is that the company does not have a good set of direct comparables and thus the below-mentioned trading multiples should be taken with significant caution. The differences are coming from the various business models (Cambian specializing on patients scoring 7-9 on a 0-10 severity scale vs its closest comp CareTech is focusing on lower acuity patients; Acadia is much larger with >430 facilities and >40,000 beds etc.).
Probably the best point estimate is the recent (January 2016) acquisition of the UK private company Priory by Acadia, the listed operator of inpatient facilities. Acadia acquired Priory at 11.3x 2015 EBITDA or 2.6x 2015 sales. Such multiples represent 50-140% price uplift for Cambian, should it be also acquired at such valuation.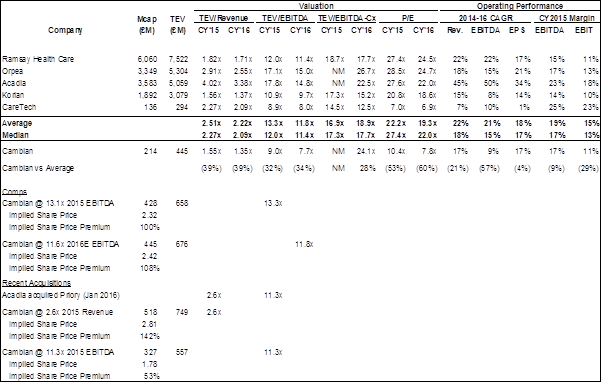 Valuation Summary & Recommendation
The various valuation methods yield share price between ~£1.04 and ~£2.81 with an average around ~£2.00. As such, I recommend to purchase Cambian as the company is undervalued, even given a number of risks, and as such represents a 55-100% upside potential.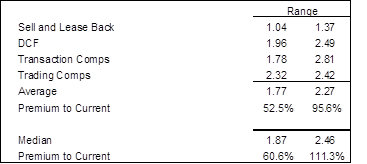 Catalyst
A possible catalyst for the realisation of the value will be Q1 results commentary and full H1 earnings announcement of improved results, higher utilization and the ability to recruit personnel, despite paying higher salaries.
Additionally, the company represents a cheap acquisition target for larger companies in the sector. A January 2016 acquisition of Acadia by the UK-based Priory would value Cambian at £1.78-2.81 per share vs current share price of £1.16.
Risks
Behaviour of investors is detached from the underlying value of the firm's assets
Current investors are applying a significant discount to the company's share value. This is due to the October 2015 CEO announcement of a profit warning, impacting the 2015 EBITDA margin. It is unclear if the EBITDA margin drop from ~20% in 2014 to ~17% in 2015 is a one off or is of a structural nature. Investors seem to be preoccupied by this which weighs on the shares.
The CEO explains the drop in profitability to be the result of "(1) Increased development losses as the company has grown more aggressively organically this year, i.e. more beds have been added and are not yet profitable. These development losses have increased by £2m (from £3m to £5m). (2) Inability to add sufficient numbers of new staff and therefore reduced admissions in the Children's business." (JPM, Oct 2015). The first issue will stabilize itself within 24 months as the new facilities reach maturation. The second issue represents a more structural challenge in the form of increasing opex (wages).
Investors' focus on the operational side of the company is by all means justified but applied discount seems significantly exaggerated. The risk of trading into the stock is that investors simply value the company based on a 30-40% EBITDA multiple discount and it might be impossible to change this.
Low trading volume
Daily trading volume is just 0.79m shares which represents <1% of the company's free float. This is a clear negative as any larger trading would impact pricing and prohibits moving fast in and out. The company is under the radar of most investors and is too small to be of any significant focus of major investors.
Regulatory environment
Virtually all (99%) of the company's revenue are coming from government-funded payors, be it the NHS (31%) or local authorities (69%). Current regulatory environment and trends (increasing participation of patients on fees) can be detrimental to the company's ability to attract clients.
Rising operating costs
One reason for the company's increased opex in 2015 was the firm's inability to recruit personnel. This can be solved partially by offering higher wages which will push margins further down, thus weighing on the operational performance of the company.
Note: this analysis takes a simplified approach to revenue and opex built up as the main thesis is that the real estate is undervalued.
Current Ownership
Currently, the main owner (apart from Free float) is the PE fund GI Partners, a well established PE fund. Most likely, given the IPO date of April 2014, this fund is still locked in, or its lock-in is about to expire. Should the fund want to exit its position, which is however unlikely given the depressed price, it would trigger a sell off and substantial price erosion.
Diligence Areas
Understand operations
The company is focused on patients at the higher acuity levels, typically focusing on those with a 7-9 score out of 10. This providers good differentiation and thus also possibly higher margins. It is, however, necessary to understand providers across the spectrum.
Furthermore, while the website and general research into the care industry reveal some interesting observations, overall understanding of operations, how centralized the facility management is and how costly the care is, is crucial for us in order to be able to underwrite the multiple at which we value on-going operations.
Understand capital intensity and margin potential
Currently, the company spends less than 10m in maintenance capex. However, the company also spent 46m over the last two years in growth capex and additional 42m on M&A. It is necessary to understand the effectiveness of the maintenance capex spending and growth capex. At first sight, it appears that the company benefits from high return on capital, achieving a ROCE of 25-35%. Consequently, it makes sense to invest and grow the business but we should spend more time understanding how quickly properties reach maturities and thus their full margin potential.
Understand regulatory risk
Given increased regulatory requirements in the sector, we see potential for smaller providers to exit the sector, offering potentially interesting acquisition opportunities for Cambian.
Understand leverage
Currently, the company is levered at ~4.7x LTM EBITDA and a very high ~20.1x 2016 EBITDA-Capex. This high leverage represents a major issue as any, despite relatively minor headwind impacting the company's operations (such as increasing minimal wage). What are the debt covenants? Would banks give covenant holiday for some time?
Appendices
Appendix A: Size of properties
What is crucial to mention is that the size of most of the buildings is rather small. On average, there are ~13 beds per establishment. The chart below represents the distribution for 1,863 beds within 89 establishments for which details are available.

As can be seen, more than 60% of buildings are of smaller size, accommodating less than 20 clients. Approximately 25% are of medium size and only 12% are of large size, often larger schools offering for example a 38-week day placements for students aged 11-17 years with autism with a capacity for 50 people.
Appendix B: Purpose-fit vs generic buildings
It is important to understand to what extent these properties are purpose-fit buildings or easily refitted, general purpose buildings. The latter is obviously preferable. Obtaining detailed report from Knight Frank is crucial as well as maybe a workshop session with them.
The conclusion of the Knight Frank report mention that 106 "properties [owned by Advanced Childcare Holdings Limited] are principally residential properties in areas of low asset values and limited demand". This represents a major drag on the current market value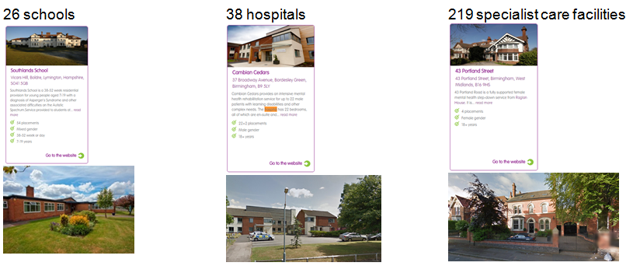 Source: Cambian
Appendix C: Location of properties
Another important characteristic to evaluate is the location of the mentioned properties in terms of their concentration and relative price of real estate in their surroundings. The map below contains the location for 80 properties listed on the company's website, 3 of which, in red, represent more than 5% of the total property value of £577m, i.e. are valued each at more than £29m. The second map contains data from the Land Registry showing the appreciation in value of the land and property over the last year.

However, as can be seen on the map and confirmed by Knight Frank's report, the majority of the buildings are located in residential areas of low asset values and limited demand. To our consolidation, the valuation is based on a possible obtainable value after appropriate marketing of the property. Nonetheless, it leaves us with hesitations as to how quickly can those properties be digested by the market, should a sale be necessary.
Appendix D: Rent Cover and Cap rate
Source: Report, Knight Frank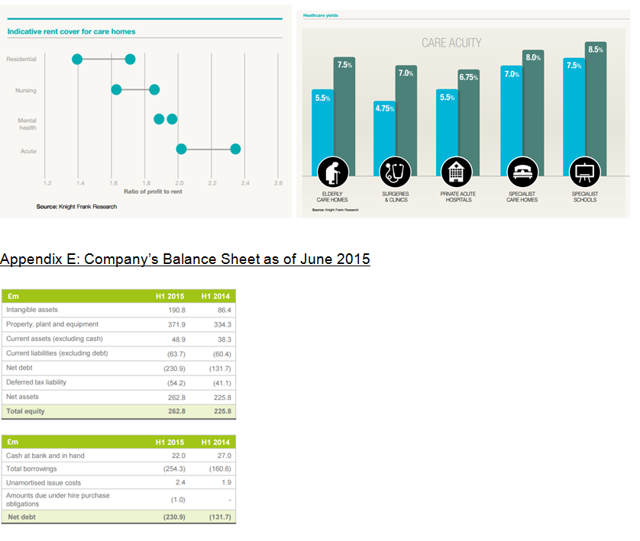 Source: Cambian
Disclosure: I am/we are long CMBGF.
I wrote this article myself, and it expresses my own opinions. I am not receiving compensation for it. I have no business relationship with any company whose stock is mentioned in this article.