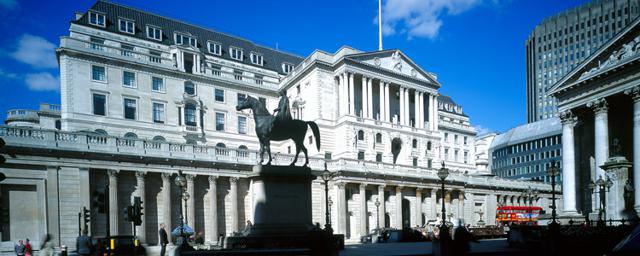 Click to enlarge
The Bank of England is largely expected to keep interest rates on hold this Thursday. Economists believe that the low inflation levels the United Kingdom is experiencing is holding back rate rises.
But when the Bank of Japan shocked markets this week with its negative rates decision, it proved that anything can happen. Could we see a rise from 0.5% on Thursday or will the Bank of England keep things unchanged for the 83rd consecutive month? Could the unthinkable even happen and the Bank of England cuts rates?

Click to enlarge
Sourced from Trading Economics
The interesting thing about this decision is that while everybody is watching and waiting patiently for rates to rise, someone within the Bank of England's ranks is pushing for a rate cut. If a rate cut did occur, then the decision would be right up there with Japan's last week in terms of potential market shock. The person in question is the Bank of England's chief economist Andy Haldane who has been pushing for rate cuts for several months. Mr Haldane believes that there are signs that the global financial crisis is entering a third phase of turmoil. Rate cuts would without doubt boost the iShares MSCI United Kingdom ETF (NYSEARCA:EWU), much in the same way the Nikkei 225 (OTC:NTKIF) leapt up at the end of last week following Governor Kuroda's decision.
But what are the chances that this will happen?
In December the global growth outlook for 2015 was slashed to just 2.9% by the Organization for Economic Co-operation and Development. This is well below its long-term average and created a lot of economic uncertainty. The world was hoping for an improvement in 2016, but unfortunately last week the International Monetary Fund cut its growth forecast too. Revising it down to 3.4% for 2016 and 3.6% for 2017.
Mr Haldane has stated that a slowdown domestically, as well as risks to the global economy from China, and the stock market chaos has sent shockwaves through world markets. He feels that the Bank of England may have no choice but to make an unconventional move to protect the economic recovery of the United Kingdom. This unconventional move would be rate cuts.
This is the opposite view to Governor Carney who has long hinted at rate rises this year. He even was so bold as to warn consumers not to binge on cheap money because higher borrowing costs would be coming.
There is little doubt that a cut to rates would bring about a boost to investment and spending which could be very helpful to the United Kingdom. But it could also keep it locked into low rates for far longer than it wants to. At a time when both the U.K. and United States are struggling to escape from life with low rates, cutting them further seems like the last thing they would want to do.
The U.K. economy has been performing reasonably well. We would expect to see around 2.25% growth from the economy, driven by consumer spending and business investment. The effects of this should lead to employment growth (which is already at a good level), resulting in demand that causes wage growth. It is worth mentioning, though, that wage growth has been notably slower for the low level of unemployment we are seeing. It could be that wage growth could be lagging at present, so sitting tight might be the best thing it can do.
What to do from here?
We would not expect the Bank of England to initiate rate rises until inflation its at least 1%, which at this rate could now be the end of the year or early 2017. We feel this thinking has been priced into the market now, which does leave things hanging precariously for Thursday's decision. Anything either side of holding the rates steady is going to cause a large move.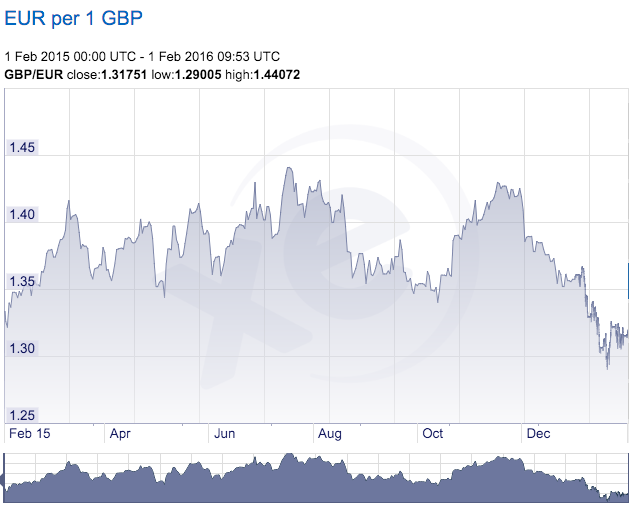 Sourced from XE.com
The British pound sterling versus the Euro would be a good play in our opinion. Our long term forecast is for the GBP to continue to strengthen against the Euro. So with the most likely decisions being a hold, followed by a rate rise, going long the GBP is a reasonably sound move with limited downside.
We feel at this time it would be wise to protect any trades against an unconventional move no matter how unlikely it may seem. The Bank of Japan this week proved anything can happen.
Disclosure: I/we have no positions in any stocks mentioned, and no plans to initiate any positions within the next 72 hours.
I wrote this article myself, and it expresses my own opinions. I am not receiving compensation for it (other than from Seeking Alpha). I have no business relationship with any company whose stock is mentioned in this article.
Editor's Note: This article discusses one or more securities that do not trade on a major U.S. exchange. Please be aware of the risks associated with these stocks.