It has been nearly nine months now since stocks last peaked. Since that time in late May, the stock market as measured by the S&P 500 Index has been down nearly -10%. But not all segments of the market have been down over this more challenging time period. In fact, one industry has been performing quite well, as many food stocks have been in their glory over this same time period.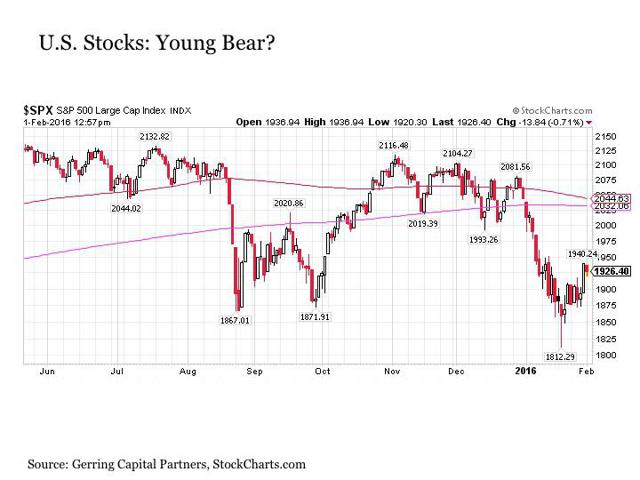 Click to enlarge
The relative outperformance of food stocks is not necessarily surprising, as they have a history of performing well during more prolonged periods of stock market decline including during the early stages of a new bear market. And investors may be well served to focus on food stocks for opportunity going forward. But following what has been a strong nine month run after what has already been a fairly frothy bull run for the broader market, it is important for investors to be discriminating when selecting stocks from the sector going forward.
Strong Relative Outperformers
The strength of the recent move among a number of food stocks since the May 2015 S&P 500 Index (NYSEARCA:SPY) peak has been impressive and in some cases breathtaking. A select group of stocks known for their higher quality and relatively lower price volatility have performed particularly well. The following is a gallery of notable performers from the food space relative to the S&P 500 Index since the May peak.
The first is PepsiCo (NYSE:PEP), which has thrashed back and forth between gains and losses but to date is more than +3% higher since the stock market peak.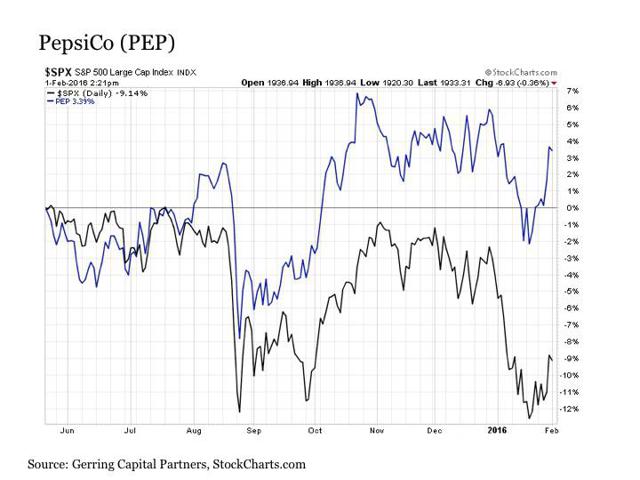 Click to enlarge
The next is Kraft Heinz (NASDAQ:KHC), which has been holding its ground on a double-digit advance despite a prolonged sideways move in recent months.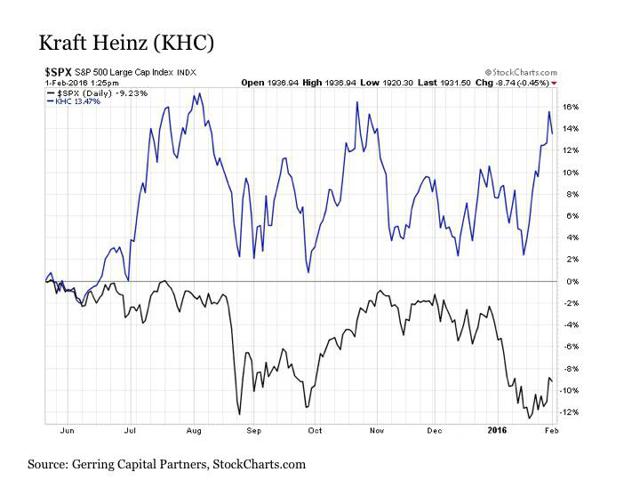 Click to enlarge
The next upside mover from the food space in Kellogg's (NYSE:K) has been far more impressive, bolting nearly +18% higher in contrast to the broader market direction over this same time period.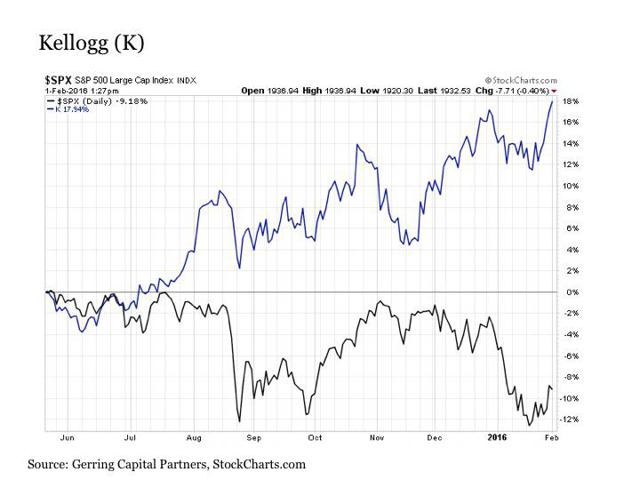 Click to enlarge
Gains for Tyson Foods (NYSE:TSN) have been even more impressive, as the stock has advanced +26% since the broader market peak thanks in large part to a late November surge.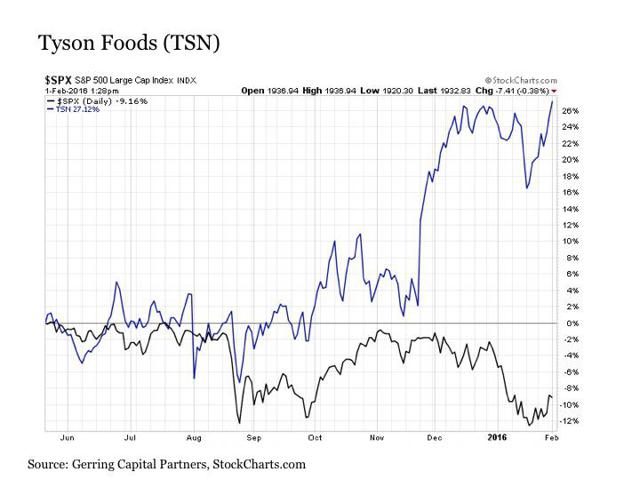 Click to enlarge
Even more impressive has been the sizzling performance of Hormel Foods (NYSE:HRL), which is up by nearly +50% since the market peak less than nine months ago.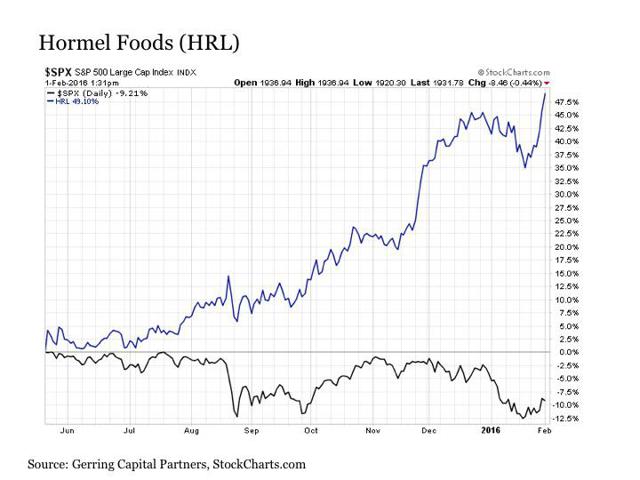 Click to enlarge
Then there's Campbell Soup (NYSE:CPB), which has jumped by nearly +25% over the same time period.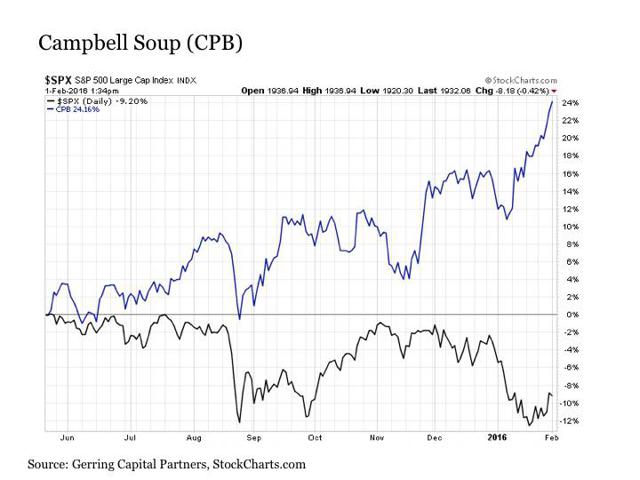 Click to enlarge
And for one more, we have McCormick (NYSE:MKC), which despite some bouts of volatility along the way has advanced by double-digits to date since last May.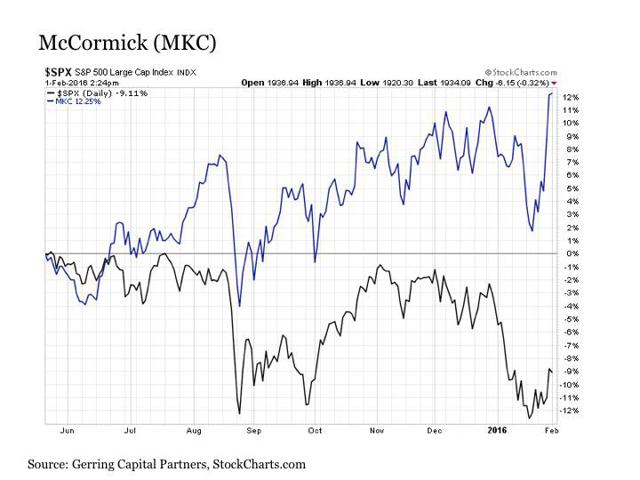 Click to enlarge
Overall, it has been a tremendous run for food stocks at a time when the broader market has been licking its wounds.
Food Price Inflation
Now comes the hard part. With the exception of Tyson Foods, I have owned all of the names highlighted above for extended periods (and this is not necessarily a knock against TSN, as I have considered it on a number of occasions along the way). Some are among my favorite names in the stock market universe, blending high financial quality with predictable earnings growth, relatively low price volatility and steadily strong dividend increases. But they all face a similar problem today to varying degrees. They are all now blisteringly hot from a valuation perspective.
Let's begin with PepsiCo. This is among the more reasonably valued stocks in the group, and it is trading at 30 times trailing twelve month earnings, which is a notable premium to its historical average valuation at just above 19 times earnings.
Kraft Heinz is trading at 22 times twelve month forward earnings and more than 3 times sales, both of which are rich relative to a broader market that is trading at rather frothy in its own right 17 times forward earnings and 1.8 time sales.
Kellogg's is now trading at nearly 2 times sales versus its historical average of 1.5 times.
Tyson Foods is currently trading at more than 18 times trailing twelve month earnings versus its historical average of around 13 times.
Hormel Foods is trading at nearly 32 times trailing twelve month earnings versus its historical average of around 21 times and has a forward P/E ratio at 26.4 times that is greater than the broader market by more than half. Moreover, the company now trades at 2.3 times sales versus its historical average of 1.3 times. Who knew that Spam could get so piping hot?
Campbell Soup is now trading at 28 times trailing twelve month earnings versus its historical average at around 17 times.
And McCormick is trading at 31 times trailing twelve month earnings versus its historical average of around 23 times and has a forward P/E ratio in excess of 22 times.
These are all great companies mentioned above, but they are all trading at valuations that are now in some cases more than 50% above their historical averages. This brings to light an important point.
Playing Defense, But At The Right Price
Food companies provide investors with a great way to play defense during periods of greater downside price volatility for the broader market. But deriving a sustained benefit from such stock portfolio diversification means that investors must also keep a watchful eye on valuations, for food stocks are also not immune to getting frothy in their own right under certain market conditions. For by being priced at such a significant premium, they too become exposed to the potential for nasty downside volatility on the next operational or market perception misstep.
Three recent examples demonstrate how swift the downside can strike upon reaching such lofty valuations.
The first is specialty food maker Lancaster Colony (NASDAQ:LANC), which is now down more than -15% from its recent January 2016 peaks after quarterly results that proved disappointing to investors. Despite the recent decline, the stock is still trading at 26 times trailing twelve month earnings versus its historical average of 21 times and still has a forward P/E at more than 23 times. In short, it is still expensive despite plunging recently by more than -15%.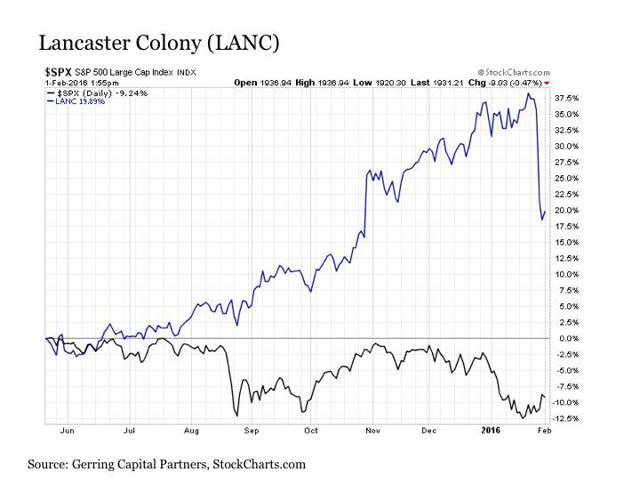 Click to enlarge
The next is Snyders-Lance (NASDAQ:LNCE), which was as much as +30% higher from the May 2015 broader market peak through late November and was trading at more than 37 times trailing twelve month earnings in the process. Since that time, the stock has fallen by more than -20% and entered into its own mini bear market, yet it still trades at a lofty 32 times trailing earnings versus its historical average in the 22 times range.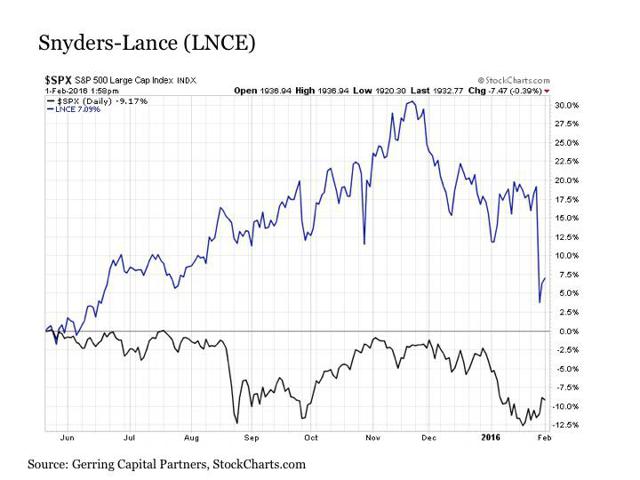 Click to enlarge
The third is J&J Snack Food (NASDAQ:JJSF), which had been higher since the broader market peak by as much as +14% through the end of October. But with a valuation running at more than 33 times trailing twelve month earnings by Halloween versus its 23 times historical average, it finally fell off the pace. Since that time the stock has surrendered all of its upside since the market peak and is now marginally lower over this time period to date. And despite the recent weakness over the past few months, the stock still trades at a premium 29 times trailing earnings and 2.1 times sales versus a 1.7 historical average.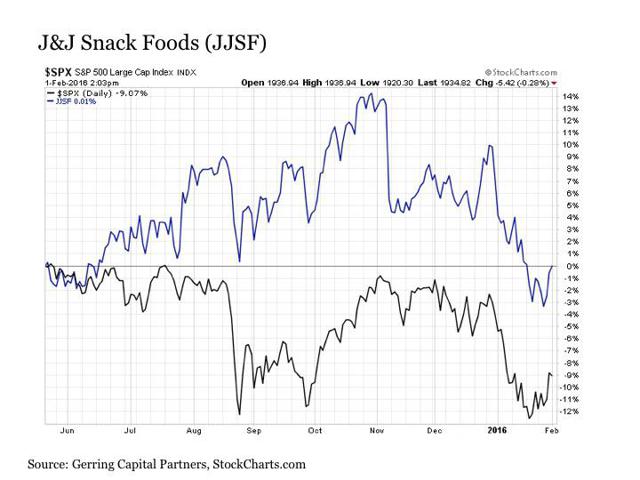 Click to enlarge
Bottom Line
The food industry has been glorious to investors over the last several months. And while allocating to the defensive segment is certainly worthwhile, particularly given the currently challenging market environment in which we are operating, investors cannot look past valuation in the decision to purchase and maintain holdings in these stocks. Valuations are at a notable premium across many names in the food industry, which is setting up the potential for some potentially nasty downside surprises for investors that may otherwise be seeking to hold a defensive and relatively safe allocation.
As a result, investors may be well served after this recently strong run in food stocks to evaluate the valuations and potential downside associated with current holdings and consider whether other names in the food space in particular or the consumer staples space in general may be better suited for their needs from a risk control and downside price volatility perspective.
In carrying out this exercise, one final word of caution. When considering food stocks, it is worthwhile to consider where the company is selling its products and whether it is a U.S. focused food company or a globally focused operation. For if a company is based in the U.S. but generates most of its sales from overseas, a stock holding in the company will come with a hefty dose of currency volatility exposure, which may be reflected it what appears to be an otherwise discounted absolute valuation.
So when indulging yourself in food stocks today, it is worthwhile to do so with added care given the valuation premium that now accompanies many of these names.
Disclosure: This article is for information purposes only. There are risks involved with investing including loss of principal. Gerring Capital Partners makes no explicit or implicit guarantee with respect to performance or the outcome of any investment or projections made. There is no guarantee that the goals of the strategies discussed by Gerring Capital Partners will be met.
Disclosure: I/we have no positions in any stocks mentioned, and no plans to initiate any positions within the next 72 hours.
I wrote this article myself, and it expresses my own opinions. I am not receiving compensation for it (other than from Seeking Alpha). I have no business relationship with any company whose stock is mentioned in this article.
Additional disclosure: I am long GIS and FLO from the food industry.