CIT Group Inc. (NYSE:CIT) is a Credit Services company with revenue of $2.63B and a market cap of $5.90B. Enterprise value of the company is $19.64B. With a market cap between $2 billion and $10 billion, many investors consider this stock a Mid Cap Value stock. Investors might consider buying a stock like this due to the value proposition provided by key metrics.
The recent sell-off in the common stock is presenting this value opportunity.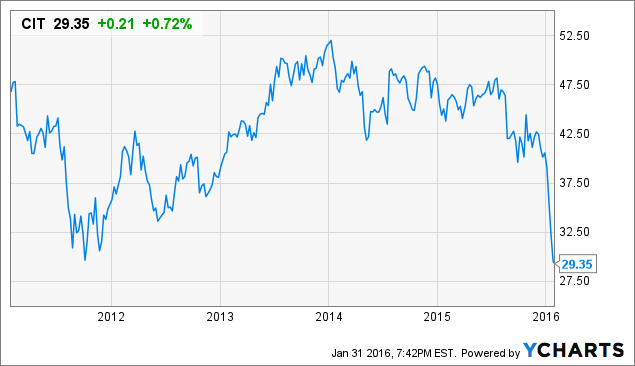 Valuation
To understand, P/E ratios, you must know that it is a simple division of price by earnings. Low P/E ratios show possible value. Stocks with a low trailing PE ratio present an opportunity to maximize value, which is evident from this stock's PE of 4.59. Clearly a value stock, the forward PE ratio is 8.02. The forward P/E ratio is simply price divided by estimated earnings. It is a preferred valuation measure by some investors.

Some investors with an eye for value will first look to the Price to Book ratio, which measure the stock's price versus equity book value per share. Value investors prefer lower P/B ratios. The measure of book value per share is currently $53.74. A value proposition may be present due to the low PB of 0.54.
The dividend yield of 2.04% may provide some support on the stock price, as dividend investors begin to take notice of the stock. The current ten-year Treasury yield of 1.93% is slightly lower than this yield and though the risk profile of these investments is different, a further decline in the stock price would drive up the yield and attract new investors.
Technical Perspective
Technical data can help an investor understand the stock's current momentum and pricing trends. With the stock trading near $29.14 per share, the stock is only 0.55% above the 52-week low of $28.98. In the past 52 weeks, the stock traded as high as $49.27 and the current price level is 40.85% lower than that high. With the current price below the 20 DMA ($33.85), 50 DMA ($38.57), and 200 DMA ($43.33), there has been a large sell-off beyond technical support levels in the past few days and months. If a stock is trading significantly below the 52 week high, it may indicate value. However, there may be a good reason for a significant drop. Furthermore, a stock trading at the top of a 52 week range may not be overvalued.

Price Target
This company reported earnings this week. Based on the precipitous price decline, investors expected disappointing earnings. While the company missed expectations, it did report a profit of 72 cents per share. While the price is low relative to book value, the forward P/E ratio gives little wiggle room on the valuation. Therefore, wait until a positive confirmation before buying. A $36 price target appears fair in the short-term.
Disclosure: I/we have no positions in any stocks mentioned, and no plans to initiate any positions within the next 72 hours.
I wrote this article myself, and it expresses my own opinions. I am not receiving compensation for it (other than from Seeking Alpha). I have no business relationship with any company whose stock is mentioned in this article.