Low oil prices hit BP so hard that profits are down 90% from last year and, unadjusted, BP is taking a $6.5Bn loss but officially a 2015 net profit of $196M, down from $2.2Bn last year. In good news for oil prices, however, the World's 4th largest oil company is cutting production in 2016.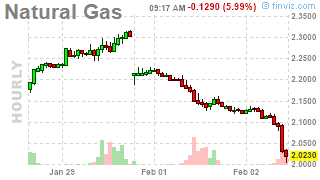 So, despite oil being down 2.5%, we think $30 will hold and you can refer back to our UCO/USO bullish spread (see last week's post) and we're also liking Natural Gas (/NG Futures) again as we dip back to $2.00. We are not, however, playing the front-month March contract (/NGH6) but the /NGK6 May contract, which is trading a bit higher at $2.10 this morning.
Our logic on Natural Gas (and UNG is the ETF you can play at $7.50, which is our Trade of the Year for 2016 - beating IBM at the last minute!). In our Live Trading Webinar on 12/16, we had called a play on the April Natural Gas Contracts (/NGJ6) going long on 20 of those at $2.10 and they topped out at $2.50 earlier this month for an $80,000 gain in less than 30 days. 20 contracts is a very aggressive play in the Futures and we scaled into that position as it went against us - that's not where we started! Margin requirements on /NG contracts are $2,475 per contract so it took $49,500 in margin to make $60,000 (we began taking profits before the top) so "only" 121% return on profits for the month - but you can do the same thing with a single contract.
The pain and panic are not necessarily done in the energy sector but, FUNDAMENTALLY, we're calling a bottom here as clearly the earnings of the majors show they simply can't continue producing oil at these giveaway prices. This was the Saudis plan all along and it's working - they are forcing others to shut down production so they don't have to but don't look for oil to come bouncing back too soon - it will be a long, hard road to recovery. Our target is $45 by July and we have placed our bets accordingly. May Oil Futures are /CLK6 and currently too much premium for us at $33.76 with $4,180 in margin but, at $40, they will pay $6,240 per contract - not terrible.
Click to enlarge
So many ways to make money with oil this low but we still like the play in our Options Opportunity Portfolio, which is still playable using our July targets:
Buy 10 UCO July $5 calls for $3.65 ($3,650)
Sell 10 UCO July $10 calls for $1.50 ($1,500)
Sell 10 USO July $8.50 puts for $1.10 ($1,100)
That's a net cash outlay of just $1,050 and USO is at about $8.75 this morning with oil at $30 so the bet is (on the short side) that oil will be above $30 in July and the short puts will expire worthless. If not, the risk is you end up net long on 1,000 shares of the Oil ETF (NYSEARCA:USO) at $30 oil for $8,500 - not terrible. To the upside, if we hit our goal of $10, the spread pays $5,000 for a $3,950 gain on cash (376%) in 6 months. UCO is a 2x ETF and needs to gain 33% so we need a 15% move on oil from $30 to $34.50 in order to have a winner - that's the bet!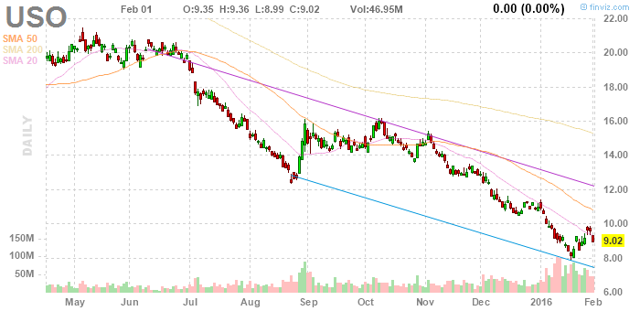 Click to enlargeIf you are worried oil could go lower, you can start with 1 contract set ($105) and work your way into a larger position - something we call scaling into a position. If you love the idea and a $3,950 profit doesn't do it for you - 100 spreads can make as much at $39,500 on $10,500 laid out but keep in mind your risk losing that $10,500 AND being assigned, at 100 contracts, 10,000 shares of USO at $8.50 ($85,000) - these commitments are no joke!
Our Options Opportunity Portfolio, for example, started with $100,000 so we bought 10 units using 1% of our cash and, if successful, this one trade will add 4% to the portfolio in 6 months - that's an appropriate allocation for this size model portfolio and we will be HAPPY to double that position down should oil fall down to the lower $20s - if we have to - because we REALLY do not believe that oil will drop to $20 and never go up again so, logically, we don't mind having 2,000 long USO contracts at that price for a long-term trade.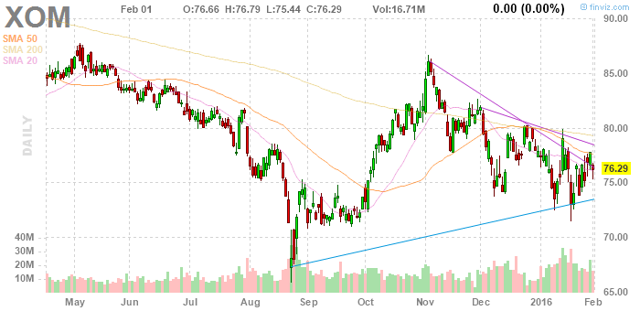 Click to enlargeExxon (NYSE:XOM) just (8am) reported earnings that are down 58% and that's knocked the Dow further down and now they are cutting CapEx by 25% for 2016 - another major (#1) cutting back on production. Despite the 58% drop, XOM still managed to make $2.8Bn for the quarter but their upstream business (the sale of oil) lost $538M for the Q while downstream (refining) made it up with an $854M profit (due to cheap oil inputs).
"The scale and diversity of our cash flows, along with our financial strength, provide us with the confidence to invest through the cycle to create long-term shareholder value," Exxon CEORex Tillersonsaid.
Overall, in 2015, XOM made $16.5Bn with oil averaging $42.50 for the year, vs $33.6Bn in 2014, when oil was averageing more like $87.50. So a 50% drop in oil leads XOM to a 50% drop in profits - that's a nice rule of thumb! The real problem with XOM is the $317Bn market cap, which is a bit of a stretch on $16.5Bn in earnings. Essentially, if you are betting on XOM, you are betting on oil so I say cut out the middle man and just bet on oil - that goes for any energy company you might be tempted to look at. Keep in mind that oil can't go bankrupt but individual companies can!
I'll be very pleased if the indexes can hold up today without too much damage. There's nothing unexpected about oil companies having a TERRIBLE quarter - if we get past this bump in the road - the rest of earnings season should show signs of improvement.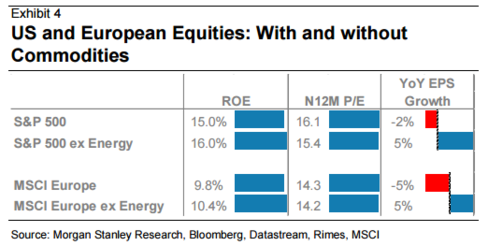 Disclosure: I am/we are long USO, UCO, UNG.
I wrote this article myself, and it expresses my own opinions. I am not receiving compensation for it. I have no business relationship with any company whose stock is mentioned in this article.
Additional disclosure: Positions as indicated but subject to RAPIDLY change (currently mainly cash and an otherwise slightly bullish mix of long and short positions - see previous posts for other trade ideas). Positions mentioned here have been previously discussed at www.Philstockworld.com - a Membership site teaching winning stock, options & futures trading, portfolio management skills and income-producing strategies to investors like you.