We may be close to the oil markets bottoming. Perhaps it already did. As we will see a sustained increase in oil prices in coming months, we will see a rally in many of the stocks which were recently battered by the downturn in oil & gas prices. Shale stocks should see a particularly strong rebound, given that they sold off more than most other oil & gas producers. Whiting Petroleum (NYSE:WLL) should be one of them, given that it went from a high of over $92/share in August, 2014, to a low of just over under $5/share about ten days ago. It has already since recovered to almost $8/share as I write this, on the back of an oil price rebound from the recent lows in the mid twenties, to about $33/barrel as of the end of this month. If it turns out that the bottom has been reached, which I personally don't necessarily believe to be the case just yet, we can see this stock continue to surge for a while.
I do however think that Whiting petroleum will be a great target for a short at some point in 2016, not despite the expected surge in price, but because of it. What I am suggesting is that after the initial rebound, which will be sharp, there is a great opportunity to short the stock, because of its profitability issues. Most shale producers will in fact continue to have profitability issues even after a rebound to any price level bellow $60-$70/barrel. As I shall point out, Whiting petroleum is one of them. And I do not believe that we will see prices anywhere near shale industry profitability levels this year. A rally to a level of about $40-$50 is more likely, which will then be followed by a pause meant to evaluate the situation.
We have to remember that Whiting Petroleum has had its profitability tested at such prices already in the third quarter. It is true that production increased compared with the same quarter in 2014, therefore the almost decade-old shale industry excuse that there are still ramp-up costs, which prevent the achievement of profitability can still be maintained to some extent. Although, quarterly production shows that Whiting is in fact now experiencing production decline. In the second quarter, it achieved average production of 170,000 b/d of oil equivalent, while in the third quarter, it declined to 160,600 b/d. The decline is in large part due to the loss of 8,700 b/d in production, due to property sales. Even so, there has been a slight decline in production aside from the effect of the property sale.
With production flat, or most likely in slight decline, Whiting reported a massive quarterly loss. On $508 million in revenue, it incurred costs and expenses of almost $3 billion. Impairments make up a very large part of that total. Total impairment charges added up to $1.9 billion, which is an accounting loss. Even so, Whiting went through twice as much cash as it brings in. And this was during a quarter when the WTI average was about $46/barrel. The next two quarterly reports will be very painful, based on the current evolution of oil prices, with revenues coming in even lower.
Understanding Whiting's potential.
Based on current results, even if we will see oil prices average over $50/barrel starting in the third and fourth quarters of this year, Whiting will continue to struggle to break even. Reason for this is the simple fact that it does not benefit from prime acreage in its main play, namely in the Williston Basin. roughly 131,000 b/d in production, which is 82% of Whiting's total comes from that area. While there are certainly some prime drilling spots in the four counties that make up the core, Whiting also has significant Divide county acreage, which has proven to be far inferior. Although, I should specify that Whiting holds acreage in the southern part of the county where it turns out that production is a lot better than in the rest of the county.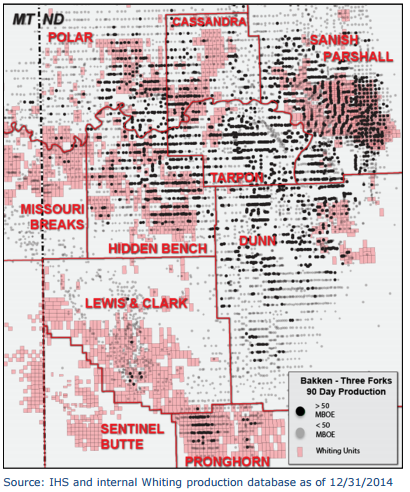 Source: Whiting January presentation.
Aside from Divide county, there is plenty of acreage in Whiting's portfolio which is far from being close to profitable as illustrated by the map. As for the more profitable acreage which is marked out by the frequency of black dots versus grey ones, if one looks carefully, it also looks to be the most saturated. Whiting has no choice but to drill some wells in areas where it needs to hold on to acreage, even if those wells do not stand any chance of being profitable in the current price environment.
The average result of the wells Whiting drills is illustrated in the graph bellow.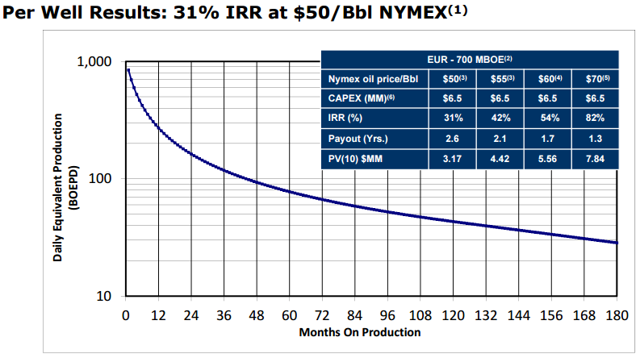 Click to enlarge
Source: Whiting January presentation.
I am sure most are familiar with this standard claim of payout on investment. In the case of $50 oil, Whiting claims that it can pay back the capital investment of $6.5 million per well in 2.6 years, or in about 30 months. In reality, we saw what happens to the revenue based on $46/barrel oil in the third quarter. Of $508 million in revenue, $84.5 million went to interest expenses. That is 16.6% of total revenue. Lease operating expenses take up $125.5 million, or about 24%, and production taxes took away $44 million, or 8.5%. G&A costs also came out to $44 million, so another 8.5%. These items alone add up to over 57% of revenue, which in fact does not go towards paying down the capital cost of the well. These are of course, not the only costs involved in the shale industry. Reality is therefore that the average well is far from being paid off after 30 months, while as we can see from the graph, production after 30 months is down to less than 150 b/d and still dropping. Fact is that the average Whiting well still has about $3 million left unpaid after 30 months of production. It is important to realize the fact that the $3 million still left outstanding is money that Whiting owes and needs to pay interest on.
While Whiting as well as most other shale companies are far from being alright at $50/barrel prices, the established perception is that things should in fact be alright at $50/barrel as exemplified by articles such as this one by Bloomberg. Because Whiting is perceived to be one of the companies which should be alright at $50/barrel oil, we can expect its stock to sore from current levels, together with an oil price rally. It will not take long however to realize that Whiting will be far from alright with $50 oil in place. It will still be losing money on a quarterly basis. Which is why I believe that following its first quarterly report following an oil price rally, there will be a great opportunity for Whiting stock to be shorted.
Timing.
As to the question of roughly when this opportunity will arise, we can use the IEA oil demand forecast as a guide.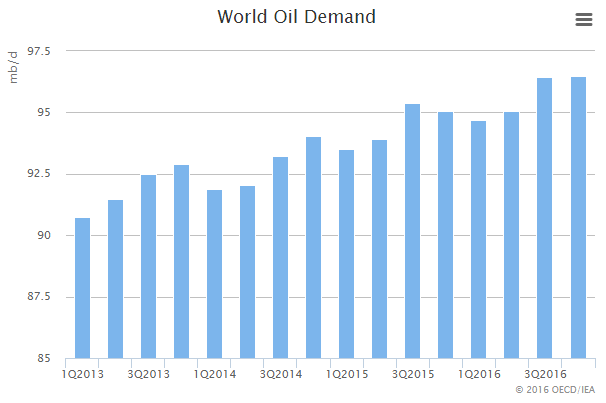 Source: IEA.
If this demand forecast is more or less going to turn out to be accurate, global supply/demand should reach balance by the summer. The markets will most likely react with a rally in oil prices beforehand in anticipation. If that is the case, then following Whiting's second quarter report will be a good place for a short position on the stock, which will most likely be vulnerable after a large run-up.
One might argue that a short will be vulnerable to the oil price increase going far beyond the initial rally of the first stage of the price rebound. I personally think that it will not be the case for two main reasons. The first and most important one is the continued worry in relation to the global economy. In my personal opinion, there is a roughly 50% chance of an EU-triggered global crisis this year, as I pointed out in a recent article. In addition, we have China worries, as well as the usual issues related to the regular business cycle, which suggests that we are due. I doubt that within such an environment, we are likely to see a rally in petroleum beyond $50/barrel this year. If anything, there is more likelihood of a price decline following a rally to $50/barrel, because we have the perceived resiliency of shale at that price level, and I do believe that many shale companies which have wells that are already drilled, will proceed with bringing them on-line once the price of oil reaches $50. That may not necessarily be because it will be profitable, but because companies are increasingly strapped for cash, therefore any additional source of revenue will be welcome. An increase in well additions will help feed into the resilience of shale narrative.
There is always a possibility that this opportunity to short Whiting will never materialize. It is possible that we may end up waiting for that oil price rally, which will not come this year, meanwhile Whiting stock will continue on its downward path, leaving those waiting for the short opportunity watching on the sidelines. But, if things do come together, I think this will be a huge opportunity to short, because we have seen in the past year and a half that when shale companies are sold, they are sold with lots of enthusiasm, to say the least.
Disclosure: I/we have no positions in any stocks mentioned, and no plans to initiate any positions within the next 72 hours.
I wrote this article myself, and it expresses my own opinions. I am not receiving compensation for it (other than from Seeking Alpha). I have no business relationship with any company whose stock is mentioned in this article.