GlobalSCAPE (NYSEMKT:GSB) is a microcap company in the growth stage of its business cycle, selling for a reasonable price. Demand for the services/products is secular, with no signs of slowing down in the near to med-term. Furthermore, downside is limited due to the company's strong balance sheet and FCF generating abilities. I believe that GSB is a great example of a microcap company that can continue compounding its business model going forward.
Summary
GSB provides its customers with service information exchange capabilities. Moreover, they simplify the transmission of critical information (financial data, medical records, customer files, vendor files, personal files, transaction activity, and other documents). Furthermore, GSB's products and services help customers monitor and audit the file transfers between networks. Finally, GSB serves more than one million individual consumers (many of which are Fortune 100 companies) in over 150 countries.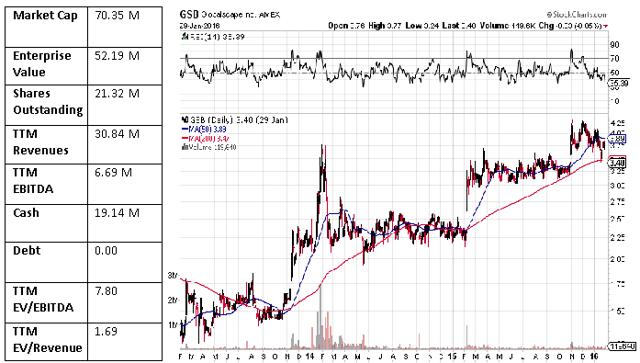 Click to enlarge
Secular Demand
The products and services that GSB serves to customers is currently in growth mode. As the internet becomes more intertwined in business and even personal life, GSB will continue to thrive. Furthermore, GSB's products are valuable for their customers for they allow their customers to meet government and industry standards/regulations. Not only do their products help their users meet these ever increasing standards/regulations, but variable cost is reduced via lower IT costs, and there is an increase in efficiency and productivity.
What is interesting to me, and makes for a unique business model is that the need to transfer information across diverse geographical areas is ever increasing. Furthermore, the need to protect this information has allowed companies like GSB to experience significant growth. Moreover, there are a few key regulations that are driving secular demand for GSB's products/services…
Heath Insurance Portability and Accountability Act
Gramm-Leach-Bliley Act
Federal Trade Commission Red Flags Rule
California Senate Bill
European Union Data Privacy Directive
Not to mention, data breaches at big time retailers (think of the recent Target breach) in the most recent years has led to continual demand for products/services that GSB offers.
Since the industry that GSB operates in is in growth mode with low barriers to entry, there is a significant amount of competitors. Not only is there a significant amount of competitors in the industry, but there has been a vast amount of consolidation, which may hinder GSB's pricing ability. However, despite the significant amount of competition, I believe that GSB has created great customer recognition for their products/services, which will help to continue growing demand. Take a look at the multiple awards the company has won in 2014 and 2013…

Click to enlarge
Source: 2014 Annual Report

Click to enlarge
Source: 2014 Annual Report
With the worldwide industry needs for compatibility, scalability and privacy, GSB has stepped in to offer a cost-effective solution. GSB has a sticky and scalable business model that they can leverage to produce top and bottom line growth for shareholders. The company has sold their products/services to some of the world's largest manufacturers, distributors, banks, insurance companies, healthcare providers, automakers, film companies and other technology providers.
As long as businesses and individuals continue to utilize the internet and more importantly, value the need of transferability/privacy, secular demand for GSB's products will continue.
Valuation
In the last quarter (Q4), GSB posted the highest quarterly revenue ever, in the company's history. On a YOY basis, revenue increased 8%. Furthermore, annual revenue came in at $30.8mm, which was the highest annualized revenue ever in the company's history. Moreover, on a YOY basis, annual revenue increased by a strong 15%.
On a historical standpoint, GSB has grown their topline at an attractive rate…
| | | | | | | | | | | | |
| --- | --- | --- | --- | --- | --- | --- | --- | --- | --- | --- | --- |
| | TTM | 2014 | 2013 | 2012 | 2011 | 2010 | 2009 | 2008 | 2007 | 2006 | 2005 |
| Revenues | 30 | 27 | 24 | 23 | 21 | 19 | 16 | 16 | 18 | 11 | 7 |
In millions
To avoid cherry picking data, revenues in the past ten, five and three years (from the TTM), have increased at an annualized CAGR rate of 10.55%, 7.39% and 7.72%, respectively. Interestingly, GSB has been able to grow its topline at a decent rate in the past, with little shareholder dilution…
| | | | | | | | | | | | |
| --- | --- | --- | --- | --- | --- | --- | --- | --- | --- | --- | --- |
| | TTM | 2014 | 2013 | 2012 | 2011 | 2010 | 2009 | 2008 | 2007 | 2006 | 2005 |
| Shares Outstanding | 21 | 21 | 19 | 18 | 19 | 18 | 18 | 17 | 18 | 16 | 15 |
In millions
What is also remarkable is how the company has stayed relatively profitable throughout the past decade.
| | | | | | | | | | | | |
| --- | --- | --- | --- | --- | --- | --- | --- | --- | --- | --- | --- |
| | TTM | 2014 | 2013 | 2012 | 2011 | 2010 | 2009 | 2008 | 2007 | 2006 | 2005 |
| Gross Margins | 95.4 | 96.2 | 95.8 | 94.5 | 91.8 | 96.8 | 98.0 | 98.8 | 98.6 | 95.7 | 95.9 |
| Operating Margins | 22.1 | 17.2 | 16.0 | -6.0 | 3.8 | 6.9 | 10.9 | -51.5 | 31.9 | 27.6 | 23.4 |
| EBT Margins | 22.28 | 17.08 | 15.35 | -6.77 | 3.85 | 6.95 | 10.46 | -50.91 | 32.27 | 27.03 | 23.53 |
| Net Income Margins | 15.17 | 11.30 | 15.78 | -7.70 | 3.04 | 4.75 | 8.51 | -48.50 | 21.36 | 17.88 | 22.55 |
GSB's high gross margins suggest that the company is very efficient at utilizing their labor efforts and/or supplies in the overall production process. High gross margins also allow companies like GSB to spend money on things such as R&D (which is a much needed expense for GSB).
My thesis for an investment in GSB is based upon high single to low double digit revenue growth and coupled with correspondingly strong margin generation. As the company continues to growth their business, I believe that the market will eventually award the company with a higher multiple. Below, I have provided a few techniques the company plans on using going forward to increase their topline.
One strategy the company has to leverage its topline, while also influencing the bottom line is the use of third-party sellers. In the most recent years, GSB has outsourced the majority of their selling efforts to third-party contractors. Outsourcing sales to third-party contractors allows the company to focus its efforts on developing and enhancing new products, while at the same time, not forgoing the opportunity cost of getting into the field and selling the products themselves.
The use of third-party contracts has reduced marketing and selling expenses and increased the topline. In fact, without the use of third-party contractors, it would take GSB several years to accomplish what third-party contractors have done. Furthermore, GSB's plan to continue driving their topline going forward is to expand their relationships with more third-part resellers.
The use of tablets and smart phones in the industry workplace is also a significant future demand driver. For an example, in 2011 GSB acquired TappIn Solutions. This acquisition allows the company to help its customers safely, easily and securely share data and information via tablet and/or smartphone. Furthermore, the acquisition of TappIn Solutions will allow the company to play the ever increasing user growth in tablets and smartphones, in the business industry. Finally, in fiscal year of 2014 TappIn Solution's revenue growth increased 44%, further strengthening my thesis on continual industry demand via tablets and smartphones.
Also, GSB's product, Enhanced File Transfer is much needed in the industry, scalable and cost efficient for users. In terms of scalability, the company releases new add-ons frequently, which provides businesses with an increased security feature, automation and performance. In short, the company can continue to upsell new add-on modules to existing customers, thus increasing topline growth. Not to mention, GSB's products help reduce their customers upfront costs, which allows them to become more profitable and efficient.
Finally, the company's SaaS subscription solutions may become more valuable in the future. This subscription solution gives GSB recurring revenue and provides customers with low upfront costs. Comparing the SaaS subscription solution to on premise software licenses, we can see that the latter must be reconstituted almost every period unlike the former solution. Furthermore, the SaaS subscription solutions may become a much bigger part of the overall consolidated sales in the future.
Secular demand for the company's core product offering will help grow the topline and marginally increase the bottom line. I have provided two case scenarios that may transpire in the near-term
| | | |
| --- | --- | --- |
| | Bull | Base |
| Revenue | 33.92 | 33.15 |
| EBITDA Margin | 26% | 22% |
| EBITDA | 8.81 | 7.29 |
| Multiple | 8.00 | 7.80 |
| EV | 70.48 | 56.86 |
| +Cash | 19.14 | 19.14 |
| -Debt | 0.00 | 0.00 |
| Total Equity | 89.62 | 76.00 |
| Shares Outstanding | 21.32 | 21.32 |
| Estimated Equity Per Share | 4.20 | 3.56 |
In millions
The bull case is based off of 10% topline growth from the TTM revenue, with a 26% EBITDA margin (the TTM margin) and a multiple expansion to 8.00x. I believe that this is a conservative case for the FY of 2016. For the base case, revenues are hypothesized to growth at a 7.5% rate, with an EBITDA margin of 22% (average EBITDA margin for the past three years), and while keeping the current multiple. This case is more conservative and goes to show that GSB may be fairly priced.
As for the downside, I believe that downside is relatively limited. First the company's cash position equals 27.2% of the market cap. Furthermore, the cash position grew 32% during 2015, which supports the company's FCF generating ability. Also the zero debt on the balance sheet, allows the company to have very low fixed costs, which helps to offset downside. Finally, I believe that if the company can continue to grow its topline at high single digit rates, with incremental bottom line expansions, the market will continue to value the company higher, instead of lower.
Catalysts for Further Upside
Currently there is only one analyst covering the company. An influx of other analysts to cover the stock has potential to push the security price higher.
Continual topline growth and operational improvements will help to increase the visibility and value of the company. If GSB continues to post performance improvements, more investors will start to notice the company. This has the same effect of further analysts covering the security.
There has been consolidation in the industry in the past few years. Because GSB has a fairly priced security, low debt and valuable business model, a takeover from a larger competitor may happen. Remember, Vista Equity bought out TIBCO for $4.3bn, a 26% premium to the day before announced price and >18x EBITDA multiple. Furthermore, the Riverbed Technologies buyout by Thoma Bravo for 17.6x further strengthens the consolidation case and shows that GSB is undervalued on a relative basis.
If the company can break over $100mm in market cap, this will drive recognition from analysts and act as a catalyst. Investors who buy GSB while it is still unknown to the investment community, may have a high chance of generating significant alpha.
Finally, the company has a significant amount of cash on their balance sheet. Putting use to this cash in the form of a dividend increase or repurchase plan will help increase the value of the company going forward.
Risks
Competition in the industry is rampant and filled with companies that are much larger than GSB. Also continual consolidation may put pricing pressures on GSB's products.
GSB has to continually spend money on R&D due to rapid tech changes in the industry. An improper use of R&D spending may hinder the company's ability to innovate properly and compete in the market.
The industry is filled with governmental regulations. Further regulations may hinder GSB's business model going forward. However, as of recently, regulations have provided the company with secular demand.
The company derives a decent amount of their revenues from maintenance and support. Any adverse decreases in maintenance and support revenues will hinder the company's topline. Furthermore, if the company does not sell more licenses of its product, revenues may decrease.
The sales cycle for the company's products is long and can be unpredictable. Thus, sales may be lumpy going forward due to the significant amount of time it takes to sell the company's core offerings. Overall, operating results may be bumpy and unpredictable down the road due to the long sales cycle.
Conclusion
Currently, not many individuals are following the GSB story. However, that can change if the company continues to post record breaking results. Moreover, based on the secular demand for GSB's products, I have high confidence that high single digit revenue growth will continue going forward. With a current EB/EBITDA multiple of 7.80x, GSB is fairly priced. However, the company has a significant amount of ability to continue compounding their business model for long-term shareholders without dilution. I believe that more analysts will start to recognize GSB in the future, which will act as a catalyst. In fact, I would be surprised if GSB is not a >$100mm market cap company in the next 3-4 years.
Disclosure: I/we have no positions in any stocks mentioned, and no plans to initiate any positions within the next 72 hours.
I wrote this article myself, and it expresses my own opinions. I am not receiving compensation for it (other than from Seeking Alpha). I have no business relationship with any company whose stock is mentioned in this article.
Editor's Note: This article covers one or more stocks trading at less than $1 per share and/or with less than a $100 million market cap. Please be aware of the risks associated with these stocks.